Build your own Travel Brand!
Ready to go-LIVE travel solutions that helps your travel agency to sell a range of travel services pretty instantly. adivaha® travel solutions make sure you have no boundation over your imagination, you can do everything online, without the need for any technical knowledge or design skills. Easy Backoffice, extensive reporting with integrated Funds Management System. Upload funds easily and instantly through Netbanking, Debit Card, Credit Card. The best part is, we do offer customizations in case you believe it will boost your business!
A Step-by-Step Guide to Using WordPress and Booking.com
Streamline Your Travel Business with WordPress and Booking.com: Our Step-by-Step Guide Ensures Seamless Integration. Unleash the power of travel technology company and experience a surge in bookings and revenue.
As a leading third-party service provider offering related travel portal solution, we understand the importance of seamless integration and efficient tools for travel businesses to thrive in the competitive industry. In this comprehensive guide, we will walk you through the process of harnessing the power of WordPress and Booking.com to boost your travel business. WordPress, a popular content management system, combined with the extensive reach of Booking.com, can significantly enhance your online presence and streamline your booking process, leading to increased bookings and revenue.
Getting Started with WordPress and Booking.com
WordPress is a powerful and user-friendly content management system (CMS) that serves as the foundation for millions of websites across the internet. It boasts an array of features and benefits that make it an ideal platform for travel businesses to create and manage their online presence. Some key features include:
a. User-Friendly Interface: WordPress offers an intuitive and user-friendly interface, allowing even non-tech-savvy users to manage their websites efficiently.
b. Customization Options: With thousands of themes and plugins available, you can easily customize your travel website development design and functionality to reflect your brand identity and meet your business needs.
c. SEO-Friendly: WordPress is designed with search engine optimization (SEO) in mind, enabling your website to rank higher in search engine results and attract more organic traffic.
d. Mobile Responsiveness: In today's mobile-driven world, having a mobile-responsive website is crucial. WordPress themes are designed to adapt to various screen sizes, ensuring a seamless user experience on both desktop and mobile devices.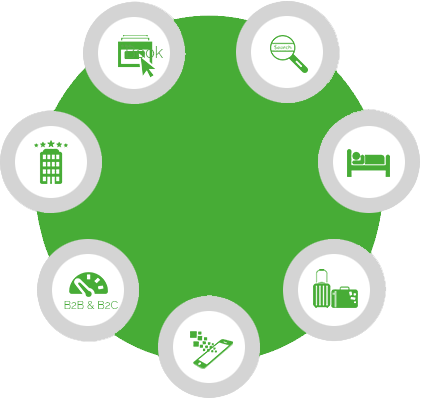 Booking System with WordPress and Booking.com
e. Robust Community Support: WordPress has a vast and active community of developers, designers, and users who regularly contribute to its growth and provide support through forums and documentation.
How to set up a WordPress website for your travel business?
As a trusted third-party service provider catering to the needs of travel businesses, we understand the significance of a well-structured and efficient WordPress travel website. Setting up a website that seamlessly integrates with Booking.com can boost bookings, enhance user experience, and elevate your travel business to new heights. Here's a concise, six-point guide to achieving just that:
Choose a Domain Name:

Selecting a unique and relevant domain name that resonates with your travel business is the first step. A domain name that aligns with your brand and is easy for users to remember will establish a strong online identity for your business.

Purchase Reliable Web Hosting:

Invest in a reliable web hosting service that caters to your website's storage and performance needs. Trusted hosting providers like Blue Host, Site Ground, and HostGator are popular choices for WordPress travel website, ensuring your website remains accessible and responsive.

Install WordPress with Ease:

The setup process is made hassle-free with one-click WordPress installation offered by many hosting providers. Simply follow the instructions provided in your hosting account's control panel (cPanel) to complete the installation within minutes.

Select an Appealing Theme:

With a plethora of b2b WordPress themes available, choose one that complements the nature of your travel business. Opt for themes that are visually appealing, mobile-responsive, and optimized for search engines, making your website stand out from the crowd.

Enhance Functionality with Essential Plugins:

Boost your custom travel website functionality with essential plugins catered to travel businesses. Integrate a reliable booking system, user-friendly contact form, SEO plugin, and social media integrations to enhance user experience and drive bookings.

Create Compelling Essential Pages:

Crafting essential pages is vital to showcase your travel business effectively. Feature a captivating home page, an engaging 'About Us' page, comprehensive 'Services' page, an easily accessible 'Contact' page, and a dedicated 'Booking' page for streamlined reservations.
Understanding Booking.com's advantages for travel businesses
Booking.com boasts an extensive network and a global presence, providing travel businesses with unparalleled exposure to a vast audience of potential travelers worldwide. Leveraging Booking.com allows businesses to tap into diverse markets and attract customers from various regions, driving international bookings and expanding their customer base. As a reputable online travel platform, Booking.com attracts a significant amount of user traffic daily. By listing your travel business on Booking.com, you can benefit from the platform's credibility and trustworthiness, which in turn fosters confidence among potential customers. This credibility can result in increased bookings and repeat business for your travel technology services.
Booking.com caters to a diverse range of travelers, including solo adventurers, families, business travelers, and more. By being a part of this dynamic platform, your travel business gains access to a wide array of potential customers with varying preferences and interests. This diversity allows you to showcase your offerings to a broader market, increasing the chances of securing bookings. Booking.com equips travel businesses with a suite of robust and user-friendly booking management tools. From real-time reservation tracking to synchronized availability updates, these tools streamline the booking process and ensure efficient communication with customers. This saves time and minimizes the risk of overbooking, resulting in a smooth and seamless experience for both travelers and your business. Booking.com allows travel businesses to set their own cancellation and refund policies, providing a level of flexibility to accommodate varying customer needs. Offering flexible booking options can attract more bookings, especially during uncertain times, and foster customer loyalty by demonstrating a customer-centric approach.
Customizing Your Travel Website with WordPress
At our esteemed third-party service provider, we understand the significance of creating a captivating and unique travel website that leaves a lasting impression on visitors. Customizing your travel portal website with WordPress opens up a world of possibilities to showcase your brand identity and highlight the essence of your travel business. Let's delve into the process of customizing your travel website using a travel-focused theme:
How to choose a suitable WordPress theme for your travel website:
The process of choosing the perfect WordPress theme for your best travel website requires careful consideration and attention to detail. Here are some essential steps to guide you in making this crucial decision:
a. Identify Your Niche: Determine the specific niche within the travel industry that your business caters to. Whether it's adventure travel, luxury getaways, family vacations, or any other specialization, selecting a theme that aligns with your niche enhances the overall user experience and keeps visitors engaged.
b. Responsive Design: In today's mobile-driven world, having a responsive website is paramount. Ensure that the theme you choose is mobile-friendly and adapts seamlessly to various screen sizes, offering an optimal viewing experience for users on both desktop and mobile devices.
c. Design and Visual Appeal: Aesthetics play a significant role in attracting and retaining visitors. Look for a theme with visually appealing layouts, stunning imagery, and a design that reflects the vibe and essence of your travel business. Remember, the first impression counts, and an eye-catching design can leave a positive impact on potential customers.
d. Customization Options: Opt for a theme that offers extensive customization options. This allows you to tailor the appearance of your custom website to match your brand identity, ensuring consistency across all elements. Customization options such as color schemes, font styles, and layout variations empower you to create a unique and personalized website.
Customization options to match your brand identity:
Once you've chosen a travel-focused theme that resonates with your online travel business, it's time to customize it to reflect your brand identity and stand out from the competition. Here are key customization options to consider:
a. Logo and Branding: Upload your business logo and choose complementary colors to establish a consistent brand image throughout your website. A well-designed logo enhances brand recognition and fosters trust among visitors.
b. Typography: Select fonts that align with your brand personality and are easy to read. Consistency in typography enhances the overall visual appeal and readability of your travel website development.
c. Imagery: Use high-quality images that evoke the essence of your travel destinations and services. Vibrant and captivating visuals entice visitors and convey the unique experiences you offer.
d. Layout and Content: Arrange content strategically to create a smooth and intuitive user experience. Highlight essential information and services on the homepage, use engaging visuals, and provide clear calls to action to guide visitors toward bookings.
e. Integration of Booking System: Seamlessly integrate your chosen online travel booking system with the theme to ensure a seamless user journey from exploration to reservation.
Conclusion:
As a third-party service provider, we understand the complexities that travel businesses face in today's fast-paced digital landscape. By utilizing the powerful combination of WordPress and Booking.com, you can create an engaging online presence, drive more bookings, and boost your revenue. To further optimize your integration and achieve unmatched results, consider partnering with Adivaha, a trusted name in the travel technology company. Together, these tools can revolutionize your travel business and unlock its full potential in the global market.
Our Comprehensive List of Services
adivaha® is a one-stop-shop for all your travel website needs. We offer a multitude of services that empower you to become a market leader. Contact us for more info.
Have Questions?
The Internet is a huge resource, but
if your question requires particular expertise.
Keep Refreshing your customers - Who doesn't want his site to stand out from crowd? adivaha® gives you multiple options for home pages, headers, colors etc. Which can easily be managed from admin via shortcodes and settings. The theme supports almost all the big players in this market ie, WEGO, Travelpayouts, Agoda, Booking, Expedia etc.
Frequently Asked Questions
Below are some of the questions asked by visitors. Do visit our adivaha® Digest for more such questions. Don't hesitate to ask us if you have any questions
a. What security measures are in place to protect sensitive customer data? b. Does the API comply with data protection …

5

views

0

answers

0

votes