Our Products
Same theme for different Affiliates. Choose the one that best fits your business and our team will setup the features in estimated 24-48 hours.
adivaha® Products
In recent years we are witnessing a revolution in the world of digital tourism. More and more people are deciding to set up an online travel agency and provide their services exclusively through digital media.
But as in all sectors, there are fundamental aspects that must be taken into account to guarantee the viability of their businesses, especially in small and medium-sized companies. The INE offered data on the sale of products in travel agencies that established the total sales in tourist intermediaries. Corresponded to the sale of tourist packages, a product that generally also contributes a greater benefit for agencies.
That is why the travel product itself is a gold mine for agencies to consider for all those who want to see their business grow in the coming years. Having adivaha® products in a travel agency undoubtedly generates a competitive advantage over other agencies in the sector since the combination of a good own product. With adequate communication in the different promotional channels and personalized customer service. That is, a careful service is undoubtedly the axis of activity and the best opportunity for a travel agency.
What are the most important product segments and markets for adivaha®?
The largest segment for adivaha®'s has always been hotels, as they are the first product that tourists need when they arrive at their destination. In terms of markets, we are trying to grow globally. Right now we are focusing on many European markets, such as Spain, Germany, France, the United Kingdom, and Italy especially Japan, Singapore, and Korea.
Technology can be challenging, and among hoteliers, we see varying levels of sophistication. Larger chains tend to have more robust technology. Thinking of small hotels, we try to facilitate the process so that our technology is easy to use. Even for hotels that do not have much structure or technological capabilities. We do not see much difference in technology adoption across markets, except in some parts. Especially places outside of cities where hotels have very little technology.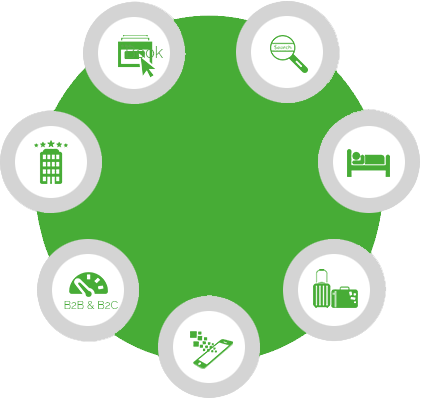 adivaha® Products
How do changes in online consumption habits affect adivaha®'s product?
This is one of the advantages of being, on the one hand, a travel agency, and on the other, a great technology company. What we try to do is facilitate the travel shopping experience for the user of any market. One way to do this is to analyze the data we have from all the customers who have already booked with us and use that information to try to facilitate the experience for the next traveler. We work a lot with machine learning and artificial intelligence to improve the product and get travelers to obtain better search results based on aspects such as where they come from, what is their destination, etc.
How is adivaha's product different from other OTAs?
We strive to position the brand as a global travel agency, with which you can book both accommodation and transport and activities. In this way, the traveler has a single interlocutor to deal with during their travels. But the biggest benefit for the adivaha® customer is that by buying multiple products together, they can get better prices.
Types of products offered by adivaha®
adivaha® in their digital and physical forms is undoubtedly the most important link in the commercial supply chain of the tourism sector. In its simplest definition, they are the intermediaries between the client/traveler and the products offered in the required tourist destination.
Although adivaha® has not been exempt from technological advancement and has been forced to evolve as travelers become more demanding and informed. It continues to represent an obligatory means of consultation when it comes to traveling; whether through the internet, telephone, social networks, or physically. The adivaha® products that they make available to the client remain practically the same from their origin.
It is worth mentioning that adivaha® does not own the products that we list below:
Accommodation 

It refers to the place where a person stays during their travels and that serves as a refuge, home, roof, and/or rest space. Within this product, we find hotels, motels, inns, hostels, camps, condominiums, timeshares, and private houses.

Transportation

If you travel to places close to the place of origin, most likely taking a bus will be enough, if you travel by sea, definitely a ship or cruise ship. All these are types of transportation that a travel agency can achieve, encompassed in maritime, air, rail, and land.

Foods 

Food may be included in the accommodation, otherwise, travel agencies may have contact with restaurants and it will be their job to recommend the ideal place to the traveler. Included among these are breakfasts, lunches, dinners (in different plans), lunches, or coffee breaks.

Transfers

Since the traveler is not completely familiar with the destination visited, it is essential to have information regarding transfers within it. Transfers in the city, between the hotel and the airport, docks, ports, and train stations are included.

Car Rental

Also included are vans or trucks equipped with beds and general accessories for camping and motorcycles for leisure activities.

Bus Rental

When organizing group trips, travel agencies have the facility to find buses with full space. There are a large number of models, prices, and features.

Tourist Circuts 

adivaha® Products is the combination and interconnection of geographically separated destinations that when grouped together constitute a unique offer of tourist services. They are organized excursions to various cities with regular departures that facilitate the preparation of itineraries for travelers. A tourist circuit begins and ends at the same point and does not go through the same place twice.

Tourist Packages 

Set of two or more products requested by the client. It can be transfer + accommodation, meals + tourist attractions, city visits + accommodation, etc.

Cruise Service

In itself, it is a type of package tour. They are trips over the sea, normally within a territorial area aboard a cruise ship with all the necessary services to stay within it. During the tour, they stay for periods of time in ports within the visited tourist destination so that the traveler has the possibility of getting off and getting to know it if it is to their liking.

Tour Guide 

Their products are generally integrated into excursions, tourist circuits, conventions, congresses, etc., although they can also be requested separately, in the case of packages, individual or business trips.

Travel Insurance 

It is a kind of contract in which the travel agency is obliged to cover expenses in the event of an incident: from physical accidents, loss of luggage, health problems, and loss of the flight. They are a way of providing customer security.

Congresses, seminars, and conventions 

Events in which travel agencies can intervene from the organization and coordination of tourist services, such as transportation, lodging, food, and room rental to the sale and offer of tourist tours within or near the town where they will take place such events.

Local Excrusions 

They are generally short tours, in buses, vans, or private cars, visiting relevant tourist sites in a locality. Traveling has a generational component and how we communicate our products varies if we are targeting a more familiar audience. Which would now be millennial, or if the product is designed for a younger audience. This would correspond to generation Z, and in which case we use more digital channels. But when it comes to promoting the adivaha® product, we don't think so much about channels as we do about telling a good story. Social media, like Instagram, is important.
Conclusion:
Although these types of products are processed directly by the secretaries of foreign relations or international consulates, the adivaha® agency can be a means of information and link to obtain them more immediately. Product of adivaha® is a set of services, works, and goods that meet the needs of a tourist during a trip, prepared by a tour operator and implemented as a whole.