Build your own Travel Brand!
Ready to go-LIVE travel solutions that helps your travel agency to sell a range of travel services pretty instantly. adivaha® travel solutions make sure you have no boundation over your imagination, you can do everything online, without the need for any technical knowledge or design skills. Easy Backoffice, extensive reporting with integrated Funds Management System. Upload funds easily and instantly through Netbanking, Debit Card, Credit Card. The best part is, we do offer customizations in case you believe it will boost your business!
Where to Find the Best Deals on Airfare and Hotels?
adivaha® is a travel technology company that was started with the aim of fulfilling each and every online website need of our valuable clients. Adivaha: Travel Website serves to fulfil all their customer's needs. Travel agency software provide a platform to the clients using which they can plan their trips without physically going to the travel operator's office.
Adivaha: A travel portal development company supports travel operators and clients by providing the finest flight booking engine plugin wordpress portals on WordPress to create a website like kayak.com or expedia.com.
Overview
adivaha® is a travel technology company which provides Travel Portal Development Services to travel operators who want to set-up their Travel business online, this allows them to offer different services to their valuable clients like hotel booking api, taxi, flight booking etc.
Besides giving services to travel agencies, adivaha® also helps you set-up an OTA (online travel agency), API Incorporation and GDS incorporation with personalized branding.
At Adivaha, we have a firm belief that advanced and latest technologies provide strength and power to all modern travel agencies and travel operators. Likewise, in all other surfaces of the work, in the travel industry, traditional approaches have been changed now and shifted from people resources to online platforms.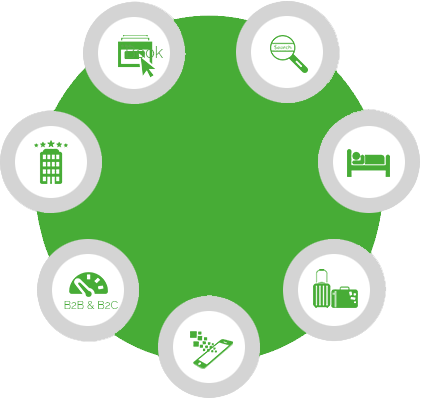 Finding the Best Deals on Airfare and Hotels
adivaha® is here to transform your business into a digital revolution. Online travel agencies have now also been quite aware of the fact that industry's behaviour has now changed, you have to be technologically adept to stay in the race. We formulate strategies that are driven by creative and innovative ideas to offer you solutions that will give your business a vital boost. Each portal we create is built on strong, dynamic and creative technology stack ensuring that our travel agency partners receive state of the art and well-optimized services around the clock.
Custom oriented Approach
We provide Amadeus software to our travel agency clients which helps to grow their businesses and helps them achieve humongous success in the travel agency market. After joining hands with Adivaha, many travel operators and corporations have bloomed to new heights. We are quite confident that we will fulfil every promise that we make with our clients as we value our relationship a lot.
Right from the start, our approach is Customer-oriented, that's why the relationship between our precious clients and adivaha® is quite amazing. As per our promise, we have provided access to the inventory of 85% airline carriers to our travel operator clients. We not only provide website portals to our valuable clients but also help them in each and every hurdle they face in online work so that their business grows faster.
Our relationship with travel agency partners is not limited to any service that we offer; we are with our clients in every stage and we stand with them in every difficulty which they face to ensure that their business continues to prosper. You can contact us online via Adivaha: Travel portal website.We appreciate the feedback of our clients and we try to mould our solutions according to their needs. In this modern agile era, creativity and innovation are the key things in any organization which lead them to ultimate success because creative thinking opens the doors of brilliant ideas. We try to solve your issues by applying our vast experience, we do this expediently and in quite a reliable and efficient manner, by applying tried and tested methods as well as different innovative approaches of today like brainstorming and focus meetings etc. We will eliminate those issues with our latest high-end technology and premium approach. So, if you are a travel agency corporation and want to excel in online platforms then join hands with adivaha® as soon as possible to achieve your desired goals. We will be with you in eliminating each hurdle on your way to excelling in the online market.
After Sale Value offer
We provide travel agencies with different software and API solutions like any top best travel agency service provider of the world, but over services are not just limited to that. As we eluded to earlier, we are with our clients in every difficult circumstance, we also provide one of the best in business after-sales services to our precious clients because we are quite familiar to the fact that our products will require tweaking with the change in technology. adivaha® has a quite efficient and reliable after-sales system so that our clients face no difficulty in availing it. We established this unique system because we value our clients and we think that this service will eliminate the grievances of our travel agency partners that arise after the delivery of products.
Best Travel Agency Website Design:
adivaha® is extraordinarily capable in designing best travel agency website design as Adivaha's Website design, development and incorporation of different GDS XML, Taxi API, flight booking api provider and Hotel Booking API etc. Our B2B and B2C components are helping our travel agency partners and these components are equipped with advanced level solutions for travel technology. We analyze the requirements of our clients and take their feedback time to time in making a specific product so that our product, in the end, lives up to our client's expectation. We believe in an agile approach. We try to reach the customer's design goals within the stipulated time. As we have a lot of travel industry experience, so we are now quite familiar with transpires in creating a perfectly optimized website design. Our well-trained and professional developer team ensures that your website is accessible, receptive, SEO wise optimized and it gives the best user experience.
Satisfied customers
We believe that if our customer is not satisfied at the end of the day then our all hard work is of no value. Whenever we start any project we aim to complete it with maximum efficiency which we lack in previous one, we aim to give our 100% in every new project and learn from past experiences and apply those risk mitigation strategies which we developed in previous projects just to ensure that our valuable clients get exactly what we promised to deliver. So, we desire to attain the maximum level of quality in every project to satisfy our clients. We just want our clients to feel as proud of the deliverables as we feel, this comes from adopting highly disciplined and well-researched processes in making those deliverables. We believe in a customer-oriented approach. Customer satisfaction is our ultimate goal.
Adivaha: Travel solution's provides Cloud oriented Technology:
adivaha® promises its clients to provide them with the latest technological solutions. adivaha® offers a completely well-managed and best-suited remedy to its clients depending upon the requirements and needs of the businesses.
Modern Website Trends
It's very important for any travel developer to stick to market trends because trends change in no time. adivaha® is quite familiar with the latest and modern trends. We try to follow modern trends in every possible aspect. In this scenario, we use images, colours and fonts which match our customer website which leads to the attraction of massive traffic. As in today online era, people tend to go to those websites which answer their queries on hand, so we design our customer websites in such a way that it provides precise information about hotel booking, taxi booking and best flight api provider booking conveniently.
Products
adivaha® has a well-trained, experienced and professional team which provides API/XML incorporation of GDS like Amadeus. adivaha® offers clients of our travel agency partners with a unique and broad range of travel products like real-time accessibility, best flight booking api details, fares details, rules, policies and procedures of travel agencies. As every business focuses on savings and return of the investment (ROI). adivaha® is quite aware of it and therefore it focuses on promised savings, and best of all services that result in guaranteed Return on Investment (ROI). In online businesses, the latest technology is very important to adopt, those who do not adopt advanced technologies will not get benefits of the market as it is too much agile. adivaha® keeps this fact in mind and we have quite comprehensive procedures to apply the latest technologies in the market as soon as they come in the market.
adivaha® not restricted to only one language but provides services in different languages spoken in different parts of the world, as our focus lies in multilingual systems. By building online best flight booking api portals, and having great skills in travel API integration, adivaha® provides services like any top travel software of the world that not only meet our customer needs but also satisfy them in the best possible way and in this way a strong relationship is built between us and our valued clients because we go ahead of their requirements.
We provide our travel agency clients well-grounded and easy to use products coupled with vigorous technology solutions that best suits to different processes in this travel business domain. Our basic goal is to offer effortless and quite straightforward products to the clients of our travel agency partners so that they face no difficulty in using these products and have a smooth experience. We fulfil our promised requirements quite efficiently and also on time so that our clients will not feel devastated. Perfection is the key in our products which is completely uttered in every bit of our service.
Adivaha: Flight Website | Best Tour Website online flight system characteristics:
We offer customized services of online flight api integration in php system so our customers face no hurdle in approaching it.Our online flight booking system includes:
We are not restricted to single sales module but offer different sales means like B2B, B2B2B.
We have the facility of adding offline flight bookings in our system.
Websites present in different spoken languages so that our globally diverse clients will get benefit from it.
Our flight booking system also has an SMS portal so that our clients will get notification of their bookings as soon as their payment goes through.
This comprehensive system not only manages as a single branch but it overlooks different branches.
Our Flight booking system supports transactions in different currencies which help agents and suppliers.
It provides complete booking management from start to end.
Our system has a comprehensive feature that it has an engine of flight booking.
This system provides advanced reports so that our clients can understand the proceedings quite easily.
Our flight booking system can oversee and control rates and discounts offered on various services.
It provides management of the travel agents.
It provides management of the travel agents.
Our flight booking system provides the feature of payment gateway incorporation.
This system has the capacity and potential to connect various GDS and third-party API.
It provides the service of vigorous fare caching.
Our flight booking system has the feature of accounting system integration like any top travel sites of the world has.
This system provides credit limits and deposit configuration.
Subagents can build and control various branches and users by using it
It provides a platform of optional cross-selling.
Our flight booking system has the characteristic to not miss any contact so it adds direct contacts as soon as one connects to our system.
This flight booking system distributes white labels.
It has the feature of numerous supplier APIs.
This flight booking platform provides a sense of centralization to our valuable clients so that everything can be checked and accessed centrally and quite easily.
It provides redistribution of the APIs.
ts engine is quite fast, reliable, accurate and workable and flexible according to the requirements of the visitors. This engine is completely customized and operates on a customized tailored approach.
Our comprehensive system provides cost-effective solutions to our clients so that they can choose from them according to their ease.
As our goal is to provide easy to use services to the clients of our travel agencies so our hotel booking api free system offers a user-friendly interface to fulfil our promise with our valuable clients.
adivaha® | Travel Technology | Best Website's: Why?
For any travel startup, a nice-looking website is a very important requirement. It should look good in all aspects so that any visitor who comes to visit the website will have a good experience. A nice looking website plays a huge rule in the business growth of travel companies as it's a first-hand symbol or face of the company. For achieving this, any corporation should have a technically sound team who keeps working on different ways to improve the best travel technology company's presentation on their website. Technical help has been the main trouble for business startups because of unanticipated or irregular investments. Developing a website should not be the ultimate goal for a developer, they should also provide technical support in the future especially in the travel business. Unfortunately, it is seen that most of the times, travel agencies or corporations do not reach that stage even where they can start their core business.
As your travel API partner, adivaha® provides you cost-efficient travel technology solution likewise any top travel engine of the world but at the same time it does not compromise on the quality, as it is our main objective to achieve the desired result with less money but with high quality. It provides an amazing website with integrated travel XML/APS which enhances our customer's reputation among the competitors and their respective clients too. adivaha® also helps you in integrating your choice APIs from third-party travel operators providing their Travel APIs.
adivaha® Plugin
adivaha® Travel plugin supports all the accessible and present modules of the travel market. Clients need not change or create their modules from scratch as they can update their modules with the growth of their business. Customer need not develop their full fledge website, again and again, they can modify it when needed with the help of adivaha® plugin.
adivaha® as your travel XML Supplier
Being our clients travel XML supplier, adivaha® provides the advanced and latest technologies that are part and parcel of the travel market nowadays. adivaha® supports its clients to grow their setup and become leaders of the travel market. It provides hotel booking api free engine which helps to accomplish booking of flights, management of the reservation and provide the best possible cost-efficient price options, so that clients of our travel agency partners may select the appropriate one from given options.
Travel APIs helps our clients in restructuring their business solutions ranging from travel operators, corporations, local and international airlines, hotels, railways, car rental organizations to the cruise lines. Adivaha's amazing Travel APIs feature provides you with the confidence to cater to your clients in the best possible way. adivaha® makes you feel proud of your portal, by giving strength to your travel setup by adding value to your services. adivaha® supports you with different Travel API Integration if our customer is thinking of having its own hotel booking api engine and achieving incorporation with the endorsed travel API suppliers. Each travel XML supplier is different in their requirements and needs, understanding and creating them at the same time is not an easy matter, it requires a lot of skill. Our professional team is technically sound to analyze and then deliver the solution. By using adivaha® travel API, our clients can bypass the complete procedure of creating a portal from scratch. We provide a comprehensive list of integrated suppliers; our travel agency clients can search and book travel products from it. They can find previous and existing booking details. They can also create and fetch clients record. They can also fetch information-rich cruise. Details about the hotel location and facilities, available flights and its facilities, perfect buses and rented taxies can be found by using it.
You will receive complete lifetime customer support from Adivaha, along with the inventories from best travel API Supplier in the current market. You just need to have a domain and a hosting. Then, we take the responsibility to keep your website working and we are quite aware of our responsibilities. Updates on your website will come time to time with shortcodes and modules.
Our Comprehensive List of Services
adivaha® is a one-stop-shop for all your travel website needs. We offer a multitude of services that empower you to become a market leader. Contact us for more info.
Have Questions?
The Internet is a huge resource, but
if your question requires particular expertise.
Keep Refreshing your customers - Who doesn't want his site to stand out from crowd? adivaha® gives you multiple options for home pages, headers, colors etc. Which can easily be managed from admin via shortcodes and settings. The theme supports almost all the big players in this market ie, WEGO, Travelpayouts, Agoda, Booking, Expedia etc.
Frequently Asked Questions
Below are some of the questions asked by visitors. Do visit our adivaha® Digest for more such questions. Don't hesitate to ask us if you have any questions
I am setting up this plugin for my client's website, I tried registering and received the account activation email, but …

9

views

0

answers

0

votes