Build your own Travel Brand!
Ready to go-LIVE travel solutions that helps your travel agency to sell a range of travel services pretty instantly. adivaha® travel solutions make sure you have no boundation over your imagination, you can do everything online, without the need for any technical knowledge or design skills. Easy Backoffice, extensive reporting with integrated Funds Management System. Upload funds easily and instantly through Netbanking, Debit Card, Credit Card. The best part is, we do offer customizations in case you believe it will boost your business!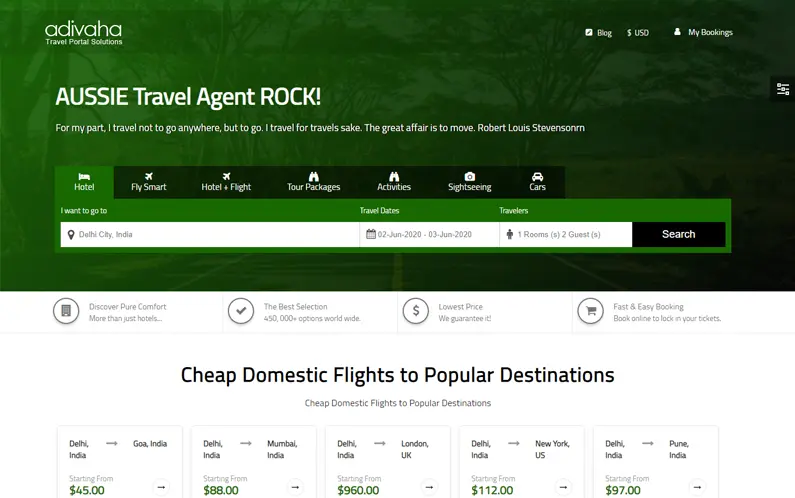 Choose the Right Company for Travel Portal Development in India
adivaha® is a travel portal development company in India that provides the platform to the costumers all over the India and abroad, who desire to make their business online. adivaha® is great platform for anyone who wants to promote and bring his business services of hotel booking, flights booking and car booking on a virtual, global and online platform.
We also offer third party OTA (online travel agency, API (Application Programming interface) integration and GDS (Global distribution system) integration with branded website.
What we do
We help our clients to provide strong distribution capabilities with the API (Application Programming interface) integration and GDS (Global distribution system), latest travel technology, automate travel business process, powerful back office system, content, management system and feature a unique standard.
Why us
adivaha® intend to be one of the top sites for travel portal development in India, and enable access to extensive range of travel suppliers all over the India and abroad, which includes all the luxury hotels, Activities, as many car rental locations as one could think of. We provide the best stage for the online travel business. Promoting the business of emerging entrepreneurs and experienced business men will be our first and foremost priority. We would love to help them make their sincere efforts thrive. We treat our costumer as our own family, and we try our best to cooperate.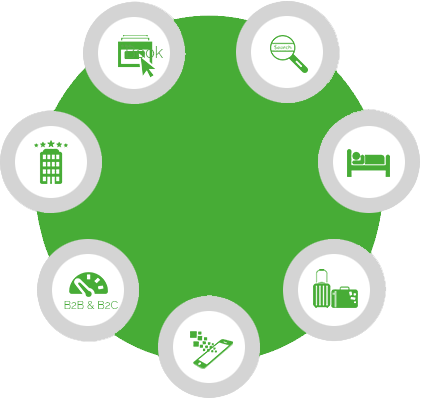 Best Company for Travel Portal Development in India
adivaha® Travel portal's development in India
The revolution of internet has changed the picture of travel industry through the easy accessibility of travel products to the mass consumers by their virtual presence rather than physical. adivaha® is one of the leading Travel Portal Development Company & online travel portal software Company in India. We offer you the best Travel Portal Solutions, Travel Portal Service at affordable price with costumers all over the globe. We provide one of the best online platforms to tour operators, airline companies, destination management companies and the other types of business related with the travel. We also offer third party OTA (online travel agency, API (Application Programming interface) integration and GDS (Global distribution system) integration with branded website.
As a part of the emerging international travel industry, if you want to be competent and want to produce higher investments then our Travel Portal website will be a best platform for you. In every part of the world, every passing minute, a person thinks to travel somewhere for any reason and this is the main reason why travel portals are thriving. In today's world of high-tech technology, a travel Portal is a very beneficial tool to be the part of the online travel world. As a travel portal development company, we help in designing and creating various hosts of applications with the most innovative solutions incorporating various APIs and GDAs in the process.
Our team of experienced experts in this field provides the best customized Travel Portal Development in India to your desired requirements. We offer feature-rich solutions for Travel Portal Development for mid and large size travel business with cost-effective and reach your prospect. Tours and travels are the leading business which is prevailing all over the globe. After the recent developments into the system and its practical desire, the engine has come up with different updated latest features that have made the service even more efficient to the travelers reducing a lot of trouble and saving time. We assure you that we will take a good look at your requirements to provide you with the customized Travel Portal solutions to you.
We cooperate with our clients in reaching their desired business goals through our best business solutions by our experts, which will make the business flourish. Our travel portal development cost will give you the instant access to the latest software for travel and tourism brands with distinctive packaged programs which will offer attractive holiday package booking solution as per the requirement of our clients, Customized booking options, API Integration service for travel agents, tour operators and travel management companies. As we also intend to be a top Travel technology company, specialized in flight reservation system development, we acknowledge the requirement of our clients and develop the personalized solutions as per their exact requirements. We provide airlines GDS / White label API integration service to global travel companies. adivaha® develop full scale online hotel reservation system to run your hotel business smoothly. We can develop customized hotel booking reservation system suitable to your requirement with hotel GDS / white label API integration service. You will just have to let us know your detail hotel reservation system requirement and we will provide you the solution accordingly, which will save your money and time both. Our platform is also the best for those who want to grow thier car rental business with tailored car rental reservation systems. They would be able to add & manage cars, instant invoicing system, manage prices, optional extras, online payment facility, manage cities and locations and there is much more for car rental companies to run their car rental business online, using our platform. We also create personalized bus booking engine as per the requirement of bus rental companies and travel agents requirement by integrating white label GDS systems. If you are looking for your own bus inventory system with customized requirements, then this platform will be the best one for you.
Completely Developed program
A B2B white label travel service is a completely developed program that does not need further improvement and it is already working for many other users. It is reliable and ensures the smooth running of the travel business.
24/7 Online Technical Support is Available
This type of system is integrated with a 24/7 online support system that makes it easier for businesses to get help anytime about anything. They have integrated systems of customer support as well to aid potential customers in making them reach the sales goal of the business.
B2B White Label service creators know the Pros and Cons
This type of travel solution is compatible not only with travel-related businesses but also with the customers. A B2B white label travel solution system is already active and in place. It knows the pros and cons of the travel business and due to constant presence and feedback from businesses and users, the travel website APIs and integrations are modified to favour the customers in the best possible way.
If you have started a new best travel portal business, and you want to enter for the first time in e-business, we would feel extremely glad to help you find all the Travel Portal related solutions. adivaha® Travel Portal Development in India contains management System, User Login service, User Registration Module, B2B / B2C & B2E Travel Software Development with XML, GDS, Tour Holiday Packages, CMS Development for Flight booking engine, White Label Travel Website with linked pages. Our team of skillful experts will provide you with the best personal and customized solutions. Our time- tried and tested Travel Portal Development module helps us deliver clients with a product that is both genuine and affordable. We provide customized Travel Portal Development to your changing demands. As a part of the growing international travel industry, if you desire to compete to cause higher investments in the travel market then our Travel Portal platform will help you in this. Our motto is to deliver exceptional customized and personal travel development services. So why wait to get the brilliant travel experience with the best Travel Portal Company which makes your travel request and booking easier than ever before with its simple and smart web interface and that too in just a few clicks. We would love to ask you and your plan. Let us have this chance to manifest your dreams.
Cost-Efficient
These travel business solutions are cost-efficient when we see all the services and determine their cost of initializing separately. We find it highly expensive but a good B2B white-label service entails all the services on a single platform and charges a fraction amount of the total expenditure cost on combined services.
How adivaha® is different from other best travel portal
We develop feature-rich travel portals that can generate monetary returns for you at every single click. With the increasing number of people searching online travel portals to plan and book their travel, we help you accomplish this goal with our highly innovative and robust technology solutions. adivaha® travel portal company in India is made to rule over the online travel industry, and it's one of the leading travel portal development company offering consultation, development for all the aspects of B2B & B2C travel portal development and travel API integration for flight booking, hotel booking, travel packages, bus booking and insurance to global travel companies. We also provide a white-labeled solution for all the travel search engines and b2b travel booking software projects. Our travel portal development services encourage companies to deliver a fully loaded online travel booking website that goes well beyond customer expectations.
By using the latest evolving technology, we have developed our Hotel Booking System that takes advantage and our proficiency in the travel industry makes us stay ahead of our competitors. And On request, we also empower your travel portal with tools such as Google maps weather widget, and various information sources providing the latest travel news, trip advice, and travel guides which will help the travelers in planning their trip in a better way while making the portal more attractive and informative to customers.
We offer all kinds of Travel Portal Solutions for B2B & B2C travel agencies across the planet. We use the latest technologies to develop the travel portals that help us to deliver the cost of the product effective and realistic. Adivaha's offer for flight booking sytem, car rental system, vacation package system is suitable for all types of customers, from smaller travel agents to large-scale travel enterprises. Our travel portal consists of GDS/third party API Integration for b2b flight booking portal, Hotel booking, and Car booking services.
adivaha® travel portal development has Professionals who adept the latest technologies and market trends to give you web solutions. We work for many travel operators in helping them simplify their online travel business with a clear focusing on technology and innovation, we ensure quality deliverables and rapid change to develop and deliver scalable travel portals and booking engines. We also provide feature-rich solutions for travel portal development for mid and large size travel businesses with cost-effective and exceed your expectations. We ensure that we take a good look at your requirements to provide you with the customized travel portal solutions to you.
Our website design and development professionals with their prolonged know-how in travel portal development, by implementing cutting-edge technologies as well as market trends offer you the web solutions you're looking for. We deliver honorable outcomes and enable your escalating travel business to yield greater returns on investment. We have an in-house online marketing team that will help to market your services online and put you on the top of your competitors. We take deep thought, and analyze your requirements first so as to get you a full feature-laced customized travel portal development solution.
At Adivaha, we believe our job is not complete unless our customer is satisfied and doubt free. So, we offer a wide range of travel portal solutions and software that are ideal for the growing needs of travel companies, resorts, travel agencies, travel advisors and tour operators.
Advantages of adivaha® travel's portal development company
The recent trend of travel portal dovelopment company has helped the travel industry to follow a step process of growth. Travel portal development is associated to the implementation of travel technology in the field of travel sector.
adivaha® Travel Portal provides customers the best options of booking agents with complete travel information, bookings, and all the required information which one may need while travelling. Our travel portal fetches information from central servers which have granted them the specified permission and provide users with the cheapest fares and the best possible service, something which users desire all the time. These claims are made by many travel portal sites worldwide, but you might not find one important thing there. They might promise you all the luxurious services, but many of the portals demand high prices, which many people can't really afford. Therefore, we intend to provide the services which everyone can have access to. We offer some major types of portal like Flight Booking, Holiday Packages, Car Booking, Taxi/Bus Booking, and lots more. The Users can simply search for hotels and book them online at affordable rate. They can view their account details, booking stage, seat number easily. Booking a ticket or cancelling a ticket becomes very simple.
Attaining the brand presence is very important to fuel the expansion of your travel business. A smart attitude and a dominant one, that defines the future state of travel industry is a well-designed travel portal. And these are the very things adivaha® is very good at. The Internet has strong potential and it can support all major industries across the field without any limitations including Travel and Tourism sector. This sector is further demanding and fruitful as people are more likely to discover the beauty and mysterious things of god available on earth. It is a proper way to do promotions of business and by online marketing you will extremely get more potential customers.
Our Online travel portal development company in India offers the necessary foundation to build upon and expand growth within the company. In easy words it's an organized gateway that helps to structure the access to information found on the internet. Our professional web developers can deliver customized travel portals which go well with the provisions of the clients as well as the visitors at cheap prices.
Why Travel Agents should choose our portal
The old times are gone. The world we live in today is the world of Technology, and it is changing day by day, and customer has completely changed the way they buy products and services. Online business has changed the way of buying and selling products. So, now every business is adopting these technological changes and updating their business process. From the smallest to largest level businesses are entering in online marketplace to compete in global competition.
adivaha® wants to change the perspective of travelling for people by making it a lot easier than ever before through latest technology and a professional team. Travelling has always been a part of lives of people since a long time now. It helps in changing the daily routine of life and exploring the beauty around us. In the old times, people used to go to travel agents for the purpose of booking of their vacation. A travel agent is a person who helps out people in everything right from planning their trip to making all the bookings.
Today, there are hundreds of portals which let you plan your trip and do all the bookings via the internet, and adivaha® travel portal solution is among the best portals. The web has taken over the bookings for travel and tourism. Many leading portals are implementing the new business strategies and software's solutions to manage their business process, and adivaha® also intends to do the same with best plans. travel agents have been the important part of travel business; in fact, having any travel development portal in India without travel agents would be an unimaginable thing because travel agent plays vital role in making a tour successful. So, here are some real reasons behind inclusion of travel portal in travel agent business:
If you have a personalized travel agency with best plans, People would be able to call you directly.
With the help of travel portal and latest technology, you can directly communicate with your users, and provide important information as per their requirements.
By using the portal, you can book hotels, bus, flights or anything else.
It could also solve the payment system also. Our online travel portal will provide you secured payment methods.
As adivaha® intends to bring the best travel portal development company in India, we provide clients with the best sources of technology available worldwide. We use the following technological resources to offer the best services.
Travel agents usually ignore technology and its benefits in India. Technology provides us the tools and gives us a great facility to communicate with our clients, and clients rely on you for their requirements. Therefore, technology for travel's development will play a huge role, and it will also give many people to enhance their business in the best possible manner.
Travel agents usually ignore technology and its benefits in India. Technology provides us the tools and gives us a great facility to communicate with our clients, and clients rely on you for their requirements. Therefore, technology for travel portal's engine in India will play a huge role, and it will also give many people to enhance their business in the best possible manner.
In the modern world, clients are also highly affected by the change which technology has brought. Their new mantra is "is there any app for that?" modern technology has already allowed the travelers to choose their destination of travel, reservations; multiple travel packages which they could afford and a lot more.
In the modern world, clients are also highly affected by the change which technology has brought. Their new mantra is "is there any app for that?" modern technology has already allowed the travelers to choose their destination of travel, reservations; multiple travel packages which they could afford and a lot more.
The competitive world of business demands technology to work for it, and the one who thinks he can compete on the global stage without using technology is insane. Therefore, adivaha® provides the best technology used for travel portal, and doesn't want to get behind in the competition.
B2B Agency System / B2C Booking system:
It allows you to manage and promote your own travel products and engage travelers based on search and bookings. It also enables to control control (own negotiated rates with each supplier based on direct agreements, mark-ups, affiliate commissions). It gives you the benefit to offer multiple payment methods for end customer (credit card or cash). Our travel CRM software will be Dedicated Back-Office Tools. It will be User-friendly having front and back-end interfaces (filters, maps, POIs).
White label solution
The white label solution is highly useful for any travel agent or tour operator associated with Travel portal's company in India because it will help you ensure real time flight booking, hotel booking with ease. Your account will be credited with every sale with your commission on the booking.
adivaha® will provide you the white label travel portal solutions which will offer a user friendly and personalized online portal. It will also give a panel to track bookings and publish fare on the websites in order to receive highest commission and uninterrupted travel facility on all travel products. It will give you all the technical and business help required from all the professionals and experts in out portal. Moreover, it's a great platform for all LCC/GDS with regular and cancellation policies.
GDS
adivaha® will also provide GDS which is a worldwide Global distribution system. It is owned and operated as joint ventures by major airlines, car rental companies, and hotel groups also called automated reservation system (ARS) or computerized reservation system (CRS). . GDS is a computerized reservation network used as a single point of access for accommodating airline seats, hotel rooms, rental cars, and other travel related items by travel agents, online reservation sites, and large corporations.
API
adivaha® will provide API access which makes it easy to connect data stream and functionalities between different software products. API is basically synonymous to growing connectivity. API is very important for travel portal nowadays because it helps costumer to choose the best for rent straight from the website by integrating your room reservation engine with available local car rental providers. It will save costumer's time and he will definitely pay you good price for the service.
Our Comprehensive List of Services
adivaha® is a one-stop-shop for all your travel website needs. We offer a multitude of services that empower you to become a market leader. Contact us for more info.
Have Questions?
The Internet is a huge resource, but
if your question requires particular expertise.
Keep Refreshing your customers - Who doesn't want his site to stand out from crowd? adivaha® gives you multiple options for home pages, headers, colors etc. Which can easily be managed from admin via shortcodes and settings. The theme supports almost all the big players in this market ie, WEGO, Travelpayouts, Agoda, Booking, Expedia etc.
Contact
Have something unique in mind? Drop a message.
Estimated reply time: 3-5 Working Days