Build your own Travel Brand!
Ready to go-LIVE travel solutions that helps your travel agency to sell a range of travel services pretty instantly. adivaha® travel solutions make sure you have no boundation over your imagination, you can do everything online, without the need for any technical knowledge or design skills. Easy Backoffice, extensive reporting with integrated Funds Management System. Upload funds easily and instantly through Netbanking, Debit Card, Credit Card. The best part is, we do offer customizations in case you believe it will boost your business!
Choosing the Right Corporate Travel Platform for Your Company
Choosing the right corporate travel platform is key to success. Explore our expert advice and consider the advantages of Adivaha®'s personalized solutions for your business to business.
In today's fast-paced business world, corporate travel booking tool plays a vital role in ensuring that companies stay connected with clients, partners, and opportunities around the globe. As a trusted third-party service provider, we understand the importance of selecting the right corporate travel platform that aligns with your company's unique needs and objectives. In this comprehensive article, we will guide you through the essential considerations and decision-making factors to help you make an informed choice.
Why is Choosing the Right Corporate Travel Platform Important?
Choosing the right corporate travel platform is of paramount importance for any travel business. At Adivaha, we understand the significance of this decision, and we're here to shed light on why it matters so much:
Enhanced Efficiency and Productivity: A well-chosen corporate travel platform streamlines booking processes, simplifies itinerary management, and automates expense tracking. This efficiency allows your employees to focus on their core responsibilities, boosting overall productivity.
Effective Cost Control: Managing travel expenses is crucial for maintaining a healthy budget. The right platform offers tools and insights to monitor and control costs, ensuring that your travel spending remains in check.
Ensured Policy Compliance: Many tarvel technology companies have specific travel policies in place to regulate spending and ensure compliance with company standards. A suitable platform helps enforce these policies, reducing the risk of overspending or policy violations.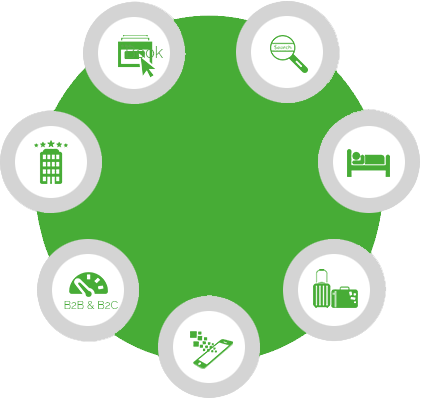 Right Corporate Travel Platform
How These Components Operate
World Span's components operate seamlessly through its robust travel technology infrastructure. The GDS continually aggregates and updates data from airlines, hotels, car rental agencies, and cruise companies, ensuring that the information provided to travel businesses and customers is current and accurate.
Travel businesses connect to World span's GDS through APIs (Application Programming Interfaces) or other integration methods, allowing them to access and utilize the data within their own systems, such as Joomla. This integration facilitates real-time searches, bookings, and reservations, enhancing the speed and efficiency of the travel booking process.
Robust Data Security: Data security is paramount in today's business landscape. A carefully selected platform prioritizes data protection, safeguarding sensitive travel information, and ensuring compliance with data privacy regulations like GDPR.
Enhanced User Experience: User-friendly interfaces and excellent customer support improve the overall travel experience for your employees. This, in turn, increases employee satisfaction and encourages higher adoption rates for the platform.
Flexibility and Integration: Every travel technology company has unique needs and existing systems. The right corporate travel platform offers flexibility, allowing customization to suit your specific requirements. Additionally, it seamlessly integrates with your current tools and processes, eliminating friction in travel management.
What Key Features Should You Look for in a Corporate Travel Platform?
When selecting a corporate travel platform, several key features are essential to ensure it meets your company's needs and facilitates efficient travel inventory management. Here are the key features you should look for:
Booking and Reservation Management: A robust platform should provide easy booking and reservation management capabilities. It should allow users to book flights, accommodations, and other travel-related services seamlessly. Look for features such as real-time availability, comparison tools, and the ability to make changes or cancellations conveniently.
Travel Expense Tracking and Reporting: Simplify expense management with tools to track and categorize costs. The platform should automate receipt handling and generate detailed, customizable reports for transparency and budget control.
Travel Policy Compliance Tools: Ensure that the platform enforces corporate travel policies, pre-approves expenses, and identifies non-compliant bookings. This feature guarantees adherence to company guidelines and spending limits.
Integration Capabilities with Existing Systems: Seamlessly connect the platform with your company's existing systems, such as financial and HR software. Integration reduces manual data entry and enhances data flow across systems.
Real-Time Travel Updates and Alerts: Stay informed with real-time travel updates, including flight delays, cancellations, and travel advisories. Automated alerts empower travelers to make informed decisions during their journeys.
How do you Ensure Security and Data Protection in Corporate Travel?
Ensuring security and data protection in corporate travel is paramount to safeguarding sensitive information and maintaining compliance with privacy regulations. Implement data encryption for both data in transit and at rest. This ensures that sensitive information remains confidential and secure from unauthorized access. Enforce strong user authentication methods, including multi-factor authentication (MFA). Implement role-based access control (RBAC) to restrict access based on job roles, reducing the risk of unauthorized data access. Conduct regular security audits and penetration testing to identify vulnerabilities. Address any issues promptly to maintain a secure environment. Establish automated data backup procedures and disaster recovery plans. Ensure compliance with data protection regulations such as GDPR to protect data integrity and privacy. Provide comprehensive training on data security best practices for employees. Foster awareness of potential threats like phishing attacks to prevent breaches. Assess third-party vendor security practices rigorously. Develop an incident response plan outlining steps to take in case of a security breach to minimize damage and ensure a swift recovery.
How Can You Evaluate the Cost and ROI of a Corporate Travel Platform?
Evaluating the cost and return on investment (ROI) of a corporate travel platform is essential to ensure that your company's travel expenses are optimized. Begin by calculating the TCO of the corporate travel booking software platform, encompassing initial and ongoing expenses. This comprehensive view ensures you understand the complete financial commitment. Estimate potential cost savings, including reduced booking fees and administrative overhead, to gauge the platform's economic impact. Compare these savings to the overall investment. Determine the expected ROI by comparing benefits (savings and productivity gains) to costs. The ROI formula quantifies the platform's financial return and guides decision-making. Evaluate the chosen platform's TCO and projected ROI against alternative solutions. This comparative analysis ensures you select the most cost-effective option. Take into account intangible benefits like enhanced employee satisfaction and improved supplier relationships. While not easily quantifiable, these factors can influence ROI indirectly. Prior to full implementation, conduct a pilot phase to assess real-world performance and measure actual cost savings and efficiency improvements. This data refines ROI projections and informs decision-making.
How does Adivaha enhance the corporate travel experience?
Adivaha enhances the corporate travel booking experience in several ways, making it a valuable choice for businesses seeking streamlined and efficient travel management:
Personalized Solutions: Adivaha specializes in tailoring travel solutions to meet the unique needs of each business. This customization ensures that the platform aligns perfectly with your company's travel policies, preferences, and objectives.
Efficient Booking and Reservation Management: Adivaha offers a user-friendly interface for booking flights, accommodations, and other travel technology services. This simplifies the booking process, saving time for both travelers and administrators.
Data Security and Compliance: Adivaha prioritizes data security and compliance with privacy regulations. Robust data encryption and secure access controls protect sensitive travel information, instilling confidence in data protection.
Enhanced User Experience: Adivaha®'s user-friendly interface and intuitive design improve the overall travel experience for employees. This results in greater user adoption and satisfaction.
Scalability: Our travel portal solution are designed to accommodate your company's growth. As your business expands, the platform can scale with you, ensuring continued efficiency and cost-effectiveness.
In conclusion, selecting the right corporate travel platform for your company is a crucial decision that can significantly impact your business operations and the travel experience of your professionals. It's essential to consider factors such as customization, integration capabilities, policy adherence, support, traveler safety, data security, and innovation when making this choice.
By carefully evaluating your company's unique needs and priorities and aligning them with the offerings of a reputable travel platform, you can streamline your corporate travel software processes, enhance traveler satisfaction, and ultimately achieve greater efficiency and cost-effectiveness. Make the choice that best suits your organization's goals and embark on a journey toward seamless and successful corporate travel.
Our Comprehensive List of Services
adivaha® is a one-stop-shop for all your travel website needs. We offer a multitude of services that empower you to become a market leader. Contact us for more info.
Have Questions?
The Internet is a huge resource, but
if your question requires particular expertise.
Keep Refreshing your customers - Who doesn't want his site to stand out from crowd? adivaha® gives you multiple options for home pages, headers, colors etc. Which can easily be managed from admin via shortcodes and settings. The theme supports almost all the big players in this market ie, WEGO, Travelpayouts, Agoda, Booking, Expedia etc.
Frequently Asked Questions
Below are some of the questions asked by visitors. Do visit our adivaha® Digest for more such questions. Don't hesitate to ask us if you have any questions
Hello team, can you tell me if I can connect several APIs in one platform or website?

20

views

1

answers

0

votes