Build your own Travel Brand!
Ready to go-LIVE travel solutions that helps your travel agency to sell a range of travel services pretty instantly. adivaha® travel solutions make sure you have no boundation over your imagination, you can do everything online, without the need for any technical knowledge or design skills. Easy Backoffice, extensive reporting with integrated Funds Management System. Upload funds easily and instantly through Netbanking, Debit Card, Credit Card. The best part is, we do offer customizations in case you believe it will boost your business!
Revolutionizing Business Journeys with Corporate Travel Software
As a third-party service provider dedicated to delivering cutting-edge related travel portal solutions to businesses, we understand the challenges faced by travel companies in ensuring seamless corporate travel experiences. In this comprehensive article, we will delve into the transformative power of corporate travel software and how it can revolutionize business journeys.
How does corporate travel software work, and what are its core functionalities?
At Adivaha, we understand that corporate travel software is the cornerstone of modern travel management, revolutionizing the way businesses plan, book, and optimize their journeys.
Corporate travel software simplifies the booking of flights, hotels, and other accommodations. It provides a user-friendly interface for employees to search, compare, and select the best options within the company's travel policy. Our corporate travel software ensures compliance with travel technology company policies. It automates policy checks during booking, helping companies control costs and maintain consistency in travel arrangements. Efficient expense management is critical for any business traveler. Our software allows travelers to capture receipts and submit expenses effortlessly. It also streamlines the approval process for managers, leading to faster reimbursements. Travel portal software creates and manages traveler profiles, containing essential information such as passport details, loyalty program memberships, and dietary preferences. This feature streamlines the booking process and ensures personalization.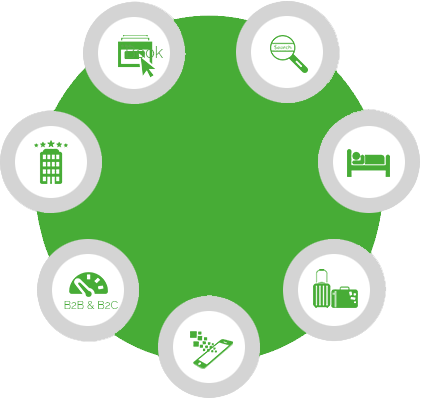 Business Journeys with Corporate Travel Software
Travel itineraries can change unexpectedly. Our software provides real-time updates on flight delays, cancellations, and gate changes, helping travelers adapt to disruptions seamlessly. Ensuring traveler safety is paramount. Our software includes features for tracking and communicating with travelers in case of emergencies, helping businesses meet their duty of care obligations. Seamlessly integrate corporate travel software with other systems, such as accounting software or HR platforms, to enhance efficiency and data accuracy.
What are the potential benefits of implementing corporate travel software?
Implementing corporate travel software can bring a wide range of benefits to businesses of all sizes. These benefits go beyond just cost savings and extend to improved efficiency, compliance, and traveler satisfaction. Here are some potential benefits of implementing corporate travel software:
Cost Savings: Corporate travel software helps businesses save money by optimizing bookings, negotiating favorable rates with suppliers, and reducing unnecessary travel expenses. It enables better control over travel budgets.
Efficiency and Time Savings: Automating travel processes, such as booking, expense management, and approval workflows, saves time for both travelers and travel administrators. This efficiency translates into increased productivity.
Improved Traveler Experience: Travelers benefit from user-friendly booking tools, real-time updates, and mobile accessibility, enhancing their overall travel experience and reducing stress associated with travel.
Traveler Safety: Corporate travel portal software often includes features for tracking and communicating with travelers in case of emergencies, contributing to a duty of care obligations and traveler safety.
Data Analytics: Access to data analytics and reporting tools allows businesses to gain insights into travel spending, identify trends, and make data-driven decisions. This can lead to further cost reductions and better supplier negotiations.
Centralized Information: All travel-related data, itineraries, and expenses are stored in a centralized system, making it easy to access and manage, especially for businesses with multiple travelers.
Supplier Negotiation and Booking: The software enables businesses to negotiate and book preferred rates with airlines, hotels, and car rental companies, resulting in cost savings and improved traveler satisfaction.
How can businesses choose the right corporate travel software provider?
Choosing the right corporate travel portal software development provider is a crucial decision for businesses looking to streamline their travel management processes. To ensure that you make an informed choice, consider the following steps when selecting a corporate travel software provider:
Start by defining your travel inventory management objectives. What are the specific challenges you want to address? Knowing your goals will guide your search for the ideal provider. Adivaha recommends conducting thorough research. Explore our website, read testimonials from satisfied clients, and seek recommendations from industry peers. This initial investigation will help you identify potential providers that align with your vision. Adivaha offers a comprehensive set of features and functionalities tailored to your corporate travel needs. Make a list of your requirements, such as booking tools, expense management, and reporting capabilities, and compare them with our offerings. Scalability is crucial as your business grows. Ensure that our corporate travel software can effortlessly accommodate increased travel volumes and adapt to evolving travel management requirements. Our travel technology software is designed for seamless integration with your existing business systems, such as accounting software, HR platforms, and supplier databases. This ensures data accuracy and reduces manual data entry, increasing efficiency. Adivaha understands the importance of user-friendliness. Test our software's interface to see how it caters to the needs of both travelers and travel administrators, ensuring a smooth and efficient experience for all.
What challenges might a business encounter when implementing corporate travel software?
Implementing corporate travel software is a transformative journey for businesses, but it's important to recognize and address potential challenges along the way. Here, Adivaha breaks down these challenges into six key areas, providing valuable insights:
● Resistance to Change: Employees may resist change, especially if they are accustomed to traditional travel management methods. Overcoming this challenge requires comprehensive training, clear communication, and showcasing the benefits of the new system to gain buy-in from stakeholders.
● Data Migration and Integration: Integrating the software with existing systems can be complex. Adivaha acknowledges the importance of careful planning, data migration strategies, and working closely with the software provider to ensure seamless integration with other travel business processes.
● Customization and Configuration: Tailoring the software to meet specific organizational needs may necessitate customization and configuration. This can be a time-consuming process and may require collaboration between the software provider and your IT team to achieve optimal results.
● Change Management: Managing the transition from manual or legacy processes to automated software requires a well-structured change management plan. Adivaha emphasizes the need for effective change management strategies, including communication, training, and engaging stakeholders at all levels.
● User Adoption: Successful implementation hinges on user adoption. Adivaha recognizes that providing comprehensive training, user-friendly interfaces, and ongoing support are critical to ensuring that employees embrace the new software and use it effectively.
● Supplier Negotiations: Negotiating preferred rates with suppliers, such as airlines and hotels, can be challenging but essential for cost savings. Adivaha acknowledges the importance of strong negotiation skills and industry knowledge in securing favorable agreements.
What role does Adivaha play in the corporate travel software landscape?
Adivaha is a dynamic and innovative player in the corporate travel software landscape, offering a range of solutions that revolutionize the way businesses manage their travel operations.
Adivaha specializes in providing tailored corporate travel portal solution that align precisely with the needs and objectives of our clients. We recognize that every organization is unique, and our software is designed to be adaptable and customizable to accommodate these individual requirements.
We leverage cutting-edge technology to develop and deliver corporate travel software that is at the forefront of industry innovation. Our commitment to staying up-to-date with the latest advancements ensures that our clients have access to state-of-the-art tools and features.
Adivaha understands the importance of seamless integration within a corporate ecosystem. Our software is designed to integrate effortlessly with other online travel business systems, such as accounting software and HR platforms, enhancing data accuracy and streamlining processes.
Conclusion
In conclusion, corporate travel software is a game-changer for businesses seeking to streamline their travel management processes, reduce costs, and enhance the overall travel experience for employees. By embracing these solutions, travel technology companies can stay ahead in an increasingly competitive business environment. At Adivaha, we are committed to revolutionizing corporate travel through our innovative travel-related solutions, ensuring that businesses can unlock the full potential of their travel operations.
Our Comprehensive List of Services
adivaha® is a one-stop-shop for all your travel website needs. We offer a multitude of services that empower you to become a market leader. Contact us for more info.
Have Questions?
The Internet is a huge resource, but
if your question requires particular expertise.
Keep Refreshing your customers - Who doesn't want his site to stand out from crowd? adivaha® gives you multiple options for home pages, headers, colors etc. Which can easily be managed from admin via shortcodes and settings. The theme supports almost all the big players in this market ie, WEGO, Travelpayouts, Agoda, Booking, Expedia etc.
Frequently Asked Questions
Below are some of the questions asked by visitors. Do visit our adivaha® Digest for more such questions. Don't hesitate to ask us if you have any questions
Hello team, can you tell me if I can connect several APIs in one platform or website?

20

views

1

answers

0

votes