Build your own Travel Brand!
Ready to go-LIVE travel solutions that helps your travel agency to sell a range of travel services pretty instantly. adivaha® travel solutions make sure you have no boundation over your imagination, you can do everything online, without the need for any technical knowledge or design skills. Easy Backoffice, extensive reporting with integrated Funds Management System. Upload funds easily and instantly through Netbanking, Debit Card, Credit Card. The best part is, we do offer customizations in case you believe it will boost your business!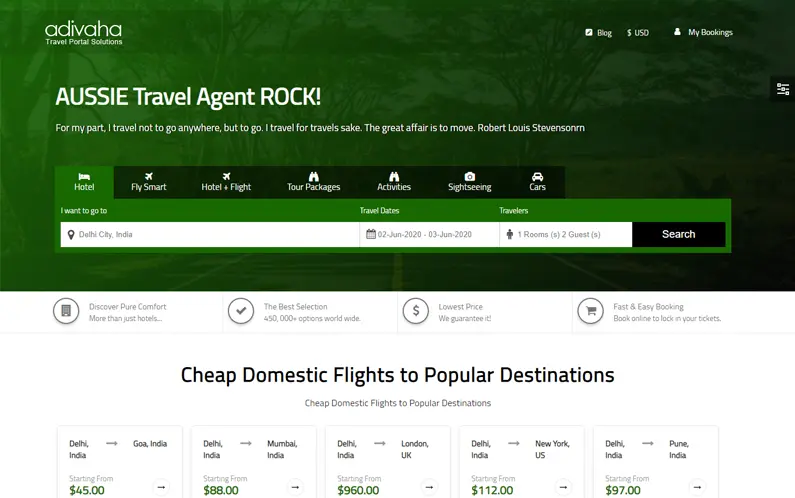 How to Add Expedia Plugin To Your WordPress Website
WordPress is increasing in popularity every day, thanks to its practical use and ability to customize. Although it started out as a blog infrastructure, the plugin structure is of great importance to be able to use wordpress flight booking. This has now turned into a comprehensive content management system, to meet different needs.
Currently, there are over 23 thousand plugins on search wordpress theme' Plugin Page, but the really useful and effective ones are far less. The only problem is being able to decide which ones are right for you. To fix this problem, the adivaha® team has selected the most popular plugin and that is Expedia Plugin Wordpress. It is the most popular WordPress plugin based on download count, download addresses, and short descriptions.
What is an Expedia plugin exactly?
Expedia Plugin is code components, that is, programs that are installed in WordPress to extend its standard functionality.It works much like how they do, for example, also extensions or adds- ones for web browsers and is made with the same technologies as WordPress, i.e. they are programmed in PHP, and use HTML, style sheets CSS and JavaScript for the user interface part.The grace of plugin is that with them you can implement practically anything you can imagine and that is what makes WordPress flight booking plugin so versatile and so powerful to the point that. In reality, it is worth much more than just setting up blogs. It is often used, for example, for travel websites, such as corporate travel websites or e-commerce traveling sites.
It can be said that this plugin helps you look professional. Flight booking form plugin wordpress CMS provides you with a login form by default, but you need a beautiful and unique login page to show off your professionalism to users.Expedia Plugin has been able to attract many users with its features and high quality. One of the most important things in the Expedia Plugin is that, in this plugin, you have the ability to customize your membership page and log in to your travel site.Using the Expedia Plugin, you will be able to place a special logo on your tour site; or, if desired, replace the default color and image of this plugin. The site administrator has the possibility to consider various fields for user membership, which can be in the form of SMS, email, phone number, and so on.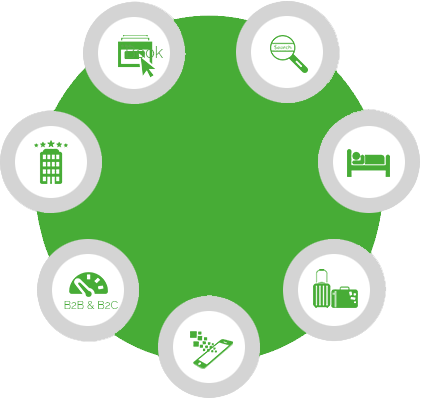 Expedia Plugin On Your WordPress Website
Note, however, that personalization is not limited to the webmaster; and users can also customize their membership page. For example, the user has the ability to place the desired image on his user panel.This flight booking plugin wordpress has many other features that you will be able to use after activating it. If you are looking for a great alternative to a very simple page, Expedia Plugin is definitely a great option for you
The reason for the popularity of the Expedia Plugin
Expedia Plugin for WordPress users or in the words of flight booking wordpress plugin site administrators allows you to add features and facilities to the travel site. Without even the webmaster needing programming knowledge.Expedia Plugin makes working with WordPress easier and you can find and install the plugin you need from thousands of WordPress plugins with a simple search and use it.When launching a WordPress site, there is no important plugin installed in it, and there are a few plugins that only exist for the WordPress Company itself, and you have to install the plugin or plugin that you need.After installing the Expedia Plugin, sections will be added to your WordPress counter. For anything you want there is a plugin, just install and run the search.
In some cases, WordPress lacks the necessary features and tools to better manage travel websites, and it is the Expedia wordpress Plugin that is responsible for developing and covering WordPress features.In the WordPress counter, there is a section called Plugins that you can easily find and install the Expedia Plugin.WordPress Expedia Plugin is coded by people who are proficient in PHP programming.
With the Expedia Plugin air ticket booking wordpress theme free, you can add a new option to your travel site without knowing even a single line of coding. For example, if you want to know the statistics of your tour site, just install the Expedia Plugin.If you are fluent in PHP programming language, you can easily write a plugin and use it on your travel site or publish it for other sites users to use.The importance of SEO is not hidden from anyone. As a webmaster, you need to be familiar with the things that drive SEO; and do your best to increase your SEO.
The development of your travel site depends on having high SEO in Google. Because with high SEO, Google makes your travel site one of its top priorities, and more users visit your site. The best and most useful SEO plugin in WordPress is the expedia integration Plugin. The capabilities of this plugin introduce you and your users to a new world in WordPress. This plugin is one of the most essential plugins you need to install after launching your travel site. Your traveling site will encounter significant inbound traffic after installing this plugin; this will ultimately lead to the growth and development of your travel business.
Therefore, according to the above, it can be said that the Expedia Plugin allows its users to experience being a professional. The appearance of your site reflects your work identity. In this way, the appearance of your traveling site can show the user in the first place whether you are a professional or not. That's why you should do your best to show an attractive appearance to your users. One of the factors that greatly affect the appearance of your site is the variety of pages that exist on a website. You can use an Expedia Plugin to help you create beautiful and unique pages for your site. One of the most popular pages building plugins in WordPress is Expedia Plugin. Expedia Plugin allows its users to create attractive pages with a wide variety of colors and designs.
This plugin has no limit on the number of pages, and you can create an infinite number of new pages in this plugin. Being able to provide compelling content to the user will encourage the user to stay on your traveling site; and have a greater desire to stay on your site. So try to attract more users to your travel business by having various pages on the site. Among other features of this How to Create Your Own Flight Booking WordPress Site, it is very easy to use. This way you do not necessarily need coding skills to use this flight booking form plugin wordpress and you can easily create your pages without coding. In fact, in this plugin, the user can create attractive pages just by dragging and dropping. All you have to do is drag the elements you want and drop them in place.
Conclusion:
If the features of your travel site are not enough for you, install this Expedia Plugin flight booking theme wordpress to have at your disposal many new shortcode to create buttons, boxes, sliders, and more. If you want to give your users the ability to rate your content, start using the Expedia Plugin. Visitors to your traveling site will be able to assign a number of stars to posts, pages, comments, and interventions. This is a tool to consider for growing sites that, once they have reached adequate traffic volumes, will be able to switch to more convenient tools in terms of fees applied and networks.
We've come to the end of this roundup of the best flight booking wordpress themes plugin. As you have seen, the tool included here allows you to implement a lot of different features. As useful as they may seem.
Our Comprehensive List of Services
adivaha® is a one-stop-shop for all your travel website needs. We offer a multitude of services that empower you to become a market leader. Contact us for more info.
Have Questions?
The Internet is a huge resource, but
if your question requires particular expertise.
Keep Refreshing your customers - Who doesn't want his site to stand out from crowd? adivaha® gives you multiple options for home pages, headers, colors etc. Which can easily be managed from admin via shortcodes and settings. The theme supports almost all the big players in this market ie, WEGO, Travelpayouts, Agoda, Booking, Expedia etc.
Contact
Have something unique in mind? Drop a message.
Estimated reply time: 3-5 Working Days