Build your own Travel Brand!
Ready to go-LIVE travel solutions that helps your travel agency to sell a range of travel services pretty instantly. adivaha® travel solutions make sure you have no boundation over your imagination, you can do everything online, without the need for any technical knowledge or design skills. Easy Backoffice, extensive reporting with integrated Funds Management System. Upload funds easily and instantly through Netbanking, Debit Card, Credit Card. The best part is, we do offer customizations in case you believe it will boost your business!
Which Flight and Hotel Booking API is Right For You?
Adivaha, a travel web portal, is incomplete without the integration of flight price api (advanced passenger information) system.
FLIGHT API:
API made a much flexible and more accessible flight and hotel booking on your website. The airline reservation system makes complete travel reservation site to build customized travel booking api provider applications cost-effectively. The API technology changes according to the evolution of technology. Several clients developed their applications by using flight and hotel API.
adivaha® Flight API helps in cost-effectively updating our customized travel applications, and this system is easy to integrate. The vital role of adivaha® flight and hotel booking API in the development of different airlines by enabling travelers to book online air ticket search engine for flights. So, it helps in the event of technology from offline to online mode and makes more natural ways for the clients. We provide a platform with different offers that consume less time and effort to complete an online airline booking. Flight API increases the revenue of the business of travel companies and automate the system. It consists of online data of all types of airlines, which includes major airlines, low-cost airlines, hybrid airlines, corporate fleets. The integration system of flight API connects travel agencies and customers (vendors) all over the globe, which helps the broadening of the market. adivaha® flight API integration solution system also provided and the most trusted and reliable GDS (Global Distribution Systems).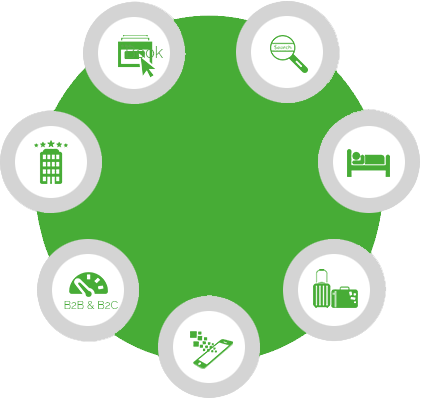 Choosing the Right Flight and Hotel Booking API
It brings huge website traffic and provides the best services to the travel portals. adivaha® Flight API integration system attracts the maximum number of travelers and business partners by submitting the online portals' best functions. The integration of flight API into the systems means that we are investing the new technology and software into the system. adivaha® Flight and hotel Booking API provides mobile apps, and online web portals work as a base from where flight ticket reservations are available to the customers. Flight booking api free API system has designed to provide maximum facilities with flexibility at minimum cost to the customers. This system has Web 2.0 developments incorporated. Our Web integration helps in the incorporation of the new features easily and quickly with versatile and full web compilation. It helps to provide solutions to our clients related to every problem. By integrating this flight booking engine offers clients to holiday packages, hotels, insurance, book flight, and other services. adivaha® provides the most preferred API system, which provides complete online flight booking packages.
FEATURES OF FLIGHT API:
It provides a cost-effective application.
It has an online airline booking engine mobile app/web
Robust and reliable
Maximize efficiency by custom-designed solutions
Live data chart
Availability of Web 2.0
Less consumed time and cost
Update travel booking application
Customized travel flight booking api india application
Live prices and browse feeds
Broader customer range
ADVANTAGES OF FLIGHT API:
Provides error-free online system
Increase web traffic
Reliable and flexible integration
Trustworthy and easy setup
Business terms are flexible
Provides first-class Services
Range of extensive fleet
Network all around the world
Custom- designs solutions
Inventory through sales channels
HOTEL BOOKING API:
adivaha® Flight and Hotel booking API is a web service which offers online hotel anf flight booking api free. With the help of Hotel booking, API made multiple suppliers through the task of navigation, each providing accommodation choices in every location, each providing pricing data, and availability. After integrating the hotel API in with your Travel portal GDS system, it easy to offer all hotel deals and information to the clients through online booking. So, the purpose of this system is to book a hotel in real-time as fast as possible. adivaha® hotel API covers and consists of a complete booking procedure, which includes a list of hotels, pricing details, locations, confirming the booking, getting a list of reservations, and obtain information on booking. It contains different contents information like location, pictures, description, facilities, services, etc. Hotel booking API provides the latest technologies that help tourists and customers to choose the best hotel for their trip. This system makes a profitable relationship between the hotel industry and the travel industry, which gives benefits to both. Hotel API integrating system provides the best solutions to the travel industry and support to integrate your website with the API. It establishes a friendly relationship between the travel industry and customers all over the globe. adivaha® Hotel API provides details including type of room with images, book rooms, and cancellation. So when customers are selecting a hotel, they will get all the necessary information about the booking and hotel they should need at their fingerprints. Once it is integrate into your website, it covers all real-time requirements of all types of small to high standards travel agents and guests. So, it provides vast hotel inventory from anywhere in the world to their client's access through online booking systems. The best hotel flight booking api php free engine with very best hotel availability is specialized in reserving hotels online. After integrating this travel and tourism software, travel agencies will get the solutions that you, as a travel agent, can provide to your potential customers related to their travel issues. Hotels need to be customize according to the requirements of the customers. adivaha® Hotel API aggregates all hotel contents into a single platform from leading hotel chains, suppliers, and online travel agencies (OTAs). The architecture of this system designed to meet all the requirements of the customers. This makes the hotel reservation and booking easy for the clients. adivaha® hotel booking API provides all the comprehensive descriptions of the hotels all over the globe, which are maintained by the professional and experienced team.
FEATURES OF HOTEL BOOKING API:
Fully flexible system
Fast and Scalable
Real-time integration
Cost-effective
Best service airlines api provider in india
Multi-language
Optimized solution application
Decreased development costs and time
Open system architecture
Optimized product solutions
ADVANTAGES OF HOTEL BOOKING API:
Navigation facilities
Integration support
Cost savings
flight booking api is easy
List of inventory
Real-time availability
Range of extensive fleet
First-class services
Flexible business terms
Custom-design solutions
Our Comprehensive List of Services
adivaha® is a one-stop-shop for all your travel website needs. We offer a multitude of services that empower you to become a market leader. Contact us for more info.
Have Questions?
The Internet is a huge resource, but
if your question requires particular expertise.
Keep Refreshing your customers - Who doesn't want his site to stand out from crowd? adivaha® gives you multiple options for home pages, headers, colors etc. Which can easily be managed from admin via shortcodes and settings. The theme supports almost all the big players in this market ie, WEGO, Travelpayouts, Agoda, Booking, Expedia etc.
Frequently Asked Questions
Below are some of the questions asked by visitors. Do visit our adivaha® Digest for more such questions. Don't hesitate to ask us if you have any questions
I am setting up this plugin for my client's website, I tried registering and received the account activation email, but …

21

views

1

answers

0

votes