Build your own Travel Brand!
Ready to go-LIVE travel solutions that helps your travel agency to sell a range of travel services pretty instantly. adivaha® travel solutions make sure you have no boundation over your imagination, you can do everything online, without the need for any technical knowledge or design skills. Easy Backoffice, extensive reporting with integrated Funds Management System. Upload funds easily and instantly through Netbanking, Debit Card, Credit Card. The best part is, we do offer customizations in case you believe it will boost your business!
How to Integrate a Flight API Booking Engine Into Your Website
It is a unique flight booking api engine that has no analogs not only in our country but also in many developed countries of the world. Enough to be dependent on strictly regulated tours and limit your choice for your own money.
With Flight API booking engine, system adivaha® team provides a service for accessing, flight booking api, and purchasing travel services such as buying air tickets. When you go to agencies or airlines for a ticket, then you are offered a limited choice. We are not an agency or an airline; we have the largest selection of flight booking.
Why choose flight API booking engine services?
It has a wide and comprehensive range of tourism products by having a connection platform for all suppliers of tourism products inside and outside the country. Connecting to suppliers of domestic and international flights, its core covers six existing groups of all suppliers. Also, the new solution offered by this booking system to connect API to tourism operators has a unique feature that eliminates the need for agencies and OTAs to connect each tourism product individually. By providing this solution, API is integrated with the form of a comprehensive API booking, and the tourism website can provide all tourism products only by receiving a flight booking api php free engine.
. In this regard, our customers can take advantage of this service along with other API services provided by other service providers. So if you have been focusing on just one tourism activity to date. You can now have a comprehensive and integrated API of all tourism services including hotel reservations, airline tickets, car rental, tour packages, train tickets, and more.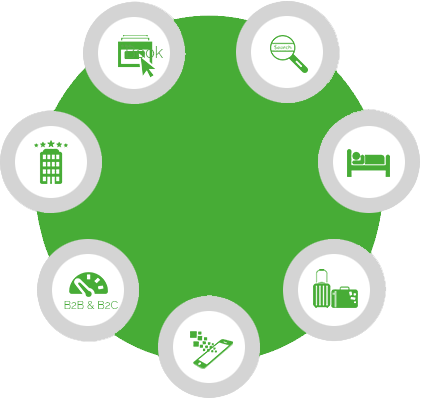 Integrate a Flight API Booking Engine to Your Website
Take advantage of the bus and thus expand the scope of your flight booking api free business not only in one area but in all areas. By implementing this integrated API, while increasing the agency's revenue in the field of online tourism. You can expand the sale and provision of tourism services abroad. And you can also manage your own tours or sell tours to your colleagues. Access more than 55,000 hotels worldwide, book your website through your website, and set airfare rates according to your booking business policy.
How does the flight API booking Engine work?
Depending on the flight API booking service of your choice, you will be offered a variety of features. API booking engines may provide services at the domestic airline level, or their services may include purchases from foreign airlines. You will also be able to create custom panels for yourself or affiliate agencies if expedia flight api service is implemented for you. This way, your affiliated agencies, and counters can access all types of reports in their panel and check flights based on time, flight route, and other parameters.
As explained, Flight API booking engine services have the same functionality as all tourism services and products. In this flight price api service, the initial requests that are sent are based on the end user's search in the search engine of the tourism website. Include items such as origin, destination, departure date, return date, flight class, number of adults, and so on.
According to the mentioned requests, the initial answers are sent from the server, including the available flights, and are displayed to the end-user. It should be noted that the flight information is displayed by the flight booking api provider in india engine development team. And the server sends the information in code only. After selecting the desired flight through the user, a secondary request is sent which includes the selected flight information and passenger details. At this stage, and if the system determines that the information sent is correct, the ticket is issued and displayed to the user.
But the final issuance of the ticket is subject to sending and receiving information that includes the payment process. Which is the last step in performing the service task? If the payment process is completed in this process, a air ticket search engine request will be sent and the service provider will finally send the ticket. This trend is the same in other booking engines such as hotel reservation service and bus ticket purchase, and the only difference is in the type of request for tourism product specifications.
Features of the online flight booking engine:
A simple online travel site interface makes you a popular option for customers to purchase travel products
Connect to the booking engine through the agency's dedicated account. 
Provide flight booking service output integrated with the best technology.
Use of mapping technology to increase data transfer speed and accuracy of world city names, airports and airline names, world hotel names, and information.
Using correct and refined names for all cities, airports, and airlines in the world.
Ability to enable and disable flight display of charter service agencies in the Charter Flights web service.
Use different languages ​​and different currencies according to the client's needs.
Online booking systems enable customers to search in real-time and check booking rates on various websites with the click of a mouse.
To buy tickets easily, the software directs customers to the booking page, as soon as the appropriate selection.
Online payment gateways have solved the problems caused by payments and financial transactions with a few simple clicks without face-to-face visits.
These high-tech programs integrate API and make a flight booking based on the lowest available tariff search.
In fact, the flight booking engine facilitates a wide range of B2B and B2C portal development services with tools such as APIs, web services, XML for flight booking, hotel booking, and car rental.
Another feature of a flight booking api price engine is the quick access to information in the form of classified reports. For example, the accepted people, the required statistics, and in the form of classified reports are quickly provided to the employees of the relevant department or management. Information about flight booking and their capacity, as well as service costs, are also displayed online for travelers.
The ability to modify information is the best feature of this system, which allows users to view information about guests, including increasing and decreasing the number of flights.
This system refers to suppliers that provide services to almost all global airlines and all airlines provide services through this provider. Among the world's airlines, there are airlines that do not even have direct sales and sell and provide services through this supplier. It is one of the few APIs flight booking api providers engines that have covered many global airlines. This eliminates the need for the client to communicate and make direct contact with hundreds of domestic and foreign airlines. In addition to connecting to these multi-APIs, it also provides other tourism products. Such as hotels, directly through several major suppliers around the world, and is increasingly connecting to other suppliers.
This booking engine will provide agencies with a highly centralized and integrated flight booking api india service that spans a wide range of hotels around the world. Also, online sales websites of tourism services and mobile applications can use the provided booking service to provide all online tourism services on their platform and provide tourism services to their customers. This booking API has a technical and expert team that will be fully interacting with you in all stages from implementation to operation. 
Conclusion:
Flight API booking engine service is a service that has greatly changed the travel business and facilitated the work of online travel agencies. It connects to the global distribution systems to show the passenger at the moment of best flight api, hotel and no moment for sale, no room in the world or flight is lost. Therefore, the use of this technology with the focus on changing the overall face of the flight booking business has become the basis for the development of online booking portals.
Our Comprehensive List of Services
adivaha® is a one-stop-shop for all your travel website needs. We offer a multitude of services that empower you to become a market leader. Contact us for more info.
Have Questions?
The Internet is a huge resource, but
if your question requires particular expertise.
Keep Refreshing your customers - Who doesn't want his site to stand out from crowd? adivaha® gives you multiple options for home pages, headers, colors etc. Which can easily be managed from admin via shortcodes and settings. The theme supports almost all the big players in this market ie, WEGO, Travelpayouts, Agoda, Booking, Expedia etc.
Frequently Asked Questions
Below are some of the questions asked by visitors. Do visit our adivaha® Digest for more such questions. Don't hesitate to ask us if you have any questions
What all GDS and Providers are connected in the platform?

27

views

1

answers

0

votes