Build your own Travel Brand!
Ready to go-LIVE travel solutions that helps your travel agency to sell a range of travel services pretty instantly. adivaha® travel solutions make sure you have no boundation over your imagination, you can do everything online, without the need for any technical knowledge or design skills. Easy Backoffice, extensive reporting with integrated Funds Management System. Upload funds easily and instantly through Netbanking, Debit Card, Credit Card. The best part is, we do offer customizations in case you believe it will boost your business!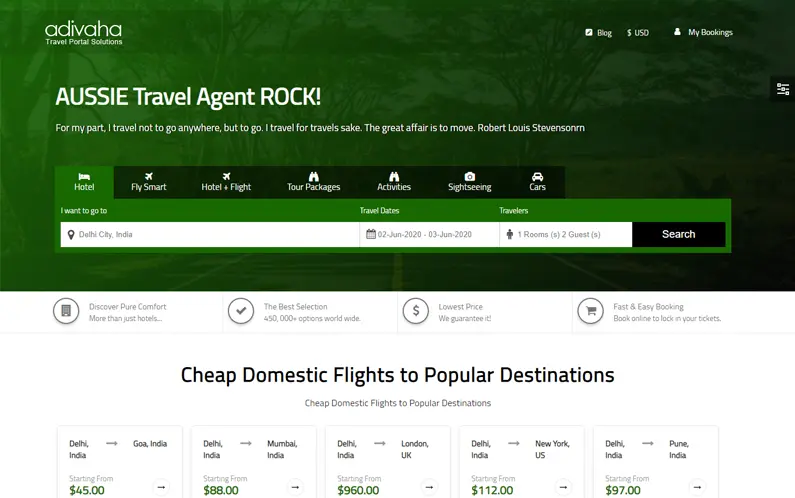 Integrating Flight APIs - The Ultimate Guide
Travel portal is not considered complete without the integration of a flight booking API. adivaha® is the leading API providing flight booking API that makes it easy and flexible to book flights on your website.
We are here to offer you the latest travel technology solutions to grow and empower your business. We believe in serving the best to our customers and that is why we improve ourselves to put ourselves before anyone else. Flight API allows you to access content from various GDS airlines from different countries. In this era of technology, you can't lag behind your competition, you need a cost-effective as well as customized travel APIs. To react quickly, you need to evolve into online technology. Now the customer is not interested to book the flights offline, instead of offline mode they are using online mode to book their flights, and that is why there is the huge increase in online travel portals.
It becomes annoying for a customer if they have to wait for a long time to book a ticket, so we help in making your business stronger and improve your revenue by automating the process of flight booking and reducing the time to book the flight online. In the past, we have served many clients and developed the best travel portals for them using our travel API. We know that the client's requirement is your foremost priority. That is why we offer the private label version, where we can completely change the basic layout so that it can meet our customer's requirements. Our Flight Booking API is a powerful and centralized solution that enables real-time booking for flights. Global airlines are fully integrated to form a centralized global distribution system (GDS). With us, you can expect a cost-effective solution to build and update your application.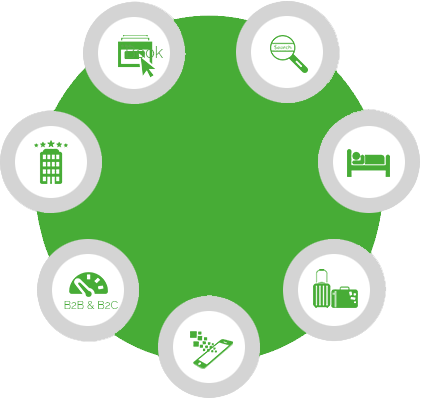 Guide to Integrating Flight APIs
We also offer you a wide range of software products that can help you sell your products directly as well as indirectly. Our API consists of data from all the small, large, low cost, hybrid and corporate airlines. For your customized travel booking website, we offer you a cost-effective solution. Our travel API is easy to implement on your website. Our Flight's API can connect the agents and people from all over the world improving your market reach. Our Flights Booking API is the most trusted and reliable API integration solution.
Flight Booking API
The API integration that we used is one of the most trusted Global Distribution Systems (GDS) which helps travel portals to attract huge traffic. They can broadcast their services effectively by having the best service provider by their side. GDS is a network that is used by many travel agencies and travel agents to book flight tickets, car rental, and hotel booking. Previously, we have worked with many travel portals to design and develop their web travel portal. We have an experienced and skilled team so you can invest your funds and look for the long-term benefit by engaging with us. After purchasing our flight booking API you can sit back and relax, and reap the benefits of investing in the best integration technology. The flight tickets are available for booking in flight booking engines, anyone can complete the process of flight reservation using a website or an application. The API integration helps you to improve your business productivity, increase business revenue as your operational efficiency improves. The API integration works in real-time so you have a lot of opportunities to catch new market trends, thus reducing the operational costs. We can help you to integrate the flight booking API on your portal using which you can sell huge amounts of flights without any exertion.
Our team works hard to make things easy and accessible for you, we provide you with the full access of the flight Solution and also integrate it on your website or application which helps people to book their flight tickets and can get the confirmation in real-time. We have a team of professionals who can reduce the cost of providing you with flight booking API integration at the best price. With the help of API, it becomes quite easy to search and book flight tickets. The airline booking system assists the customer while he/she is making flight ticket reservations for any domestic or international flight. Our flight Integration offers you all kinds of flights available to book with all types of filters to make the flight registration easier.
To be on the top of the travel industries worldwide you need a powerful software to access the airline content that deals in the one way, roundtrip, multiple city trip and a combination of a group booking. To improve your business strategy, our API integration allows you to access all kinds of online travel products that are running worldwide. With the help of our powerful API integration, you can get connected with the all top and leading airlines, service providers and get customers from all around the world. As you get access to all kinds of airlines from low fare to costly ones, you and your customers save a lot of time while booking flight tickets, so it is profitable for both parties. We work hard to take your travel business to the new heights of success and provide you with our services sincerely so that your travel portal can be an ideal travel portal which others can only imagine. To provide the well-organised services to our clients we use the most effective, stable and reliable GDS. Our flight Booking Api integration hence helps the travel portals to gain huge web traffic on their website. Flight Integration brings all the deals sales at one place which helps the customers to access all the available deals all across the world.
Flight Itegration
We offer you the most trusted and cost-effective APIs with all the flexibility at present as well as in future. With the changing technology, you don't need to worry about the updates and maintenance; our team takes care of that very well. We aim to help travel agents and service providers so that they can transform their business, discover new opportunities and join the chains with global airfare inventory. To rapidly increase the volume of XML API integration, we already have a fixed mapping and static data. As we have a specialized team to handle and perform the XML and API tasks efficiently.
For the people who are in the travel business, they need a flight booking API in their travel portal to let their customers search the flights from the various airlines and compare the prices. A travel agent or any customer who is interested in booking a flight can get the real-time prices of the flight, flight status and duration of the flight. If you have an effective API integration on your travel portal or application then you will attract a lot of traffic. With our flight Software, your customers will able to get all details about a flight including the type of flight, destination, halt time, the airline that is operating flight, the status of the flight and about the airline which is operating the aeroplane. Your customers will get all sorts of information with our API integration.
Being the topmost flight Solution provider, we take pride in announcing that we create a transparent panel for your customer so that they can get accurate and real-time information related to flight reservation. We have a huge set of software where we can compile the data and make sure that whatever your customer is getting is the accurate information. In the past, we have already served many clients with our flight booking API integration service.
In recent years we have observed a great boom in the travel industry which has increased the competition to attract the customer. No matter whether you are a huge tour operating company or a small travel agent, without API your website is good for nothing. We are here to offer you the best solution to compete in this industry. Our flight booking API, your customers can receive a large pool of airlines as we can sell the huge inventory flights.
With our Itegration, you have access to selling the flight from different airlines. While we integrate flight's API into your website, you get all the access and then you can add your effective services. Once you get the access you and your customers from all over the world can access those services.
The main services you get with our Simple Integration are
Domestic or international flight search 
Real-time flight registration 
Real-time flight cancellation 
There are several benefits of using our flight booking API. With our integration, you can take your business to the new heights and can discover new opportunities in the future. Here are some benefits of having our API integration.
Vast Inventory
With our flight Solution, you get details of flights from various airlines that are displayed on your website from where you and your customers can book a flight directly. After integration, you will get a drastic change in your traffic because of the inventory that you are offering to your customers.
Time-Saving
Our API can help you to save time just by saving the necessary details that you need to enter on various occasions, so you don't need to enter those details manually. It becomes easy to book flight tickets and get the booking confirmation in real-time as well as saving a lot of time.
Cost savings
The operational cost is reduced as the API allows booking the flights quickly with real-time pricing as well as showing the availability of the flight. You get access to all the flights from different airlines, you only need to pay one-time fees so you don't need to invest more money in the future.
Easy to Operate
Our easy to operate admin panel helps you in dealing with your customers quickly while our developers will handle the coding part. If you wish to incorporate any changes in your plugin, you can just let us know and we can do that by modifying the XML code easily.
Personalised service
With our Flight Engine, you get a lot more than just integration, we also provide you with personalised services. So, if you buy our flight booking API, you will get our personalised services as well.
Customized Solution
Not every travel business owner thinks the same and that is why we offer the customized designed solution to our clients. We focus on your requirements and then design it according to your needs. With our customised solution, you get the maximum benefits for your website which increases your website traffic.
Strong Flight Network
We have a strong flight network which helps your customers to get access to more flight options. They can book a flight from anywhere in the world with our network. With us you get all the benefits of booking a flight, also you have access to booking flights from any airline according to your preference. From a low-cost airline to a costly one, you can register from anyone.
Why choose us?
We provide a user-friendly admin panel which can be easily controlled by you to manage your travel portal. 
We offer a wide range of features to the retail, corporate customers and travel agents. 
Our online booking engine is flexible, stable, reliable and easy to use. 
We are not only the top-rated in-flight Company provider but we also top-rated and trusted hotel API provider, offering end to end travel portal solutions to our clients. 
With us, you can get the surety that you will get complete travel portal requirements as we partnered with many airlines, hotels, car rental and sightseeing in many countries. 
We provide a user-friendly admin panel which can be easily controlled by you to manage your travel portal. 
We offer a wide range of features to the retail, corporate customers and travel agents. 
Our online booking engine is flexible, stable, reliable and easy to use. 
We are not only the top-rated in-flight Booking API provider but we also top-rated and trusted hotel API provider, offering end to end travel portal solutions to our clients. 
With us, you can get the surety that you will get complete travel portal requirements as we partnered with many airlines, hotels, car rental and sightseeing in many countries. 
We have a team of professionals who have years of experience and can provide you with the best travel portal with their exceptional skills.
Our Comprehensive List of Services
adivaha® is a one-stop-shop for all your travel website needs. We offer a multitude of services that empower you to become a market leader. Contact us for more info.
Have Questions?
The Internet is a huge resource, but
if your question requires particular expertise.
Keep Refreshing your customers - Who doesn't want his site to stand out from crowd? adivaha® gives you multiple options for home pages, headers, colors etc. Which can easily be managed from admin via shortcodes and settings. The theme supports almost all the big players in this market ie, WEGO, Travelpayouts, Agoda, Booking, Expedia etc.
Frequently Asked Questions
Below are some of the questions asked by visitors. Do visit our adivaha® Digest for more such questions. Don't hesitate to ask us if you have any questions
Hello, Can we know the cost or the process of getting the B2B Travel Booking Software?

5

views

0

answers

0

votes
Contact
Have something unique in mind? Drop a message.
Estimated reply time: 3-5 Working Days