Build your own Travel Brand!
Ready to go-LIVE travel solutions that helps your travel agency to sell a range of travel services pretty instantly. adivaha® travel solutions make sure you have no boundation over your imagination, you can do everything online, without the need for any technical knowledge or design skills. Easy Backoffice, extensive reporting with integrated Funds Management System. Upload funds easily and instantly through Netbanking, Debit Card, Credit Card. The best part is, we do offer customizations in case you believe it will boost your business!
GDS-API Integration - A Must Need for Efficient Systems
adivaha® Travel Portal Solutions has been providing the ideal travel technologies, third party API integration, Car leasing API integration, XML Hotel CRS integration along with cutting edge travel technology.
We have a vast travel technologies collection, and we provide them at prices on the marketplace offered by none of our competitors. We give the integration services at unbelievable rates, meaning you can begin with us with a small budget too. GDS API integration is provided by us, so you get access to the market leaders in GDS systems such as Amadeus GDS. All these GDS integration to your website will not allow you to scale your business but also have a worldwide reach. Amadeus GDS has been popular in the travel industry for providing the Distribution system for hotels and airlines, and you getting access to that can be a boon for your business. Integrating GDS to Your Website will enable you to get protected real-time pricing connectivity, multiple channels for supply of providers, and auto-updating of contents
Gds api integration is an around the planet"Global Distribution System" automatic booking system used as a lone purpose of access for accommodating airline seats, hotel rooms, rental vehicles, and other travel-related things by travel agents, online booking sites, along with other travel agencies. They are maintained and functioned as concerted jobs by significant airlines, vehicle rental companies, and resort groups known as automated reservation system (ARS) or (CRS) Computerized reservation system. We are always with you during travel portal software development for your travel organization. GDS API Integrate with your travel portal is fundamental for your internet travel service. It will get you access to a massive inventory of major airlines, hotel chains, rental cars and vacations services. The GDS API system enables your customers to access on a single stage as opposed to moving to several places to make bookings that are different in different websites, increasing confusion for the traveller. Hence to pull in and hold your clients, it is an absolute requirement to incorporate free flight booking api with your travel portal company. Travel consolidators online travel agencies and advisors are adopting travel technology options to acquire a competitive edge while at the same time retaining existing customers and attracting new clients which has resulted in higher profit numbers.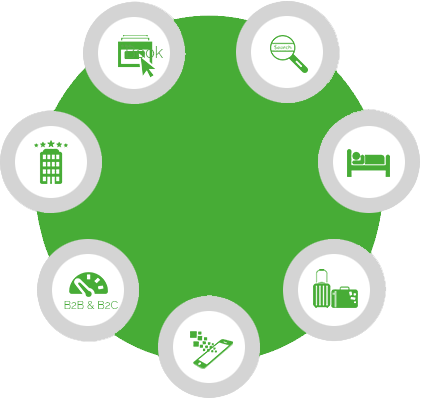 A Comprehensive Guide to GDS-API Integration
As a result, the travelling companies have produced an easy yet innovative solution for the development of their companies online, which can be with a travel portal development software. It is an extraordinarily flexible and automatic means to restrain your online travel service (OTA). The GDS API integration eases your clients to get inventories rather than going to produce different hotel booking api free india on different websites of travel service providers such as airlines, hotels etc. Thus, to attract and retain customers, you must have a GDS API integrated to your business. GDS API is third party suppliers that provide access to travel inventory from travel consolidators, in terms of hotel rooms rental cars, and so on. Travel agencies and their customers can access these stocks online.
Why choose us for any travel technology API?
We have a wide variety of travel technologies available along with our API integration. We provide services like Hotels CRS, Vacation Rental Software, Car Aggregator Software, Flight API, hotel booking api and a lot of other technologies at competitive prices. The one place where you can use any of your travel portal problems solved is adivaha® Travel Portal Solutions. We provide your business with a travel company booking engine on its homepage. For those travellers who visit your trip portal, the booking engine straight gets connected to the GDS providers. It then exhibits the real-time information of accessible hotel rooms, flight tickets, etc.. The cost of a travel portal with GDS solution are dependent on two variables mainly, being choice of the business model of selection and stage. Some of the services we offer you are:-
Vacation Rental Software
We have the best hotel api vacation rental software that is available in the market right now. We have developed our Vacation Rental Management Software in such a manner that it can help you maximize your business' profitability. We have implemented plenty of things which make sure that you receive the most revenue out of your company. We deploy technologies that maximize your company that maximizing profits and ironing out unnecessary expenses is easy and feasible. Our optimizations help you in reducing at out the need for a middleman and assist you in lowering operations cost by a substantial number. So that booking is as simple as possible we make the whole process compact. We help you manage your Vacation Rent property better with our premium quality software solutions by adivaha® Travel Portal Solutions. Our Software will help you attain your reservations better. We have carved out our Software in a way that a considerable margin minimizes the burden on your employees and you. So that checking in and out for the clients is convenient and simple, we have automated procedures to benefit you. We integrate our vacation rental software with our GDS API to bring you more sales, get your customers more offers, land more revenue numbers and expand your business. We have created a global travel agency system that gives you the maximum profit out of your holiday rental company. The vacation rental continues to be a business model that's been dominated by resort owners, chiefly for a long time. Our Software helps you lease any property. There are since holiday rentals are in demand. The property ranges from big villas, farmhouses and even apartments. Since each customer doesn't have an identical budget, it is possible to provide your rental property and target a specific customer base based on quality and the form of services you want to offer them. Our Holiday Rental Software provides lots of facilities to the travellers to give them the best experience, and our rental Software along with our API integration makes up for a fantastic portal for you.
Airline CRS
We at adivaha® Travel Portal solutions provide you with the best Airline CRS. An Airline CRS Systems helps travelport api integration agents manage their flight ticket-selling company. It's enhanced the ticket selling process for travelling agencies tremendously. It provides the integrated services to their site with inventories. The agent has access to the amount of seat availability, prices and other aspects in real-time. It has reduced the burden from the shoulders of travel agents by a considerable margin because getting access couldn't be comfier than that. adivaha® Travel Portal Solutions provide a system that delivers all necessary things in one place, reducing effort and improving efficiency. We give a platform that is self-sufficient in a lot of ways. Although many airlines have their Airline CRS, adivaha® Travel Portal Solution's Airline CRS Systems provides comparisons to you being given a lot more options than previously by almost all of the major airlines. We offer our Airline CRS. Whether you've got a B2E, B2C, B2B or B2B2C channel, we got you covered with all our high tech solutions. Our Airline CRS gives you searchable search and booking choice to make the booking experience easy. It keeps accurate track of all the information about flights, availability, chairs etc. and gives you peace of mind. Our strategy that is trusted is all you need to run a flight ticketing business. Our best GDS API integration aids the Airline CRS to reach the goal of passengers worldwide. We've integrated our CRS System nicely with the GDS API that will help you achieve maximum sale amounts. A reach is necessary to raise your business and build your brand. The more people use the service, the more you make, and this results in an excellent reputation worldwide. Global recognition is essential for any business' development, and our Airline CRS along with our hotel availability api provides you just that.
Car Aggregators
adivaha® Travel Portal solutions supply the very best aggregating services to you. We offer the best Car Aggregating services that will enable you to have the best prices to your customers. We have helped them improve their enterprise and have been the Auto Aggregators for many companies. This business model works differently. In this model, you will get a plugin which will search deals and the best rental cars for you at an area. Generally speaking, services such as hotel aggregators, flight aggregators etc. seek the best hotel api provider deals and prices for exactly the same on the internet and provide you with the lowest prices and comparisons. You can start a travel company now and make revenue. A Car Aggregators platform may be a fantastic beginning for your company if you are thinking about getting into the travel space. A car platform may also be beneficial for you if you have some travel enterprise. If you are a hotel owner, you are able to incorporate the Car Aggregators services and can offer rental cars to your customers right at the hotel itself. Because the customer gets a car agency at his doorstep, it enriches the experience of the client; you are not given a competitive edge over your opponents by this but also becomes a secondary source of revenue. adivaha® Travel Portal Solutions provide you. We have the very best platform to expand your business and help you in your small business growth. We've designed our platform by providing you with the most efficient car rental software to assist your business. We have innovated and paved new ways of integrating our car aggregating services with our GDS API to give you more chances of earning profit. Our api integration guide services assures you getting more sales globally and increase your customer base.
Hotel CRS
Our Hotel CRS has been the industry standard in the travel space. We, with our high-quality Hotel CRS, have helped lots of travel agencies and hotels, boost their business. We design solutions that are of high quality to fulfil your needs. We create technologies that aimed toward fulfilling them, and we all know what a travelling company's needs are, and we've succeeded in meeting them. We provide the best XML Hotel Booking System because we create the perfect blend of Hotel CRS. This ota api integration between the two not only helps increase their reach but also helps hotels increase their sales. We supply GDS API services like the Amadeus GDS, Galileo GDS etc. which are global leaders in the GDS industry. We make sure that our Hotel Central Reservation System makes usage of our GDS engine to enhance sales of hotels as well as sales of travel agencies. And turned out to be the missing link for resorts and travel agencies and utilizing adivaha® Travel Portal Solutions System, and GDS API Integration has done wonders in terms of gains for them. Our Hotel Booking System doesn't only includes hotels, but additionally, it contains guest houses lodges and inns. Our Resort CRS means you'll get access to all the leading hotels and hotel chains. Our hotel booking technology supplies a vast majority of attributes. These features have made distribution reservation and getting of hotels far more accessible than previously. We receive praises because of its impact on the travel market for our Hotel Booking System. Our B2C B2B and B2B2C hotel booking systems have been the industry standard for a long time, and we remain the first choice for Hotel CRS Hotel Central Reservation System. We provide a Hotel Central Reservation System loaded with lots of features, tools and benefits to you. Our premium Hotel CRS provides amenities like Accounting system direction, Back Agent end profile management and Currency Control access. These attributes previously were split into pieces and bits, and no travel technology company provided all in one area to them except us.
So now you know why adivaha® Travel Portal Solutions is the global leader in providing the best GDS API services to your business. Our flexibility, quality of service and customer support is the best in the industry. Contact us to get started and boom your business sales now!
Our Comprehensive List of Services
adivaha® is a one-stop-shop for all your travel website needs. We offer a multitude of services that empower you to become a market leader. Contact us for more info.
Have Questions?
The Internet is a huge resource, but
if your question requires particular expertise.
Keep Refreshing your customers - Who doesn't want his site to stand out from crowd? adivaha® gives you multiple options for home pages, headers, colors etc. Which can easily be managed from admin via shortcodes and settings. The theme supports almost all the big players in this market ie, WEGO, Travelpayouts, Agoda, Booking, Expedia etc.
Frequently Asked Questions
Below are some of the questions asked by visitors. Do visit our adivaha® Digest for more such questions. Don't hesitate to ask us if you have any questions
What all GDS and Providers are connected in the platform?

34

views

1

answers

0

votes