Build your own Travel Brand!
Ready to go-LIVE travel solutions that helps your travel agency to sell a range of travel services pretty instantly. adivaha® travel solutions make sure you have no boundation over your imagination, you can do everything online, without the need for any technical knowledge or design skills. Easy Backoffice, extensive reporting with integrated Funds Management System. Upload funds easily and instantly through Netbanking, Debit Card, Credit Card. The best part is, we do offer customizations in case you believe it will boost your business!
Comprehensive Guide to hotel API Services for 2023
The digital transformation process has been increasing every year and the importance of APIs the same. Find out what they are and how they contribute to our hotel search api in optimizing processes and building a quality experience for the guest.
CDue to the digital transformation processes that companies are experiencing around the world, and their need to create digital experiences that respond to the requirements of consumers and partners, the adoption of APIs has grown significantly in all industries. Today we will introduce the best API system the Hotel API provider.Hotel API is software that helps hotels organize, schedule, and manage their daily operations efficiently. It enables small and independent hotels and groups to handle the front desk workflow, including hotel booking engine api, checking in and out of guests, assigning rooms to guests, delegating tasks of cleaning and billing, etc. It is also known as hotel software and functions as the nerve center of hotel operations, ensuring the continuous flow of interdepartmental information. This enables hotel staff to better coordinate operational functions across departments. Simply put, a hotel's API automates and streamlines operations.
But what is a hotel API?
Hotel APIs, or hotel programming interface applications, refer to the set of commands, functions, and computer protocols that enable communication between two software, allowing developers to use predefined functions of one to interact with other systems, without the need to write the code from scratch.In other words, APIs allow developers to use specific functionalities of certain programs by using already created pieces of code (API). So, for example, if you need to include a chatbot on your hotel's upi integration in website, you don't have to develop it: you simply insert it through an API. Another clear example of the use of hotel APIs is when you want to share something from a website and use a "share on ..." button to do so.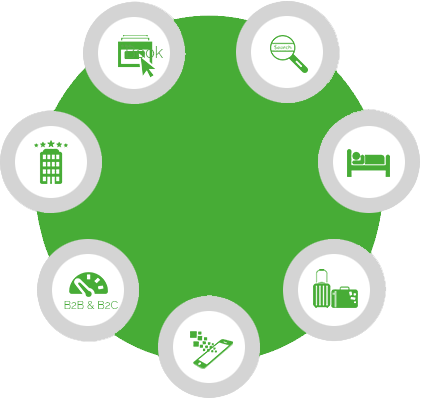 Discover the Top Hotel APIs of 2023
How do APIs contribute to a hotel?
Thanks to the APIs, you can integrate -in a single system or application- different flight booking software that ensures the proper functioning of all your hotel operations, connecting them to share -in real-time- important information to optimize operations, such as rates, reservations, availability of rooms, clients, etc.For example, it is possible to link together the reservation management system, accounting system, or maintenance software -among others- and manage all the information from the same application, being able to receive the data in an app from monitoring on your smartphone.In this way, you can manage your hotel efficiently, monitor all processes, and create better revenue management strategies. Also, you reduce dependency on other technology partners.
Ultimately, all of this results in
More efficient processes in hotel operations. 
Greater agility. 
Costs reduction. 
Greater personalization in contact with the guest. 
Provide the right data at the right time to a specific user.
Reduction of response times when loading data on an interface. 
Automation of processes within applications. 
Possibilities to innovate.
A great example of how to use APIs on a hotel page free api for hotel booking engines. Through a simple integration through specific code, you can place a module on your website that allows customers to know -in real-time- what rooms are available and what the rates are for them, as well as how to set aside the ones they like. . At the same time, you can also receive and process online payments from your customers. In both cases, you optimize the customer's experience by simplifying the room reservation and payment process, avoiding the need to call to check availability, pay through other means, etc. Without a doubt, if you want your hotel to join the much-needed digital transformation, you will have to resort to different APIs that allow you to build a quality experience for the customer and optimize business processes.
Features of hotel API
Initially, when hotels began to adopt hotels API, they wanted to efficiently manage guest check-in and check-out services and housekeeping. However, things are different now. hotel reservation api property management software is not simply an application piece that brings a higher level of automation. Let's take a look at some of the most important features of a hotel's API that are important to efficient hotel management in general.
Materials Management 

This system helps you take care of your materials management operations, including costs, purchasing, and stock receipt. Provides reports on stock level, consumption summary by cost centers and departments, and helps avoid overload or out-of-stock situations. Additionally, you can choose better-performing suppliers by tracking information such as delivery time, delivery accuracy, and profitability.

Maximum integration with your website

With no iframes or new windows for the reservation process, the customer always stays on your website! Use our plugins for easy CMS travel api integration, or just copy/paste the HTML code when using other software like Weekly. Our content is the answer to ensure that it looks perfect on all devices and you can customize every little detail.

Many languages

Your clients can book using many languages. Our internal session is available in 6 languages. You can customize and translate all of your content, including personalized emails and SMS messages, into any language.

Cloud-based

Setup is straightforward, your data is more secure, you can integrate it with other cloud-based systems, and our redundant servers are always available and up-to-date. You can back up all the important data at any time.

Guest Accounting

Helps you post additional charges to the reservation that may arise during a guest's stay. Hotel api integration guide software provider helps you handle other activities, including automatic direct billing from receipt, invoices, and splitting of multiple posts with specific billing instructions, etc.

Mobile apps

Use our free iPhone and Android apps to manage your account. We also have a reservation application for your clients so that you can make quick reservations with them and see their news and promotions.

Reports & statistics

It offers a wide variety of reports that you can export as well. Activity statistics provide you with important up-to-date business analysis. It integrates with Google Analytics.

Flexible cost rules

Hotel travelport api integration can reflect your cost model no matter how complex it may be. Easily set the price of extras, additional products, different seasons, durations, or ages.

Shopping cart

Hotel API providers allow your clients to quickly reserve multiple items or dates. The customer quickly adds all desired items and records personal details only at checkout.

Vouchers & coupons

Receipts, coupons, gift certificates, and packages, service packages: the feature makes it easy to market and attractively present your offer while ensuring that you are never overbooked or oversold.

Administrative roles

Use administrative roles including external agents. You can limit the access of each user as required. Large projects (such as tourist areas) can include offers from different owners.

Bills

Let the Hotel gds api integration take care of the creation and delivery of your clients' invoices. Other dynamically created documents can be attached to automated emails as PDFs.

Email & SMS

Save time by having Hotel sabre gds api send personalized emails and SMS messages to your clients and staff. You can send overtime messages at specific times. 

Different payment portals

Accept full payment deposits, optional or mandatory, processed securely by one or more than payment portal partners. We never charge commissions for payments.

Guest Accounting

Helps you post additional charges to the reservation that may arise during a guest's stay. It helps you handle other activities, including automatic direct billing from receipt, invoices, and splitting of multiple posts with specific billing instructions, etc.
Conclusion:
Today, hotel API, as gds software, is considered a useful tool to better serve guests. Many hotels now have their own brand mobile app that can be integrated with the existing API. Once the reservation is made, guests can download the app to their smartphones, check-in remotely, and upload their identity documents. Therefore, they can avoid reception formalities upon arrival and the hotel staff only have to escort them to their rooms. Not only has this, to increase service requested guests can use such apps to chat with hotel staff.Hotel API adding new features to make sure their products stay relevant to the changing technology requirements of hoteliers. Today's smart Hotel API provider works in conjunction with other futuristic solutions such as artificial intelligence, robots, and virtual reality, etc. to help hotels attract more guests and sell more rooms.
Our Comprehensive List of Services
adivaha® is a one-stop-shop for all your travel website needs. We offer a multitude of services that empower you to become a market leader. Contact us for more info.
Have Questions?
The Internet is a huge resource, but
if your question requires particular expertise.
Keep Refreshing your customers - Who doesn't want his site to stand out from crowd? adivaha® gives you multiple options for home pages, headers, colors etc. Which can easily be managed from admin via shortcodes and settings. The theme supports almost all the big players in this market ie, WEGO, Travelpayouts, Agoda, Booking, Expedia etc.
Frequently Asked Questions
Below are some of the questions asked by visitors. Do visit our adivaha® Digest for more such questions. Don't hesitate to ask us if you have any questions
I am setting up this plugin for my client's website, I tried registering and received the account activation email, but …

21

views

1

answers

0

votes