Build your own Travel Brand!
Ready to go-LIVE travel solutions that helps your travel agency to sell a range of travel services pretty instantly. adivaha® travel solutions make sure you have no boundation over your imagination, you can do everything online, without the need for any technical knowledge or design skills. Easy Backoffice, extensive reporting with integrated Funds Management System. Upload funds easily and instantly through Netbanking, Debit Card, Credit Card. The best part is, we do offer customizations in case you believe it will boost your business!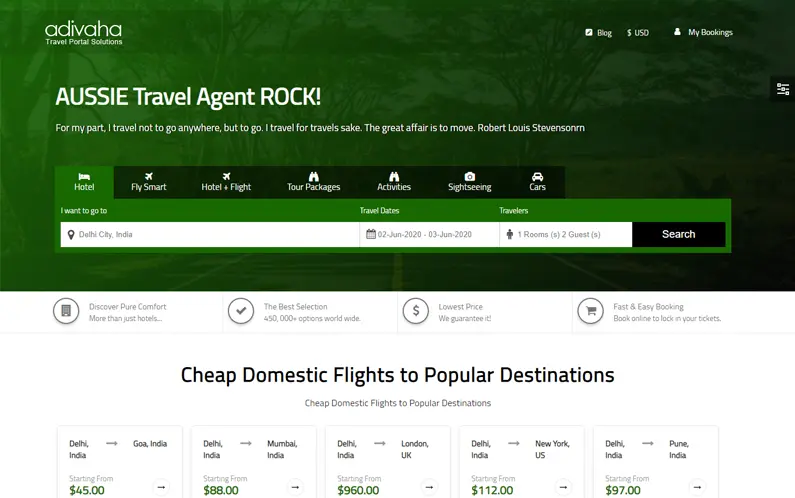 How To Make Your Hotel Booking Easier with a WordPress Plugin
In recent years, wordpress room booking plugin hotels and other centers via the Internet has made the work of many users and travellers easier; they can book a hotel and other things at their accommodation before their trip. Here, we are going to introduce a plugin that will enable you to set up a reservation system in Wordpress. Hotel booking Wordpress plugin is a professional plugin for Wordpress that will allow you to create a hotel reservation section on your Wordpress site. 
Hotel websites should make it easy for guests to view the property, check rooms, view a list of amenities, and most importantly book a room. If you are not already using one of the best hotel plugins, you can easily add the best plugin to your website with the wordpress hotel booking plugin.This plugin has all the necessary facilities for hotel reservations, which with a little personalization, you will be able to use on sites with other topics. One of the most important features of this plugin is the ability to add an infinite number of rooms and hotels to the Wordpress system and determine the number of hotels. Ability to determine hotel amounts and pay online through interface ports. Ability to subscribe and log in to the site. Advanced search among hotels by city and country. Ability to filter hotels by star and number of people. The ability to search on specific dates and… is among the features of this plugin. Follow us and some of the features of the Hotel Booking plugin.
What is the Hotel booking plugin System?
This Booking System is a Wordpress plugin that can give your Wordpress site the ability to make customers place online bookings on your site such as hotel, accommodation, schedule services, book events, or accept online reservations and hotel booking software any appointments on your hotel site.With this Booking System, it will simplify the process of ordering your services online directly through your business website. And with this plugin, your customers will be impressed by how easy the order process is because this hotel booking system plugin is equipped with an amazing AJAX booking calendar where the process is done quickly and clearly without being refreshed.The AJAX booking calendar has a nice and clean interface. Where the ordering process is only carried out on one page, thus optimizing the time in which your customers will make easy and fast orders without difficulty.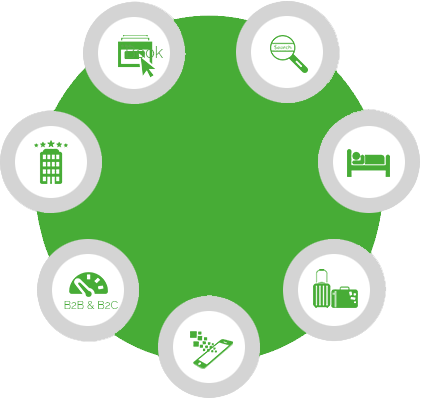 Making Hotel Bookings Stress-Free with WordPress
Also, the hotel booking system has an intuitive, powerful, flexible, and elementary administration area to manage availability and bookings, this makes the wordpress hotel booking plugin system you can use both for businesses of an individual scale, small and large hotel businesses. And also the functionality of the Wordpress booking plugin can be improved using an add-on.It is an excellent choice for your hotel website. Fully responsive ordering calendar and order forms you create with a hotel booking system. Just install the plugin and start creating sophisticated calendars and forms with rooms, available terms & conditions, price filters, room filters, additional amenities, coupon codes, minimum/minimum stay requirements, conditional and seasonal rates, booking deposits, cleaning fees, and more.
However, this hotel booking theme for wordpress plugin is not only useful for your visitors but also has many back-end functions you can use. For example, you can integrate a plugin with Google Calendar to provide a visual calendar view for each staff member to see when their appointments are scheduled. It also gives you complete control over when staff members are available to avoid confusion and distraction: you can schedule shifts, breaks, and vacations into their calendar. With a lot of value to a service-based business, it is a great plugin.
Hotel booking plugin Features
This plugin can be used for hotels and also various types of online booking; of course, this plugin brings many awesome features that will fulfil your online booking site solution. Now let's see what the features of this hotel booking widget system plugin are.
Integrated with WooCommerce

The main feature of this Plugin is integration with WooCommerce. Where the WooCommerce plugin has a very important role in the ordering system and serves as a system that processes shopping carts and easy checkout processes for customers after placing an order with a hotel booking template wordpress booking plugin as well as all the payment methods and other features that come with WooCommerce & plugin made for the toolkit.

Wordpress Hotel booking plugin calendar

The booking calendar of the wordpress hotel booking website plugin can be viewed by clients so that clients or users can see availability and can make reservations & appointments. The calendar is responsive and can be seen perfectly by your clients on all browsers and devices. The calendar will display data depending on the user's time zone. Calendars can be clicked on the calendar day of the order and/or hours to select their preferred hotel booking period.Clients can choose to show for several months or less for better visualization. The number of months to be displayed initially can be set from the booking calendar settings.The booking calendar is supported by AJAX, so there is no need to refresh the page to make a reservation or update the schedule.

Supports Ordering System day/hour/minute

With the best hotel booking wordpress theme plugin, you can add prices, promo prices, number of items available, and information for each day/hour in the ordering calendar on the front or client-side.You have complete control over what hours/minutes you spend on your booking calendar. You can set the same hour/minute for the entire calendar or you can set different hours/minutes for different days.Set the first day of the week that will appear on the booking calendar.Support for early morning checks out. This will display information in the booking calendar if you need to check-in in the afternoon and check out in the morning. You can limit the minimum and/or the maximum number of days/hours/minutes that can be ordered.

Synchronization with other systems

The wordpress hotel booking theme plugin can sync various calendars from other systems such as Google Calendar, calendar, and Airbnb.

Admin & reservation management

The administration area of ​​the hotel booking software wordpress is a powerful page, very intuitive and easy to use, with a clean design. It is very easy for your business owners to do various kinds of management from the admin section. And it also supports AJAX so it makes administration pages easy to run various processes without refreshing.With the plugin, administrators have the ability to add, approve, edit, reject, cancel or delete booking requests (reservations) and they also have the possibility to filter and/or search for throw order requests (reservations).Requests for bookings cannot overlap and they can be immediately approved or can be approved/rejected by the administrator with the booking calendar changed accordingly.

Multi-language support

All text in the hotel booking theme wordpress free system plugin can be changed (calendar, extras, form fields, taxes…) in the backend with an easy translation tool.The hotel booking system also supports the WPML plugin so you don't have to worry when you want to adjust it to the language you want.

Multi-currency support

Any currency can be used with the ordering plugin or you can add your own currency.Currency displays can be customized to be displayed before or after price.
Conclusion
It is an all-in-one ordering solution, taking customers through the order process to payment. The booking plugin is simple and stylish, and easy for visitors to understand. hotel booking website wordpress plugin is a really good plugin that meets the needs of hotel websites that want to run a business with an online booking system, almost any type of online booking site can be created with this plugin. Easy management, a short and fast process makes the hotel booking system the right choice for you to try.
Our Comprehensive List of Services
adivaha® is a one-stop-shop for all your travel website needs. We offer a multitude of services that empower you to become a market leader. Contact us for more info.
Have Questions?
The Internet is a huge resource, but
if your question requires particular expertise.
Keep Refreshing your customers - Who doesn't want his site to stand out from crowd? adivaha® gives you multiple options for home pages, headers, colors etc. Which can easily be managed from admin via shortcodes and settings. The theme supports almost all the big players in this market ie, WEGO, Travelpayouts, Agoda, Booking, Expedia etc.
Contact
Have something unique in mind? Drop a message.
Estimated reply time: 3-5 Working Days