Build your own Travel Brand!
Ready to go-LIVE travel solutions that helps your travel agency to sell a range of travel services pretty instantly. adivaha® travel solutions make sure you have no boundation over your imagination, you can do everything online, without the need for any technical knowledge or design skills. Easy Backoffice, extensive reporting with integrated Funds Management System. Upload funds easily and instantly through Netbanking, Debit Card, Credit Card. The best part is, we do offer customizations in case you believe it will boost your business!
How to Set Up a Hotel Booking System in WordPress Quickly
By setting up a hotel booking system quickly in WordPress, you can take advantage of these benefits and start gaining profits on direct online bookings to grow your hotel business efficiently.
Choose a WordPress Booking Plugin
There are several WordPress plugin available specifically designed for hotel bookings. Some popular options include MotoPress Hotel Booking, WP Hotel Booking, and HBook. Research and choose a plugin that suits your requirements in terms of features, pricing, and user reviews. Choosing a WordPress booking plugin offers several advantages for businesses in need of a booking system. WordPress is a widely used and popular content management system (CMS). By selecting a booking plugin specifically designed for WordPress, you ensure seamless integration with your existing WordPress website. This integration allows you to maintain a consistent user experience and easily manage your bookings within the familiar WordPress interface. The WordPress ecosystem offers a wide range of booking plugins, each with its own features and capabilities. This variety allows you to choose a plugin that aligns closely with your specific business requirements. Whether you need a booking system for hotels, appointments, events, rentals, or other purposes, there are numerous plugin options available to cater to your needs. WordPress booking plugins often provide flexible options for customization. You can typically customize the booking forms, availability settings, pricing structures, and other elements to match your business preferences and branding. This flexibility allows you to tailor the online booking system to meet your specific needs and provide a unique experience for your customers. Many WordPress booking plugins offer integrations with other popular tools and services. For example, you may be able to integrate with payment gateways, email marketing platforms, CRM systems, or channel managers. These integrations enhance the functionality of your booking system and streamline your overall business operations. WordPress has a large and active developer community, which means that there is ongoing support, regular updates, and new features being added to the available plugins. This ensures that your chosen booking plugin is maintained, compatible with the latest WordPress versions, and provides access to support resources when needed. WordPress booking plugins are designed to handle varying levels of complexity and can scale alongside your business. Whether you operate a small bed and breakfast or manage a large hotel chain, there are plugins available to accommodate your needs. You can add more rooms, services, or locations as your business expands without major disruptions to your booking system. Many WordPress booking plugin offer cost-effective pricing options compared to building a custom booking system from scratch. You can choose from free plugins with basic features or premium plugins that provide advanced functionality. The ability to select a plugin that fits your budget allows you to optimize your investment while still accessing essential booking capabilities. When considering a WordPress booking plugin, it's important to evaluate the features, user reviews, compatibility, support, and any additional requirements specific to your business. This research ensures that you select a plugin that best meets your needs and helps streamline your booking process effectively.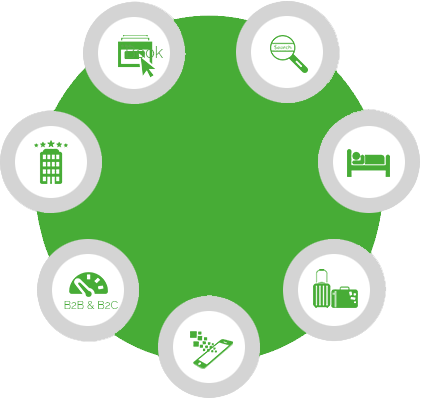 Create Hotel Booking Website With WordPress
Install and Activate the Plugin
Installing and activating a plugin in WordPress is essential for adding new features and functionality to your white label website. Plugins are designed to enhance the core functionality of WordPress. By installing and activating plugins, you can add new features and capabilities to your website that are not available by default. Whether you need a contact form, social media integration, SEO optimization, or e-commerce functionality, plugins allow you to expand your website's capabilities without coding or development work. Installing a plugin is often a quicker and more efficient solution than building custom functionality from scratch. Plugins are pre-built solutions that can be installed and activated with a few clicks, saving you time and effort. Instead of spending hours or days coding and testing new features, you can find a plugin that meets your requirements and have it up and running in no time. Plugins can enhance the user experience of your website by adding interactive elements, optimizing page loading speed, improving navigation, or providing additional content display options. By installing plugins that cater to your user's needs and preferences, you can create a more engaging and user-friendly website. Plugins often offer design-related features and customization options that allow you to personalize your website's appearance without the need for coding. From customizing fonts and colors to add sliders, galleries, or grid layouts, plugins provide flexible design options that align with your branding and visual preferences. Plugins are regularly updated by their developers to add new features, fix bugs, and address security vulnerabilities. By installing and activating plugins, you ensure that your website benefits from these updates. Regularly updating plugins helps to maintain website security, improve performance, and ensure compatibility with the latest version of WordPress. Popular plugins usually have a strong community of users, developers, and support forums. If you encounter any issues or have questions about using a plugin, you can rely on the community for assistance. This support network can provide guidance, troubleshooting tips, and answers to common plugin-related questions, helping you resolve issues and optimize your website's functionality. As your website evolves and your needs change, installing and activating plugins allows you to adapt quickly. You can easily add or remove plugins based on your requirements, enabling you to stay agile and responsive to emerging trends or business demands.
Customize the Booking Process
Customizing the booking process allows you to design a seamless and user-friendly experience for your customers. By streamlining the steps, removing unnecessary fields, and making the process intuitive, you can make it easier and more enjoyable for users to complete their bookings. A smooth and user-friendly booking process can lead to higher customer satisfaction and increase the likelihood of conversions. Customizing the booking process enables you to maintain consistent branding throughout your white label travel website. By aligning the design elements, colors, fonts, and overall style of the booking process with your website's branding, you create a cohesive and professional look. Consistent branding instills trust in customers and reinforces your brand's identity, making your business more memorable and distinct. Customizing the booking form allows you to collect the specific information you need from customers. You can include fields that are relevant to your business and booking process, ensuring that you gather the necessary details to provide a personalized experience. By customizing the form, you can make it easier for customers to provide the required information without overwhelming them with unnecessary fields. Customizing the booking process gives you the opportunity to offer additional products or services to customers. You can incorporate upselling and cross-selling options during the booking process, allowing customers to easily add extras or upgrades to their reservations. This not only increases revenue potential but also enhances the value proposition for customers, giving them the option to enhance their experience according to their preferences. Customizing the booking process allows you to collect specific data points that are valuable for analyzing customer behavior and making informed business decisions. By customizing the form, you can capture information such as booking sources, preferences, or special requests. Analyzing this data can provide insights into customer preferences, help identify trends, and enable you to optimize your offerings and marketing strategies.
Configure Pricing and Availability
Set up the pricing structure for your rooms, including base rates, seasonal rates, discounts, or additional charges. Also, configure availability settings to specify the number of rooms available for booking on specific dates. By configuring pricing and availability, you can optimize your revenue potential. You can implement dynamic pricing strategies that adjust rates based on factors such as demand, seasonality, and special events. This allows you to capitalize on high-demand periods by increasing prices while offering lower rates during off-peak times to attract more bookings. Strategic pricing decisions can help maximize your revenue and profitability. Configuring pricing allows you to stay competitive in the market. By analyzing your competitors' rates and adjusting your pricing accordingly, you can offer competitive prices that attract customers. This is especially important in the hospitality industry, where customers often compare prices across different accommodations. Setting competitive rates can help you attract more bookings and gain an edge over your competitors. Configuring availability is essential for optimizing occupancy rates. By carefully managing the availability of your rooms or services, you can ensure that you have a balanced distribution of bookings throughout different dates and times. This helps prevent underbooking or overbooking situations, maximizing your revenue potential and minimizing the risk of lost bookings or unhappy customers. Configuring pricing and availability allows you to create and promote special offers, packages, or discounts. You can set up specific pricing rules for promotional periods, bundle additional services or amenities, or offer discounted rates for longer stays. These special offers can attract more bookings, encourage customers to choose your business over competitors and drive revenue growth.
Configuring availability helps you manage your resources effectively. By accurately setting the availability of your rooms, services, or resources, you can avoid overcommitting or underutilizing your assets. This ensures that you can efficiently allocate your resources, maintain a high level of customer satisfaction, and optimize your operational efficiency. Configuring pricing and availability through a centralized booking system can streamline your operations. With a well-configured system, you can automate the process of updating prices, availability, and restrictions across different channels and platforms. This eliminates the need for manual updates and reduces the risk of errors or inconsistencies. Streamlining operations saves time, improves accuracy, and allows you to focus on other aspects of your business.
Add the Booking System to Your Website
Finally, create dedicated pages on your WordPress site to display the hotel booking system. Adding a booking system to your website offers several benefits for your business. A booking system on your white label site provides convenience to your customers. They can easily access your services or make reservations at any time, from anywhere. By offering online booking capabilities, you eliminate the need for customers to visit or call your business during working hours, making it more convenient for them to book and increasing the likelihood of conversions. A booking system can help drive more bookings and revenue for your business. By allowing customers to make instant bookings on your website, you provide a seamless and efficient process that encourages them to complete their reservations. This can lead to an increase in bookings and revenue, especially if your competitors do not offer a similar online booking option. Implementing a booking system automates many administrative tasks associated with managing bookings manually. The system can handle tasks such as availability management, reservation confirmations, sending reminders, and even processing payments. This saves you time and reduces the risk of errors or double bookings, allowing you to focus on other aspects of your business. A well-designed booking system enhances the overall customer experience. It provides a user-friendly interface, clear booking instructions, and instant confirmation or reservation details. By streamlining the booking process and offering transparency, you create a positive impression and increase customer satisfaction. With a booking system, you can display real-time availability and pricing information to customers. This helps manage customer expectations and minimizes the risk of overbooking or confusion. Customers can see the available dates, times, and corresponding prices, allowing them to make informed decisions and book according to their preferences. A hotel booking system allows you to collect valuable customer data and gain insights into booking patterns, preferences, and demographics. This data can be used to analyze customer behavior, understand market trends, and personalize marketing efforts. By leveraging this information, you can tailor your offerings and marketing strategies to target specific customer segments and improve customer retention.
Our Comprehensive List of Services
adivaha® is a one-stop-shop for all your travel website needs. We offer a multitude of services that empower you to become a market leader. Contact us for more info.
Have Questions?
The Internet is a huge resource, but
if your question requires particular expertise.
Keep Refreshing your customers - Who doesn't want his site to stand out from crowd? adivaha® gives you multiple options for home pages, headers, colors etc. Which can easily be managed from admin via shortcodes and settings. The theme supports almost all the big players in this market ie, WEGO, Travelpayouts, Agoda, Booking, Expedia etc.
Frequently Asked Questions
Below are some of the questions asked by visitors. Do visit our adivaha® Digest for more such questions. Don't hesitate to ask us if you have any questions
What all GDS and Providers are connected in the platform?

36

views

1

answers

0

votes