Build your own Travel Brand!
Ready to go-LIVE travel solutions that helps your travel agency to sell a range of travel services pretty instantly. adivaha® travel solutions make sure you have no boundation over your imagination, you can do everything online, without the need for any technical knowledge or design skills. Easy Backoffice, extensive reporting with integrated Funds Management System. Upload funds easily and instantly through Netbanking, Debit Card, Credit Card. The best part is, we do offer customizations in case you believe it will boost your business!
How to Set Up a Hotel Reservation System Using WordPress
WordPress is highly scalable, allowing your hotel reservation system to grow as your hotel business expands. You can add more rooms, manage multiple properties, and handle increased booking volumes with the right plugin and configuration. You can customize the appearance of your reservation system to match your hotel's branding and design as Wordpress also provides extensive customization options.
Choose install and activate a WordPress Hotel Booking Plugin
A hotel booking plugin allows you to provide a seamless and efficient reservation process for your guests. It enables them to check availability, select rooms, choose dates, and make bookings directly on your website, eliminating the need for third-party booking platforms or manual reservations. You can encourage direct bookings by integrating a hotel booking plugin into your WordPress website. A dedicated hotel booking plugin enables you to manage room inventory and availability easily. You can set up different room types, add descriptions and images, define rates and pricing, and control availability based on dates and occupancy. A WordPress hotel booking plugin often provides customization options, allowing you to match the booking process with your hotel's branding and website design. You can customize colors, fonts, and layouts to create a consistent and visually appealing user experience. Most hotel booking plugins integrate with popular payment gateways, such as PayPal, Stripe, or Authorize.net, allowing you to securely accept online payments from your guests. With a hotel booking plugin, you can set up automatic email notifications to confirm reservations, provide booking details, send payment receipts, and communicate with guests before and after their stay. These automated notifications save time and enhance guest communication. Many hotel booking plugins offer reporting and analytics features, providing insights into your bookings, revenue, occupancy rates, and other key metrics. These insights help you make data-driven decisions, optimize pricing, and track the performance of your b2b hotel booking platform. Choosing a reputable hotel booking plugin ensures you have access to ongoing support, documentation, and updates. The plugin developers often release updates to improve functionality, add new features, and address any security or compatibility issues.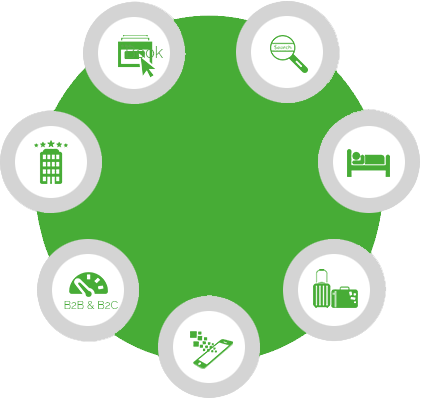 WordPress Plugins for Hotels and Reservations
Configure General Settings and Create Booking Forms
Configuring general settings and creating booking forms are essential steps in setting up a hotel booking software using a WordPress plugin. Configuring the currency ensures that room rates and payments are displayed correctly, providing clarity to your guests. By setting up payment gateways, you enable guests to make secure online payments directly on your website. This simplifies the booking process and increases convenience for your customers. Configuring email notifications allows you to automate communication with guests. They receive confirmation emails, payment receipts, and other important information, reducing manual work and enhancing the guest experience. Creating booking forms enables guests to check room availability, select dates, and make reservations directly on your website. This simplifies the booking process, eliminates the need for phone calls or email inquiries, and improves the overall user experience. Booking forms can be customized to match your hotel's branding and design. This helps create a cohesive and professional look and feel across your website, reinforcing your brand identity. Booking portal forms allow you to collect essential information from guests, such as their names, contact details, preferred room types, and any special requests. This information is crucial for managing reservations effectively and providing personalized travel technology services.
Customize the Booking Process
Customize the appearance of your booking forms to match your website's design. Many plugins offer customization options such as colors, fonts, and form fields. Make sure to test the booking process to ensure it works smoothly for your customers. Many hotel booking plugins offer options to customize the colors and fonts used in the b2b hotel booking portal forms. You can match them to your website's branding and design. Some plugins provide layout options, allowing you to choose between different form styles, grid layouts, or single-column layouts. Select a layout that suits your website's aesthetics and user experience. Determine which fields are required for guests to fill in during the booking process. Commonly required fields include name, email address, phone number, check-in and check-out dates, and the number of guests. Depending on your hotel's needs, you may want to add custom fields to capture specific information, such as special requests, preferences, or promotional codes. Some plugins provide options to add custom fields to the booking forms. Customize the descriptions of your room types to provide detailed information about the amenities, features, and benefits of each room category. Use persuasive language to entice guests to book. Upload high-quality images of your rooms to showcase their appearance and ambiance. Visuals play a crucial role in attracting potential guests and increasing conversions. Set the minimum and maximum length of stay for reservations. For example, you can enforce a minimum two-night stay during weekends or a maximum stay of seven nights during peak seasons. Specify the standard check-in and check-out times for your hotel. This information helps guests plan their travel technology software arrangements and manage their expectations. Customize the text labels and messages displayed throughout the booking process. This allows you to align the language with your brand's tone and style. Tailor the error messages that appear when guests input incorrect or incomplete information. Make them clear and helpful, guiding guests to correct any errors.
Enable Online Payments
Enabling online payments is a crucial step in setting up a hotel reservation system using a WordPress plugin. Research and select a payment gateway that integrates with your chosen hotel booking system. Popular options include PayPal, Stripe, Authorize.net, and Braintree. Consider factors such as transaction fees, supported currencies, availability in your target market, and ease of integration. Visit the website of the chosen payment gateway and sign up for an account if you don't already have one. Follow the registration process, provide the necessary information, and verify your account as required. In your WordPress admin dashboard, navigate to the settings section of your hotel booking plugin. Look for the payment gateway settings or integrations tab. Enter the API keys or credentials provided by the payment gateway to connect your account with the plugin. Create a test booking on your website to simulate the guest experience. Proceed to the payment step and select the online payment option. Use a test mode or sandbox environment provided by the payment gateway to ensure the payment process is functioning correctly. Verify that the payment is processed, and the booking is confirmed. Once you have tested the payment process successfully, switch the payment gateway to live mode. Replace the test API keys or credentials with the live ones provided by the payment gateway. Ensure that the payment gateway is set to accept real transactions and not just test payments. Regularly check the payment gateway's dashboard or reporting section to monitor transactions and ensure they are processed correctly. Set up notifications or alerts for successful payments, failed payments, or other payment-related events to stay informed about the transaction status.
Test and Launch
Before launching your hotel room reservation system, thoroughly test the booking process to ensure everything is working as expected. Testing allows you to identify any technical issues, bugs, or usability problems before making the system available to guests. By testing thoroughly, you can address and fix these issues, ensuring a smooth and error-free booking process. Testing helps you ensure that all the features and functionalities of your hotel reservation system are working correctly. This includes the booking process, payment integration, email notifications, room availability hotel booking management system, and any other key components. By testing, you can verify that the system operates as intended. Testing allows you to evaluate the user experience of your reservation system from the perspective of your guests. You can assess the ease of use, responsiveness, and overall satisfaction of the booking process. By addressing any usability issues, you can provide a seamless and positive experience for your guests. Testing the payment processing functionality ensures that online payments are handled securely and accurately. By verifying that payments are processed correctly, you can prevent any financial discrepancies and provide a reliable payment experience for your guests. Launching a well-tested and fully functional reservation system contributes to guest satisfaction. It ensures that guests can make bookings easily, receive timely and accurate information, and have a smooth experience from start to finish. By providing a positive user experience, you increase the chances of attracting and retaining guests. A thoroughly tested and well-launched reservation system reflects professionalism and attention to detail. It gives potential guests confidence in your hotel's operations and enhances your reputation as a reliable and efficient establishment. Testing and launching are not one-time activities. By launching your reservation system, you can gather real-world user feedback, identify areas for improvement, and plan future enhancements. This iterative process allows you to continuously optimize and enhance the online hotel booking system to meet the evolving needs and expectations of your guests.
Our Comprehensive List of Services
adivaha® is a one-stop-shop for all your travel website needs. We offer a multitude of services that empower you to become a market leader. Contact us for more info.
Have Questions?
The Internet is a huge resource, but
if your question requires particular expertise.
Keep Refreshing your customers - Who doesn't want his site to stand out from crowd? adivaha® gives you multiple options for home pages, headers, colors etc. Which can easily be managed from admin via shortcodes and settings. The theme supports almost all the big players in this market ie, WEGO, Travelpayouts, Agoda, Booking, Expedia etc.
Frequently Asked Questions
Below are some of the questions asked by visitors. Do visit our adivaha® Digest for more such questions. Don't hesitate to ask us if you have any questions
What all GDS and Providers are connected in the platform?

36

views

1

answers

0

votes