Build your own Travel Brand!
Ready to go-LIVE travel solutions that helps your travel agency to sell a range of travel services pretty instantly. adivaha® travel solutions make sure you have no boundation over your imagination, you can do everything online, without the need for any technical knowledge or design skills. Easy Backoffice, extensive reporting with integrated Funds Management System. Upload funds easily and instantly through Netbanking, Debit Card, Credit Card. The best part is, we do offer customizations in case you believe it will boost your business!
How to Install and Set up a Hotel Search Plugin for WordPress
By installing and setting up a hotel search plugin for WordPress, you enhance the user experience, increase direct bookings, customize room and rate displays, integrate with online booking systems and payment gateways, and maintain control over the booking process.
Choose a Hotel Search Plugin
There are several hotel search plugins available for WordPress. You can browse the WordPress plugin directory or search online to find a suitable plugin for your needs. Some popular options include WP Hotel Booking, Hotel Booking Lite, or Booking.com Official Search Box. Visitors can search and find hotels easily with the help of user-friendly interfaces. It improves the overall user experience by offering a convenient way to explore hotel options, check availability, and make bookings directly on your website. Integrating a hotel search plugin adds a valuable feature to your website. It allows you to offer hotel search and booking capabilities without the need to develop a custom solution from scratch. This saves time and resources while expanding the functionality of your website. Some hotel search plugins provide options for earning revenue through affiliate partnerships. You can earn commissions for referring customers to specific hotels or booking platforms. This can be a potential source of income for your website. You can make your own website`s design and branding as the plugin often also offer customization options to satisfy your need. You can typically configure various settings, such as search criteria, filters, display options, and more. This allows you to tailor the plugin to your specific needs and ensure it seamlessly integrates with your website's aesthetics. Most hotel search plugins are designed to integrate smoothly with WordPress travel website. They are built to work with popular themes and plugins, ensuring compatibility and minimizing conflicts. This simplifies the installation and setup process. Many hotel search plugins connect with APIs or databases to retrieve hotel data, including availability, pricing, images, and descriptions. This eliminates the need to manually input or update hotel information on your website. The plugin handles data synchronization, ensuring that your visitors have up-to-date and accurate hotel information. Utilizing a hotel search plugin eliminates the need to develop a hotel search functionality from scratch. It saves you time and effort, allowing you to focus on other aspects of your website or business.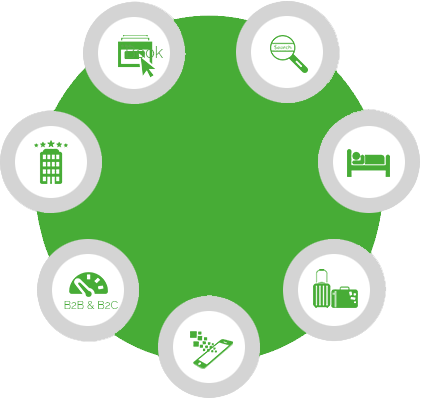 Setup the Hotel Search Plugin for WordPress
Install the Plugin
Installing a plugin is a straightforward process. It typically involves a few clicks within your WordPress dashboard to install and activate the plugin. You don't need extensive coding knowledge or technical expertise to get the plugin up and running. Installing a plugin saves you time compared to developing a custom hotel search feature. Plugins are pre-built solutions that are ready to use, eliminating the need to spend hours or days writing code from scratch. This allows you to quickly add hotel search functionality to your website and focus on other essential tasks. Plugins expand the capabilities of your WordPress website. By installing a hotel search plugin, you can offer users a valuable feature that allows them to search and book hotels directly on your site. This enhances the user experience and increases the functionality of your website without significant development efforts. Plugins often come with intuitive user interfaces that make it easy to configure and customize settings according to your preferences. You can usually access the plugin settings through your WordPress dashboard and make adjustments without delving into complex coding. The WordPress plugin ecosystem is vast, providing you with a wide range of hotel search plugins to choose from. This allows you to select a plugin that aligns with your specific requirements, whether it's in terms of design, features, integrations, or monetization options. Reputable plugins receive regular updates from their developers, ensuring compatibility with the latest WordPress version and addressing security concerns. Additionally, many plugin developers offer support and documentation, making it easier to troubleshoot any issues that may arise. Installing a hotel search plugin is often more cost-effective than developing a custom solution. Many plugins are available for free in the WordPress plugin directory, while premium options usually offer additional features and dedicated support for a reasonable price.
Configure the Plugin Settings
After activating the hotel search plugin, you'll typically need to configure its settings to suit your requirements. Configuring the settings of a plugin is essential to ensure that it functions according to your specific needs and preferences. By configuring the plugin settings, you can customize the functionality of the hotel search plugin to match your website's requirements. You can enable or disable specific features, set default values, and define how the search results are displayed. This allows you to tailor the plugin to provide the best user experience and meet your specific goals. Plugin settings often include options to adjust the appearance and layout of the hotel search form and search results. By configuring these settings, you can ensure that the plugin's visual elements align with your website's design and branding. This creates a seamless and cohesive user experience, enhancing the overall aesthetics of your website. Configuring the plugin settings enables you to optimize the user experience for your website visitors. You can set up search criteria that are relevant to your audience, making it easier for them to find the hotels they are looking for. Additionally, you can define default settings, such as currency or language, to provide a personalized experience for your users. Many hotel search plugins integrate with external services or APIs, such as travel booking engines or payment gateways. Configuring the integration settings allows you to establish the necessary connections and ensure that the plugin works seamlessly with these external services. This enables users to make bookings or payments directly on your website, streamlining the booking process. Properly configuring the plugin settings ensures that the plugin operates efficiently and performs optimally on your website. By adjusting settings related to caching, data synchronization, or query optimization, you can enhance the plugin's performance, reducing loading times and improving the overall efficiency of your website. Depending on your website's location and target audience, you may need to configure settings related to compliance with regulations, such as data protection or privacy laws. Additionally, configuring security-related settings helps safeguard your website and user data from potential vulnerabilities or threats.
Add the Hotel Search Form to Your Website
By incorporating a hotel search form, you provide a convenient and user-friendly way for visitors to search for hotels directly on your website. It saves them time and effort by eliminating the need to navigate to external hotel booking platforms. A seamless user experience can lead to increased engagement and higher conversion rates. The hotel search form adds valuable functionality to your website, transforming it into a platform where users can not only gather information about hotels but also search for availability and make bookings. This expands the capabilities of your website and enhances its value for users. When users can perform hotel searches on your website, they are more likely to spend more time exploring different options. By keeping users engaged within your website ecosystem, you increase the chances of retaining their attention and encouraging them to book directly through your platform. Integrating a hotel search form can provide monetization opportunities. Some plugins offer affiliate programs, allowing you to earn commissions for bookings made through your website. This can serve as an additional revenue stream for your business. Adding the hotel search form to your website gives you control over the branding and user experience. You can customize the form to match your website's design, layout, and overall aesthetics. This helps maintain a consistent brand image and reinforces your website's unique identity. When users perform hotel searches on your website, you can capture valuable data and insights about their preferences, search patterns, and booking behavior. This data can be used to refine your marketing strategies, personalize user experiences, and make data-driven business decisions. The hotel search form can be integrated with other features or sections of your website, such as maps, reviews, or user-generated content. This creates a comprehensive and immersive experience for users, providing them with all the information they need to make informed booking decisions.
Test and Verify
Testing allows you to confirm that the search results, availability information, and pricing displayed by the plugin are accurate and reliable. It helps avoid misleading or incorrect information that could negatively impact user experience and lead to dissatisfaction or booking errors. By testing the hotel search functionality, you can evaluate the user experience from start to finish. This includes assessing the ease of use, intuitiveness of the search form, clarity of search results, and smoothness of the booking process (if applicable). Validating the user experience helps identify any issues or areas for improvement. Testing helps identify any bugs, errors, or glitches in the hotel search plugin. By actively seeking out and reproducing potential issues, you can address them promptly. This ensures that your website operates smoothly and provides a seamless experience for your users. Testing and verifying the hotel search plugin's functionality allows you to optimize the booking process and eliminate any barriers or obstacles that may prevent users from completing a booking. By fine-tuning the user experience based on testing results, you can increase conversion rates and generate more successful bookings. A well-tested and reliable hotel search plugin instills trust and credibility in your website. Users are more likely to engage with and book through a platform that has been thoroughly tested, as they have confidence in the accuracy of the information provided and the functionality of the booking process. Testing helps ensure compliance with any legal or regulatory requirements related to hotel bookings System. It also helps identify potential security vulnerabilities and safeguards user data, protecting both your users and your website from potential risks.
Our Comprehensive List of Services
adivaha® is a one-stop-shop for all your travel website needs. We offer a multitude of services that empower you to become a market leader. Contact us for more info.
Have Questions?
The Internet is a huge resource, but
if your question requires particular expertise.
Keep Refreshing your customers - Who doesn't want his site to stand out from crowd? adivaha® gives you multiple options for home pages, headers, colors etc. Which can easily be managed from admin via shortcodes and settings. The theme supports almost all the big players in this market ie, WEGO, Travelpayouts, Agoda, Booking, Expedia etc.
Frequently Asked Questions
Below are some of the questions asked by visitors. Do visit our adivaha® Digest for more such questions. Don't hesitate to ask us if you have any questions
I am setting up this plugin for my client's website, I tried registering and received the account activation email, but …

9

views

0

answers

0

votes