Build your own Travel Brand!
Ready to go-LIVE travel solutions that helps your travel agency to sell a range of travel services pretty instantly. adivaha® travel solutions make sure you have no boundation over your imagination, you can do everything online, without the need for any technical knowledge or design skills. Easy Backoffice, extensive reporting with integrated Funds Management System. Upload funds easily and instantly through Netbanking, Debit Card, Credit Card. The best part is, we do offer customizations in case you believe it will boost your business!
Choosing the Right Hotel Reservation System for Your Business
A Hotel Booking company, though it might sound like a tool used at the reception desk, is an Hotel Booking Engine that enables guests to book their stays online and pay for them using a secure portal.
That way, they can complete the transaction quickly, efficiently from the comfort of their own office or living room A Hotel Booking app works by processing secure online reservations made through Hotel Reservation System. The data is then passed onto a backend system which can be accessed by hotels to manage bookings. Hotel Booking Engine may include automated reservation confirmation emails and other add-ons including Corporate Booking Tool.
Small hotel extranet system managers and owners recognize that technology is key to growing their business and increasing their bookings overtime. To sell rooms to capacity and to appeal to a global audience, a Hotel Reservation Software is required. However, it can be intimidating to select a system, particularly when so many are designed for large hotel operations and chains. Different businesses have different needs, it's the same in the hotel business. Some agencies cater to corporate clients making it essential for them to purchase the Corporate Booking Tools for Travel for maximum benefits. Whereas, some of them might not want the hassle, making the Corporate Booking Tool redundant.
We must delve into a detailed understanding of a Hotel Booking engine to understand how it might benefit you: A Hotel Reservation's System is a software application that is implemented by hotels to allow guests to create secure online reservations. The hotel reservation api can be synced, not only with your current website, but also with Facebook. This allows guests to reserve rooms in a way that is convenient for them via social media.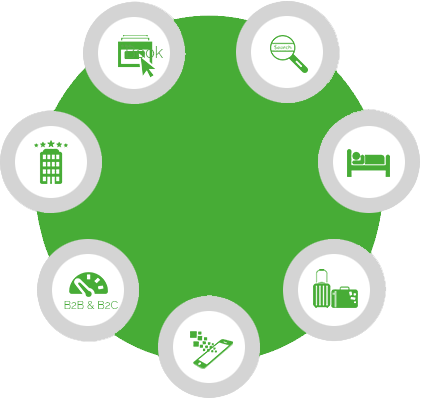 Tips For Finding The Right Hotel Reservation System
addition to allowing guests to book hotels online directly, these reservation systems can also provide hotel operators with additional resources. For example, a channel manager may be a part of the reservation system, giving hotel api integration operators the chance to distribute their products and live availability simultaneously to their entire network of online agents. A reservation system is a necessity for today's accommodation providers, both large and small. An increasing number of travelers are relying solely on Online Booking Engine to book their accommodations, and without this capability, you will lose a significant amount of business.
A quality solution – one flexible enough to account for all customer desires – brings a range of benefits to you, including:
It gives you an advantage over your competitors. There are still many small hotels today that do not have online ticket booking software capabilities. Less people are staying at those locations, and you can get the competitive edge with a Hotel Booking Engine. It improves your efficiency as a business. The availability is updated immediately upon receiving a reservation, not only in your system, but across all of your channels. You will save time on administrative tasks while also minimizing the risk of overbooking the rooms at your property. When guests book their stays, the central reservation system simply pops into your system with all details intact, so all you have to do is get ready for their arrival when the time comes. This allows your reception staff more time to tend to their other tasks.
Human fallibility is a far less significant factor when guests put in their dates and specifications themselves. That way, if something goes wrong, you have the data to prove it's no fault of your business. You can still provide them with a solution, but your reputation is protected. An Hotel Booking Engine feeds a huge amount of guest data right into your system: how many guests are travelling, when they come, what amenities they prefer, where they live, and so forth. That's very useful for you to know, and will help you improve both customer service and marketing. Guest loyalty programs work, and you could be leaving a lot of money on the table if you're not using them. A good flight booking api system enables you to keep track of customer stays and reward them accordingly, keeping them around for the long haul.
At the end of the day, a online travel agency Booking Technology is the helping hand you need to keep your occupancy up, even during the slow times, and make sure everything is running smoothly. We at adivaha® can provide you with the best Hotel Booking System in the market at a reasonable price. Our Hotel Booking Engine also comes with add-ons including Self flight booking apis Tool which will help to cater to your corporate clients. We understand the requirements of your business and suggest ways which will help you maximize your profits. We will not push add-ons like the Corporate Booking Tools for Travel if we feel that your company has no requirement of it. We treat your business like it's our own. Maximum results with minimum investments.
Our Comprehensive List of Services
adivaha® is a one-stop-shop for all your travel website needs. We offer a multitude of services that empower you to become a market leader. Contact us for more info.
Have Questions?
The Internet is a huge resource, but
if your question requires particular expertise.
Keep Refreshing your customers - Who doesn't want his site to stand out from crowd? adivaha® gives you multiple options for home pages, headers, colors etc. Which can easily be managed from admin via shortcodes and settings. The theme supports almost all the big players in this market ie, WEGO, Travelpayouts, Agoda, Booking, Expedia etc.
Frequently Asked Questions
Below are some of the questions asked by visitors. Do visit our adivaha® Digest for more such questions. Don't hesitate to ask us if you have any questions
What all GDS and Providers are connected in the platform?

36

views

1

answers

0

votes