Build your own Travel Brand!
Ready to go-LIVE travel solutions that helps your travel agency to sell a range of travel services pretty instantly. adivaha® travel solutions make sure you have no boundation over your imagination, you can do everything online, without the need for any technical knowledge or design skills. Easy Backoffice, extensive reporting with integrated Funds Management System. Upload funds easily and instantly through Netbanking, Debit Card, Credit Card. The best part is, we do offer customizations in case you believe it will boost your business!
How to Build a Hotel WordPress Agency Website
A well-designed website can showcase your agency's professionalism and expertise in the hotel industry. It allows you to present your travel technology services, showcase hotels, and establish credibility with potential clients. Having a website makes your agency easily discoverable online. It enables you to reach a broader audience beyond your physical location and attract potential clients from anywhere in the world.
Purchase a domain name and hosting
Choose a domain name that reflects your agency's brand and is easy to remember. Consider using keywords related to hotels, travel, or your agency's name. Ensure that the domain name is available by checking with domain registrars or hosting providers. Research and select a reputable hosting provider that offers reliable services, good server performance, and excellent customer support. Consider factors like pricing, server location, storage space, bandwidth, and scalability. Hosting providers usually offer various plans, such as shared hosting, VPS hosting, or dedicated hosting. Determine the appropriate plan based on your website's needs, expected traffic, and budget. For a new online hotel booking sites agency, shared hosting is often sufficient. Once you have chosen a domain name and a hosting provider, proceed to register your domain. Many hosting providers also offer domain registration services, simplifying the process. Follow the instructions provided by the hosting provider to complete the domain registration. After registering your domain, choose the hosting plan that best suits your requirements and make the purchase. Review the pricing, contract terms, and any additional features or services offered by the hosting provider. Make sure to select the appropriate billing cycle (monthly, yearly, etc.). Provide the necessary information to complete the registration process, including your contact details, billing information, and domain name registration information. Review the details carefully before finalizing the purchase.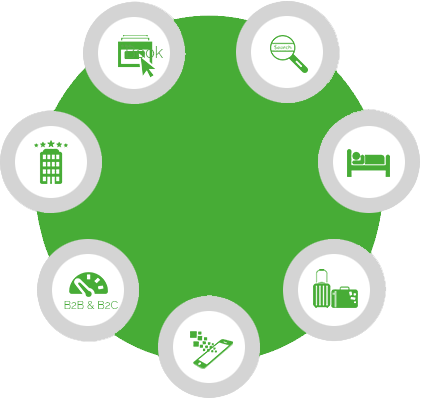 Build the Ultimate Hotel WordPress Agency Website
Choose a WordPress theme
Select a WordPress website theme suitable for a hotel agency website. Look for themes that offer features such as booking/reservation systems, room listings, and photo galleries. You can find free and premium themes on WordPress.org and other theme marketplaces. Look for a theme specifically designed for hotel agencies or accommodations. Ensure it offers features like room listings, booking/reservation systems, photo galleries, and integration with popular hotel booking plugins. Choose a theme with a visually appealing design that aligns with your agency's branding. Look for customization options that allow you to modify colors, fonts, layouts, and other design elements to match your brand identity. Ensure the theme is responsive, meaning it adapts and displays well on different devices and screen sizes. With an increasing number of people browsing the web on mobile devices, a responsive theme is crucial for a positive user experience. Opt for a theme with an intuitive and user-friendly interface. It should be easy to navigate and manage, allowing you to make updates and modifications without extensive technical knowledge. Check if the theme is regularly updated and compatible with the latest version of WordPress. Look for themes developed by reputable authors or companies that provide reliable customer support in case you encounter any issues. A lightweight and well-coded theme can contribute to faster page loading times, which is essential for a good user experience and search engine optimization (SEO). Consider themes optimized for speed and performance. Read reviews and ratings of the theme to get insights from other users. Look for positive feedback and high ratings, indicating that the theme is well-regarded and reliable. Themes that provide demo content or pre-built templates can help you get started quickly and provide a visual reference for customizing your website. Additionally, comprehensive documentation or video tutorials can be beneficial for easier theme setup and customization.
Install and customize the chosen theme
Install the selected theme within your WordPress dashboard and configure its settings. Customize the theme's appearance, colors, fonts, and layout to align with your agency's branding. Set up your website's menu structure, header, and footer. The theme sets the visual tone and appearance of your website. This consistency helps create a cohesive and professional look for your website. A well-designed and customized theme enhances the user experience on your website. It allows you to create a user-friendly interface, intuitive navigation, and a layout that presents your content in an organized and engaging manner. By customizing the theme, you can optimize the user experience to encourage visitors to explore your site and easily find the information they need. Customizing the theme allows you to differentiate your website from others using the same theme. You can make adjustments to the layout, colors, fonts, and other design elements to create a unique and personalized look for your hotel website agency. This helps you stand out from competitors and leave a memorable impression on visitors. Customizing the theme ensures that your website reflects your agency's brand identity consistently. It enables you to showcase your agency's unique style and create a cohesive online presence that aligns with your offline marketing efforts. Consistent branding helps build trust and recognition among potential clients. Many themes come with built-in features and functionality specific to hotel agencies, such as booking/reservation systems, room listings, and photo galleries. By customizing the theme, you can enable and configure these features to meet your specific needs. This allows you to provide a seamless user experience and offer the necessary functionality for potential clients to explore and book hotels on your website. Customizing the theme ensures that your website is responsive, meaning it adapts and displays properly on various devices and screen sizes. This is crucial as an increasing number of people access the web from mobile devices. By customizing the theme, you can optimize the design and layout for mobile responsiveness, providing an optimal user experience across different devices.
By integrating a booking/reservation system, you provide visitors with a seamless and convenient way to book hotel rooms directly from your website. This eliminates the need for them to visit third-party booking platforms, increasing the chances of direct bookings and reducing potential distractions. Having a booking/reservation system on your website allows you to directly manage the booking process and have control over pricing, availability, and special offers. It can lead to increased revenue as you eliminate commission fees associated with third-party booking platforms. A booking/reservation system often provides you with valuable data and insights about your guests' preferences, booking patterns, and revenue statistics. This data can help you make informed business decisions, refine your marketing strategies, and improve your services based on customer behavior. Optimizing your website for search engines improves its chances of appearing in relevant search results. This increases the visibility of your hotel agency website, allowing more potential clients to discover and visit your site. A higher search engine ranking can result in increased organic (non-paid) traffic to your website. When your website appears prominently in search results, users are more likely to click on your website link, leading to more visitors and potential bookings. SEO helps you optimize your website for specific keywords and phrases related to online hotel booking system and accommodations. By targeting relevant keywords, you attract a more qualified audience actively searching for hotel services, increasing the chances of conversion. Websites that rank higher in search results often garner more credibility and trust from users. When your website appears on the first page of search results, users perceive it as more authoritative and reliable, which can positively impact their decision to book with your agency.
Add content, Set up contact forms, and Enable social sharing
By adding relevant and high-quality content, such as blog posts, articles, and destination guides, you can engage visitors and provide them with valuable information about hotels, travel tips, and local attractions. This content can establish your agency as an authority in the online hotel booking industry and help build trust with potential clients. Content can be used to showcase the hotels you represent, highlighting their unique features, amenities, and special offers. This can help attract potential guests and drive bookings. Setting up contact forms allows visitors to easily get in touch with your agency for inquiries, requests, or to make bookings. It provides a convenient and efficient means of communication, enhancing the user experience. Contact forms capture visitor information, such as name, email address, and message, allowing you to follow up with potential clients. This enables lead generation and provides an opportunity to convert inquiries into bookings. Enabling social sharing features on your website allows visitors to share your content or hotel listings on social media platforms. This amplifies your reach, exposing your agency and hotels to a wider audience and increasing the potential for engagement and bookings. Social sharing can help promote your agency's brand and increase its visibility. When visitors share your content, it serves as a form of endorsement, enhancing your agency's credibility and attracting more attention. Social sharing can encourage visitors and guests to share their experiences, reviews, and photos related to the hotels you represent. User-generated content adds authenticity and social proof, influencing potential clients' decision-making process.
Test and launch
Verify that your travel portal website displays properly on different devices, including desktops, laptops, tablets, and mobile phones. Test various screen sizes and resolutions to ensure a consistent and optimized user experience. Test your website on multiple web browsers such as Google Chrome, Mozilla Firefox, Safari, and Microsoft Edge to ensure it functions correctly and appears consistent across different browsers. Navigate through your website to check for broken links, missing pages, or any other issues that may hinder user navigation. Ensure that all menu items, internal links, and buttons function as intended. Test all contact forms on your website to ensure they capture and deliver data correctly. Verify that form submissions are received in your designated email address or customer relationship management (CRM) system. Double-check the accuracy of contact information displayed on the website, including phone numbers, email addresses, and social media links. Perform test bookings using the integrated booking/reservation system to confirm that it functions smoothly and accurately captures user information. Test various scenarios, such as different room types, date selections, and payment methods, to ensure a seamless booking experience. Review all website content, including pages, blog posts, and descriptions, for grammatical errors, spelling mistakes, and factual accuracy. Poorly written or inaccurate content can negatively impact your credibility. Verify that your website follows basic SEO practices, such as including relevant meta titles, descriptions, and keyword optimization. Test the visibility of your website by searching for targeted keywords on search engines and ensuring your website appears in the search results. Test your website on various devices, including smartphones, tablets, and different operating systems, to ensure consistent functionality and appearance across different platforms. Ask friends, colleagues, or target audience members to review and provide feedback on your white label website. Consider their suggestions and make necessary improvements based on their input.
Our Comprehensive List of Services
adivaha® is a one-stop-shop for all your travel website needs. We offer a multitude of services that empower you to become a market leader. Contact us for more info.
Have Questions?
The Internet is a huge resource, but
if your question requires particular expertise.
Keep Refreshing your customers - Who doesn't want his site to stand out from crowd? adivaha® gives you multiple options for home pages, headers, colors etc. Which can easily be managed from admin via shortcodes and settings. The theme supports almost all the big players in this market ie, WEGO, Travelpayouts, Agoda, Booking, Expedia etc.
Frequently Asked Questions
Below are some of the questions asked by visitors. Do visit our adivaha® Digest for more such questions. Don't hesitate to ask us if you have any questions
I am setting up this plugin for my client's website, I tried registering and received the account activation email, but …

21

views

1

answers

0

votes