Build your own Travel Brand!
Ready to go-LIVE travel solutions that helps your travel agency to sell a range of travel services pretty instantly. adivaha® travel solutions make sure you have no boundation over your imagination, you can do everything online, without the need for any technical knowledge or design skills. Easy Backoffice, extensive reporting with integrated Funds Management System. Upload funds easily and instantly through Netbanking, Debit Card, Credit Card. The best part is, we do offer customizations in case you believe it will boost your business!
Choose the Right Hotel WordPress Theme for Your Business
You can select the right hotel WordPress theme that meets your business needs and provides an attractive and functional online presence for your hotel. A good theme improves the overall user experience of your website visitors. It provides easy navigation, clear information presentation, and a seamless booking process which encourages visitors to explore your website further, increases the chances of direct bookings, and leads to higher customer satisfaction.
Responsive Design
Choose a theme that is mobile-friendly and adapts well to different screen sizes. This is crucial for providing a seamless browsing experience to your users. Responsive design refers to the approach of designing a website to adapt and display optimally across various devices and screen sizes, including desktop computers, laptops, tablets, and smartphones. It ensures that the website layout, content, and functionality adjust automatically to provide an optimal viewing experience for users, regardless of the device they are using. The goal of responsive design is to eliminate the need for separate mobile or desktop versions of a website and create a unified and consistent user experience. With a responsive design, the website's elements, such as text, images, menus, and buttons, will resize, reposition, or reorganize based on the screen size. Responsive design has become increasingly important due to the widespread use of mobile devices for internet browsing. With a growing number of people accessing websites on smartphones and tablets, it is essential to provide a seamless and user-friendly experience across all devices. A responsive design not only improves user satisfaction but also has positive impacts on search engine rankings, as search engines prioritize mobile-friendly websites in their results. To achieve a responsive design, web designers and developers use techniques like fluid grids, flexible images, and media queries. These techniques allow the travel portal website to adapt and respond to different screen sizes by adjusting the layout, font sizes, and image dimensions accordingly. Responsive design is now considered a standard practice in web development, ensuring that websites are accessible and optimized for all users, regardless of the device they use.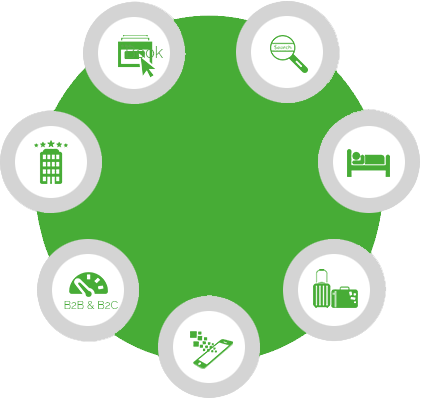 Picking the Perfect Hotel WordPress Theme
Booking System Integration
Look for a theme that integrates with popular hotel booking systems or offers built-in booking functionality. This will allow your customers to easily make reservations directly from your website. Booking system integration refers to the seamless integration of a hotel booking system into a website. It enables visitors to check availability, view room options, and make reservations directly on the website, without the need for manual intervention or redirection to external booking platforms. Some WordPress themes come with built-in booking functionality. These themes often have dedicated sections or custom post types for displaying rooms, rates, availability calendars, and booking forms. They allow you to manage bookings and reservations directly from your WordPress dashboard. WordPress offers a wide range of booking plugins that can be integrated into any WordPress theme. These plugins provide advanced booking management features, customization options, and integration with popular payment gateways. Examples of popular hotel booking plugins include WooCommerce Bookings, WP Hotel Booking, and Easy Booking. If you have a custom-built booking system or are using a third-party booking platform, you can integrate it into your WordPress website using APIs (Application Programming Interfaces). APIs allow different systems to communicate and share data. This integration method requires technical knowledge or the assistance of a developer. Ensure that the booking system integrates smoothly with your chosen theme or plugin, without conflicts or functionality limitations. Ensure that the booking system integrates smoothly with your chosen theme or plugin, without conflicts or functionality limitations. Evaluate the features offered by the booking system, such as room management, availability calendars, pricing options, online payments, and email notifications. Choose a system that aligns with your hotel's specific requirements. The booking process should be intuitive and user-friendly. Look for systems that provide a streamlined and secure reservation experience for your guests.
Customization Options
Consider a theme that provides ample customization options, allowing you to personalize your website to match your hotel's unique style and offerings. This includes customizable colors, fonts, and layouts. Having robust customization options allows website owners or administrators to tailor the appearance and behavior of their site without needing extensive coding knowledge or relying solely on pre-built templates. The ability to choose and customize the colors and fonts used throughout the website. This includes selecting primary and secondary colors, adjusting text sizes and styles, and customizing headings and paragraph styles. The ability to control the overall layout and structure of web pages. This includes arranging page elements, choosing different column configurations, adjusting sidebars, and defining header and footer designs. The availability of pre-designed page templates that cater to different types of content, such as homepages, contact pages, about pages, and blog layouts. Customization options may allow modifying the templates to suit specific content and design requirements. The ability to add, remove, and rearrange various widgets or modules on different sections of the custom travel website. This includes features like image sliders, social media feeds, testimonials, and custom content blocks. The flexibility to create custom menus and navigation structures, allowing for the organization and categorization of website pages and content. Customization options may include choosing menu styles, dropdown or mega-menu configurations, and linking to specific pages or external URLs. The ability to customize the header and footer sections of the website, including logo placement, branding elements, contact information, social media icons, copyright notices, and additional custom content. The option to set custom background colors or images for specific sections or the entire travel website development. It may also include the ability to upload and customize header images, featured images, and thumbnails for blog posts or portfolio items.
Compatibility
Confirm that the theme is compatible with essential plugins you plan to use, such as contact forms, social media integrations, and caching plugins. This will ensure the smooth integration of additional functionality into your hotel website. Compatibility ensures that the theme or plugin integrates smoothly with your website's existing components, including the WordPress version, other installed plugins, and any customizations you've made. It reduces the risk of conflicts, errors, or functionality issues that can arise from incompatible software. Compatible themes and plugins work together harmoniously, allowing you to leverage the full functionality of each component without compromising performance or user experience. Compatibility ensures that features and functionalities provided by the theme or plugin function as intended and deliver the desired outcomes on your wordpress travel website. Incompatible themes or plugins can lead to technical issues, such as layout inconsistencies, broken functionality, or even site crashes. These issues can frustrate users, harm your website's reputation, and potentially result in lost business opportunities. Choosing compatible software minimizes the risk of encountering such problems. Incompatible themes or plugins can introduce security vulnerabilities to your website. Outdated or unsupported software may lack the necessary security patches, making your website more susceptible to attacks. Ensuring compatibility with regularly updated and maintained components reduces security risks and helps protect your website and user data. Compatibility is closely tied to ongoing updates and support from the theme or plugin developer. Developers actively maintaining their products are more likely to ensure compatibility with the latest versions of WordPress and other relevant travel technology software. Regular updates help address compatibility issues, provide bug fixes, and maintain compatibility with evolving web standards. Compatibility becomes even more critical as your website evolves and expands. Choosing themes and plugins that are compatible with popular third-party integrations, e-commerce platforms, or other essential tools ensures that your website can grow and adapt to meet future needs without limitations or significant redevelopment.
Support and Updates
Check the theme's documentation and support options to ensure you'll have access to assistance when needed. Additionally, make sure the theme developer provides regular updates to keep the theme compatible with the latest WordPress version and plugins. Support ensures that you have access to technical assistance when you encounter issues or have questions about the theme or plugin. This can be in the form of documentation, knowledge base articles, forums, or direct support from the theme/plugin developer. Responsive and helpful support can save you time and frustration when troubleshooting or seeking guidance. Regular updates provided by the theme or plugin developer often include bug fixes and security patches. These updates address any identified issues or vulnerabilities in the software, ensuring that your website remains stable, secure, and compatible with the latest versions of WordPress and other plugins. As WordPress evolves, updates are released to improve its functionality and security. Themes and plugins need to be regularly updated to remain compatible with these changes. Themes and plugins that receive frequent updates indicate an active developer who is committed to maintaining compatibility and ensuring a smooth experience for users. Updates can also bring new features, improvements, or enhancements to the theme or plugin. These updates can provide additional functionality, better performance, or new design options. Staying up to date with updates allows you to take advantage of these improvements and keep your wordpress travel website current. Choosing a theme or plugin from a reputable developer with a track record of providing regular updates and support increases the likelihood of long-term reliability. Themes or plugins that are abandoned or no longer maintained can become outdated, incompatible, and potentially pose security risks. It's advisable to choose products from developers who have a history of ongoing support and updates.
Reviews and Ratings
Take into account user reviews and ratings of the theme before making a decision. This can provide insights into the theme's performance, reliability, and user satisfaction. Reviews and ratings provide insights into the experiences of other users who have used the theme or travel wordpress plugin. They offer valuable information about the product's performance, ease of use, features, and overall satisfaction. Reading reviews can give you a better understanding of what to expect and help you gauge whether the product aligns with your specific needs and requirements. Reviews and ratings can help you assess the reliability and quality of a theme or plugin. Positive reviews and high ratings indicate that other users have had a positive experience with the product and consider it reliable, functional, and well-designed. Conversely, negative reviews or low ratings can raise red flags and alert you to potential issues or limitations. Reviews often provide real-world use cases and examples of how others have implemented the theme or plugin. This can help you determine if the product is suitable for your particular website goals and industry. It's beneficial to look for reviews from users who have similar website needs or businesses like yours. Reviews typically highlight both the strengths and weaknesses of a theme or plugin. They can offer insights into the features that users appreciate, as well as any limitations or areas for improvement. Understanding the pros and cons can assist you in making an informed decision and managing your expectations. Reviews can also indicate how responsive and engaged the theme or plugin developer is with their user community. If users have raised concerns or issues in their reviews, you can assess whether the developer has been proactive in addressing them and providing support.
Our Comprehensive List of Services
adivaha® is a one-stop-shop for all your travel website needs. We offer a multitude of services that empower you to become a market leader. Contact us for more info.
Have Questions?
The Internet is a huge resource, but
if your question requires particular expertise.
Keep Refreshing your customers - Who doesn't want his site to stand out from crowd? adivaha® gives you multiple options for home pages, headers, colors etc. Which can easily be managed from admin via shortcodes and settings. The theme supports almost all the big players in this market ie, WEGO, Travelpayouts, Agoda, Booking, Expedia etc.
Frequently Asked Questions
Below are some of the questions asked by visitors. Do visit our adivaha® Digest for more such questions. Don't hesitate to ask us if you have any questions
What all GDS and Providers are connected in the platform?

34

views

1

answers

0

votes