Build your own Travel Brand!
Ready to go-LIVE travel solutions that helps your travel agency to sell a range of travel services pretty instantly. adivaha® travel solutions make sure you have no boundation over your imagination, you can do everything online, without the need for any technical knowledge or design skills. Easy Backoffice, extensive reporting with integrated Funds Management System. Upload funds easily and instantly through Netbanking, Debit Card, Credit Card. The best part is, we do offer customizations in case you believe it will boost your business!
A Step-by-Step Guide to Integrating an Hotel XML API
Integrating a hotel XML API into your website can be a bit time-consuming, but it has the potential to offer better services and enhanced customer satisfaction. This guide should help you with the information and resources you need to successfully set up an XML API on your travel website. We'll walk you through the steps so that you can evaluate and plan your hotel XML API integration wisely. Learn best practices for successful integration, and start converting your visitors into successful bookings!
Familiarize Yourself with the Integration Platforms.
Before you start integrating your hotel XML API, it's important to familiarize yourself with the different integration platforms available. Every travel tech platform offers a different set of features and functionalities, so you need to make sure you select one that fits your requirements. Do consider the cost, features, scalability, security, and technical support when selecting an integration platform for your hotel booking solutions.
Research Potential XML API suppliers
The next step would be to do your research. Investigate the leading XML APIs suppliers/providers to find out which offers the features and benefits you're looking for. Take into consideration the costs associated with each one, as well as its ratings and reviews before deciding on a selection. Once you have narrowed down your choices, it is time to start the integration process.
Understand the Scope of Integration
It's important that you understand the scope of work and what you are trying to achieve. Ask yourself questions about your needs and goals for the integration process to ensure that you have a clear understanding of what features you require. If your current system has multiple components, create a comprehensive plan as to how each component will work in harmony with one another and with the XML API. This step is critical to successfully integrating an XML API into an existing system.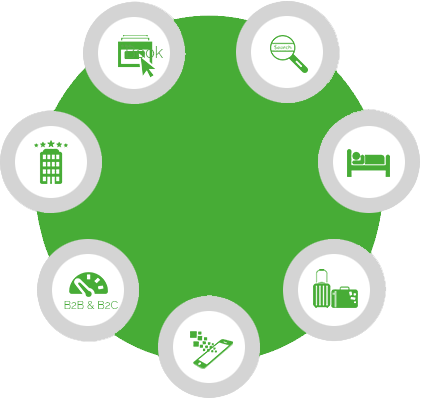 The Ultimate Guide to Integrating an Hotel XML API
Decide Which Data to Use
To make the Hotel XML API integration successful, it's very important to decide what data you'd like to use from the API. You'll need to determine which types of data are essential for your operations and can be easily integrated with existing systems. Consider which pieces of information will aid in the daily running of your hotel, such as availability data for managing bookings or payment instructions for automated payments. Once you have this gleaned, you can begin planning out the rest of your integration process.
Set Up Database Table Schema & Design Structures.
Now we are all good to draw a database table schema and design data structure. This involves creating tables that will store the necessary information for the API calls, such as hotel information, room types, availability, rates, etc. You'll want to ensure that your database table structure is optimized for efficient retrieval of data and also protects any sensitive customer information. To save time and cost, you may consider a cloud system to host your hotel booking system database. With a cloud system, updates and maintenance can be done automatically which ensures a high degree of security and reliability.
Design the Interface
Once you've established what data is necessary for your hotel XML API integration, and how the communication between the application and API should take place, it's time to design the interface. This includes specifying how requests are sent to the API and how any returned information is processed and displayed on the site. Some APIs may require you to set up specific authentication keys or tokens, while others simply need a URL format. Work out all the details involved in building an efficient integration process so that when you apply it to your own hotel booking engine, it will work seamlessly.
Determine How the Integration Should Work
The next step while integrating an XML API into your hotel booking system is to decide how the integration should work. There are two major considerations for this: what data needs to be sent from and received by the API, and how that data should be formatted. Identifying which parts of the API will interact with existing internal systems and figuring out how they'll communicate with each other. Keeping these into consideration will help you build a successful integration process.
Create a Direct Connection with the XML API
We are now all set to get into the core development and make a direct connection with the hotel XML API that allows you to access data in a test environment. Make sure you are keeping the best practices in consideration so that it could deal with the volume of users looking for accommodation options in a LIVE environment. Direct connections typically include an authentication method and secure methods of communication, such as SSL encryption, which ensure the safety and privacy of your data. You can now start building your travel application on a staging server.
Set up an error logging functionality
To ensure that your API integration works smoothly, it's important to set up error logging functionality. This helps you recognize any potential problems as early as possible. Additionally, make sure to use error reporting email templates which you can quickly fill in and send out to the technical team with the error information. This may help your support team who may not be familiar with the API to quickly understand what the issue is based on the template information and help get it resolved in a timely manner.
Implement Security Protocols and Maintenance Practices
When working with the APIs, it's important to not only establish secure protocols but also maintain them. This means you need to make sure your system is regularly updated, patched, and monitored for any breaches or intrusions. You must have a daily backup of the project, in case of any unexpected events causes disruption or data loss. Implementing these security measures will ensure the safety and reliability of your hotel booking engine. Even a single breach can put you in debt.
Test your Hotel API Integration
Once you have successfully integrated a hotel API into your application, it is important to test and tweak it so that users have the best experience possible. Take your time with the process to make sure everything is running smoothly and check for any issues or areas where improvements can be made. After you are confident in the results, invite friends, family, and colleagues to use it on their next trip and provide feedback. When you're sure it meets all of your needs, then you can launch publicly!
Launch your website
Most crucial part is to Introduce your application to real traffic. Integrating a hotel API into your application can open up exciting business opportunities. It's important to ensure that your tech team is ready to quickly address any issues in the LIVE environment. Ask for feedback from your customers, and make improvements wherever needed. You can now get into the marketing and drive successful results from the integration.
Our Comprehensive List of Services
adivaha® is a one-stop-shop for all your travel website needs. We offer a multitude of services that empower you to become a market leader. Contact us for more info.
Have Questions?
The Internet is a huge resource, but
if your question requires particular expertise.
Keep Refreshing your customers - Who doesn't want his site to stand out from crowd? adivaha® gives you multiple options for home pages, headers, colors etc. Which can easily be managed from admin via shortcodes and settings. The theme supports almost all the big players in this market ie, WEGO, Travelpayouts, Agoda, Booking, Expedia etc.
Frequently Asked Questions
Below are some of the questions asked by visitors. Do visit our adivaha® Digest for more such questions. Don't hesitate to ask us if you have any questions
I am setting up this plugin for my client's website, I tried registering and received the account activation email, but …

17

views

1

answers

0

votes