Build your own Travel Brand!
Ready to go-LIVE travel solutions that helps your travel agency to sell a range of travel services pretty instantly. adivaha® travel solutions make sure you have no boundation over your imagination, you can do everything online, without the need for any technical knowledge or design skills. Easy Backoffice, extensive reporting with integrated Funds Management System. Upload funds easily and instantly through Netbanking, Debit Card, Credit Card. The best part is, we do offer customizations in case you believe it will boost your business!
How to Get Started With Travel XML Integration?
Every travel agency is looking for an online travel portal that can make it easier to work with travel XML. Most travel portals today are limited to Web developers who have no experience in tourism. adivaha® software developers have been professionally responding to the travel industry for many years.
We have invested our skills and knowledge to offer you comprehensive portals with a wide range of important functions.Travel XML Integration is designed for travel agencies. The purchase of such a system reduces the time and efforts of travel agencies to develop their own system. The travel XML is an online solution for booking flights, hotels, cars, transfers, and other services. The user can search and book all services on one portal using various providers and consolidators. Now the travel industry is one of the fastest-growing sectors not only in India but around the world.
What is XML integration with a travel system?
XML integration is a technological tool used to connect in real-time with tour operators, tourism wholesale agencies, airlines, best API hotel chains, and other providers of tourism products. With total freedom to customize, make it usable and simple for the end customer and with this connection, wholesalers' products can be offered in a single search engine from your website.An XML interface, for example, allows us to know in real-time the availability and rates to book hotels, activities, and transfers of this tour operator. Always respecting the minimum price imposed by the tour operator, yes XML integration also allows us to decide the final price of the product. This means that tour packages are sold from a traditional travel agency counter you would sell from your website in the same way. Like a showcase, with Amadeus XML API Integration we have a free hand for the design and presentation of the product. Another advantage offered by the XML interface is the possibility of combining products from different suppliers or wholesalers.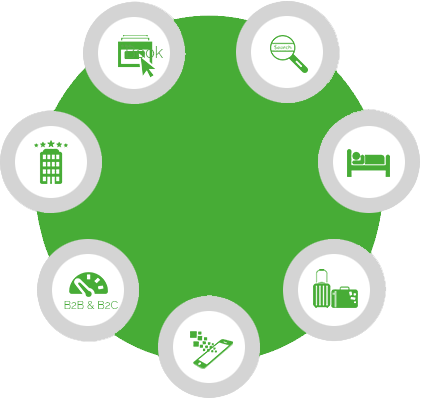 Travel XML Integration - From Setup to Execution
How to integrate an XML service?
Which can be carried out by software providers for this purpose, specific development and programming are needed. adivaha® is a specialist in the development of XML integrations for the tourism sector. Depending on the tourism products you want to offer, you will need to develop XML integrations with some tour operators or others. adivaha® offers Travel XML Integration to travel agencies to connect with the most competent wholesalers. But the development of this technology is as complex as its result is practical, which is why it takes time and money.The XML integration allows the entire system, in terms of reservations, to be linked in a single network with the databases of providers that offer their services. In general terms, the XML integration is in charge of keeping updated the availability data in reservations in Travel for its entire portfolio of external travel agents. This ensures that more rooms than those offered will not be sold, thanks to the system called XML integration.
Distribute to your customers through the travel XML 
The available travel XML engine is based on the international format of the open Travel Alliance (OTA) so that integrations by your clients are standard and can be done more easily to start receiving automatic reservations.
Your custom website 

Choose from one of our themes and personalize it with your colors, or bet on the difference. We make a custom design for you!

Create multiple web pages

For each type of client with Travel XML web appliction, you can create different web pages and share availability. For example, a page for a specific destination, another page for a multi-product sale, and another just for your professional clients. We can make a unique, exclusive design and different functionality, such as personalized payment methods and specific prices for each client.

Multi-product booking engine

You can reserve it with immediate confirmation and generate the documents in real-time for your clients, prior payment by credit card if you consider it appropriate, or payment at the establishment upon arrival.

Private section

With Travel XML API you become a true online reservation center. All your clients will be able to have secure private access to consult all the reservations made and download the appropriate documentation, such as invoice, voucher, or confirmation and also request the modification or cancellation of the reservation in real-time and with cost calculations.

SEO-oriented content management

With this system, you will also be able to change the Titles, Descriptions and additional Goals that you need, as well as the URLs of the pages and the headers so that your optimization for search engines is the best possible.

Access to providers to charge rates

In addition to the contracts that you have entered, you will be able to give access to your Expedia Partner suppliers with different levels of permissions so that they can update availability, enter sales closings, enter offers or even load the entire contract if you need it and supervise that everything is correct to open sales. On your different channels.

Centralize everything to control

By product, and by destination analysis and reporting by sales channel. Information in real-time to decide properly.

Charge any fee for any product Package!

Any rate, no matter how complicated it may be, can be uploaded to Travel XML, because if not, we will modify it so that it can be done. That is our added value. Accommodations, transfers, excursions, groups, activities, registration for events, guides ... whatever you need can be booked online. ¡Try us!

Centralize the operation and adapt it to the way you work

We are specialized in the reservation and receptive centers that have a lot of operations and management that begins once the sale is finished and we know that each one performs it according to their way of working. Distribution of places, Rooming, reports, guarantees, quota planning.

Centralized administration

Dispose centralizes operations, sales, and administration in a single system. All the information and management are available in real-time and with specific reports adapted to your company.

Accounting export

The most important thing for us is to centralize the entire company and operations, and that is why it is essential that accounting is integrated into the sales and management process. With Travel XML we can integrate any accounting that is the one that your company uses to generate the exact entries you need.

Design and decoration

The travel XML system is delivered in standard graphic elements of the basic design theme with the possibility of their further modification through the use of custom CSS-styles, additional JavaScript code, and the integration of HTML-blocks into the header and footer.

Payment methods

In the travel XML system, it is possible to connect several payment methods - the list is quite large and the choice is yours - depending on the specific needs of the project, the markets in which you operate, and other factors.

Notification

Notifications - after the web interface itself, this is the main channel of communication with the user in the travel XML system and we pay special attention to it.
Conclusion:
The ability of this tour operator to manage everything related to reservations and package sales is essential. That is why, as professionals in XML integration with Travel, we offer a centralized online reservation system, as well as a responsive website adapted to your needs. Our XML Integration solutions were created to meet the busiest needs of the travel chain, small lodging businesses, and any other agent offering hospitality services.Thanks to the adivaha® team of developers we offer a wide portfolio of services and the best travel system with Travel XML Integration.
Our Comprehensive List of Services
adivaha® is a one-stop-shop for all your travel website needs. We offer a multitude of services that empower you to become a market leader. Contact us for more info.
Have Questions?
The Internet is a huge resource, but
if your question requires particular expertise.
Keep Refreshing your customers - Who doesn't want his site to stand out from crowd? adivaha® gives you multiple options for home pages, headers, colors etc. Which can easily be managed from admin via shortcodes and settings. The theme supports almost all the big players in this market ie, WEGO, Travelpayouts, Agoda, Booking, Expedia etc.
Frequently Asked Questions
Below are some of the questions asked by visitors. Do visit our adivaha® Digest for more such questions. Don't hesitate to ask us if you have any questions
What all GDS and Providers are connected in the platform?

27

views

1

answers

0

votes