Build your own Travel Brand!
Ready to go-LIVE travel solutions that helps your travel agency to sell a range of travel services pretty instantly. adivaha® travel solutions make sure you have no boundation over your imagination, you can do everything online, without the need for any technical knowledge or design skills. Easy Backoffice, extensive reporting with integrated Funds Management System. Upload funds easily and instantly through Netbanking, Debit Card, Credit Card. The best part is, we do offer customizations in case you believe it will boost your business!
How to Automate Hotel Bookings with Hotel XML API
Hotel API Integration services have become popular in the hospitality industry nowadays. Every travel agency is looking to have an online presence on the Internet. Using a Hotel API you can streamline your online bookings process and provide better customer service to travelers looking for accommodation. Learn how to use the Hotel API for automated bookings and make your hotel reservations process simpler and smoother.
Overview of Hotel XML API.
The Hotel XMLs or APIs is a comprehensive technical integration solution that enables you to access an array of services for all aspects of hotel reservations, pricing, and availability. It also provides real-time web services so you can manage your entire inventory from one central location. With the Hotel XML API, you can automate bookings for any number of hotels in any region, allowing for quick and effortless bookings for your guests.
Understanding the Data Structure in Hotel XML API
Understanding the data structure of the Hotel XML API is important for automation. The Hotel XML API provides access to multiple data structures to facilitate booking, pricing, and availability functions. The data includes all related information such as room types, amenities, rates, taxes, and any other relevant details regarding a hotel. Understanding this data will help you properly structure the requests and respond to the received responses in the most efficient manner when using the Hotel XML API.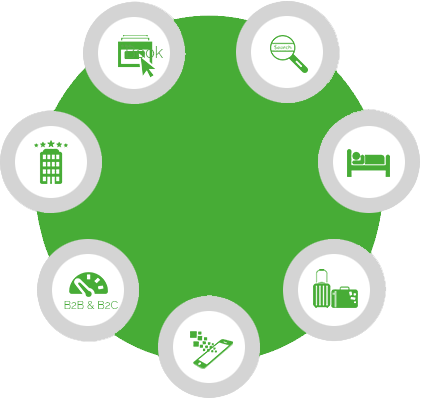 How to Automate Hotel Bookings with Hotel XML API
Integrating a Hotel Reservation System with Hotel XML API
Integrating a hotel reservation system with the Hotel XML API is relatively straightforward and simple. Once you have the necessary credentials, you can start using the API right away to make requests for booking information. You will need to integrate your existing reservation system with the Hotel XML request and response formats, populate the data structure according to your needs, and submit the request to retrieve results from the server. This process can be done quickly and easily if you use available tools or libraries that automate this step.
Testing, Optimization, and Troubleshooting Processes for Hotel XML API Integration
After the integration is complete, you will want to test and optimize it to ensure that everything works as expected. You can do this by checking each response values to make sure they are what you expected or testing for edge cases in the integration layer. Additionally, you should monitor the performance of your system by tracking changes in ticket volume over time or determining if there are any errors being reported from guests' who have used the Hotel XML API. This will allow you to quickly identify and resolve any issues that may arise during your integration process.
Security and Payment Options in Hotel XML API Integration.
To ensure the safety of your guests data, you will need to configure security measures in your Hotel XML API integration. Some popular payment gateways used in hotel bookings are PayPal, Stripe, and 2Checkout. To make sure that these connections remain secure, you'll want to use industry-standard encryption protocols such as TLS 1.2 or above. Additionally, you should also test the system regularly to check for any vulnerabilities related to your integration.
adivaha offers you pre-built solutions like White Label Travel Portals, WordPress Plugins, etc with pre-integrated Travel XML APIs. This keeps you away from all the hassles of all the paper works with the suppliers and integration charges. All you need to have is a domain and your email id.
Our Comprehensive List of Services
adivaha® is a one-stop-shop for all your travel website needs. We offer a multitude of services that empower you to become a market leader. Contact us for more info.
Have Questions?
The Internet is a huge resource, but
if your question requires particular expertise.
Keep Refreshing your customers - Who doesn't want his site to stand out from crowd? adivaha® gives you multiple options for home pages, headers, colors etc. Which can easily be managed from admin via shortcodes and settings. The theme supports almost all the big players in this market ie, WEGO, Travelpayouts, Agoda, Booking, Expedia etc.
Frequently Asked Questions
Below are some of the questions asked by visitors. Do visit our adivaha® Digest for more such questions. Don't hesitate to ask us if you have any questions