Build your own Travel Brand!
Ready to go-LIVE travel solutions that helps your travel agency to sell a range of travel services pretty instantly. adivaha® travel solutions make sure you have no boundation over your imagination, you can do everything online, without the need for any technical knowledge or design skills. Easy Backoffice, extensive reporting with integrated Funds Management System. Upload funds easily and instantly through Netbanking, Debit Card, Credit Card. The best part is, we do offer customizations in case you believe it will boost your business!
How To Build A Hotel Booking Website In WordPress Quickly
By swiftly creating a hotel booking website in Wordpress, you can give your hotel business an online presence, begin taking reservations, and draw visitors more effectively. It offers a wide range of themes and plugins made especially for websites that allow hotel reservations.
Create a WordPress website and select an appropriate theme
Because of its intuitive and user-friendly interface, WordPress can be used by people with varying levels of technical ability. Its shortened website setup procedure makes site creation and upkeep quick and easy. WordPress hotel themes provide you the freedom to completely customize the look and feel of your website, including the layout, colors, fonts, and other elements. You can create a distinctive online presence that complements your brand identity thanks to this versatility. WordPress themes provide a variety of options for customizing your website's appearance, enabling you to build a website that accurately reflects your brand and stands out from the competition. Every element can be customized for a distinctive online presence that represents your brand identity. Most Wordpress travel themes are created to be responsive, which means they change to fit various screen sizes and devices automatically. This makes sure that your website works flawlessly and looks excellent on PCs, tablets, and mobile devices. No matter what device a visitor uses to access your site, they will have the optimal user experience thanks to the responsive design.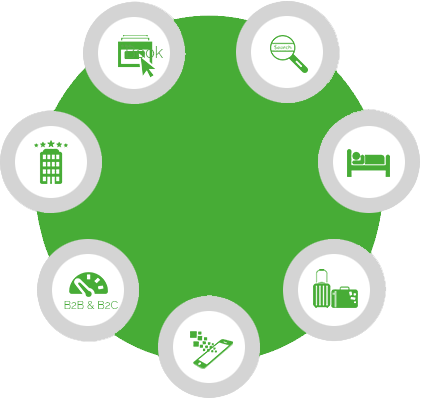 How to Create a Hotel Booking Website in WordPress
Install a hotel booking plugin and configure the hotel booking plugin
Plugins for handling hotel reservations system are especially created to offer key functions. You can add functions like room availability calendars, reservation systems, online booking forms, price options, and payment gateways by installing a hotel booking plugin. These features simplify the booking procedure, making it easier for your visitors and assisting you in managing reservations more successfully. By offering a user-friendly interface for your visitors to search for available rooms, choose dates, and book reservations directly on your website, a hotel booking plugin streamlines the booking process. This reduces the need for manual booking procedures and reliance on outside systems, enhancing user experience overall and raising conversion rates. Hotel booking plugin often include a backend dashboard that allows you to manage and monitor bookings from a centralized location. You can view upcoming reservations, check availability, modify bookings, generate reports, and communicate with guests, all within the plugin's interface.
This centralized management system saves time and ensures better organization of your hotel's booking operations. Hotel booking plugins offer customization options, allowing you to tailor the booking process and appearance to match your branding and travel website designing. You can customize booking forms, pricing structures, email notifications, and other aspects to create a seamless and personalized experience for your guests. Additionally, many hotel booking plugins integrate with popular payment gateways, ensuring secure and smooth transactions for your customers. Configuring a hotel booking plugin enables the automation of various processes, such as sending confirmation emails, generating invoices, updating room availability, and managing cancellations. This automation reduces manual work and the chances of errors, saving you time and ensuring a more efficient online travel booking system. Hotel booking plugins often provide reporting and analytics features, giving you insights into booking trends, revenue generation, occupancy rates, and other key metrics. These insights help you make informed decisions, optimize your pricing strategies, and improve the overall performance of your hotel business.
Create hotel room listings and customize your website
By creating detailed and visually appealing hotel room listings, you provide potential guests with comprehensive information about your accommodations. This helps them make informed decisions and increases their confidence in booking with your hotel. Clear and attractive room listings contribute to a positive user experience, encouraging visitors to explore your website further and potentially convert into bookings. Customizing your best travel website allows you to highlight the unique selling points and features of your hotel. You can showcase amenities, such as swimming pools, spa services, on-site restaurants, or any other distinctive aspects that set your hotel apart from competitors. Customization helps you create a visually compelling and persuasive representation of your hotel, enticing potential guests to choose your establishment over others.
Enable online bookings and Optimize for search engines
Enabling online bookings allows potential guests to make reservations directly through your wordpress travel website at any time. This convenience eliminates the need for phone calls or in-person bookings, providing a seamless and hassle-free experience. By offering online bookings, you make your hotel accessible to a wider audience, including those who prefer the convenience of booking accommodations online. Online bookings enable you to capture reservations and generate revenue 24/7. By providing a user-friendly and efficient booking process, you encourage more visitors to convert into paying guests. Optimizing your website for online bookings can lead to increased occupancy rates and revenue for your hotel.
Enabling online booking software through your website often comes with a booking management system or integrates with hotel management software. This centralizes the reservation process, allowing you to manage bookings, track availability, and handle cancellations or modifications more effectively. A streamlined booking management system saves time, reduces errors, and improves overall operational efficiency. Optimizing your website for search engines (SEO) increases its visibility in search engine results. When potential guests search for hotels or accommodations in your area, a well-optimized website has a higher chance of appearing in relevant search results.
Test and launch
You can identify and address any issues or bugs that may affect its functionality, stoner experience, or performance by testing it before launching. By completely testing different aspects of your travel portal website, similar as navigation, reserving process, payment integration, responsiveness, and comity across bias and cyber surfers, you can catch and resolve any issues that could hamper the stoner experience or lead to implicit crimes. Through testing, you can ensure that your website provides a flawless and stoner-friendly experience for your callers. By testing usability and navigation, you can ensure that druggies can fluently find the information they need and navigate through the booking process without any confusion or frustration.
Our Comprehensive List of Services
adivaha® is a one-stop-shop for all your travel website needs. We offer a multitude of services that empower you to become a market leader. Contact us for more info.
Have Questions?
The Internet is a huge resource, but
if your question requires particular expertise.
Keep Refreshing your customers - Who doesn't want his site to stand out from crowd? adivaha® gives you multiple options for home pages, headers, colors etc. Which can easily be managed from admin via shortcodes and settings. The theme supports almost all the big players in this market ie, WEGO, Travelpayouts, Agoda, Booking, Expedia etc.
Frequently Asked Questions
Below are some of the questions asked by visitors. Do visit our adivaha® Digest for more such questions. Don't hesitate to ask us if you have any questions