Build your own Travel Brand!
Ready to go-LIVE travel solutions that helps your travel agency to sell a range of travel services pretty instantly. adivaha® travel solutions make sure you have no boundation over your imagination, you can do everything online, without the need for any technical knowledge or design skills. Easy Backoffice, extensive reporting with integrated Funds Management System. Upload funds easily and instantly through Netbanking, Debit Card, Credit Card. The best part is, we do offer customizations in case you believe it will boost your business!
Introducing the Ultimate Multiple Hotel Booking WordPress Theme
The Ultimate Multiple Hotel Booking WordPress Theme is a comprehensive solution for hoteliers and accommodation providers looking to enhance their online booking system capabilities. It provides a user-friendly interface, a seamless booking process, and extensive customization options to create a stunning website that drives bookings and boosts revenue.
Booking Management System
For ultimate multiple hotel booking system, the booking management system is a crucial feature. It provides a comprehensive set of tools to effectively manage and streamline the booking process for your hotels or properties. You can easily look at the status of each booking, including confirmed, pending, or canceled reservations. You can see the availability of rooms as the theme provides an availability calendar. This calendar is updated in real-time, allowing you to easily manage and allocate rooms based on occupancy. You can manage room inventory and set up different room types, variations, and configurations. Define the maximum occupancy, bed types, amenities, and other details for each room type. Additionally, you can set up pricing options based on seasons, promotions, or special events. The theme includes a user-friendly and secure online booking engine that allows guests to check availability, select dates, choose their desired room type, and complete the reservation process. The booking engine can be easily integrated into your website, providing a seamless booking experience for your guests. When a guest makes a booking, the system automatically sends confirmation emails to both the guest and the hotel owner. These emails contain the booking details, reservation dates, room type, and any other relevant information. For important events, you can set up automated notifications also such as new bookings or cancellations. The Booking Management System integrates with popular payment gateways, such as PayPal, Stripe, or Authorize.net, allowing you to accept online payments securely. Guests can make payments at the time of booking, ensuring a smooth and convenient transaction process. The system provides detailed reports and analytics on booking trends, occupancy rates, revenue, and other key performance indicators. These insights help you make data-driven decisions and optimize your hotel operations. The system allows you to communicate with guests directly through the backend. You can respond to inquiries, provide additional information, or handle special requests, ensuring excellent customer travel technology services.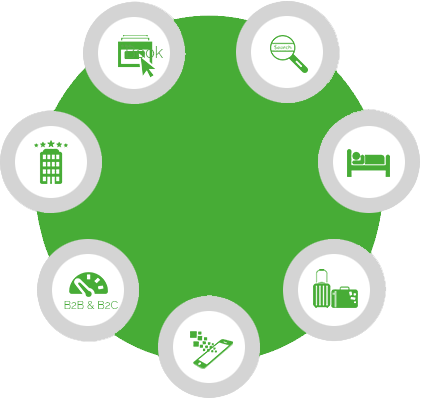 Multiple Hotel Booking WordPress Theme
Multiple Hotel Support
The Multiple Hotel Support features of the Ultimate Multiple Hotel Booking WordPress Theme allow you to manage and showcase multiple hotels or properties within a single WordPress travel website. The theme provides a dedicated hotel listing page where you can display all the hotels or properties you offer. Each hotel can have its own page with detailed information, such as hotel name, location, description, images, amenities, and more. Each hotel or property gets its own dedicated page, allowing you to highlight its unique features, rooms, and offerings. You can customize the layout, colors, and content of each hotel page to match its branding and style. Within each hotel page, you can showcase different room types and variations available. This helps guests choose the room that suits their preferences and needs. You can provide details about room amenities, capacity, bed types, and more. The theme includes a booking management system that enables guests to check the availability of rooms across all your hotels. Users can select their desired dates, choose the hotel and room type, and proceed with the booking process. From the backend of your WordPress travel themes website, you can easily manage and monitor all hotel bookings and reservations. This centralized management system allows you to view occupancy, manage room availability, update prices, and handle guest inquiries. The theme provides search and filter options, allowing users to refine their search based on criteria such as location, price range, amenities, and more. This helps guests find the perfect hotel quickly and easily. You can integrate a map on your website, displaying the locations of all your hotels. This helps guests visualize the proximity of your properties and plan their stay accordingly. The theme enables guests to leave reviews and ratings for each hotel. This feedback system helps build trust and credibility, as potential guests can read reviews from previous visitors and make informed decisions.
Responsive Design and Customization Options
The Ultimate Multiple Hotel Booking WordPress Theme offers responsive design and extensive customization options to create a visually appealing and unique white label travel website. The theme is designed to be fully responsive, meaning it automatically adjusts and optimizes the layout and content based on the user's device. Whether your website is accessed on a desktop computer, laptop, tablet, or smartphone, it will adapt to provide an optimal viewing experience. This ensures that your website looks great and functions seamlessly across all devices, improving user engagement and satisfaction. The theme provides a wide range of customization options to tailor your website's appearance and functionality. The theme may include a visual customizer tool that allows you to modify various aspects of your website's design without any coding knowledge. You can easily change colors, fonts, and other visual elements to match your brand identity. Some themes offer travel API integration with popular drag-and-drop pages builders like Elementor or WPBakery Page Builder. These tools enable you to create and customize pages with ease, using a user-friendly interface. You can arrange elements, add content blocks, and design unique layouts to suit your preferences. The theme may come with pre-designed templates for different sections of your website, including the home page, hotel listings, room details, and more. These templates provide a starting point and can be customized further to meet your specific requirements. You can customize the header and footer sections of your website, adding your logo, navigation menus, contact information, social media links, and other relevant details. The theme might offer custom widgets that you can add to your website's sidebars or widget areas. These widgets can include features like a booking search form, customer testimonials, recent blog posts, or social media feeds. You can choose from a variety of fonts and typography styles to enhance the visual appeal and readability of your travel portal website. The theme may provide tools for managing and optimizing images and media files on your website. You can upload high-quality images, create image galleries, and ensure fast loading times for a visually engaging experience.
Flexible Pricing Options
The Ultimate Multiple hotel booking system WordPress Theme offers flexible pricing options to help you set up dynamic and customized pricing for your hotel rooms. You can define different rates for your hotel rooms based on seasons or specific date ranges. For example, you can set higher rates during peak seasons or holidays and lower rates during off-peak periods. This flexibility allows you to adjust prices based on demand and maximize revenue. The theme enables you to create special promotions and discounts to attract more guests. You can offer percentage-based discounts, fixed-amount discounts, or promotional codes that guests can use during the booking process. These promotions can be time-limited or available for specific room types or guest groups. You can set up discounts or incentives for guests who book longer stays. For instance, you can offer a reduced nightly rate for guests who stay for a certain number of nights or provide a free night for extended bookings. This encourages guests to book longer stays, increasing occupancy and revenue. The theme may provide options to create group rates or package deals for guests booking multiple rooms or for specific events or occasions. You can define special rates, amenities, or services for group bookings, catering to different guest needs. You can offer additional travel technology services or amenities as add-ons during the booking process. For example, guests can choose to include breakfast, airport transfers, spa treatments, or other extras for an additional fee. This allows you to upsell and increase the average booking value. Some themes offer advanced dynamic pricing rules that allow you to set up customized pricing based on various factors. You can define rules based on occupancy levels, booking patterns, demand forecasting, or any other criteria that align with your revenue management strategy. The theme may include multi-currency support, allowing guests to view prices and make bookings in their preferred currency. This helps cater to an international audience and provides a convenient booking experience for guests from different regions.
Integrated Payment Gateways
The Ultimate online Hotel Booking system WordPress integrates with popular payment gateways, providing a secure and convenient way for your guests to make online payments. The theme typically supports integration with well-known payment gateways such as PayPal, Stripe, or Authorize.net. These gateways offer a wide range of payment options, including credit cards, debit cards, and sometimes alternative payment methods like digital wallets. The integrated payment gateways ensure that the payment transactions on your website are secure and protected. They utilize industry-standard security measures, such as SSL encryption, to safeguard sensitive customer information. The GDS API integration of payment gateways enables a seamless booking experience for your guests. Once they have selected their desired room and completed the booking form, they can proceed to the payment step without being redirected to another platform. This streamlines the process and reduces friction, improving the overall user experience. When a guest successfully completes a payment, the system generates an automated payment confirmation. This confirmation is typically sent via email to the guest, providing them with a receipt or booking confirmation. The integrated payment gateways facilitate easy refund and cancellation handling. In the event of a refund or cancellation request, you can process the transaction through the gateway and issue the appropriate refund to the guest. Some payment gateways support multiple currencies, allowing guests to make payments in their preferred currency. This feature helps accommodate international guests and improves convenience during the booking process.
Our Comprehensive List of Services
adivaha® is a one-stop-shop for all your travel website needs. We offer a multitude of services that empower you to become a market leader. Contact us for more info.
Have Questions?
The Internet is a huge resource, but
if your question requires particular expertise.
Keep Refreshing your customers - Who doesn't want his site to stand out from crowd? adivaha® gives you multiple options for home pages, headers, colors etc. Which can easily be managed from admin via shortcodes and settings. The theme supports almost all the big players in this market ie, WEGO, Travelpayouts, Agoda, Booking, Expedia etc.
Frequently Asked Questions
Below are some of the questions asked by visitors. Do visit our adivaha® Digest for more such questions. Don't hesitate to ask us if you have any questions
I am setting up this plugin for my client's website, I tried registering and received the account activation email, but …

9

views

0

answers

0

votes