Build your own Travel Brand!
Ready to go-LIVE travel solutions that helps your travel agency to sell a range of travel services pretty instantly. adivaha® travel solutions make sure you have no boundation over your imagination, you can do everything online, without the need for any technical knowledge or design skills. Easy Backoffice, extensive reporting with integrated Funds Management System. Upload funds easily and instantly through Netbanking, Debit Card, Credit Card. The best part is, we do offer customizations in case you believe it will boost your business!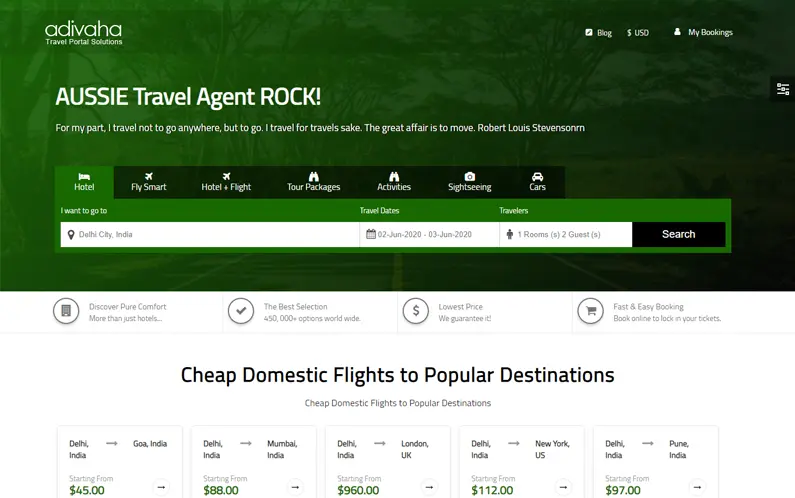 How to Choose the Right Online Booking Engine for Your Hotel
adivaha's hotel booking engine helps your hotel websites and social media pages to imprison and route direct online uncertainties, letting you attain and develop payment-free direct bookings where guests can book your property online without facing any difficulty.
Guests will be drawn to the easy accessibility and will be able to perform hassle-free bookings directly from your hotel website. You can easily settle last minute deals and offer discounts with the click of a button. No matter who you are, all types and sizes of businesses can gain access to the inventories of accommodation providers, hotels, guest houses, hotels, resorts, B&B, after you have incorporated the hotel booking engine with your website. Humans are more error-prone than machines, to ensure that human communication is minimized, travellers can use our online services to protect their privacy and financial information and to evaluate prices and services of various hotels online.
Online booking accommodation has increased so much that even in startups, the need for an hotel booking engine can no longer be ignored. This magnificent tool shows rates, allocations and instant confirmation of the sales sample/service to the customer. Using this your guests can view rates and room types and complete bookings as quickly as possible. All online payments and cancellation charges are handled according to a specific policy in the system. It provides an easy way for visitors who want to plan their trips.
Guests expect a well-organized, easy-to-use design with built-in pictures with comprehensive charging information. This type of service increases loyalty and the likelihood that your guests will have a positive experience which in turn increases your recall value. Unlike other online hotel booking engines, our hotel booking engine will be responsive on different platforms, making the content visible and attractive to the viewers.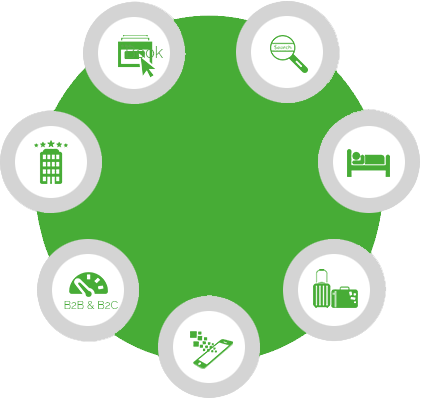 Ideal Online Booking System for Hotels
You need a tool that will help you do things conveniently and without human intervention and errors. You can offer corporate rates, travel agent rates, special rates or negotiated rates, and more. Controlling your guests' relationships has never been more important.
Why adivaha®?
Imagine that you're a restaurant, you need menu's to save time and money, but you also need a hard-working waiter who can wait tables and help you out with the customers. That's where an API comes in, an api integration is a waiter who makes things convenient for you, and adivaha® is a company that helps you in finding the best waiter/API in the business. You can set personal boundaries and conditions for a particular market. You can geo-localize your proposal to sponsor, allowing you to complete bookings from a specific country or to offer special rates at reasonable prices to customers according to their location. You will be able to offer them individual and private bids that provide a general benefit. It allows you to upload your inventories online in minutes and update them without any hassles.
Increase your profits by minimizing third-party commissions and by minimizing allocations with beautiful, actionable insights. Brokers and collectors are not known to you, they pocket large commissions. Building direct relationships and design to match your brand with the interests of your guests and shareholders is the key to success. With our online booking engine for hotels, you can bang the precipitous commission arrangement that eats into your profits by driving direct sales through your website.
Whether you're the owner of a travel company or a travel agent, we offer you the right tools to make informed decisions and increase your income. Understanding the needs of a new guest begins with a hassle-free and effective online hotel booking system, which allows for more direct booking.
Who to choose?
It is important that the hotel booking engine you choose is built by an expert. adivaha® does not only give you peace of mind but also makes it safe for your clients to make a reservation.
We have developed an effective strategy to maximize your earnings with our decades of experience in the industry. Make profits management second nature to your key people. Customers can view prices in their local currency with a real-time exchange rate. That way, you can market to as many countries as you want. The source detects the country and the website from which your tourist is coming and much more.
The adivaha® hotel booking engine is available 24/7/365 while your office isn't, so users can book regardless of personal factors such as time zone etc. Several features designed to promote your direct booking are included in the solution.
We are a travel technology company that offers travel portal development services to our customers for flights, hotel bookings, cars, vacation packages. We aim to bring your travel business online by offering a variety of services that you can present to your customers. In addition, we also offer third party OTA (Online Travel Agency), API integration, and GDS integration. Nowadays, even the smallest agency cannot ignore the need for a hotel booking engine. Converting your visitors into potential customers is our primary concern. We've added extra additions which will help you to focus on guests, early birds, last-minute deals, and comprehensive discounts to boost your profits. Our hotel booking engine will allow you to sell rooms through its website and even third-party sites such as Twitter, Facebook, and many other social platforms.
The adivaha® hotel booking engine works perfectly to bring in extra business. Our booking system has many integrations that make your job easier. It easily integrates into new and existing websites that are fast loading and can be customized with images and background colours with exceptional rate tool features, allowing guests to well tune their stay.
Our hotel booking engine ensures unlimited ability to integrate with different systems through your API (application programming interface). This will ensure that you meet the needs of the declining feature, especially in terms of hardness and cost.
An online hotel booking engine works by plugging into your travel portal development website and dealing with secure online reservations that are made through the website.
With our hotel booking engine, you are booking a channel by impeccably integrating the booking method on your travel website, and by keeping track of the behaviour of the user who visited your portal. By understanding the user behaviour by viewing the analytics, you understand how to click through rates and drive higher conversions.
Our online booking engine for hotels is a convenient way for travellers to book a single room from the same website and arrange the entire trip to search for vacations or work trips for them. They will use the internet to surf the travel websites and find hotels, flights, car rentals, sightseeing tours, attractions, and more as they need, and they can plan and schedule their travel booking script. It's also essential for increasing publicity for any service provider and gets them on the road to more bookings for them. Fast forward to mobile devices, some of the reasons that are bound to sell to guests. Include your room types and prices, upload photos, enter room description and enter room information and amenities. Encourage what makes your offer unique and special. Our hotel booking engine works on cell phones and other devices without any glitches. Mobiles have become a very integral part of sales for almost every industry, creating a website that works will perfectly on cell-phones is an opportunity that you must take.
adivaha's hotel booking engine offers your guests fast reservations with minimal hassle when using a PC, tablet, or smartphone. Our booking engine will provide you with crystal clear, in-depth insights that will allow you to find the desired booking patterns. Generate high revenue by allowing your guests to take advantage of unique offers, promo codes, and convenience such as setting different rates according to the occupation slab and as a result, the packaging management system will revise your rates.
Our hotel booking engine is well-received through all the major live channels. You can maximize your revenue and drive better conversions with fluent and fast guest booking familiarity, including gaining complete control over every step of your guest journey.
Be prominent for travellers and get every possibility on the go with the identity of the guest booking in the palm of your hand and the best deal is being promoted on your website. You will have the opportunity to talk to visitors before they arrive. You will be visible to more passengers with less time and effort.
adivaha® allows all hoteliers to access reliable and trustworthy data related to their market and seriousness. To grow your business, you need to plan for tomorrow with significant speed and street accomplishments and important past data.
With the invention of technology, the world of travel agency api is a huge space that changes frequently, and to increase competitor prices, it can feel amazing to attract visitors and visitors to your local market. A great effort is to find a starting point in reality that will give you confidence that they are true.
Do you remember the days when most of the people used to make reservations through phone calls? But, due to the development and advancement of technology on the internet, almost all the process of booking a travel plan is done online, from the research room to booking. So, if you have a proper website, it provides you with a great opportunity to promote your agency and enhance your guests' direct booking experience with our online hotel booking engine.
adivaha® is an online hotel booking engine, fully responsive, convenient, and fast, a high-end pricing company that allows customers and travel agents to sell all types of accommodation, such as hotels. Encourage returning guests to return gift vouchers for motels, hostels, B&BS, lodges and guest houses, lights, hotels, cars, vacation packages, beauty treatments, restaurant dinners, special occasions, and other services. The customer can check which room is available when and how much, without talking to service providers.
Our online hotel booking engine offers almost all dynamic modules from which online travel agencies can easily manage all hotel communications and ultimately make the best assessment of the feeling, knows how many people came in the booking engine, and their of these, many booking rooms were closed. There is a real test of success. Enthusiastically develops an online booking solution, travel agencies, travel corporate, tour operators, and travel companies from where they make direct bookings through their own travel portal 24/7/365.
adivaha® is an online hotel booking provider. We provide travel agents with fully responsive, convenient, and fast solutions that enable them to sell all types of accommodation. Encourage returning guests to return gift vouchers for motels, hostels, B&BS, lodges and guest houses, lights, hotels, cars, vacation packages, beauty treatments, restaurant dinners, special occasions, and other services. The customer can check which room is available when and how much, without talking to service providers.
Our online hotel booking engine offers almost all dynamic modules from which travel agencies can easily manage all hotel communications and ultimately make the best assessment of the feeling, knows how many people came in the booking engine, and they're of these, many booking rooms were closed.
adivaha® provides you with a online booking software application that provides you with the inventories of hotels, that are used to secure online reservations that allow you to identify your guests, customize your merchandise to suit customer needs. When visitors appear on your site, they need to be able to easily find out which rooms are accessible, at what price, and the dates they are related to. Our system will show this to them in an easy to understand the view.
From creating packages, scheduling, generating promo codes, discount deals, offers, and everything is arranged according to our. When a booking is made or cancelled, inventory is immediately updated and the information arrives directly at your hotel.
Our hotel booking engine is connected to suppliers from almost all over the world who support hotels that transform client needs into bookings on your travel portal and boost revenue through booking.
We (adivaha®) is the best hotel booking engine supplier that offers you a very gentle, feature-rich result, which helps you to manage your hotel booking successfully. Our booking engine can collect credit card information and work with any online merchant services or integrate with Payment Door to process deposits and expenses. Your user can check rates in their preferred currency and pay easily. Instead of manually inputting online booking portals, our booking engine processes them without human intervention, securely securing all your guest information.
We will ensure that your guests need to feel as if their sensitive data is safe in your hands. SSL Encryption confirms that our security standards are clear so that no one can prevent visitors from entering their credit card details.
Customers can make bookings at any time and from anywhere using our flawless services including real-time room availability checks and room rates in multiple currencies.
Our reservation system works for accommodations of all sizes from 1 room to over 100 rooms. In addition to the rooms, you can sell packages and extras (such as airport transfers and daily trips).
adivaha® gives you the best opening to turn your website into a powerful live sales engine for more leads than ever before. Communicate with your visitors and make them feel valued in advance, at home, after departure, and by sending promotional emails or even SMS directly to the cell phone. Choose from our wide range of understandable, well-designed, and accepted booking engine templates to meet your business needs and provide your guests with a flexible and enjoyable booking experience.
Our online hotel booking system gives you a complete report on bookings and reservations. You can manage, track, and keep bookings of all your destinations in one place. Our hotel booking engine integrates with your portal to ensure that the room catalogue is robotically rational. This means that everyone is on the same page. You don't have to spend all your time on admin work.
We offer hotels with an accessible booking engine and a state-of-the-art booking method for one of the packages and stay optimized to convert it into a real-time sale engine. Talk to customers through robotic email communication and online guest range about reasonable payments, special offers, local events and more.
Reviews will improve your services and visitors' familiarity by producing various reports that give you a complete overview of your reviews.
The adivaha® provides your guests with a seamless booking experience on all devices. Upon receipt of a compliment or critique of any of your services, it also allows you to email the review department. This helps maintain the existence of your product and establish direct sales without paying any commission. Reviews help you understand the style of your guests. This is not a breach of contract, but make sure you are being compensated for what you are being paid for.
The adivaha® hotel booking engine provides your guests with a seamless booking experience on all devices. Upon receipt of a compliment or critique of any of your services, it also allows you to email the review department. This helps maintain the existence of your product. Reviews help you to understand the desire of your guests.
Our Comprehensive List of Services
adivaha® is a one-stop-shop for all your travel website needs. We offer a multitude of services that empower you to become a market leader. Contact us for more info.
Have Questions?
The Internet is a huge resource, but
if your question requires particular expertise.
Keep Refreshing your customers - Who doesn't want his site to stand out from crowd? adivaha® gives you multiple options for home pages, headers, colors etc. Which can easily be managed from admin via shortcodes and settings. The theme supports almost all the big players in this market ie, WEGO, Travelpayouts, Agoda, Booking, Expedia etc.
Contact
Have something unique in mind? Drop a message.
Estimated reply time: 3-5 Working Days