Build your own Travel Brand!
Ready to go-LIVE travel solutions that helps your travel agency to sell a range of travel services pretty instantly. adivaha® travel solutions make sure you have no boundation over your imagination, you can do everything online, without the need for any technical knowledge or design skills. Easy Backoffice, extensive reporting with integrated Funds Management System. Upload funds easily and instantly through Netbanking, Debit Card, Credit Card. The best part is, we do offer customizations in case you believe it will boost your business!
How to Choose the Right Online Booking Engine for Your Hotel
Boost hotel reservations with our guide to selecting the perfect online booking engines. From mobile compatibility to analytics, make informed choices for lasting success.
In the digital age, an online presence is crucial for any business, and the hospitality travel industry is no exception. As more travelers turn to the internet to plan and book their accommodations, having an effective online booking engine for your hotel can make a significant difference in attracting and retaining customers. However, with a plethora of options available, choosing the right online booking engine for your hotel requires careful consideration. This article will guide you through the essential factors to consider when selecting the ideal online hotel booking engine to suit your hotel's needs.
Why is choosing the right online booking engine important for hotels?
Choosing the right online booking engine holds immense significance for hotels seeking to enhance their digital presence and streamline their guest reservation process. At Adivaha, we understand that a well-suited booking engine serves as a virtual storefront, offering potential guests their initial interaction with a hotel booking engine. These pivotal touchpoints can greatly influence their decision-making process.
An effective online booking portal not only facilitates seamless bookings but also aligns with a hotel's branding and travel website design. This cohesion, evident in our solutions at Adivaha, creates a professional and trustworthy online experience that resonates with guests. Real-time availability updates and accurate pricing information provided by the booking engine further enhance guest confidence, minimizing the risk of overbooking or discrepancies.
Furthermore, our expertise at Adivaha recognizes that diverse travelers require diverse payment options. Our booking engines integrate multiple payment gateways, ensuring that every guest can complete their reservation with ease and security.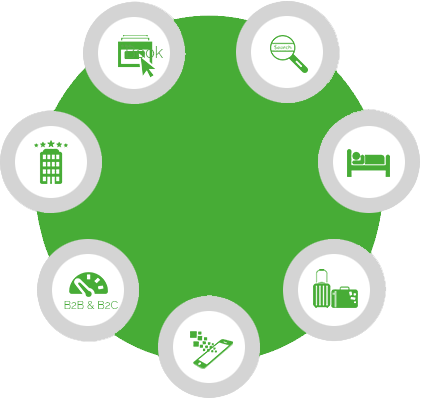 Ideal Online Booking System for Hotels
Adivaha-powered booking engines transcend the mere booking process. With features designed to promote up-selling and cross-selling, hotels can showcase room upgrades, additional travel technology services, and nearby attractions. This not only maximizes revenue opportunities but also adds value to the guest's stay.
What factors should you consider when selecting an online booking engine for your hotel?
When you're in the process of selecting an online booking engine for your hotel, several critical factors should be carefully considered to ensure the best fit for your travel business. These factors encompass various aspects of the booking process and overall guest experience. Here's a comprehensive rundown of the key considerations:
1. User-Friendly Interface: A user-friendly booking engine is paramount to a seamless guest experience. It should feature a clean design, intuitive layout, and straightforward navigation. The booking process should be easy to understand, guiding guests effortlessly from room selection to reservation confirmation. An intuitive interface reduces the chances of abandoned bookings and ensures a positive first impression of your hotel.
2. Real-Time Availability and Pricing: The corporate travel booking engine must display real-time availability and accurate pricing. When guests explore your hotel's options, they should receive up-to-date information on room availability and rates. This instills confidence in potential guests, preventing overbooking scenarios and discrepancies that could lead to frustration.
3. Multiple Payment Options: Cater to diverse payment preferences by offering multiple payment options. From credit and debit cards to various online payment gateways, accommodating different payment methods enhances the likelihood of completed bookings. A range of payment options creates a frictionless booking process for guests, increasing the likelihood of conversions.
4. Up-Selling and Cross-Selling Opportunities: An effective booking engine should serve as an opportunity to boost revenue through up-selling and cross-selling. Showcase room upgrades, special packages, and additional services during the booking process. By presenting these options in a user-friendly manner, you can increase the overall transaction value and enhance the guest experience.
5. Mobile Compatibility: In an increasingly mobile-driven world, a booking engine must be optimized for various devices. A mobile-responsive design ensures that guests can easily navigate and complete bookings using their smartphones or tablets. This adaptability reflects a commitment to guest convenience and can significantly impact mobile booking conversion rates.
6. Customer Support and Technical Assistance: Technical glitches can occur at any time. Select a booking engine provider that offers reliable customer support and technical assistance. Promptly addressing any issues that arise, from integration challenges to troubleshooting, ensures uninterrupted service and demonstrates your commitment to guest satisfaction.
How can you ensure the online booking engine integrates well with your hotel's website?
Ensuring seamless integration between your hotel's website and the online booking software is vital for creating a cohesive and user-friendly experience for potential guests.
Begin by selecting an online booking engine that offers integration capabilities. Look for providers that explicitly mention website integration as a feature. Ideally, the booking engine should provide plugins, widgets, or APIs that facilitate smooth integration. Work closely with your website's design team to ensure that the booking engine's interface seamlessly matches your website's branding, color scheme, fonts, and overall aesthetic. This uniformity creates a professional appearance and fosters trust among visitors. Confirm that both your best travel website and the booking engine feature responsive design. This ensures that the booking process remains user-friendly across various devices, from desktop computers to smartphones. Before deploying the integrated booking engine, thoroughly test it across different web browsers and devices. This helps identify and resolve any compatibility issues that may arise, ensuring a consistent experience for all users. Ensure that the integrated booking engine doesn't significantly slow down your website's load times. Page speed is a crucial factor for user satisfaction and search engine rankings. Optimize images, scripts, and other elements to maintain optimal performance. Integrate the booking engine in a way that maintains a logical navigation flow for users. Visitors should easily find the booking section without confusion. Typically, placing the booking option in a prominent position, such as the main navigation menu or a clear call-to-action button, is effective. Use compelling and clear call-to-action buttons or links to direct users to the booking engine. Phrases like "Book Now" or "Check Availability" encourage users to take action, leading them seamlessly into the booking process. If your booking engine includes payment processing, ensure that the payment gateway is secure and compliant with industry standards. Security is paramount for guest confidence in making online transactions. Continuously monitor the integration to ensure it remains functional and responsive. If your custom website undergoes updates or changes, ensure that the booking engine remains compatible and aligned with the new design. If you're not well-versed in web development or integration processes, consider seeking assistance from professionals or the booking engine provider's support team. They can guide you through the integration process and address any technical challenges.
What's the balance between cost and value when selecting an online booking engine?
The balance between cost and value is a crucial consideration when selecting an online booking engine for your hotel. It involves assessing the upfront expenses against the long-term benefits and impact on your hotel's operations.
1. Evaluate Essential Features: Compare features offered by various booking engine providers. Ensure it covers crucial elements like real-time availability, mobile compatibility, secure payment options, and customization. These core features directly impact guest satisfaction and revenue generation.
2. Long-Term Impact and ROI: Look beyond initial costs and consider the long-term impact on your hotel's operations and revenue. A higher upfront investment in a feature-rich booking engine can lead to increased revenue and guest loyalty over time, delivering a strong return on investment.
3. Guest Experience Enhancement: Prioritize guest experience as a primary value driver. A seamless booking process, accurate information, and user-friendly interface can lead to higher conversion rates and positive guest reviews, ultimately contributing to increased bookings.
4. Reliable Support and Maintenance: Factor in ongoing support and maintenance costs. A provider with responsive customer support ensures quick issue resolution and minimal disruption. This reliable assistance adds to the overall value of the travel software.
5. Customization and Scalability: Consider customization options that align the booking engine with your hotel's branding and offerings. Additionally, opt for a travel portal solutions that can scale as your hotel grows, accommodating increased booking volumes and evolving needs.
6. Industry Reputation and Hidden Costs: Research the provider's reputation within the hospitality industry through reviews and testimonials. Be aware of potential hidden costs, such as transaction fees and extra features that may come at an additional price.
Conclusion
Selecting the right online booking engine for your hotel is a decision that can significantly impact your business's success. A user-friendly interface, seamless integration with your custom travel website, real-time availability and pricing, multiple payment options, and customization capabilities are among the key factors to consider. By carefully evaluating these factors and choosing a booking engine that aligns with your hotel's unique needs, you can enhance the booking experience for your guests and drive more revenue for your business.
Our Comprehensive List of Services
adivaha® is a one-stop-shop for all your travel website needs. We offer a multitude of services that empower you to become a market leader. Contact us for more info.
Have Questions?
The Internet is a huge resource, but
if your question requires particular expertise.
Keep Refreshing your customers - Who doesn't want his site to stand out from crowd? adivaha® gives you multiple options for home pages, headers, colors etc. Which can easily be managed from admin via shortcodes and settings. The theme supports almost all the big players in this market ie, WEGO, Travelpayouts, Agoda, Booking, Expedia etc.
Frequently Asked Questions
Below are some of the questions asked by visitors. Do visit our adivaha® Digest for more such questions. Don't hesitate to ask us if you have any questions
Hello team, can you tell me if I can connect several APIs in one platform or website?

32

views

1

answers

0

votes