Build your own Travel Brand!
Ready to go-LIVE travel solutions that helps your travel agency to sell a range of travel services pretty instantly. adivaha® travel solutions make sure you have no boundation over your imagination, you can do everything online, without the need for any technical knowledge or design skills. Easy Backoffice, extensive reporting with integrated Funds Management System. Upload funds easily and instantly through Netbanking, Debit Card, Credit Card. The best part is, we do offer customizations in case you believe it will boost your business!
Why You Need an Online Booking Engine - Benefits Explained
Elevate your travel business through the benefits of an online booking engine. From increased revenue to global market reach, learn how this technology transforms customer engagement. Explore the Adivaha difference and stay ahead in the digital era.
An online booking engine is a cutting-edge travel technology solution that revolutionizes the way travel businesses operate in the dynamic landscape of the travel industry. It serves as a seamless bridge between travel service providers and customers, offering a user-friendly platform where travelers can effortlessly explore, choose, and book various travel arrangements. Adivaha®'s online booking engine is a powerful tool that integrates sophisticated features, real-time availability updates, and secure payment gateways to ensure a frictionless booking experience. This technology empowers travel businesses to streamline their operations, enhance customer engagement, and capitalize on the global market reach, ultimately propelling them toward sustainable growth and success.
What is the process through which customers use an online booking engine?
The process through which customers use an online booking engine is designed to be intuitive and user-friendly, allowing travelers to seamlessly navigate and complete their online booking portal. Here's a breakdown of the typical steps involved:
Browsing and Selection: Travelers begin by visiting the online booking platform wordpress, where they have the opportunity to explore a wide range of travel options. These options could include flights to various destinations, different types of accommodations (hotels, resorts, etc.), as well as various activities and services relevant to their trip.
Review and Details: Upon finding options that align with their travel plans, customers can click on each option to access comprehensive details. This includes in-depth information about the chosen service, such as pricing breakdowns, available dates, facilities, nearby attractions, and honest reviews from fellow travelers.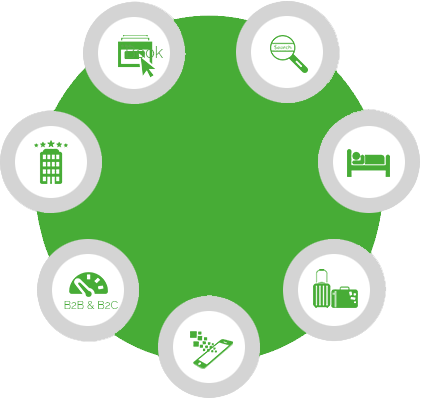 Discover the Benefits of an Online Booking Engine
Customization and Cart: After evaluating their choices, customers can proceed to customize their selections to match their preferences. For instance, they might choose specific room types, add-ons like airport transfers, or select special packages tailored to their needs. As they make these choices, the selected services are added to their booking cart or itinerary for further consideration.
Account Creation or Login: To enhance the booking experience and facilitate seamless communication, customers are prompted to create a personal account. For returning users, they can simply log in. Having an account allows travelers to store their preferences, access their booking history, and receive updates and offers related to their travel plans.
Payment and Confirmation: When customers are ready to finalize their choices, they proceed to the payment stage. Here, they provide their secure payment details, confident that their financial information is protected. Once the payment is processed successfully, the online booking engine generates an official booking confirmation. This confirmation serves as proof of the reservation and provides essential travel details.
Access and Communication: Following successful booking and payment, customers gain access to their booking details and itineraries. They can log in to their account to retrieve e-tickets, confirmations, and any relevant documents for their trip. Additionally, the global travel agency may engage in pre-travel communication, sharing reminders, travel tips, and updates to ensure a smooth and enjoyable travel experience.
What conveniences does it provide in terms of browsing, selecting, and booking travel options?
An online booking engine offers a range of conveniences that greatly enhance the process of browsing, selecting, and booking travel options for customers:
Travelers can explore a diverse array of travel options conveniently from the comfort of their own devices. The online platform provides an extensive catalog of flights, accommodations, activities, and more, allowing customers to review a wide range of possibilities without the need to visit multiple physical locations or custom website. The platform presents detailed information about each travel option. Customers can access essential details such as pricing, availability, amenities, photos, and customer reviews. This comprehensive information empowers travelers to make informed decisions and align their choices with their preferences and requirements. The online booking facilitates easy comparison between various travel options. Customers can simultaneously view and assess multiple choices side by side, enabling them to evaluate factors like prices, features, and included services, all within a single interface. Travelers have the flexibility to tailor their travel plans to suit their individual preferences.
They can customize their selections by choosing specific room types, adding extras like airport transfers or guided tours, and crafting unique itineraries that align with their travel goals. With the platform accessible 24/7 from any location, customers have the freedom to browse and make selections at their convenience. This eliminates the constraints of traditional business hours and allows travelers to explore options even during their busy schedules. The online booking software offers real-time updates on availability. Customers receive instant information about which options are open for their desired travel dates, eliminating the frustration of planning around outdated or unavailable choices. As customers make their selections and complete the booking process, they receive immediate confirmation of their reservations. This not only provides peace of mind but also eliminates uncertainties about whether the booking was successful. The platform ensures the security of financial transactions by integrating trusted and secure payment gateways. Customers can confidently enter their payment information, knowing that their sensitive data is safeguarded. An online account associated with the booking engine allows customers to easily access their booking history. This is particularly convenient for travelers who need to retrieve booking details, invoices, or itineraries for reference. The platform often facilitates communication between travelers and the travel agency software. Customers can inquire about their bookings, request assistance, or seek additional information through a unified communication channel, saving them the hassle of making phone calls or sending emails separately.
In what ways does an online booking engine help travel businesses tap into international markets?
An online booking engine allows travel business to business to showcase their offerings to potential customers worldwide. As the platform is accessible via the internet, people from different countries and time zones can explore and book travel options at any time, breaking down geographical barriers. To cater to international travelers, many online booking engines offer multilingual interfaces and support various currencies. This ensures that customers from diverse linguistic and cultural backgrounds can navigate the platform comfortably and make bookings in their preferred currency. Travel businesses can use the data collected from the online booking engine to identify trends, preferences, and booking patterns among international customers. This data-driven approach enables targeted marketing campaigns tailored to specific regions or demographics, increasing the relevance and effectiveness of promotional efforts. Online booking engines often enable travel businesses to create customizable packages that cater to the preferences of international travelers. Businesses can tailor offerings to include culturally relevant experiences, services, and accommodations that resonate with different global audiences.
By tapping into international markets, travel businesses have the opportunity to diversify their offerings. This can include partnering with accommodations, services, and experiences that are popular among travelers from different parts of the world, enriching the overall travel experience. International travelers often seek specialized services and experiences that reflect their unique interests. An online booking engine can facilitate the integration of such travel technology services, from guided tours to cultural workshops, catering to specific international markets, and enhancing customer satisfaction. An online booking engine can easily update customers about global events, such as festivals, conferences, and holidays, enabling travelers to align their plans with these events. This feature helps travel businesses capitalize on spikes in demand associated with such occasions. Many online booking engines offer efficient communication channels that transcend borders. Travel businesses can interact with international customers, addressing inquiries and providing assistance promptly, regardless of time zone differences.
Can an online booking engine integrate with other systems, such as payment gateways or CRM software?
An online booking engine can indeed integrate seamlessly with various other systems, enhancing its functionality and providing a more comprehensive solution for travel businesses. Here's how integration with other systems, such as payment gateways and CRM software, can benefit the online booking engine:
Payment Gateway Integration: Integrating with payment gateways enables secure and efficient payment processing. Customers can make payments for their bookings using their preferred methods, including credit cards, debit cards, or digital wallets. This integration ensures a seamless and secure transaction experience, boosting customer confidence and satisfaction.
CRM Software Integration: Integrating with Customer Relationship Management (CRM) software enhances customer management and engagement. Relevant customer data, such as booking history, preferences, and contact details, can be synchronized between the corporate travel booking engine and the CRM. This allows travel businesses to deliver personalized experiences, targeted marketing campaigns, and efficient customer support.
Inventory Management Systems: Integration with inventory management systems ensures real-time availability updates. When a booking is made through the online engine, the system updates the availability status across all channels, reducing the risk of overbooking and ensuring accurate information for customers.
Channel Managers and Distribution Platforms: For businesses that list their services on multiple platforms, integration with channel managers and distribution platforms is essential. This integration synchronizes inventory and rates across different platforms, eliminating the need for manual updates and reducing the likelihood of discrepancies.
Accounting Software Integration: Integration with accounting travel software streamlines financial processes. Booking details, invoices, and payment records can be automatically transferred, simplifying financial tracking, reporting, and reconciliation.
Social Media and Marketing Tools: Integrating social media platforms and marketing tools allows businesses to promote their offerings directly through the booking engines. Customers can easily share their bookings on social media, while marketing campaigns can be tracked and measured within the integrated system.
How does Adivaha contribute to the development of online booking engines?
Adivaha leverages cutting-edge technology to create advanced travel booking engine that are in line with the latest industry trends. Our solutions incorporate modern frameworks, intuitive user interfaces, and responsive designs, ensuring seamless experiences for both customers and travel businesses. Adivaha®'s online booking engines offer high levels of customization. Travel businesses can tailor the platform to match their branding, preferences, and unique service offerings. This level of flexibility enables businesses to create a distinctive online presence and cater to their specific target audience.
Adivaha®'s online booking engines are equipped with an extensive array of features that encompass various aspects of the travel booking process. From real-time availability updates and secure payment gateways to personalized experiences and integration with ancillary services, Adivaha ensures that all essential functionalities are seamlessly integrated. Adivaha is known for its exceptional customer support. We offer assistance throughout the entire implementation process, from setup to post-launch maintenance. Their responsive support team ensures that travel businesses receive timely guidance and solutions to any technical queries or issues that may arise. Adivaha®'s online booking engines are designed to integrate seamlessly with other systems, such as payment gateways, travel CRM software, and more. This ensures that travel businesses can streamline their operations by connecting the booking engine with their existing infrastructure, enhancing efficiency and reducing manual workloads. Adivaha®'s booking engines provide valuable data-driven insights to travel business. The platforms gather information about booking patterns, customer preferences, and trends, empowering businesses to make informed decisions that optimize their offerings and marketing strategies.
Our Comprehensive List of Services
adivaha® is a one-stop-shop for all your travel website needs. We offer a multitude of services that empower you to become a market leader. Contact us for more info.
Have Questions?
The Internet is a huge resource, but
if your question requires particular expertise.
Keep Refreshing your customers - Who doesn't want his site to stand out from crowd? adivaha® gives you multiple options for home pages, headers, colors etc. Which can easily be managed from admin via shortcodes and settings. The theme supports almost all the big players in this market ie, WEGO, Travelpayouts, Agoda, Booking, Expedia etc.
Frequently Asked Questions
Below are some of the questions asked by visitors. Do visit our adivaha® Digest for more such questions. Don't hesitate to ask us if you have any questions