Build your own Travel Brand!
Ready to go-LIVE travel solutions that helps your travel agency to sell a range of travel services pretty instantly. adivaha® travel solutions make sure you have no boundation over your imagination, you can do everything online, without the need for any technical knowledge or design skills. Easy Backoffice, extensive reporting with integrated Funds Management System. Upload funds easily and instantly through Netbanking, Debit Card, Credit Card. The best part is, we do offer customizations in case you believe it will boost your business!
Choose the Right Packaging Management System For Your Business
An advanced system helps the global travel booking script and tourism industry to manage their sales with unprecedented convenience and efficiency as they always need an assistant that never sleeps and keeps an eagle eye 24/7 on their business.
Basically, in a reliable way, PMS is a collection of online booking software tools that deals with packages, distribution of software, and data or information. It also arranges the production and utilization of software assortments to maintain a rich and substantial developmental environment.
adivaha® designs organized, crystal clear, and fully automated management software for your business to eliminate all misunderstandings of costumers by api integration tools that could be accessed anywhere and anytime. Their unique and dynamic packaging system doesn't let the users spend more time on managing projects instead of getting it done.
In addition to this, Adivaha, to travel portal development company business companies, offers package management software through which you can oversee and control the sale processes while managing costumers, travel agents, inventory, travel groups, and accounts.
For every business, either related to travelling or any other can flourish so rapidly if the sale process get manage and control with all commands, techniques, and tactfulness. You can turn your creative and captivating idea of travelling business to the peak by trusting on Adivaha. The experienced and skilful staff of adivaha® will not only deliver you their services but also give complete guidance for automating your tour business.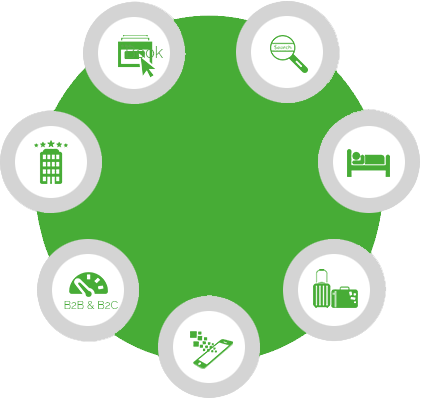 Finding the Best Packaging Management System
As organizations built up their centre capabilities and remembered them for their business forms and want to take their travel business to the next level by improving ordering and minimizing the expenses. Also, every travel business company wants to save its own as well as clients' time to utilize it for getting some other precious resources. Well, this is what the adivaha® online travel booking system management is offering to you by providing full transparency and visibility of your business.
Packaging Management distribution
The packaging management distribution system adivaha® offers you is capable enough to manage and control the FIT (free independent travellers) and GIT (group inclusive tour) packages along with a prolonged quality check, through which you can secure the online booking portals for the whole day long without concerning about time limit.
Just stick to your place because before moving ahead to the rest of the article here are some terms that need to be enlightened that might be difficult for you to digest for moving ahead with this informative article.
You must have heard these FIT and GIT terms if you ever have got a chance to book any package. Travel industry employees used these terms for explaining their packages of the management online booking engines to the clients. Moreover, it is often noticed that travellers find these sorts of packages (FIT & GIT) and without analyzing or understanding them to choose anyone, and then if they end up with the wrong one their investment goes in vain. So that unlike other packaging management softwares or online travel agencies business company, adivaha® is a trustworthy and well-known company of the world that believes to make you understand every aspect and policy for making you able to make a wise decision.
What is FIT?
FIT stands for "free independent tourists", this could be quite a flexible package for the traveller if they choose it using their wit. A small number of tourists i.e. five to six maximum ought to prioritize this package for getting a more individualistic approach to online travel agency api. Unlike the GIT package, travel operators provide you with more resources, approaches, care, and attention so that you can only concentrate on your enjoyment. FIT includes:
The concept of individual travel
Flexibility
Five to six people depending on the country of travel
May decide on last-minute changes.
What is GIT?
On the other hand, GIT stands for "group inclusive tour", this package is generally less costly then FIT and in this particular package, you usually travel with other people. You can take fancy of predefined GIT package of adivaha® if you are concerned about your wallet and want to save some amount. Moreover, as I mentioned above that this could be best hotel search engine for individual travellers so that you would have the company of another tourist in a strange and new place or country.
You will always find different rates and expenses of these packages (FIT & GIT) because they are designed differently for person to another or one travel group to another family trip and the reason behind varying pricing of both packages (FIT & GIT) are the services and treatment given to the clients. GIT includes:
Hassle-free traveling for tourists who wish to travel at their pace
Less care for customizing the trip
Rare deviations
Everyday pre-planned activities
Better discounts from Hotels & other vendors
As far as cost and convenience are concern, adivaha® packaging management distribution designed packages that can fit customers 'requirements the best. The predefined FIT and GIT packages operated by the tour operators on a fixed date which is pre-planned so that the customer can check availability makes a reservation, and get confirmation 24/7.
The GIT package of adivaha® usually includes all the expenses of the trip such as accommodation, meals, sightseeing transportation, entry tickets of the attractions, tips, etc.
You would be able to get things done so automatically, whether you are experienced enough to explore new countries and places alone or individuals want to see the world and hit adventurous places, Adivaha, whose core value and believe is hospitality can boost the travel industry will incorporate all organizations that give merchandise or administrations to encourage business or recreation exercises away from home environment.
Furthermore, the travel industry includes all activities that help consumers reach the destination with different modes of travelling like cars as per Adivaha, tourists travel for pleasure and visit places of interest. You can explore more and more places at once by taking the fancy of a quick transportation system and your single visit can make you able to kick more.
Nonetheless, it is always necessary to enlarge the perspective and requirement of the customer, the company performs pretty sustainable operations by making most of their money from domestic and international short-term visitors like airlines, online booking engine for hotels, attractions, and transportation as their astonishing services are the reason behind their credibility and name in the market place.
adivaha® offers a packaging management technology to travel agencies accessibility, accommodation, and attraction for handling various services according to the interest and preferences of clients. They skillfully bring people from all over the world for using one api integration platform of incredible services and also make sure to provide the hospitality to every individual and group.
In addition to this, from customizing holidays to family tours and visits, they put their hard to ensure a high level of hospitality maintains the peace of mind of their customers.
To sum up, everyone is smart and witty enough to choose the best one! adivaha® believes in this statement and they never compromise on the services and core value that they set for their clients as it is as clear as crystals that if tourists have good experiences, they will highly recommend it to other people and therefore increase the number.
Instead of cracking costumers' wallets adivaha® packaging management system verbalize what a tourist is looking for and after analyzing this tactfully they offer their services for moving ahead with the high heat!
Our Comprehensive List of Services
adivaha® is a one-stop-shop for all your travel website needs. We offer a multitude of services that empower you to become a market leader. Contact us for more info.
Have Questions?
The Internet is a huge resource, but
if your question requires particular expertise.
Keep Refreshing your customers - Who doesn't want his site to stand out from crowd? adivaha® gives you multiple options for home pages, headers, colors etc. Which can easily be managed from admin via shortcodes and settings. The theme supports almost all the big players in this market ie, WEGO, Travelpayouts, Agoda, Booking, Expedia etc.
Frequently Asked Questions
Below are some of the questions asked by visitors. Do visit our adivaha® Digest for more such questions. Don't hesitate to ask us if you have any questions
What all GDS and Providers are connected in the platform?

36

views

1

answers

0

votes