Build your own Travel Brand!
Ready to go-LIVE travel solutions that helps your travel agency to sell a range of travel services pretty instantly. adivaha® travel solutions make sure you have no boundation over your imagination, you can do everything online, without the need for any technical knowledge or design skills. Easy Backoffice, extensive reporting with integrated Funds Management System. Upload funds easily and instantly through Netbanking, Debit Card, Credit Card. The best part is, we do offer customizations in case you believe it will boost your business!
Get Started Fast with this Simple Reservation-WP Setup Guide
Enhance your travel business with our comprehensive Reservation-WP Setup Guide. Seamlessly integrate a simple reservation system on WordPress, delight customers, and unlock revenue opportunities. Start your transformation today!
We, as a travel industry-focused third-party service provider, recognize the significance of having efficient and seamless reservation systems for travel business. In this all-inclusive article, we introduce the Reservation-WP Setup Guide, a powerful tool designed to assist travel businesses in implementing a straightforward yet potent reservation system on their WordPress websites. This guide aims to equip you with indispensable tools and knowledge to effortlessly manage bookings, elevate customer experience, and optimize revenue.
Want to know more about Reservation-WP, the advanced solution designed to meet the specific requirements of travel businesses?
At Adivaha, we are delighted to introduce you to the remarkable advantages of Reservation-WP – an innovative, state-of-the-art solution meticulously designed to meet the specific requirements of travel businesses. Drawing from our extensive knowledge of the travel industry, we offer an insightful analysis of how Reservation-WP can revolutionize your operations and redefine the way you handle bookings.
Benefits of Reservation-WP for Travel Businesses:
Reservation-WP is more than just a reservation system; it's a game-changer for online travel business. By leveraging this powerful tool, you gain access to a plethora of advantages that directly impact your business's success. First and foremost, Reservation-WP streamlines the booking process, reducing the time and effort required to manage reservations. Its user-friendly interface and intuitive design make it easy for both customers and staff to navigate, enhancing overall efficiency.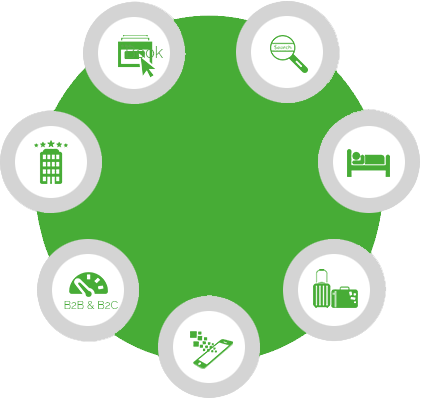 The Beginner's Guide for Setting Up Reservation-WP
Moreover, Reservation-WP offers seamless integration with other essential travel technology services, enabling you to offer an all-in-one booking experience to your customers. From accommodation and transportation to tours and activities, Reservation-WP empowers your business to become a one-stop shop for all their travel needs. This versatility not only attracts more customers but also increases customer loyalty and satisfaction.
Highlighting Key Features and Functionalities:
Reservation-WP is equipped with a wide array of features and functionalities that put you in control of your business. Advanced inventory management allows you to effortlessly manage room availability, tour slots, or rental properties, ensuring accurate bookings and preventing overbooking situations. The ability to set blackout dates and seasonal pricing further adds to your flexibility in managing bookings during peak and off-peak periods.
What sets Reservation-WP apart is its capability to accept secure online payments through integrated payment gateways. This ensures a seamless and secure transaction process, eliminating any payment-related concerns for your customers. Additionally, the platform offers a variety of customization options, enabling you to tailor hotel reservation wordpress forms according to your branding and business requirements.
Effortless Integration with Your Existing WordPress Website:
At Adivaha, we understand the importance of seamless integration for your travel business. With Reservation-WP, we make the integration process a breeze. Our expert team of developers ensures a smooth and hassle-free setup, saving you valuable time and resources.
By integrating Reservation-WP with your existing online booking WordPress, you benefit from a unified platform that enhances the overall user experience. Your customers can seamlessly navigate between browsing your travel offerings and making reservations without leaving your website, thus reducing bounce rates and increasing conversions.
Wondering how to configure the plugin settings to suit your specific travel business requirements with Reservation-WP?
At Adivaha, we prioritize simplifying the process of setting up your plugin Reservation-WP. As a leading third-party service provider specializing in travel portal solutions, we understand the significance of a smooth and hassle-free installation. Let us guide you through the step-by-step process, ensuring that you swiftly embark on the journey to seamless reservation management.
Step-by-Step Installation Guide for Reservation-WP: Our comprehensive step-by-step installation guide takes you through the entire process of integrating Reservation-WP with your WordPress website. With clear and concise instructions, you can have your reservation system up and running in no time. Trust our expertise to ensure a seamless setup, saving you valuable time and resources.
Configuring the Plugin Settings for Your Travel Business: We recognize that every travel business is unique, and customization is essential to align the reservation system with your specific requirements. Our team of experts will assist you in configuring the Reservation-WP plugin settings, tailoring it precisely to suit your business needs. This level of personalization empowers you to offer a highly efficient and user-friendly booking experience to your customers.
Personalized User Experience through Customized Reservation Forms: Delivering a personalized user experience is at the heart of successful travel businesses. With Reservation-WP, you can easily custom website reservation forms to align with your branding and user preferences. Our team will guide you through this process, ensuring that your customers feel welcomed and engaged throughout the booking journey.
Enhancing the Booking Experience
At Adivaha, we excel at simplifying the booking process to enhance customer satisfaction and drive more bookings for your travel business. As a dedicated third-party service provider, we understand the significance of a seamless user journey, from the initial browsing stage to completing a reservation. Let us demonstrate how Reservation-WP, our cutting-edge solution, can revolutionize your booking process and take your travel business to new heights.
Streamlining the User Journey: With Reservation-WP, we ensure that your customers experience a seamless and intuitive booking process. Our expert team meticulously designs the user journey, making it easy for potential customers to browse through your travel offerings and effortlessly make reservations. By reducing friction and enhancing user experience, we boost the chances of converting website visitors into confirmed bookings, maximizing your revenue potential.
Encouraging Bookings with Discounts, Promo Codes, and Upsells: To drive more bookings and boost customer engagement, Reservation-WP offers a range of enticing features. We help you implement discounts, promo codes, and upsells, enticing customers to choose your travel services over competitors. These strategic incentives not only drive more bookings but also foster customer loyalty, encouraging repeat business and positive word-of-mouth referrals.
How does our responsive design implementation ensure a seamless booking experience across all devices for your customers?
At Adivaha, we are committed to enhancing the customer experience for your travel business. As a third-party service provider specializing in travel solutions, we understand the crucial role customer satisfaction plays in driving success. Let us showcase how our expertise in enhancing the customer experience through Reservation-WP can elevate your brand's reputation and foster loyalty.
Implementing Responsive Design for Seamless Bookings: With our dedication to providing exceptional user experiences, we ensure that your customers can seamlessly access and navigate your booking platform wordpress from any device. By implementing responsive design through Reservation-WP, your website automatically adjusts to fit various screen sizes, creating a consistent and enjoyable booking experience for customers on desktops, tablets, and mobile phones. Say goodbye to manual follow-ups and hellos to automated efficiency! With Reservation-WP, we set up a robust system that sends instant confirmation emails and notifications to your customers. These automated communications keep your customers informed and reassured about their reservations, building trust and confidence in your travel services.
In today's digital landscape, customer feedback is a powerful tool for building trust and credibility. With Reservation-WP, we enable you to effortlessly collect and showcase customer reviews and testimonials on your best travel website. Positive feedback from satisfied customers acts as a compelling endorsement, attracting new customers and fostering loyalty among existing ones.
How is Adivaha revolutionizing travel business solutions, and what comprehensive travel offerings does it provide for travel businesses in conjunction with Reservation-WP?
As a third-party service provider dedicated to enhancing your travel business's success, we believe Adivaha perfectly complements Reservation-WP by offering a comprehensive suite of travel solutions, ensuring you stay ahead in the industry.
Adivaha- Revolutionizing Travel Business Solutions:Adivaha is an innovative platform designed to empower travel businesses with a wide array of cutting-edge features. Its flight and hotel APIs provide access to an extensive inventory of flights and accommodations worldwide, giving your customers unparalleled choices and convenience. With Adivaha®'s tour packages, you can effortlessly curate exciting travel experiences, enticing even the most discerning travelers. Additionally, its dynamic pricing options allow you to adjust prices in real-time, ensuring your offerings stay competitive and responsive to market demands.
Seamless Integration with Reservation-WP:We take pride in seamlessly integrating Adivaha with Reservation-WP, creating a harmonious synergy between the two platforms. This integration empowers your travel business to expand its offerings significantly, tapping into a broader range of services. By combining accommodation reservations through Reservation-WP with flight and hotel bookings via Adivaha, you create an all-in-one online booking wordpress experience for your customers. This enhanced convenience and one-stop solution will undoubtedly leave a lasting impression on your clientele, enhancing your reputation and encouraging repeat business.
Boosting Revenue and Customer Loyalty: The combination of Reservation-WP and Adivaha holds immense potential to boost your revenue substantially. By offering a comprehensive travel booking software experience, you create a seamless user journey, reducing drop-offs and increasing conversions. Additionally, cross-selling services such as flights, accommodations, and tour packages will maximize the value of each customer interaction, translating into higher revenue for your business. Moreover, bundling services through both platforms encourages customer loyalty, as your customers appreciate the convenience and personalized offerings, resulting in repeat bookings and positive word-of-mouth referrals.
Conclusion:
Implementing the Reservation-WP Setup Guide on your WordPress travel website can significantly enhance your travel business's booking process and customer experience. With the seamless integration of Adivaha, you gain access to an extensive range of travel solutions, opening up new revenue streams and creating a holistic booking platform for your customers. Embrace the power of this combination to stay ahead in the competitive travel industry and deliver an exceptional booking experience to your clientele.
Our Comprehensive List of Services
adivaha® is a one-stop-shop for all your travel website needs. We offer a multitude of services that empower you to become a market leader. Contact us for more info.
Have Questions?
The Internet is a huge resource, but
if your question requires particular expertise.
Keep Refreshing your customers - Who doesn't want his site to stand out from crowd? adivaha® gives you multiple options for home pages, headers, colors etc. Which can easily be managed from admin via shortcodes and settings. The theme supports almost all the big players in this market ie, WEGO, Travelpayouts, Agoda, Booking, Expedia etc.
Frequently Asked Questions
Below are some of the questions asked by visitors. Do visit our adivaha® Digest for more such questions. Don't hesitate to ask us if you have any questions
I am setting up this plugin for my client's website, I tried registering and received the account activation email, but …

21

views

1

answers

0

votes