Build your own Travel Brand!
Ready to go-LIVE travel solutions that helps your travel agency to sell a range of travel services pretty instantly. adivaha® travel solutions make sure you have no boundation over your imagination, you can do everything online, without the need for any technical knowledge or design skills. Easy Backoffice, extensive reporting with integrated Funds Management System. Upload funds easily and instantly through Netbanking, Debit Card, Credit Card. The best part is, we do offer customizations in case you believe it will boost your business!
Easy to Use WordPress Plugins That Boost Performance
WordPress travel plugin that are easy to use and provide optimization features and capabilities can help increase performance without requiring a lot of technical expertise or coding knowledge. A variety of simple-to-use WordPress plugins can improve the performance of your website. Here are a few popular choices:
WP Rocket
Your website's functionality and speed can be improved with the aid of the premium caching plugin WP Rocket for WordPress. When your website's pages are generated as static HTML files and served to visitors, the amount of processing time needed to dynamically generate each page is reduced. This significantly speeds up the loading of pages. Because static resources (including photos, CSS, and JavaScript files) are stored in the browser cache, returning visitors can load your travel portal website more quickly. Before being sent to users' browsers, WP Rocket can compress the website's files on the server. The content on your site will transfer more quickly and with smaller file sizes as a result. Your HTML, CSS, and JavaScript files can be combined and minified automatically. Concatenation and modification both reduce the number of HTTP requests needed to load your website by removing extraneous characters and spaces and combining numerous files into a single request. With the help of WP Rocket, photos, and videos can be loaded only when they are visible to the user. This enhances overall performance and speeds up the initial page load time.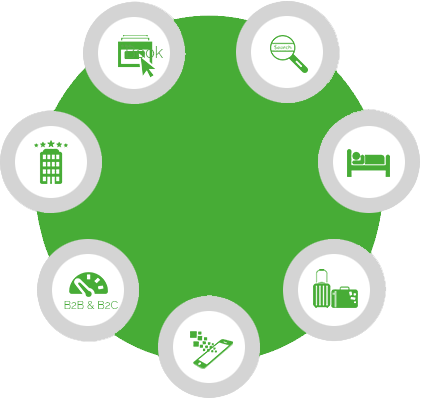 WordPress Plugins for Boosting Website Performance
With the use of a tool in WP Rocket, you may clean up extraneous data from your WordPress travel website database, like post revisions and spam comments. Enhancing database performance benefits website performance. In order to speed up the loading of external resources and shorten the time it takes to resolve domain names, it can prefetch DNS requests. To further accelerate the distribution of your site's static content, WP Rocket effortlessly connects with content delivery networks (CDNs).
Autoptimize
You can enhance the efficiency of your website by condensing and minifying your HTML, CSS, and JavaScript files with the help of the well-liked and user-friendly WordPress plugin Autoptimize. By eliminating superfluous characters, spaces, and line breaks, Autoptimize automatically optimizes your HTML, CSS, and JavaScript files. Minification reduces the size of these files, speeding up the loading of the pages on your travel portal website. The plugin also lowers the volume of requests for huge JavaScript and CSS files. By reducing the number of HTTP requests necessary to load your website, Autoptimize aids in reducing page load times. The Autoptimize "Critical CSS" function gathers and ranks the CSS necessary to render the visible portion of your web pages. The user experience and perceived loading speed are improved by rendering above-the-fold content quickly. By moving JavaScript code from the head section to the footer of your web pages, Autoptimize enables the rest of the page to load before JavaScript is run. This improves both the perceived performance and overall loading speed. Utilize Autoptimize to optimize and lazy load images for your best travel website. Compression and resizing can reduce the size of an image's file without degrading the image's visual quality. Lazy loading ensures that images only load when they are visible to the user, thus decreasing website load times. To accelerate the distribution of your optimized files, you can combine the plugin with content delivery networks (CDNs).
Smush
Popular b2b WordPress plugin Smush concentrates on enhancing and compressing photos to enhance page performance. When uploading or batch-processing photographs, Smush automatically reduces their file sizes without sacrificing the visual quality. The speed at which pages load has been greatly enhanced and bandwidth usage has been decreased. Smush uses lossless compression methods, which enable size reduction without compromising image quality. The image file is optimized and extra metadata is removed throughout the compression process to provide reduced file sizes. If you have a sizable media collection with a lot of existing photos, Smush's bulk image optimization capabilities come in handy.
WP-Optimize
WP-Optimize is a popular WordPress plugin that focuses on optimizing and cleaning up your WordPress database to improve the performance and efficiency of your travel website templates. WP-Optimize allows you to clean up your WordPress database by removing unnecessary data such as spam comments, post revisions, and transient options. This helps reduce the size of your database and improves its performance. The plugin offers scheduling options to automatically clean up your database at regular intervals. You can set it to perform tasks like removing spam comments and optimizing database tables on a daily, weekly, or monthly basis, ensuring your database remains optimized without manual intervention. WP-Optimize can optimize your database tables by defragmenting them and removing overhead. Optimized tables improve database performance and reduce the time required to retrieve information from them. The plugin allows you to control the number of post revisions stored in your database. You can limit the number of revisions to prevent database bloating and improve efficiency. Transients are temporary data stored in your database that can accumulate over time and affect performance. WP-Optimize can clean up expired transients, ensuring your database is free from unnecessary data. WP-Optimize offers an option to remove orphaned images from your media library. These are images that are no longer used or referenced in your content. By removing them, you can reduce the size of your media library and improve database efficiency. The amadeus wordpress plugin provides control and flexibility by allowing you to select specific database tables or data types for optimization. You can exclude certain tables if needed.
WP Super Minify
WP Super Minify is a WordPress plugin that speeds up website loading by condensing and merging the CSS and JavaScript files on your travel website development. By eliminating extraneous characters and white spaces, WP Super Minify automatically reduces the size of your CSS and JavaScript files. These files can be minified to make them smaller, which speeds up loading and enhances the functionality of your travel website development company. Several CSS and JavaScript files are combined by the plugin to make fewer requests. WP Super Minify speeds up page load time by minimizing the amount of HTTP requests needed to load your website. Your WordPress website and WP Super Minify interact perfectly. After being installed and turned on, it immediately begins automatically minifying and merging your CSS and JavaScript files. Specific CSS or JavaScript files can be excluded from Minification and combination using the plugin's exclusion feature. This function is helpful if you run into any conflicts or problems with specific files that you shouldn't modify. Developers can alter the plugin's behavior and increase its capabilities by using the hooks and filters included in WP Super Minify.
Our Comprehensive List of Services
adivaha® is a one-stop-shop for all your travel website needs. We offer a multitude of services that empower you to become a market leader. Contact us for more info.
Have Questions?
The Internet is a huge resource, but
if your question requires particular expertise.
Keep Refreshing your customers - Who doesn't want his site to stand out from crowd? adivaha® gives you multiple options for home pages, headers, colors etc. Which can easily be managed from admin via shortcodes and settings. The theme supports almost all the big players in this market ie, WEGO, Travelpayouts, Agoda, Booking, Expedia etc.
Frequently Asked Questions
Below are some of the questions asked by visitors. Do visit our adivaha® Digest for more such questions. Don't hesitate to ask us if you have any questions
hello team, I want to know the cost of hiring your services. could you please provide full-fledged information regarding this?

29

views

1

answers

0

votes