Build your own Travel Brand!
Ready to go-LIVE travel solutions that helps your travel agency to sell a range of travel services pretty instantly. adivaha® travel solutions make sure you have no boundation over your imagination, you can do everything online, without the need for any technical knowledge or design skills. Easy Backoffice, extensive reporting with integrated Funds Management System. Upload funds easily and instantly through Netbanking, Debit Card, Credit Card. The best part is, we do offer customizations in case you believe it will boost your business!
Get the Best Value from WordPress Theme Comparison Travel Themes
Compare WordPress themes for best travel website taking into account various factors to ensure you get the best value. The following crucial information should be kept in mind when contrasting WordPress travel themes:
Determine your website requirements
Define the purpose of your travel portal website. Are you building a blog to share your travel experiences, a booking platform for accommodations and flights, a tour agency website, or a combination of different functionalities? Understanding the primary purpose of your website will help you identify the necessary features. Consider the design elements that align with your brand or desired aesthetic. Determine if you prefer a clean and minimalist design, a vibrant and visually appealing layout, or a more traditional travel-themed design. Decide on the layout structure, such as full-width or boxed, and the placement of key elements like navigation menus, search bars, and call-to-action buttons. In today's mobile-dominated world, having a responsive website is crucial. Ensure that the theme you choose adapts well to different screen sizes, including smartphones and tablets, providing a seamless user experience across devices. If you intend to offer booking or reservation services for accommodations, flights, tours, or other related travel technology services, determine the specific functionalities you need. Look for themes that integrate with popular booking plugins or have built-in booking systems to simplify the process. Consider whether you want to showcase different travel destinations on your website.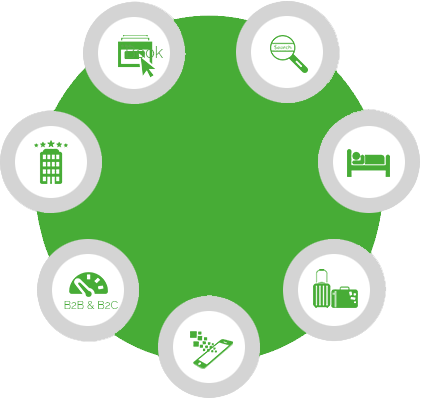 Price Compare Cost Comparison Wordpress Theme
Look for themes that support map integration, allowing you to display interactive maps, mark points of interest, and provide location-based information to your visitors. Determine the type of multimedia content you plan to include on your website. If you want to showcase high-quality images or videos of destinations, attractions, or accommodations, ensure that the theme provides a visually appealing and immersive experience for your visitors. If you intend to create travel-related blog content, consider the blogging features offered by the theme. Look for options such as different post formats, author profiles, related posts, social sharing buttons, and comment systems to enhance the blogging experience. Determine how important social media integration is for your booking website wordpress. Look for themes that offer social media widgets, sharing buttons, or social media feed integration to encourage engagement and expand your online presence.
Check customization options
Check if the theme provides a user-friendly customization panel or dashboard. This panel should allow you to easily modify various aspects of your custom travel website, such as colors, fonts, layouts, and more. Ideally, it should offer a visual interface that lets you preview changes in real time. Look for themes that offer a wide range of color schemes or allow you to customize colors according to your branding. Similarly, ensure that the theme provides options to adjust typography, including font styles, sizes, and spacing, to create a cohesive and appealing design. Consider the flexibility of the theme in terms of layout options. A good travel theme should offer various pre-designed page templates (e.g., home, about, destinations, blog) that you can choose from and customize to fit your content. Additionally, check if the theme supports custom layouts, allowing you to create unique page designs without coding. Widgets and sidebars can enhance the functionality and appearance of your website. Ensure that the theme supports customizable widget areas and sidebars, enabling you to add and arrange different elements (e.g., search bar, social media icons, and recent posts) as per your preference. The header and footer sections are prominent areas of your website. Look for themes that allow you to customize these sections, including options to add your logo, navigation menus, contact information, and social media links. Customization should extend to background colors, layouts, and widget travel api integration in these areas. Consider if the theme is compatible with popular page builder plugins, such as Elementor, Beaver Builder, or Divi. These plugins provide advanced customization options, drag-and-drop functionality, and additional design elements, empowering you to create highly customized layouts without coding knowledge. If you have coding skills or prefer more advanced customization, check if the theme provides a Custom CSS option. This feature allows you to add your own CSS code to override or modify the theme's default styles and achieve a truly personalized look. Ensure that the theme allows you to easily upload and customize your logo, favicon (site icon), and other branding elements. This will help you maintain a consistent brand identity throughout your website. Consider if the theme offers options to set custom backgrounds or background images for different sections of your custom website. This allows you to add visual interest and create a unique atmosphere that aligns with your travel niche. With mobile usage on the rise, it's essential to verify that the theme provides customization options specifically tailored for mobile devices. Look for features like mobile-specific layouts, responsive font sizes, and adjustable mobile menus to ensure an optimal user experience on smartphones and tablets.
Responsiveness
The white label travel website will adjust to and look good on many screen sizes, including those of smartphones and tablets, thanks to a responsive theme. Verify whether the theme's description or documentation specifically mentions that it is responsive or mobile-friendly. The layout elements of a responsive theme often adapt and are rearranged according to the screen size using a fluid grid approach. With no need for horizontal scrolling or scaling, the material is kept visible and accessible on smaller devices as a result. In order to apply different styles and layouts based on the screen size, responsive themes make use of CSS media queries. This makes it possible to specifically alter the typeface, image sizes, navigation menus, and other aspects to improve the user experience on various devices. Check to see if the theme has been evaluated for compatibility with all of the main web browsers, including Chrome, Firefox, Safari, and Edge. Providing a responsive and uniform experience across many browsers is crucial. Interactive components like buttons, menus, and sliders in a responsive theme should be created with touch functionality in mind. They should offer a seamless user experience for mobile users by being simple to tap and navigate on touchscreens. Optimized performance and responsive design go hand in hand. A responsive theme should be optimized for fast loading times to enhance the user experience on mobile devices, where internet connectivity may be slower. To truly assess the responsiveness of a theme, view its demo or live preview on various devices and screen sizes. This will give you a better understanding of how the theme adapts and whether it provides a consistent and user-friendly experience across different devices.
Booking and Reservation System
Some travel themes come with built-in booking and reservation functionality. These themes often have their own custom booking systems that allow visitors to search for availability, make reservations, and complete payments directly on your website. Check if the theme you are considering provides such an integrated booking system. Alternatively, themes may be designed to work seamlessly with popular booking and plugin reservation wordpress. Look for themes that explicitly mention compatibility with well-known booking plugins like Woo Commerce, Easy Digital Downloads, or specific travel-focused plugins. This allows you to add booking functionality to your travel website by installing and configuring the recommended plugin. Examine the booking and reservation forms included in the theme. These forms should be user-friendly, intuitive, and customizable to capture the necessary information from your customers. Ensure that the theme provides options for setting up availability calendars, date pickers, and other essential elements required for a smooth booking process. If you plan to accept online payments for bookings, verify if the theme supports popular payment gateways such as PayPal, Stripe, or other relevant payment processors. Having multiple payment options ensures convenience for your customers and facilitates seamless transactions. A robust booking and reservation system should allow you to manage availability, set pricing, and define booking rules. Look for themes that provide a backend interface or an admin dashboard to manage and control bookings efficiently. Features like automated email notifications, reservation confirmations, and cancellation policies are also beneficial. Consider whether the theme offers customization options for the booking and reservation wordpress system. This includes the ability to modify the layout and design of booking forms, customize email templates, and tailor the booking process to match your branding and website aesthetics. If you intend to integrate third-party travel APIs into your booking system, ensure that the theme supports the necessary integrations. These APIs can provide real-time information about flights, hotels, car rentals, or tours, enhancing the functionality and user experience of your travel website. Read user reviews and ratings to assess the reliability and user satisfaction with the theme's booking and reservation system. Additionally, check if the theme developer offers comprehensive documentation, support forums, or direct customer support to assist with any technical issues or customization queries.
Integration with Travel APIs
Choose which specific travel APIs you wish to incorporate into your website. Popular travel websites like Trip Advisor, Expedia, Airbnb, Google Maps, and others that offer details on flights, lodging, car rentals, tours, or nearby attractions may be among these. Verify whether support for these APIs is specifically mentioned in the theme. Find out how the theme works with travel APIs. Some themes might offer pre-built integration modules or plugins created especially for particular travel APIs. Others could provide broad API integration plugins that let you connect to a variety of APIs. Recognize the steps involved in integration and the level of technical expertise needed. Look over the features and capabilities offered by the integrated travel APIs. Verify that the theme is compatible with functions like real-time availability, search and filtering options, pricing details, booking choices, maps, reviews, or any other pertinent data offered by the APIs. Make sure the theme's integration meets the unique requirements of your travel booking website. When displaying the API data on your website, take into account the flexibility and customization choices provided. Look for themes that let you modify the API-generated content's structure, appearance, and styling. This makes sure that the information is seamlessly included in the overall design of your travel website. Verify whether the theme offers detailed instructions or documentation on how to integrate and customize the travel APIs.
Our Comprehensive List of Services
adivaha® is a one-stop-shop for all your travel website needs. We offer a multitude of services that empower you to become a market leader. Contact us for more info.
Have Questions?
The Internet is a huge resource, but
if your question requires particular expertise.
Keep Refreshing your customers - Who doesn't want his site to stand out from crowd? adivaha® gives you multiple options for home pages, headers, colors etc. Which can easily be managed from admin via shortcodes and settings. The theme supports almost all the big players in this market ie, WEGO, Travelpayouts, Agoda, Booking, Expedia etc.
Frequently Asked Questions
Below are some of the questions asked by visitors. Do visit our adivaha® Digest for more such questions. Don't hesitate to ask us if you have any questions
a. What security measures are in place to protect sensitive customer data? b. Does the API comply with data protection …

6

views

0

answers

0

votes