Build your own Travel Brand!
Ready to go-LIVE travel solutions that helps your travel agency to sell a range of travel services pretty instantly. adivaha® travel solutions make sure you have no boundation over your imagination, you can do everything online, without the need for any technical knowledge or design skills. Easy Backoffice, extensive reporting with integrated Funds Management System. Upload funds easily and instantly through Netbanking, Debit Card, Credit Card. The best part is, we do offer customizations in case you believe it will boost your business!
How to Find the Right Price Compare Plugin for Your WordPress Site
A price comparison wordpress plugin allows your visitors to compare prices from different sources or marketplaces directly on your website. Finding the right price comparison plugin for your WordPress site can greatly enhance its functionality and help you provide a better user experience. Here are some steps to help you find the right price compare plugin:
Identify your requirements and Research available plugins
Each website has its own requirements and objectives. Finding a plugin that meets your demands and offers the required features and functionality is possible by identifying your unique requirements. This makes sure that the plugin you select addresses any difficulties or constraints you could have and satisfies your specific use cases. Plugins for price comparisons might have a large variety of functionality and customization possibilities. You can focus your search and avoid plugins that offer a lot of features or functionalities you don't need by being aware of your requirements. Removing surplus baggage and potential performance issues, helps keep your website slim and optimized. Make that the price comparison plugin is compatible with any platforms or marketplaces where you sell your products, such as Amazon, eBay, or other e-commerce platforms. You may find WordPress compare plugins that work with the platforms you use by researching those that are available, assuring compatibility and accurate pricing comparison across numerous sources. The core travel technology software of WordPress is updated frequently, and plugins must be compatible with these upgrades to ensure proper operation. You can find out if a plugin is compatible with your version of WordPress and if its creators update it frequently by investigating it.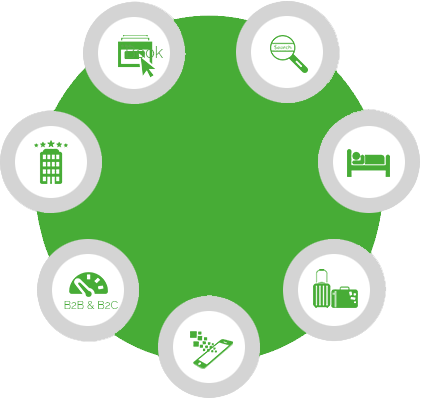 Best Price Compare Plugins for Your WordPress Site
This guarantees the plugin's long-term usability and security. You can browse customer reviews and ratings when researching the plugins that are offered. This can offer insightful information about the effectiveness, dependability, and user happiness of the compare wordpress plugin. Reviews and ratings provide you with a deeper picture of the merits and shortcomings of the plugin, enabling you to make an informed decision based on the experiences of others. The pricing and licensing terms for various price comparison plugins differ. You may compare the prices and licensing models of the various plugins by researching them, so be sure to pick one that matches your budget and is compatible with your company plan. Additionally, you can determine the best course of action by evaluating the value that each plugin offers.
Evaluate features and customization options
The ability to compare costs across several platforms or marketplaces ought to be the plugin's main feature. Make sure the plugin offers correct and current pricing information and supports the platforms you require. To make it simpler for visitors to navigate and identify the things they are interested in, search for plugins that let you group or categorize products. To further improve the user experience, take into account whether the plugin offers filtering options, such as sorting by price range, brand, or other factors. Examine the plugin's level of modification. Can you alter the look, feel, and colors to match the branding of your custom website? If you want to establish a seamless integration with your current site, look for plugins that offer versatility in terms of design and modification. It's critical that the plugin is mobile responsive given that a sizable amount of internet traffic originates from mobile devices. Make sure the plugin's functionality and design are compatible with devices and screens of various sizes. Examine whether the plugin enables you to optimize your price comparison pages for search engines and is SEO-friendly. This contains tools for adding pertinent keywords and descriptions as well as search engine-friendly URLs and Meta tags that may be customized. Analyze the comparison plugin's relationship to the product data. Does it offer automatic import of product details, pictures, and descriptions from the platforms or marketplaces you employ? To save time and effort, look for tools that automate the process of managing and updating product data. Think about the plugin's user interface on both the front end (visitor-facing) and the back end (management). You should be able to manage the plugin and product data with ease thanks to a straightforward and user-friendly backend interface. Visitors should have a seamless and simple experience using the frontend interface, making it simple for them to compare pricing. The effectiveness of your site may be impacted by price comparison plugins. Look for plugins that have a minimum effect on page load times and are optimized for speed. Slow-loading pages can deter visitors and negatively affect your site's SEO. Some plugins offer built-in analytics and reporting features, providing insights into user behavior, click-through rates, and other metrics. These features can help you track the effectiveness of your price comparison functionality and make data-driven decisions. Ensure that the plugin provides adequate support and documentation. Look for plugins that offer comprehensive documentation, user guides, FAQs, and potentially a support forum or ticket system. Good support resources can be valuable when you need assistance with setup, configuration, or troubleshooting.
Consider user experience and interface
When considering user experience (UX) and interface for a price comparison b2b wordpress plugin, it's important to focus on creating a seamless and intuitive experience for your users. The plugin's interface should be intuitive and easy for users to understand and navigate. Keep the design clean and uncluttered, and avoid overwhelming users with too many options or information. Make sure that the core functionalities, such as searching and comparing prices, are easily accessible and straightforward. With the increasing use of mobile devices, it's crucial that the plugin's interface is responsive and works well across different screen sizes. The design should adapt to various devices and maintain usability and readability. Test the plugin on different devices to ensure a consistent and positive user experience. Present the compared products in a visually appealing and organized manner. Use clear and concise product titles, descriptions, and pricing information. Include high-quality product images to help users make informed decisions. Provide users with sorting and filtering options to refine their search and comparison results. Allow them to sort by price, relevance, popularity, or other relevant criteria. Filtering options can help users narrow down their choices based on specific attributes or preferences. Implement a search feature that allows users to find products quickly and easily. Use auto-suggestions or predictive searches to assist users in finding the right products. Provide relevant search results and display them in a logical order. Use visual cues and clear calls to action to guide users through the price comparison process. Highlight the best prices, special offers, or discounts to draw attention and encourage conversions. Make it easy for users to click through to the product pages or the platform where the purchase can be made. Optimize the plugin's performance to ensure fast loading times. Slow-loading pages can lead to frustration and user abandonment. Minimize unnecessary code, optimize images, and use caching techniques to improve the loading speed of the plugin. Ensure that the plugin's interface aligns with the overall design and branding of your travel portal website. Use similar color schemes, fonts, and styles to create a cohesive user experience. Consistency helps users feel comfortable and familiar with the interface. Implement effective error handling and provide clear feedback to users when errors occur. Inform users if a product is temporarily unavailable or if there are any issues with the price comparison data. Clear error messages and suggestions for resolving problems can help users proceed without frustration. Conduct user testing to gather feedback and insights on the usability and effectiveness of the plugin's interface. Observe how users interact with the plugin and identify any pain points or areas for improvement. Incorporate user feedback to refine the interface and enhance the overall user experience.
Review documentation and support
Reviewing the documentation and support provided by a price comparison plugin is an essential step in ensuring a smooth experience with the plugin. Look for plugins that offer detailed and comprehensive documentation. The documentation should cover all aspects of the plugin's installation, configuration, and usage. It should provide step-by-step instructions, explanations of different features and settings, and troubleshooting tips. The documentation should be well-organized and easy to navigate, allowing you to quickly find the information you need. Check if the plugin provides user guides or tutorials that go beyond the basic documentation. User guides can provide additional insights, best practices, and tips for getting the most out of the plugin. Tutorials can walk you through specific use cases or demonstrate advanced functionalities. User guides and tutorials are valuable resources for both beginners and experienced users. Evaluate the support channels available for the plugin. Common support channels include email support, support forums, live chat, or ticket systems. Check if the plugin developer or travel technology company provides responsive and timely support. Responsive support is crucial when you encounter technical issues or need assistance with the plugin's functionality. Check if the plugin has an active user community or support forum where users can share their experiences, ask questions, and help each other. Engaging in a user community can provide valuable insights, tips, and solutions from other users who have faced similar challenges. A vibrant user community can indicate the level of support and engagement provided by the plugin developer. Research the reputation and responsiveness of the plugin developer or company. Look for indications that they actively maintain and update the plugin, as well as promptly address reported issues or bugs. travel portal Developer responsiveness is a good sign that they are dedicated to providing ongoing support and improvement for the plugin. Read user reviews and ratings to gauge the overall satisfaction with the plugin's documentation and support. Look for patterns or recurring themes in the feedback. Positive reviews and high ratings are indications of a well-supported plugin with good documentation.
Test the plugin
Testing the plugin is an essential step to ensure its functionality, compatibility, and overall performance on your WordPress travel website. Install the plugin on your WordPress site following the provided installation instructions. Activate the plugin and verify that the activation process completes without any errors. Check if the plugin integrates seamlessly with your site and does not cause conflicts with other installed plugins or themes. Test the basic functionality of the plugin, such as adding products, comparing prices, and displaying results. Ensure that the price comparison feature is working as expected and that the displayed prices are accurate and up to date. Try different product categories, platforms, or marketplaces to verify the plugin's compatibility with various sources. Explore the customization options provided by the plugin. Test the ability to customize the appearance, layout, colors, and other visual aspects to match your website's design and branding. Check if the customization options are user-friendly and if the changes are applied correctly on the front end. Put yourself in the shoes of your travel website templates visitors and test the user experience of the price comparison feature. Verify that the interface is intuitive, responsive, and easy to use. Check if the search functionality works well, the product listings are clear, and the navigation is smooth. Ensure that visitors can compare prices easily and find the information they need without confusion. Assess the plugin's impact on your website's performance and loading speed. Measure the page load times with the plugin active and compare them to the load times without the plugin. Ensure that the plugin does not significantly slow down your site and that the price comparison functionality does not cause delays or lags. Test the plugin's responsiveness on various mobile devices and screen sizes. Verify that the price comparison feature works well and remains user-friendly on mobile app devices. Check if the interface adapts to different screen resolutions and maintains a visually pleasing and functional layout. Test the plugin's compatibility with different web browsers such as Chrome, Firefox, Safari, and Edge. Verify that the price comparison feature functions properly and looks consistent across different browsers. Intentionally create scenarios that may lead to errors or unexpected behavior. For example, test what happens when a product is no longer available, or when there are temporary price discrepancies across platforms. Verify that the plugin handles such situations gracefully, providing clear error messages or alternative solutions
Our Comprehensive List of Services
adivaha® is a one-stop-shop for all your travel website needs. We offer a multitude of services that empower you to become a market leader. Contact us for more info.
Have Questions?
The Internet is a huge resource, but
if your question requires particular expertise.
Keep Refreshing your customers - Who doesn't want his site to stand out from crowd? adivaha® gives you multiple options for home pages, headers, colors etc. Which can easily be managed from admin via shortcodes and settings. The theme supports almost all the big players in this market ie, WEGO, Travelpayouts, Agoda, Booking, Expedia etc.
Frequently Asked Questions
Below are some of the questions asked by visitors. Do visit our adivaha® Digest for more such questions. Don't hesitate to ask us if you have any questions
I am setting up this plugin for my client's website, I tried registering and received the account activation email, but …

21

views

1

answers

0

votes