Build your own Travel Brand!
Ready to go-LIVE travel solutions that helps your travel agency to sell a range of travel services pretty instantly. adivaha® travel solutions make sure you have no boundation over your imagination, you can do everything online, without the need for any technical knowledge or design skills. Easy Backoffice, extensive reporting with integrated Funds Management System. Upload funds easily and instantly through Netbanking, Debit Card, Credit Card. The best part is, we do offer customizations in case you believe it will boost your business!
The Right Travel Price-Compare WordPress Theme for Your Store
Have you opened your online store, launched social channels, and prepared the products to be highlighted? Now is the time to attract buyers to your store and start selling. To do this, there are many Price comparison themes with which to reach new customers: among these, price comparison themes are particularly effective and allow you to expand your audience with a very low and easily manageable expense.Here, we explain what Price compare wordpress user portal themes are, how they are the best choice to increase traffic on your e-commerce. Let's start! 
What Price compare themes are?
Price comparison wordpress theme are a tool that allows users to compare prices or rates applied by different companies for any type of product or service. In addition to the list price, the price compare themes generally give buyers the option to preview any additional details or costs, such as shipping charges or product variants. The price comparison site only shows product ads: when the user clicks on it, themes are redirected to the seller's website where he concludes the transaction.The price compare themes are very easy to use and responsive which lets you add as many rows and columns as you want. With these wordpress theme for news website, you can also easily make one column stand out or often called highlight. 
The interface of the price compare wordpress themes is straight forward; it only shows the text on the lines, it is very easy for you to make changes. Even though it doesn't come with different templates, you can still control multiple designs for each table you create. For example, change the colors of the button to match the colors of your site. Apart from that, you can also change the border, font size, and button colors, but you cannot change the main colors of the whole or the theme's title itself. If you want a lot of templates from these price comparison themes, you can buy the premium version.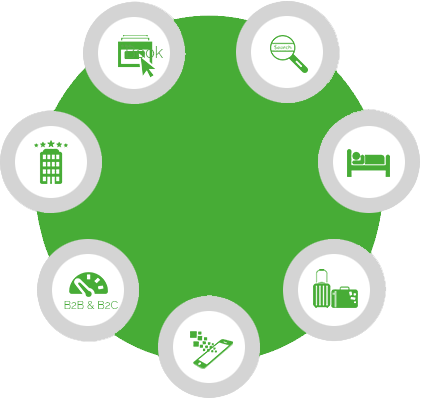 Right Travel Price-Compare WordPress Theme
How does a price compare themes work?
Customers looking for a particular product on a price compare wordpress theme have already decided to make the purchase and are looking for the store that offers the best value for money: to win the sale, your goal will be to appear among the first search results using the right keywords and offering a price that convinces the customer to complete the purchase.Unlike other sales themes, price compare themes do not require a monthly subscription for placing your products and earn. Listing your products is free, you will only be charged when customers click on your product ads. This commission must therefore be taken into account when setting your margin, especially if you are selling products with a low-profit margin. And offer free shipping to capture customer attention and maximize your return on investment.
Price comparison themes are a price display solution in an attractive and relatively easy to use table form. These themes offer 4 attractive templates in the price compare wordpress theme free download version and more than 50 templates in the premium version.The Price compares Wordpress themes also allow you to enter as many columns and rows as you want. Besides that, there is also a highlighted column to make it stand out. And they also give you the ability to easily create rows with just drag and drop like you would a widget. You can also easily place these price comparison themes with the short code button.
Unique best conversion rate tools for Wordpress
We consult with the best money makers and add many tools to make money in an advanced and intelligent way. There are many things you can easily create with the portal wordpress theme for the most profitable sites
The top of something"
Against the pages
Attribute comparison bars (specs) with support for multiple groups
The most popular and highest-rated set of offers
Custom tables, priority lists, and comparison charts
Advanced search filters and dynamic comparisons
Price drop widgets by period
Why Price compare themes the best money making themes?
Powerful community features and extended customizations for Buddy press, Mycred
Frontend posting, frontend reviews, including limited postings or paid postings
Customizable filter panel for all modules of the station
Coupon functions (for stalls and the timber trade)
5 different designs for the offers of the wood trade: grids, columns, sliders, carousels, rows...
Expanded multi-vendor support. Marketplace, WCFM. Better features even for free versions
Multiple Vendor Support for One Product and Product Price Comparison
Vendor Store Locator and Product Locator / Mail Maps, Vendor and User Categories and Filters
Top Review List Builder
Overhead table builder, Overhead table builder, overhead game pages
Spec Builder, Company Profile Builder
Dynamic button to add to comparisons (supports multi-groups for comparisons)
The constructor of the response table
Catalog Builder
Visual composer is included in> 20 custom content modules
The Advanced Product Filter plugin is in the package. The plugin is useful for creating search filters and specifications.
The price comparison themes are included in the package with the theme. The plugin adds frontend use presentations to your site, it is possible to add paid presentations, and e-commerce products are supported in the plugin
Tons of unique codes like Ajax category files, reveal buttons, countdowns, price tables, offer lists, etc.
Automatic self-contained, sticky content
User login/registration popups and custom author template
The extended user review system
Option to use the optimized AdSense layout
Personalized plate system
Trademark archive
Printable coupons
Ajax custom search
Price comparison themes are good speed
Mega advanced menu (compatible with mobiles too)
All functions are good on mobiles too
And much, much more + frequent updates
AMP expanded support
The special design of the station optimized for reading according to new trends
Product design for different purposes, reservation, comparison, enlarged photo, etc.
Single view counter with popularity filter by date
Customizer support
Special plugin to hide, cloak, and mass change affiliate links
Multi-currency support
Advanced sorting system for the timber trade
And much more
Trendy header and footer
With these themes, you can enable the Ajax based search box. Likewise, when a customer enters a product name in the comparison or wish list, the header section will retrieve all information related to that product in the wish or comparison list.Furthermore, if the customer does not find anything related to his search, he can find it in the mega menu section by simply hovering the mouse over the mega menu. With mega menu display wordpress price comparison theme are fully compatible and also supported on mobile devices. You can customize this part according to your brand's request.
Support wish list items
Customers can add the products to the wish list and leave them to purchase later.
Visual composer, cursor revolution
The price compare wordpress theme are highly compatible with visual composers and cursor revolution plugins. And you can design any page artistically with the visual composer and add powerful cursors to grab users' attention using the cursor revolution. Alternatively, you can import any premade demos and customize them to your brand's needs.Now, you have verified how powerful and functional these plugins in wordpress themes are; let's move on to our section where we will discuss how to create a multi-vendor marketplace like Amazon, eBay, and Alibaba.
Conclusion
Creating a price compare plugin wordpres website is very quick and easy nowadays. However, over 90% of these affiliate websites never manage to generate revenue. Therefore, they fail to grab the attention of users. Also, these websites do not have advanced search engine optimization tools.To generate revenue from your affiliate website, you need to satisfy user demands and make it compatible with Price compare Wordpress themes.Portal plugin wordpress price comparison themes with an improved combination of profitable features. Price compare themes are modern multipurpose hybrid themes. The topic covers many modern Business models for profitable websites.
Our Comprehensive List of Services
adivaha® is a one-stop-shop for all your travel website needs. We offer a multitude of services that empower you to become a market leader. Contact us for more info.
Have Questions?
The Internet is a huge resource, but
if your question requires particular expertise.
Keep Refreshing your customers - Who doesn't want his site to stand out from crowd? adivaha® gives you multiple options for home pages, headers, colors etc. Which can easily be managed from admin via shortcodes and settings. The theme supports almost all the big players in this market ie, WEGO, Travelpayouts, Agoda, Booking, Expedia etc.
Frequently Asked Questions
Below are some of the questions asked by visitors. Do visit our adivaha® Digest for more such questions. Don't hesitate to ask us if you have any questions
hello team, I want to know the cost of hiring your services. could you please provide full-fledged information regarding this?

29

views

1

answers

0

votes