Build your own Travel Brand!
Ready to go-LIVE travel solutions that helps your travel agency to sell a range of travel services pretty instantly. adivaha® travel solutions make sure you have no boundation over your imagination, you can do everything online, without the need for any technical knowledge or design skills. Easy Backoffice, extensive reporting with integrated Funds Management System. Upload funds easily and instantly through Netbanking, Debit Card, Credit Card. The best part is, we do offer customizations in case you believe it will boost your business!
Create Events with the Best Ticket Booking System for WordPress
Streamline your event ticketing process with the best ticket booking system for WordPress. Seamlessly integrate ticket sales, automate communication, and enhance the user experience, all within your WordPress travel website.
How to Choose the Right Ticket Booking System for Your WordPress Website?
Choosing the right ticket booking plugin WordPress for your website is crucial to ensure smooth event management and a seamless ticket booking experience for your customers.
Adivaha, as a third-party service provider, we understand the importance of assessing your specific requirements. We'll help you determine the types of events you organize and the ticketing options you need, whether it's general admission, VIP access, or specialized seating options. We'll work with you to make a comprehensive list of key features you need in a ticket booking system.
Assess your event management needs: Determine your specific requirements, such as the types of events you organize, the ticketing options you need (e.g., general admission, VIP, seating options), and any unique features or integrations you may require (e.g., payment gateways, email marketing, attendee data collection).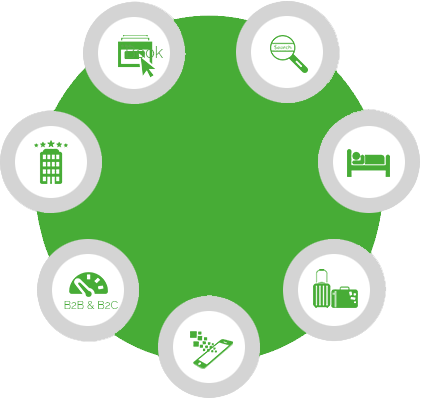 Manage Events with the Ticket Booking System for WordPress
Compatibility with WordPress: We ensure that the ticket booking system is designed specifically for WordPress and offers seamless integration with your travel portal website. Check if it is compatible with your WordPress theme and plugins and follows WordPress coding standards for optimal performance.
Evaluate features and functionality: Make a list of key features you need in a ticket booking system, such as customizable ticket creation, secure online payment options, attendee registration, seating management, email notifications, and analytics/reporting capabilities. Compare different systems to see which offers the most comprehensive features that align with your needs.
Scalability and flexibility: Consider the scalability and flexibility of the ticket booking system. Will it accommodate your future growth and changing event needs? Ensure that the system can handle increased ticket sales and attendee volume without compromising performance.
User reviews and testimonials: Research and read user reviews and testimonials from other event organizers who have used the ticket booking system. Look for feedback on ease of use, customer support, reliability, and overall user satisfaction to gain insights into the system's strengths and weaknesses.
Pricing and support: Evaluate the pricing plans offered by the ticket booking system providers. Compare the cost structure, transaction fees, and any additional charges for extra features or support. Also, consider the availability and quality of customer support, such as documentation, tutorials, and responsive technical assistance.
Data security and compliance: Ensure that the ticket booking system prioritizes data security and complies with relevant regulations, such as GDPR. Verify if the system handles payment information securely and if it provides options for data privacy and consent management.
Create and customize event tickets according to your branding and requirements with a flexible and adaptable ticket booking system.
At Adivaha, we help to install a powerful ticket reservation system seamlessly with your WordPress website, allowing for easy setup and management. It ensures that the ticketing process becomes an integral part of your best travel website, providing a cohesive user experience. The ticket booking management system offers extensive customization options, allowing you to create and design event tickets according to your branding and event requirements. This includes the ability to set different ticket types, prices, availability, seating options, and any additional details specific to your events. Security is paramount when it comes to online ticket sales. The event ticket booking software should support secure payment gateways, ensuring that your customer's sensitive payment information is protected. It should offer a range of payment options to cater to different preferences and provide a seamless checkout experience.
Benefits and features of creating Events with the Best Online Ticket Booking Software for WordPress
Streamlined Event Management: The ticket booking system for WordPress provides a centralized platform to manage all aspects of your events. From creating event listings and managing ticket sales to handling customer registrations and generating reports, the system streamlines the entire event management process, saving time and effort.
Customizable Registration Forms: With the ticket booking system, you can create and customize registration forms to collect essential information. Tailor the form fields based on your event requirements, gathering details such as names, email addresses, contact numbers, and additional custom website fields. This flexibility allows you to capture the data you need for a seamless event experience.
Secure Payment Processing: The ticket booking platform integrates with trusted payment gateways, ensuring secure and seamless transaction processing. Attendees can purchase tickets using various payment methods, including credit/debit cards, digital wallets, or bank transfers. The system handles payment processing, reducing the risk of fraud and providing a secure payment environment for both you and your attendees.
Attendee Management: Effectively manage attendee registrations, track ticket sales, and handle attendee information with ease. The online ticket reservation system allows you to view and export attendee lists, track attendance status, and communicate with attendees via email or notifications. This streamlined attendee management feature simplifies the process of keeping track of your event attendees and facilitates effective communication.
Reporting and Analytics: Gain valuable insights into ticket sales, revenue, and attendee data with comprehensive reporting and analytics features. The ticket booking system provides reports on sales trends, attendee demographics, and revenue breakdowns. This data empowers you to make data-driven decisions, refine your event strategies, and optimize future events for better outcomes.
Best Practices for Setting Up Events and Ticketing with WordPress
As a third-party service provider, we understand the importance of implementing best practices for setting up events and ticketing on b2b websites WordPress. We offer flexible solutions to customize ticket types, allowing you to cater to diverse attendee needs, such as general admission, VIP access, or specialized packages.
Rely on our expertise as we recommend a reputable wordpress travel booking plugin that seamlessly integrates with WordPress. We consider important factors such as features, ease of use, payment gateway compatibility, customer support, and pricing options, providing you with insights to make the best choice for your specific event requirements. Trust our expertise in integrating secure payment gateways that support popular payment methods, guaranteeing a smooth and secure transaction process. We guide you in selecting trusted and reputable payment processors, instilling confidence in your attendees. Our thorough testing process identifies and resolves any payment-related issues, ensuring a seamless ticket-purchasing experience. We help you establish clear refund and cancellation policies, ensuring attendees are informed about the terms and conditions associated with ticket purchases. By prominently displaying this information on your event custom travel website or during the ticket purchasing process, we provide transparency and clarity to potential attendees.
Collaborate with us to set up an automated system that delivers tickets and confirmations to attendees via email. Our system efficiently sends out relevant event details, ticket QR codes, and any additional instructions or resources attendees may need, enhancing their overall experience. Leverage our marketing guidance and support to effectively promote your event and drive ticket sales. We provide insights on utilizing social media, email marketing, content marketing, and search engine optimization (SEO) techniques. By optimizing your event page on WordPress for meta search engines, we increase visibility and attract potential attendees. Count on us to deliver prompt and efficient customer support throughout the ticketing process. We provide you with contact information or a dedicated support channel on your event website, ensuring attendees can easily seek assistance with any questions or concerns. Our team is dedicated to promptly addressing issues, and ensuring a positive experience for your attendees.
Enabling payment gateway integration and overseeing the sale of tickets
At Adivaha, our team will expertly integrate payment gateways into your ticket booking system, enabling you to accept payments from your attendees. We handle the technical aspects of connecting with trusted payment processors, ensuring a seamless integration that allows for secure and efficient transactions. We work with you to configure the available payment options for your attendees. By customizing the settings, we ensure that your ticket booking system supports various payment methods, such as credit/debit cards, digital wallets, or bank transfers.
This provides flexibility and convenience to your attendees, increasing the likelihood of successful ticket sales. With our centralized system or dashboard, you can access real-time data on ticket sales, generate comprehensive reports, and effectively manage inventory. We handle the processing of transactions seamlessly. By ensuring effective communication between your ticket booking system and the payment gateway, we facilitate real-time updates on successful transactions. This enables accurate tracking of ticket sales and ensures a smooth payment experience for your attendees. By entrusting us with integrating payment gateways and managing ticket sales, you can focus on other aspects of your event while ensuring a seamless and secure ticket booking experience for your attendees. Our expertise and dedicated support will streamline the process, resulting in increased efficiency, customer satisfaction, and successful ticket sales.
Conclusion
In conclusion, integrating a ticket booking wordpress system into the WordPress platform allows for seamless event management and ticketing. The centralized nature of WordPress, combined with a dedicated ticketing system, simplifies administrative tasks and enhances efficiency. The ability to integrate with other WordPress plugins and accommodate events of different sizes and complexities further adds to the advantages.
As a travel technology services provider, we are here to support event organizers in leveraging the benefits of WordPress for streamlining event management and ticketing processes. By providing this conclusion, we emphasize the advantages of utilizing a ticket booking system within the WordPress ecosystem and reinforce our commitment to assisting event organizers in optimizing their event management and ticketing experiences.
Our Comprehensive List of Services
adivaha® is a one-stop-shop for all your travel website needs. We offer a multitude of services that empower you to become a market leader. Contact us for more info.
Have Questions?
The Internet is a huge resource, but
if your question requires particular expertise.
Keep Refreshing your customers - Who doesn't want his site to stand out from crowd? adivaha® gives you multiple options for home pages, headers, colors etc. Which can easily be managed from admin via shortcodes and settings. The theme supports almost all the big players in this market ie, WEGO, Travelpayouts, Agoda, Booking, Expedia etc.
Frequently Asked Questions
Below are some of the questions asked by visitors. Do visit our adivaha® Digest for more such questions. Don't hesitate to ask us if you have any questions
I am setting up this plugin for my client's website, I tried registering and received the account activation email, but …

21

views

1

answers

0

votes