Build your own Travel Brand!
Ready to go-LIVE travel solutions that helps your travel agency to sell a range of travel services pretty instantly. adivaha® travel solutions make sure you have no boundation over your imagination, you can do everything online, without the need for any technical knowledge or design skills. Easy Backoffice, extensive reporting with integrated Funds Management System. Upload funds easily and instantly through Netbanking, Debit Card, Credit Card. The best part is, we do offer customizations in case you believe it will boost your business!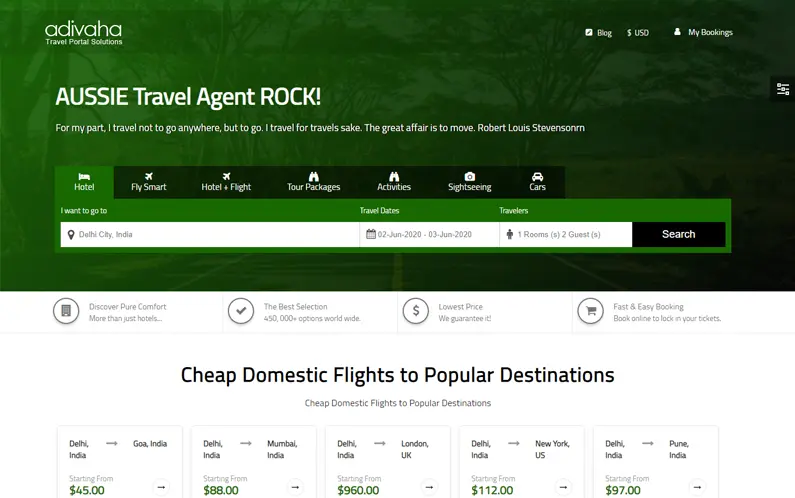 The Top 10 Travel Technology Companies to Watch in 2023
To provide value-added services to customers, travel companies must innovate. Travelers, on the other hand, are looking for better rates and accommodations, loyalty reward points, and exclusive packages, as well as an exceptional user experience.In this context, one of the most difficult issues for travel companies is the creation of a powerful travel portal. With so many online travel portal development firms flourishing on the web, selecting the best travel technology company might be difficult.The cutting-edge online travel technology platform continues to provide travel industry users with the most up-to-date and dependable online travel portal solution, including customized online booking engines, travel agency accounting software, quality services, and much more.Technology advancements ensure that travelers make the best options possible, from self-booking apps for consumers to the seamless integration of expenditure management solutions for business personnel. Thus, advancements in travel technology enable businesses to provide the greatest products and services to customers while also connecting with them in novel ways.A wide range of Travel Technology suppliers offer a variety of products, such as Web Portals, Online Reservation Systems, Hotel Suppliers and GDS Integration, Agent Management Systems, and so on. Partnering with the proper travel technology business might result in significant growth for your organization.To help you find the finest travel portal software firm, I've listed the top 10 travel technology companies in the globe below. The top travel technology companies are as follows:
adivaha®
adivaha® is a well-known and trustworthy travel technology firm that specializes in providing online travel technology solutions to travel agents, tour operators, and destination management companies.The adivaha® travel technology platform is designed for B2B and B2C travel agencies, tour management companies, travel aggregators, DMCs, tour operators, and other industry experts.We have produced bespoke and comprehensive travel portals with the best integrations over the years. B2B Booking Engines, B2C Travel Booking Portals, B2B2C, B2E, Corporate and Retail Services such as Distributor and Franchise Modules are among our core travel technology solutions.adivaha®'s cutting-edge travel web development solutions help you flourish in this thriving market. For our clients, we integrate GDS/XML and API, as well as white-label and web service tbo api integration.As one of the leading travel technology businesses, we strive to provide the best solutions to their customers. All of our solutions are unique, and you will always have an up-to-date travel application in the marketplace.
ReservationXML
BookingXML is a prominent travel technology company that provides travel software solutions with the most recent travel technological advances to assist travel agents, travel agencies, online travel agencies, hospitality providers, and travel firms in staying ahead of the competition.They create cutting-edge technology modules such as a B2B/B2C Travel Portal, Travel API Integration, Travel CRM, Travel Agency Software, Tour Operator Software, and Hotel Booking Software.These comprehensive travel technology components are fully linked into the travel agency portal and assist agencies in managing travel inventory and automating trip planning in order to increase business productivity and revenue.BookingXML is recognized as one of the world's leading travel technology platforms, ensuring that you have the most current and customised online travel solutions to fit the demands of your travel agency.
To increase client experience, their experienced team creates the best travel application development services for Smartphone, Android, and Web api integration platform.They are professionals in the evolution of travel portals, creating unique websites that are tailored to your company's requirements. BookingXML Travel Portals are simple to use and deliver better than expected outcomes.
Travelfro
Tripfro, a prominent travel technology business, specializing in offering simplified travel solutions to make travel booking easier.The Tripfro B2B travel technology platform allows travel agents and tour operators to sell inventory to sub-agents through an online B2B portal.They created a versatile, scalable, and dependable distribution technology platform with user-friendly interfaces and a superior user experience.This clever B2B application is available to all travel agents at any time and from any device, mobile or desktop. Encourage the marketing and sales processes to better involve tour agents, vendors, and customers.They provide their partners speedier and more efficient workflows. The reservation system is built on cutting-edge technology, allowing them to offer a diverse range of sabre gds software solutions.Tripfro offers clever integrated solutions to worldwide customers, such as real-time inventory data, the best purchase rate, seamless multilingual customer service, and diverse customer portfolios.
They aspire to modernize travel technology and adopt simple methods of managing travel and travel services around the world.As a Tripfro Customer, if you are an OTA, a travel wholesaler, a travel agency app, or a DMC, you may connect to the world's premier B2B travel provider via the Tripfro Smart Travel Network and have access to experienced technical assistance and cutting-edge technology.
Amadeus
Amadeus is a top travel technology company that provides end-to-end travel technology solutions such as Flight/ Activity/ Tour/ Package/ Hotel Booking Software, tour operator software for travel agents, travel agencies, tour operators, hoteliers, and travel management companies in order to improve customer experience and increase booking and revenue.These Travel Software Applications include B2B/B2C Travel Portal, Third Party Supplier Integration, GDS Connectivity, Inventory Management, Quotation Management, Itinerary Creation, Package Customization, Reservation Management, (Travel CRM) Customer Management, Payment Integration, Accounting, Invoicing, MIS Reporting Back Office Management, Mobile Applications, Multi-Currency, Multi-Language, and more to help automate and improve the travel process.Their team has created the greatest travel technology platform that is a perfect fit for their clients' demands to increase business sales and efficiency.
As a travel technology firm, they provide new solutions that assist airlines, hotels, travel agencies, tour operators, and other travel stakeholders in running their operations and improving the travel experience billions of times every year all over the world.They assist you in connecting to the third party travel theme ecosystem, which implies fresh business travel options that can help your travel business—and the businesses of your travel partners—grow.Amadeus technology is utilized by a wide range of businesses to develop effective economic structures, from global network airlines to low-cost carriers, multinational travel agents to independent hotels.Amadeus delivers comprehensive, IT-enabled travel and tourism services through systems and technical solutions meant to ease travel administration.Amadeus technologies modernize and improve the efficiency of business processes for both travel suppliers and consumers, giving them a significant competitive edge.
Sabre's
Sabre is a cutting-edge technology business that is transforming the worldwide travel crm sector. To sell, distribute, and fulfill travel, they collaborate with airlines, hoteliers, travel agencies, and other travel partners.Sabre's team of professionals stimulates creativity and innovation in the area with decades of pioneering experience. With next-generation enterprise solutions, they are committed to assisting customers in working more productively, generating sales, and creating tailored travel experiences.They offer an open and secure platform for adaptable, dependable, and scalable solutions. They have influenced and modernized the tourism business over the years.Sabre's data-driven solutions and technology assist airline, hotel, travel agency, and corporate customers in growing their companies and transforming the traveler experience.With front, mid, and back-office solutions, the Sabre Software platform helps customers better service their guests, providing customized travel, and make their businesses more productive.
Sabre provides strong, IT-enabled travel and tourism services through frameworks and developing technologies meant to ease travel administration.Sabre offers the most comprehensive range of technology solutions to the travel industry, including data-driven business intelligence, mobile, distribution, and best hotel booking software as a Service (SaaS) solutions, which are used by travel suppliers and users to design, market, sell, serve, and operate their businesses.
Travelport
Travelport is a technology firm that focuses on travel agencies and suppliers. It runs a B2B Travel Commerce Platform that connects travel suppliers with customers.Travelport streamlines and adds value to business operations for both travel customers and suppliers, giving them a strategic competitive advantage.Travelport offers complete, IT-enabled travel and tourism services, as well as sabre gds system and technology capabilities to make travel administration easier. Travelport's technological innovation contributes to the expansion of the travel industry.This is achieved through linking travel operators to additional inventory and assisting in making online bookings easier and more smooth for a variety of travel sectors.The Travelport platform allows travel companies, travel agencies, businesses, and developers to search for, interact with, purchase, and sell travel. Every customer on their B2B travel network benefits from increased profitability and business success.
Expedia
Expedia is one of the world's top complete online travel brands, assisting travelers in conveniently planning and booking travel from the world's most comprehensive variety of holiday packages, flights, hotels, rental cars, rail, cruises, activities, attractions, and services. They make the world accessible to consumers and partners all over the world.With hundreds of thousands of hotel partners globally and a full supply of airline inventory available on the website, clients may book everything they need for a vacation - rooms to suit any budget, activities to suit any interest, and travel services to complement.Expedia Group brings travel to a valuable global audience of travel customers by engaging with the world's leading consumer brands to deliver incremental demand and direct bookings. Travel agencies have direct access to one of the most comprehensive collections of travel products and services available on the world's travel best marketplace wordpress theme.
BCD Tours
BCD Travel is a travel technology business that specializes in the creation of travel enterprise solutions. Based on your specifications, they develop a feature-rich, user-friendly, and customised Android and iOS travel app.The firm employs a team of professionals and trained developers that have vast expertise building solutions targeted to the needs of the tourism and hospitality industries.They have years of travel industry experience and offer solutions for small and large independent travel agencies to assist them manage day-to-day operations in a unified manner.They stay current on the latest trends and advances in travel and hospitality, not only to develop tactics, but also to keep their clients informed and help them grow and flourish. This greatly benefits both BCD travel and its customers' businesses.
Our Comprehensive List of Services
adivaha® is a one-stop-shop for all your travel website needs. We offer a multitude of services that empower you to become a market leader. Contact us for more info.
Have Questions?
The Internet is a huge resource, but
if your question requires particular expertise.
Keep Refreshing your customers - Who doesn't want his site to stand out from crowd? adivaha® gives you multiple options for home pages, headers, colors etc. Which can easily be managed from admin via shortcodes and settings. The theme supports almost all the big players in this market ie, WEGO, Travelpayouts, Agoda, Booking, Expedia etc.
Contact
Have something unique in mind? Drop a message.
Estimated reply time: 3-5 Working Days