Build your own Travel Brand!
Ready to go-LIVE travel solutions that helps your travel agency to sell a range of travel services pretty instantly. adivaha® travel solutions make sure you have no boundation over your imagination, you can do everything online, without the need for any technical knowledge or design skills. Easy Backoffice, extensive reporting with integrated Funds Management System. Upload funds easily and instantly through Netbanking, Debit Card, Credit Card. The best part is, we do offer customizations in case you believe it will boost your business!
How to Choose the Best Tour WordPress Plugin
WordPress, the popular content management system, offers a multitude of plugins to extend the functionality of your website. When it comes to tour and travel websites, having the right plugin can significantly enhance the user experience and streamline your operations. In this article, we will explore the concept of the best tour booking plugin WordPress, discuss why plugins are essential for WordPress, how to acquire free plugins, how to choose the best tour WordPress plugin, and how Adivaha can assist you in optimizing your travel website.
What is the Best Plugin in WordPress?
The WordPress Plugin Directory is a vast repository of plugins, offering various features and functionalities. Determining the "best" plugin depends on your specific needs and goals. However, several tour booking system WordPress plugins have gained popularity due to their robust features, seamless integration, and positive user feedback. These plugins often provide features like tour booking management, payment gateways, itinerary customization, and more.
Why Do You Need Plugins for WordPress?
Wordpress tour Plugins play a crucial role in enhancing the functionality and versatility of your WordPress website. Here are some reasons why plugins are essential:
Extended Functionality: WordPress plugins are like building blocks that allow you to extend the functionality of your website without requiring coding or travel website development skills. These website tour plugins offer a wide range of features and functionalities that can be easily integrated into your website with just a few clicks. Whether you want to add a contact form, social media integration, e-commerce capabilities, or event management, there's likely a plugin available that can meet your needs. This extended functionality enhances the overall capabilities of your website, making it more versatile and dynamic.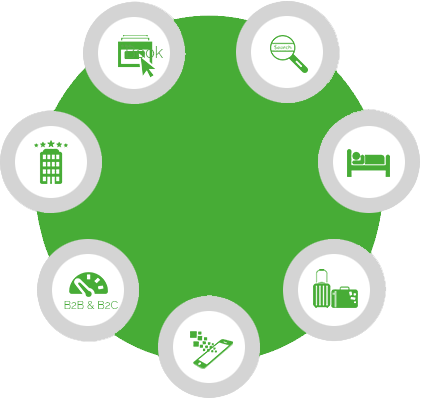 Best Tour WordPress Plugin for Your Website
Customization Options: One of the key advantages of using plugins in WordPress is the ability to customize your website according to your specific requirements. Tour booking Plugins often come with a variety of settings and options that allow you to tailor the appearance and behavior of your custom travel website. You can adjust colors, fonts, layouts, and other visual elements to match you're branding. Additionally, many plugins offer configuration options that let you fine-tune the functionalities and features to align with your unique needs. This customization capability ensures that your website stands out and provides a personalized experience for your users.
Improved User Experience: User experience (UX) plays a vital role in the success of any website. WordPress plugins can greatly contribute to enhancing the user journey and providing a seamless and engaging experience for your visitors. For instance, you can install plugins that optimize the performance and speed of your best travel website, ensuring fast loading times and smooth navigation. Plugins also enable you to add interactive elements such as sliders, galleries, and video players, making your content more visually appealing and engaging. Furthermore, plugins that improve navigation and site structure, such as breadcrumbs or mega menu plugins, help users find what they're looking for easily. By enhancing the user experience, you increase the chances of visitor retention, engagement, and conversion.
Time and Cost Efficiency: Using plugins saves you significant time and effort by providing pre-built solutions for various functionalities. Instead of developing custom features from scratch, you can simply search for and install the appropriate plugin. This eliminates the need for coding or hiring developers, which can be both time-consuming and costly. WordPress Travel booking Plugin often come with intuitive interfaces and user-friendly settings, allowing you to configure them without technical expertise. Additionally, plugins receive regular updates and improvements from their developers, ensuring that you benefit from ongoing enhancements and security patches. Overall, leveraging plugins in WordPress optimizes your workflow, reduces development time, and minimizes costs.
Scalability and Flexibility: As your website grows and your business expands, it's crucial to have a scalable and flexible platform. WordPress travel plugin provide the scalability and flexibility required to adapt to changing needs. Whether you want to introduce new features, integrate with third-party services, or handle increased traffic and bookings, plugins enable you to do so seamlessly. They offer compatibility with various themes, plugins, and extensions, ensuring smooth integration and functionality. With the right combination of plugins, you can expand your offerings, accommodate evolving requirements, and scale your website without compromising performance or user experience.
How to Choose the Best Tour WordPress Plugin?
Selecting the best tour booking WordPress plugin requires careful consideration. Here are some factors to keep in mind when making your choice:
Features and Functionality: Evaluate the plugin's features and ensure it offers the necessary functionalities required for your tour and travel website.

Compatibility: Check if the plugin is compatible with your WordPress version and other plugins you have installed.

User Reviews and Ratings: Read user reviews and ratings to get insights into the plugin's performance, reliability, and user satisfaction.

Developer Support and Updates: Look for plugins that are actively supported by the developers, ensuring regular updates and bug fixes.

Customization Options: Choose a plugin that allows customization and branding options to match your website's aesthetics.

Integration and Compatibility: Ensure the plugin integrates smoothly with your existing systems, such as payment gateways and booking management tools.

Performance and Speed: Opt for plugins that are optimized for speed and don't impact your website's performance negatively.
Advantages and Disadvantages of the Best Travel Booking Plugin Wordpress:
Advantages:
Streamlined Tour Management: The best tour plugin WordPress simplifies the process of managing tours, bookings, and itineraries, saving you time and effort.
Enhanced User Experience: These plugins offer interactive features, easy navigation, and smooth booking processes, providing a pleasant experience for your visitors.
Increased Conversions: With features like secure payment gateways and real-time availability, the best tour WordPress plugin can help boost conversions and revenue.
Flexibility and Scalability: These plugins are designed to accommodate the growth and expansion of your tour business, allowing you to scale your operations seamlessly.
Time and Cost Efficiency: By automating processes and reducing manual tasks, the plugin improves efficiency, saving both time and money.
Disadvantages:
Complexity: Some tour WordPress plugins may have a learning curve, requiring time to understand and configure all the settings.
Compatibility Issues: Incompatibility with certain themes or other plugins may arise, leading to conflicts or limited functionality.
Dependency on Third-Party Plugins: The best tour WordPress plugins might require additional plugins to provide specific features, resulting in a larger plugin ecosystem to manage.
How Can Adivaha Help You with the Best Tour WordPress Plugin?
Adivaha is a leading provider of travel technology solutions, including tour WordPress plugins. They offer a comprehensive range of plugins tailored specifically for online travel agencies and tour operators. Adivaha®'s plugins provide advanced features such as real-time booking, secure payment gateways, dynamic packaging, customizable itineraries, and seamless integration with various suppliers and APIs. With their expertise and support, Adivaha can assist you in selecting and implementing the best tour WordPress plugin that aligns with your business goals and requirements, ensuring the smooth and efficient operation of your travel portal website.
Thus, the best tour WordPress plugin can revolutionize your travel website, providing advanced functionalities, enhancing user experience, and streamlining your tour management processes.
By considering the advantages and disadvantages, as well as seeking the expertise of providers like Adivaha, you can make an informed decision and leverage the power of plugins to create a successful and engaging online presence for your tour travel business.
Our Comprehensive List of Services
adivaha® is a one-stop-shop for all your travel website needs. We offer a multitude of services that empower you to become a market leader. Contact us for more info.
Have Questions?
The Internet is a huge resource, but
if your question requires particular expertise.
Keep Refreshing your customers - Who doesn't want his site to stand out from crowd? adivaha® gives you multiple options for home pages, headers, colors etc. Which can easily be managed from admin via shortcodes and settings. The theme supports almost all the big players in this market ie, WEGO, Travelpayouts, Agoda, Booking, Expedia etc.
Frequently Asked Questions
Below are some of the questions asked by visitors. Do visit our adivaha® Digest for more such questions. Don't hesitate to ask us if you have any questions