Build your own Travel Brand!
Ready to go-LIVE travel solutions that helps your travel agency to sell a range of travel services pretty instantly. adivaha® travel solutions make sure you have no boundation over your imagination, you can do everything online, without the need for any technical knowledge or design skills. Easy Backoffice, extensive reporting with integrated Funds Management System. Upload funds easily and instantly through Netbanking, Debit Card, Credit Card. The best part is, we do offer customizations in case you believe it will boost your business!
Travel Portal Developers
To be in the real world, you need experience and knowledge to govern the market through the computer and the internet. If you own a travel and tourism company with your website, surely you can hire any other company to design and develop the same for you. Otherwise, conservation in an emergency will be a difficult job. And if your company's website is down for even an hour, it will hurt your business. This is where Adivaha Travel Portal Developer have an advantage. They have a strong background in IT and have been working in a technology company for a long period. Later, the organization determined to invade the travel and tourism industry.
What are Portal Developers?
Portal Developers has several tools that help you improve the management of your business. The greatest advantage you can take advantage of is its integration with many platforms and CRM that will help you complete the tourist service you provide in your business. What makes this software extremely attractive is its easy use since it has a very intuitive interface, with a structure of windows no more than three levels deep, making it fast, efficient, and effective.
Another of its advantages is the information that can be known in real-time of each operation, always through reports that will allow you to have control over the business situation. And not only that, but it also has a permanent help desk, which will not leave you alone at any time. Its Support team is always available to make your work easier.
You can have different communication channels to be assisted when necessary. Portal Developers know all the needs and requirements of travel agents perfectly and can solve all the problems that arise.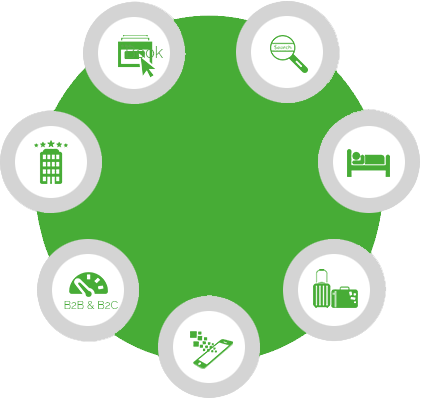 Travel Portal Developers
Why Portal Developers?
Infecting this company's background has helped it build a FRANCHISE model that has become highly successful. The products developed at Adivaha have a robust construction with self-maintenance facilities, leading to great attraction. Portal Developers has a large customer base and has successfully sold its franchise model to many companies in the country. These companies have the premium product developed by Portal Developers, with full maintenance facilities, Travel agency software upgrades, and travel services. The professionals working with Portal Developers are knowledgeable and certified individuals who consider themselves the best in their respective fields and have repeatedly proven it. They have worked on numerous projects, which have given them the required experience.
Company grows strong and well
Portal Developers believe in a saying that the company is better to have deep roots than branches. Portal Developers makes the company grows strong and well. And it is possibly one of the main reasons Adivaha has no competition in the Indian market. It has strong principles on which the company works. They want to revolutionize the travel and tourism industry, bringing the same with their products. They are also involved in many social happiness projects, which educate people about the importance of keeping wildlife healthy.
At this time, Adivaha Portal Developers is engaged in designing travel portals with the help of modern and cutting-edge technologies with additional features like no one else. These travel portals and similar products designed by Portal Developers prove to be a boon to various budding companies looking to enter the Virtual world and make it big. Therefore, at this time, Adivaha is a complete travel and tourism company.
Promote economic and social development
Portal Developers' next goals are to join the league of these travel giants through their franchise models, such as B2C and B2B. They want to promote economic and social development & travel app development together with self-reliance as a brand, for all kinds of international travel companies, by infusing the blood of technology into the veins of Travel & Tourism through system progression and user availability through its consistent technology innovation and upward gradations. They try to raise budding companies to a level so that they can compete with their peers around the world in time. Similarly, the company is pushing it and will surely be a big hit soon.
Global wholesale prices
Access to over 12 million airline net fares for domestic and international travel
Customer-centric approach
Professional and highly experienced team.
Dedicated customer relationship
A lot of Consolidator content all over the globe
Top management access
Experts in travel technology with more than 100 years of experience in helping online travel agents expand.
Find the lowest prices and content effortlessly with the option of creating your own customized itinerary search and booking and e-ticketing features.
With its tremendous inertia and efficiency in getting a project to its successful launch, they kept it onsite, offsite, online, etc. Portal Developers has a promising future. Adivaha has a high reputation in the market and is also in high demand because they are known to be the masters at customizing the products as per the needs and supplies of their customers. Given a minimum period of business days, they can set up the travel website designers for your company and get it online in the shortest possible time. They have designed the successful automation of different organizations and related operations with the best of their input. Is it important the business model, the functions of the procedure, the cost analysis, the selection of suppliers.
The best travel portal development company
Adivaha is a specialist in developing complete end-to-end web solutions for the travel industry, offering technology that delivers high-performance, affordable, and easy-to-use Internet booking engines that will provide online sales success to your company. Travel. We help you get connected quickly with easy implementation.
Whether you're thinking of bringing your travel company online or you're an established online player, having the right technology on your side is critical; Adivaha offers you one-stop online travel booking engine api solutions.
When your travel company uses our technology, customers can plan, book, and purchase complete travel itineraries, including real-time access to flights, cars, hotels, buses, trains, vacations, cruises, and more.
When you partner with our portal Developers, you can offer your customers 500+ airlines, 100,000+ hotels, thousands of vacation packages, 30,000+ car rental locations worldwide, cruises, buses, insurance, more than 10,000 tours and travel experiences around the world, and many more. You can offer your customers the online world in a snap with faster and easier access to all products.
People choose Adivaha for several reasons:
They offer the best rate and commission in the entire industry.
They have their professionals working round the clock; hence, it is quite easy to get any service from them whenever you require it.
Portal Developers also can integrate your business interface with your model and build a travel portal of your choice.
They value their customers' money and never compromise on their service quality.
They have nine varieties of products made in the travel API integration store and can engage any according to their budget.
They offer a one-stop solution for all travel-related problems under one roof with vast experience in developing travel portals.
For more details, visit Adivaha's Best Travel Technology Company.
Travel portal development is a process by which people can easily get information about travel and their packages. Travel portal software is a complete and powerful web-based online reservation system. Designed for the travel industry, mainly for travel management organizations, destination management industries, travel agents, travel agencies, tour operators, and home travel agents.
Portal Development is the development of travel booking software with the features of online flight, bus, and train ticket booking, vacation package booking, hotel room booking, and car rental booking.
In addition, Portal Developers will provide an online account maintenance service for agents, where they can deposit their own money and receive commissions from the service providers. They will offer an online payment function for customers to make online payments for tickets.
It is an effective tool for travel agents who want to expand their business, earn more profit, and increase their customer base.
Adivaha is the leading travel portal development company serving clients worldwide. With vast experience with foreign and national clients, it has developed many projects. You can visit their website to learn more about their clients. The projects developed and the type of services they provide.
Get what you expect.
Are you looking for the best travel portal that suits your business needs perfectly? Then you are in the right place. Adivaha is doing its best to develop a user-friendly travel booking interface for the travel industry. Our goal behind the online booking system is to equip you with the right tools to enable a smooth booking process. Whether you're selling a product to a business or an end user, our well-designed travel booking portal generates a significant increase in sales.
As a leading travel technology company, Adivaha maximizes its clients' capabilities by offering best-in-class travel booking engine software. To develop such excellent software, we implement the latest technology in the market. Empower our customers to provide a user-friendly online booking and search interface. We believe in offering products that enhance opportunities for online travel agents, hotel providers, airlines, and other contributors to the travel industry. OTAs can create their packages using the unique travel booking management system of our B2C travel booking portal.
OTAs can gather information from various Travel API Integration vendors, combine the data into a single package, and then include their profit margin when they sell it. We are committed to providing the complete online travel booking solution for hotel reservations, air tickets, car bookings, and more. We do not leave any scratch unturned in creating the best with our travel booking portal. We focus on every aspect, including integration with payment gateways, live chat support for users and multi-language features, and more. Adivaha provides B2B solutions to book travel for every business need.
Success is what gives your company worldwide recognition. Also, it allows you to reach a wider audience. To make this dream come true, we continuously work with our team of professionals and present the best b2c travel portal booking development solution for you. Our goal is to expand the capabilities of travel agents around the world and make them offer the best of their services to the end user at a reasonable cost.
What is it that makes our solution for travel portals unique?
Our innovative software for travel portals can bring you tremendous business growth. Create new opportunities for our customers. Help them grow their businesses. Make them stand out with a strong brand image. These crucial aspects make our travel booking website ideal for your company.
Create a broader audience base

Our B2C travel booking portal helps develop a booking process from start to finish. Gives the best results for our clients. Better search filters, great plugins, and platforms to reach a larger audience are helping our booking travel crm software gain recognition among customers. Ultimately, the largest audience gives our clients the best opportunity to accelerate revenue generation.

Enhance your product's marketing

Our Portal Developers prepare your product to be noticed in the marketplace. Our software is well-designed and will help your company to rise to new levels. It allows you to promote your product carefully. We have a B2C travel booking portal assists travel agents improve their customer experience and generate revenue.

Business management is simplified thanks to this software.

Our travel booking system that integrates APIs Adivaha helps you control your enterprise. With all the elements of the business, we develop an individual travel portal solution specifically designed to meet your business requirements. We strive to provide you with an affordable and affordable booking service for your travel needs. Enhance your capabilities at work efficiency, productivity, and customer engagement in addition to revenue growth.

Keeps you ahead of your competitors.

Our travel booking service keeps you ahead of your competitors. It delivers the most effective results and helps your company towards success for the cost of a small amount. The real-time data updates for flights, hotels, tours, and sightseeing assists the user with making reservations. Adivaha allows you to expand your business globally by increasing the number of visitors to your website and revenues.

The primary focus is offering a business's best portal solution at an affordable cost. We provide a platform that offers travel portal development services, travel booking software, XML API integration, GDS integration, travel agency software, etc. Our team has excellent resistance and can deliver the solution in the expected time. So please let us know your travel portal requirements.
Developers provide Management systems for travel portals.
Both conventional travel agencies and those specialized in Business Travel work with internal management systems that facilitate travel management and reservations.
However, at the level of specialized travel agencies in the field of business, some management systems fall short, seeking to innovate and adapt new technologies to market demand with applications to cover all the company's needs.
The specialized supplier must be able to offer personalized management systems adapted to the client's needs. This will be an added value for the agency and a good point for the company when hiring their services.
From technologies to manage travel expenses and ensure compliance with company travel policies to creating online locators for travelers worldwide, specialized agencies must offer a wide range of technological possibilities adapted to the client simultaneously. It represents cost savings for the company through the online management of all procedures and the automation of processes.
In addition to taking advantage of all existing technological innovations, it is considered that the primary needs of companies and employees who travel today revolve around mobility. The demand for mobile applications is the most common by companies so that the worker can manage everything related to the trip quickly, easily, and safely from his smartphone. The Portal Developers head office provides a reservations system for hotels and other services requested by the client. It maintains control of quotas in real-time and has a secure online payment system.
The accounting area links accounting with administrative management and invoicing. It generates the books following the legal regulations and allows the analysis of the data for improvement. This way, daily accounting operations are facilitated, and errors are reduced. They are suitable for different sizes of companies. Both wholesale and retail travel agencies find it a powerful management tool. Its functionalities adjust perfectly to the work system of each type of company.
No need to remember backups or updates. They automate all these processes. The management dynamics become fluid and agile. It has a security certificate with encrypted communications that guarantee data security. It allows defining permissions and roles by users and offices.
Conclusion
From then until now, advances in new technologies and the boom in the internet have made management systems used traditionally will become obsolete, triggering a transformation of management processes towards a model that allows the use and advantage of new technological systems, such as smartphones. With the integration of new technical solutions, business travel agencies have evolved towards the automation of management and the optimization of processes. The Travel Portal Developers' mastery of these new technologies is important to assess.
We know how important it is for you to find efficiency and productivity for your business, so we hope that all the information we can gather from this can help you find productivity and facilitate work in your industry.
Our Comprehensive List of Services
adivaha® is a one-stop-shop for all your travel website needs. We offer a multitude of services that empower you to become a market leader. Contact us for more info.
Have Questions?
The Internet is a huge resource, but
if your question requires particular expertise.
Keep Refreshing your customers - Who doesn't want his site to stand out from crowd? adivaha® gives you multiple options for home pages, headers, colors etc. Which can easily be managed from admin via shortcodes and settings. The theme supports almost all the big players in this market ie, WEGO, Travelpayouts, Agoda, Booking, Expedia etc.
Frequently Asked Questions
Below are some of the questions asked by visitors. Do visit our adivaha® Digest for more such questions. Don't hesitate to ask us if you have any questions
What all GDS and Providers are connected in the platform?

27

views

1

answers

0

votes