Build your own Travel Brand!
Ready to go-LIVE travel solutions that helps your travel agency to sell a range of travel services pretty instantly. adivaha® travel solutions make sure you have no boundation over your imagination, you can do everything online, without the need for any technical knowledge or design skills. Easy Backoffice, extensive reporting with integrated Funds Management System. Upload funds easily and instantly through Netbanking, Debit Card, Credit Card. The best part is, we do offer customizations in case you believe it will boost your business!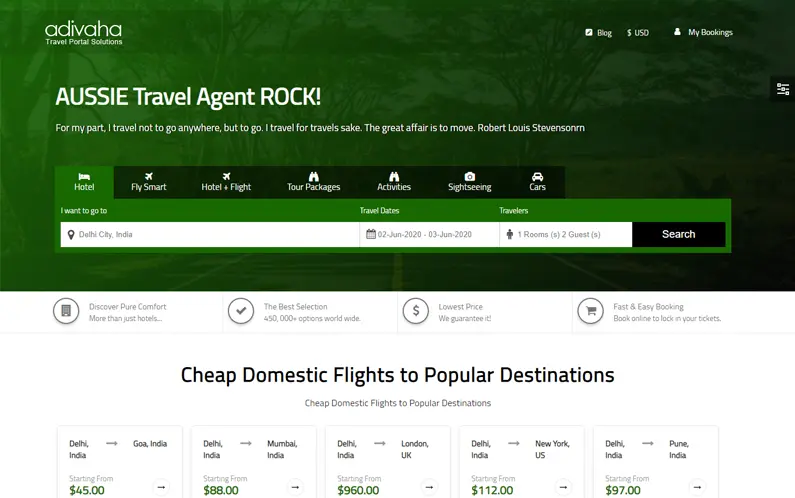 How Much Does It Cost to Develop a Travel Portal?
The development of tourism has altered the way people travel, the places they travel and when they travel, and even the way they share their travel experiences with friends and family. This has broadened travel options, allowing travelers to book hotels, flights, and adventure tours easily. Thanks to technological advances, traveling has become much more enjoyable and convenient, allowing passengers to connect to the internet during flights, book hotels in advance, and read reviews of hotels and restaurants.
It's also changing how travel companies operate, allowing real-time pricing, inventory, and demand monitoring. Travel Portal Development Cost enables travel businesses to better serve their customers by collecting information about them, enhancing the customer experience, and allowing their customers to share their expertise. As companies grow and expand, enterprises constantly develop new technologies and software to tackle real-world issues. But, the travel industry remains an extremely heterogeneous field. Enterprises have various technology, business models, and procedures that make it difficult to design products that meet the requirements of a broad spectrum of consumers. In addition, the diversity of the travel industry creates a challenge to make a single product widely adopted.
The importance of Travel Development Cost for planning tourism
Planning for tourism can be the difference between a successful or not-so-great destination. If executed properly, it will guarantee the long-term viability that the tourist industry will last in a region, protect the environment, produce positive economic benefits, and significantly impact the local community.
If not handled properly if it is not done properly, tourism development could destroy the environment and culture that it is based on. It could disrupt local economies, trigger inflation, and adversely affect local businesses and people. However, countries in the developing world are the most vulnerable in the wake of negative effects, primarily due to their limited knowledge and experience compared with Western countries.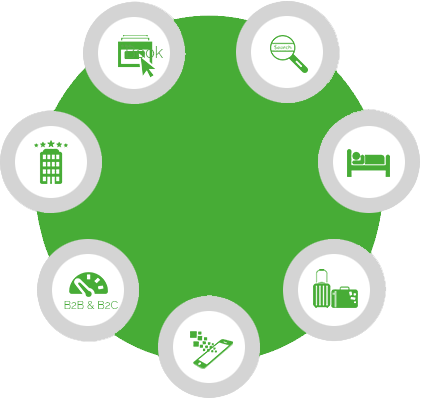 The Cost of Developing a Travel Portal
This is where Tourism development can assist! With customized software and apps for travel, entrepreneurs and businesses can quickly tackle the unique needs of their customers. They can also provide flight comparison services, travel insurance, and hotel booking solutions to create an Travel API Integration management system and make up for any holes in the marketplace.
This e will look at the various types of solutions for development in tourism for travelers, as well as the features the apps must have, and also make some predictions regarding how the industry will develop in the coming years. Ever-changing business.
The term "tourism development" is a complicated term that can mean different things to different people. In this book, the four chapters attempt to provide a broad overview of concerns related to tourism development. In the beginning, "Tourism development - The reader is educated about how the system operates, and the trends that impact tourism development, as well as the direction we're headed, the next market opportunities for tourism, and what types of new tourism are emerging as a potential opportunity to think about.
The term "travel technology" is using technology to plan trips. It offers travel agents travel booking services for their client's airlines, tickets to flights, hotel accommodations, car rental, and other travel-related services. Technology for travel lets consumers book their travel online without needing an agent for the trip and automates payments, booking, and back-office processes for travel agents. Technology for travel uses IT and e-commerce services in tourism, hospitality, and tourism to simplify travel to save time, lower costs, and give consumers an effortless travel experience before, during, and following their journey.
Travel Portal Future of Tourism
The software for travel portals is an internet-based marketplace that permits users to obtain details by comparing travel plans and services offered by various businesses on one site. Presently, a Travel Portal Development Company provides software on the web and mobile apps rather than just the web version in the past.
Think about your successful relationships, business or otherwise. Their common denominator is likely to be effective communication and cooperation. We can apply the same principles to your hotel business. If your systems don't sync perfectly in real-time, the likelihood of them working the way you want is low.
This travel reservation script system's two most important gears are your website and the Travel Booking Engine. These two systems need to sync unless you want mistakes, erratic results, and confused or irritated customers.
Automated system for travel agencies.
For complex tasks, very well-thought-out solutions are required. Unlike other travel agency reservation systems, Adivaha offers a comfortable travel reservation script system to promote Flow and review diversified reservation plans and manual and characteristic support for dynamic checking. In addition, it is an unheard-of orientation toward the hospitality industry. It helps you monetarily and expands your service business for your trip.
The tourism industry is among the most well-known and growing industries in the world economic system. It plays a significant contribution to boosting a country's economy. A rise in the flow of tourists will benefit nations' economic growth, particularly in terms of gross domestic product and employment opportunities.
Travel portal development overview
Due to the rapid Travel Portal Development Company in the travel technology market, a wealth of information is released on the internet every day. Every second, a person is expected to publish, on average, 1.7 megabytes of additional information before 2020's end, creating a vast amount of human knowledge. But the enormous amount of internet and its information has people struggling to select the right one.
In tourism and travel, clients have complained that they have difficulty finding websites for thousands of tour companies to organize their travel plans. Therefore, the travel portal was developed to help solve the problem. The travel marketplace's comprehensive features allow agents and travelers to get everything they require from one place at affordable prices, from finding hotel reservations to flights.
Within the app, there are four kinds of software for travel portals:
The best thing about the software for travel websites is that it allows easy comparison of different choices from various vendors on the market. In addition, because of the competitive nature of the marketplace, sellers have a reason to offer discounts and promotions to grab customers' attention. Thus, customers can expect an affordable cost than when booking through the original website.
Recently, numerous travel companies and entrepreneurs have been seeking to purchase Travel CRM Software since the demand for advanced online travel bookings is expected to rise regardless of COVID-19. However, many experts believe that the travel industry will recover in the early 2021s, and the travel portal is rumored to become the king.
Finding the best Travel Portal Developers business will not be easy because there is numerous software outsourcing companies on the market. The most reliable suppliers of travel portals will be able to comprehend your requirements and expectations. In general, you can outsource the whole development process, where the software developers for travel are responsible for the entire process, from conception to distribution.
The function is that Travel Development Company.
Apps and travel portals are compatible with various devices and forms through our Travel API Integration India. They make use of the latest technology that can automatically alter the screen's layout to fit the device's size. The flight booking service we offer will assist your company in increasing profits by streamlining the process while reducing the time and effort to book a flight.
Adivaha offers online air ticket booking for customers who have requested flight information, including availability pricing, price, reservation, and confirmation. It gathers pertinent data from various sources to help you negotiate the most advantageous deals with your clients. From reducing operational costs to securing your brand's image, it plays an essential part in shaping the travel industry.
Adivaha has extensive experience connecting the most appropriate APIs to your business's requirements. Travel Booking Engine API acts as a control panel for developers, allowing a range of services and products for travel to connect to travel agency software and encouraging them to show benefits in the desired location at the correct date and time.
The benefits of using a Travel API Integration for travel businesses
Flexible search engine for hotels tours, flights, and transfers all on one platform
An easy method to book hotels and flights, times, and transfers all on one platform
Integrate third-party services
Real-time system
Maximum travel booking facility
Low operating costs
The increase in markups for products is a benefit to end-users.
Direct payment to customers
Find the top Travel Website Designers to manage your profits
Reliable and robust
Convenient dashboard
How can the travel portal help the hospitality and tourism industry?
The travel and tourism industry is the most active area of economic activity globally. Simultaneously, it is the largest employment generator and a significant source of reviving the nation's economy. Tourism is a complicated process because it results in huge amounts of money, which contributes to the development of various economic activities that are beneficial to protecting the environment and the globalization process. Tourism is not viewed as either positive or negative, but its numerous impacts can be evaluated in this way. As we move towards sustainable tourism development, more attention must be given to high-quality tourism products, providing both the pleasure of excellence and the utmost of tasting.
Efficiency of cost

An online booking tool operates all day long. This travel reservation script allows prospective guests to book rooms at any time they'd like. It also boosts sales since you're not restricted to working hours. Research has shown that an online 24/7 reservation system significantly increases the number of hotel reservations.

Lowering the cost of maintenance and time

As a virtual marketplace platform, the travel portal marketplace allows agents to save the money they spend on offices, printed brochures, and flyers. With the digital version of all the materials, users can access them easily on their phones, and businesses can avoid the hassle of conserving the hard copy of these documents. Additionally, the expense of maintaining and running the software used by travel portals is the sole responsibility of developers and the vendors who outsource their software. In this instance, an in-house developing team is accountable for ensuring that the travel portal functions smoothly.

Access in real-time

With no manual controls, customers and travel agents can get access to offers quickly in real-time. With real-time updates from independent sellers, the recommendations on web-based Travel App Development are continuously updated with the most current prices, available slot machines, and offers. In addition, the majorities of travel portals permit tourism and travel businesses to access their databases of customers to study customer behavior. This way, they can alter their business plan, which is in line with changes in the current trends in the travel industry.

Automation in customer service

Chatbot and AI application technology can offer 24/7 customer service that can reduce the expense of hiring employees. The travel portals typically develop solutions that provide instant Q&A support. Customers who receive their answers quickly result in more satisfaction and, in turn, an increase in the number of orders.

What will be the trends in the evolution of global travel portals?

More potential comes with more competition. There are a few travel portals that succeed in the marketplace. In addition, the business's inability to keep up with the latest technology can cause many companies to fall in the race. Let's look at what the future of travel portal software will appear like shortly.

Power of Data, the big data analytics

IoT and big data might not be the tech to come; however, it could be rather a present to be given. The software for travel portals promises to gather data from various sources accessible via mobile apps. The majority of travel software applications combine machine learning. This gives instant data analysis and assists Travel Business Portal B2B in planning their strategies for the future. Furthermore, businesses can gain data from other companies through an integrated database, making their market performance easier to understand. This lets travel experts create assembly kits that meet their customers' requirements.

Virtual and Augmented Reality

Recently, VR and AR have been evolving as an integral part of Travel Agency Software, which is predicted to be the next innovating aspect of the tourism and travel industry. VR and AR enable users to enjoy the excitement of the desired destination from the comfort of their homes. Users can visualize and purchase exciting tours. Experts suggest a mobile app development using VR and AR technology will boost people's curiosity and lead to a significant increase in the volume of usage.

Concentrate on B2B travel

Luxury travel isn't easy to reach many customers due to its high price, which is far beyond the reach of most. However, trips for business and leisure trips are different aspects of the coin, where companies are more likely to spend money on luxury travel. The business travel sector allows travel agents to make a sale on a large package easily.

However, the vast amounts of travel packages have complicated management and marketing, which causes the market to have built-in credibility and credit.

Increased security

Until cyber security and privacy challenges, travel software companies develop. The reports suggest that every 40 seconds, there's an incident of cybercrime in some place, with approximately 300 private data being stolen every second. Most of the cyber-attraction is directed toward the payment system, which exposes the portal's business.

Recently, the development of travel portals often incorporates payment gateways that allow customers to pay directly on the portal without redirecting them to another website. It is undeniably a convenience and a reason to keep customers; however, it poses security risks for the business and its customers. Shortly, Travel Portal Developer will concentrate more on preventing cyber-related temptations by enhancing security features.

Local and Global travel

The next trend expected to emerge in the travel industry could be the changes in travel habits after the coronavirus epidemic. Many countries plan to promote local tourism rather than encouraging travelers to book international trips. In this instance, the government will do its best to help travel agencies that offer local tours to help boost the tourism business. In the coming five years, the local travelers who sell their products will be awarded the crown.
Road and ground travel is the most prestigious form of aviation.
Conclusion
Traveling can be said to be the most popular and vibrant human hobby. Many people love to travel to new places, filling their lives with unforgettable travel experiences. Not every resident of Russia can spend a vacation abroad but has access to travel to interesting places in his country. Recently, the number of people who want to discover the amazing corners of the Russian Federation has greatly increased, and this situation has served as an impetus for business people to get involved in the travel business.
Every entrepreneur has questions:
How to open a tour desk.
How much money do you need to invest at the beginning of the business?
Whether the company will bring profit.
Where to start this process.
It appears that the organization of tourism activities is not difficult, and a person interested in it can easily create such a business and succeed.
Our Comprehensive List of Services
adivaha® is a one-stop-shop for all your travel website needs. We offer a multitude of services that empower you to become a market leader. Contact us for more info.
Have Questions?
The Internet is a huge resource, but
if your question requires particular expertise.
Keep Refreshing your customers - Who doesn't want his site to stand out from crowd? adivaha® gives you multiple options for home pages, headers, colors etc. Which can easily be managed from admin via shortcodes and settings. The theme supports almost all the big players in this market ie, WEGO, Travelpayouts, Agoda, Booking, Expedia etc.
Contact
Have something unique in mind? Drop a message.
Estimated reply time: 3-5 Working Days