Build your own Travel Brand!
Ready to go-LIVE travel solutions that helps your travel agency to sell a range of travel services pretty instantly. adivaha® travel solutions make sure you have no boundation over your imagination, you can do everything online, without the need for any technical knowledge or design skills. Easy Backoffice, extensive reporting with integrated Funds Management System. Upload funds easily and instantly through Netbanking, Debit Card, Credit Card. The best part is, we do offer customizations in case you believe it will boost your business!
Expert Top Travel Portal Development Services
The process of planning a trip that includes the most efficient services and lowest costs can be a difficult job. It's difficult to tell whether the deal the travel agency is offering is the most suitable one. Additionally, there could be hidden fees or other details you did not think about, only to discover after you experience an inconvenience. This can confuse and make you decide between travel portal development services vs agents.
You may have booked an excursion to a specific destination, and the package also has return travel. You believe it's an all-in direct flight of five hours to get there. Then, you discover that it is a connecting flight with the possibility of a layover. This means that taking 8 hours instead of just 5 to reach your destination could become a bit of a hassle. However, there's nothing you can do in such a circumstance.
Making your reservations through an agent can be less stressful at the beginning. You can rely on them to manage all aspects of your trip. However, having control of your travel plan and knowing your trip's specifics can be a great relief. This is because you booked your trip yourself via an online travel portal development company. Both sides have advantages and cons. However, an online travel portal is superior to travel agents. It offers ease, convenience, and security in booking your travel.
What are Travel Portal Development Services?
Adivaha offers a tool for promoting online travel and tourism services and increasing the region's tourism potential. This tool is the Tourist Portal, which is a comprehensive solution for providing information and interactive services.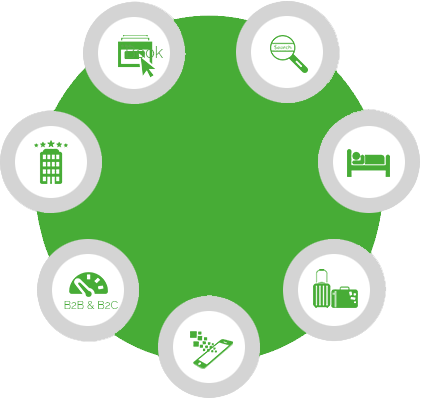 Travel Portal Development Services
The solution proposed can boost the area's attractiveness to investors through a rise in tourists. This is, in turn, a contributing factor to improving the region and its infrastructure, creating new employment opportunities, and increasing the quality of life.
Technology has influenced and changed every field, and travel is no exception. Today, your customers are looking for better options. If you haven't yet implemented Online Marketing in your business, it is the right impression for your competition, which may have already made a move online. We cooperate with our clients to deliver the most efficient travel portal solutions. This includes White Label Solutions, B2B, and B2B2C. Integration with Travel API/XML Integration, GDS Integration, Tour CMS, Hotel Extranet, and many others.
Travel Portal Solution promises you the most efficient travel software that can keep pace with the current developments in travel portals and allows you to offer your clients the best prices for Air Tickets, Hotels, Bus Tickets, Train Tickets, and Tour Packages.
Travel Portal Services also offers you a variety of options from the most renowned airline consolidators in the world. We guarantee you the highest commissions on the market. If you want to enter this industry, you shouldn't be stressed! We'll give you the best instruction for rail, air, and hotel bookings at no cost!
Why we should use Travel Portal services?
Avant-garde in the travel industry, it is a single-stop solution to all requirements of travel portals. Travel Portal Solution is determined to offer our customers the most modern software system. We are affluent with international and national customers from across the globe. We have established ourselves as a leader in travel and tourism. We are a travel technology company with experts and professionals that can solve every technical requirement and make portals more efficient online by using Search Engine Optimization.
We are pioneers in designing and implementing technologies that give online travel agencies the best Travel Software Solutions. We appreciate your time, effort, and money, so we offer a standard white-label service at reasonable prices. We have a pool of competent employees proficiently handling technologically-driven assignments. We recognize the significance of technology in the market, and therefore we use the most up-to-date software solutions that assist our clients in moving towards their goals.
We aim to provide outstanding services and a long-lasting relationship with our clients. We believe that customer satisfaction is our goal and will give you the top solutions to meet your expectations. We know what you want and provide you with the most innovative and technologically advanced travel agency software.
Reasons to contract a trip with a specialized agency.
Technological innovation and the era of digitization in the tourism sector are bringing about a revolution and making it possible to bring destinations much closer to the traveller, who experiences booking their services playfully and autonomously, but not always in the most effective.
Adivaha is the top travel portal development firm in India that has provided web-based portal development services to those enthusiasts of the travel industry for a long time. Work with us on your requirements for service. We will assist you with your real needs for your travel portal, such as the design, development, and creation of your travel websites, Web & API integration coupon management, payment gateways, XML binding, and white-label solutions.
Using travel applications, you can make it easier for your customers to reserve and book tickets using your app. Thus, a tidy, high-performing, efficient, and visually appealing application is a must. At Adivaha, we can create an extensive travel program customized according to your requirements to allow you to attract visitors in a matter of minutes. We specialize in creating travel software that can be used for flights, buses, cars, hotels, transfers, tourist packages, sightseeing, and insurance.
We recommend making your reservation through a specialized agency. Here, we are going to give some reasons why contracting with an agency is advantageous:
1. Time-Saving

Specialized system knows the destinations well, which allows them to offer good recommendations based on what each client is looking for. If you don't see the goal, you have the knowledge and contacts to obtain the necessary information to inform the client.

The era of digitization and globalization has transformed the world of travel for the better. Travelers have more information and can share it with millions of users. Before we could compare two places, we can now compare hundreds if we know how to search.

A specialized agent will save us time searching for what interests us most, based on our tastes or expectations, since the excess of information makes us lose ourselves. Travel agents often complain that many clients call them for information and then arrange the trip independently. As in everything, some practices are not ethical.

2. Security

Travel agencies have obligations, and we must present a series of guarantees to the Administration so that they give us a license and be able to carry out and organize trips in which different services are combined. A travel offer must go under a licensed title. This indicates that a online travel agency carries out the journey with guarantees before the Administration.

3. Saving Money

As travel agencies, we are dedicated to negotiating to have the most competitive conditions to offer our clients. In the case of passes in the United States and Canada, it has been shown that the difference between contracting through an agency and doing it directly can mean considerable savings.

The same happens with airlines, transfers, and accommodation. The different operators keep us informed of offers that are more difficult to reach the direct customer. We often believe that hiring through an agency is more expensive, but it is not.

4. Personalized Attention

Travel agents are in charge of your trip proposal from the beginning, offering recommendations, resolving doubts, and providing support after the trip. The more information you provide, the better the proposal.

In the event of an incident, agencies usually offer a 24-hour assistance telephone number in which they are in charge of assisting with the trip. We always show it and anticipate possible eventualities.
Why Online Travel Portal is better?
Travel portals online, also known as best travel website (OTAs), can be described as and many others that offer comparisons of rates of hotels, flight packages, as well as other activities related to travel. They provide a vast inventory of hotel rooms and rental vehicles due to the GDS integration service.
Travel portals are embracing the trend of using online travel websites. They help them survive amid the fierce competition in the world of travel. This leads us to consider why travelers prefer online travel portals to travel agents. These are the reasons why travel websites can be beneficial in planning your trip with no anxiety.
Convenience

Technology advancements have brought everything to our access. There is no longer time to go to every location; instead prefer to purchase everything online. Travel custom website online can provide a great convenience for travelers. Travelers can make reservations anytime during the day, between jobs, or even at night. You can avoid long phone calls to travel agents or trips to book your travel.

Transparent Pricing

Online travel agencies offer clear pricing with no hidden fees. Certain fares can alter at the time of payment due to different algorithms, which can be irritating. However, the most affordable rates can be found through travel sites online.

Furthermore, when booking through travel agents, there's an additional cost for their services, which isn't the case when booking online. Because of the high level of competition, flights and hotels constantly compete to provide the lowest prices and discounts for customers who use travel websites.

Cost & Time Efficient

One of the main reasons travelers choose an online travel site over a travel agent is the service speed. The custom travel website are efficient in terms of cost. They can cut down on travel expenses to the destination of travel agencies; reduce fees in contacting them via smartphones and save the cost of getting agents for their services.

Large Inventory

Online travel portals integrate GDS/API/XML to provide access to an extensive range of hotels, car rentals, flights, flight tickets, tours, package deals, etc. Travelers have various choices to select from that could not be easy to obtain through travel agencies.

There are certain things a travel agent cannot accomplish. Humans' access to information is often very restricted, unlike online details. In reality, travel agents also have access to inventory via GDS to give you the choices available. Thus, it is easier to locate the same information on your mobile application instead of receiving filtered details from travel portals.

Easy Rescheduling & Cancellations

Cancellations or changes on your bookings are accomplished with a few taps on your mobile. There could be a small cost charged by hotels or airlines to cancel or change the date. If, however, the travel is made through an agent, travel agents pay an additional fee to change the reservation.

If you face abrupt changes in your plan, an application for travel portals could be useful. Contacting your travel advisor may cost more when you're in an international destination.

Exciting Deals

Discounts and special offers always delight travelers. Loyalty points earned or accessing special deals and discounts are possible with travel apps when you book all of your reservations using the same application. Travel portals constantly do this to ensure they do not lose their customers to rivals. They also keep their clients by offering them thrilling discounts or special booking offers.

The deals can include transportation to the airport, beverages or meals, or vacation activities. However, travel agents seldom offer such discounts even if you book travel through them.

Reviews

Customers can post their services' reviews and ratings on travel website development and apps. Customers' reviews help other travelers make better decisions about their travel plans. It helps to increase the credibility of a travel company online.

Regarding travel portals, it's impossible to check their reviews unless you have heard the same thing from someone else. So, it isn't easy to trust your travel plans to the agent's hands. But some travel agents have websites that are through Google, so it could be possible to charge the effectiveness of the travel portal.

Support 24*7

Imagine you're at an international location and need help, but you cannot reach an agent for travel due to high international call costs. Travel apps can prove useful in a moment like this, and all you require is an Internet connection or Wi-Fi for instant assistance through the app's messaging feature. The 24/7 customer support representatives.

Travelers have less stress when they travel because of this feature in their travel apps that a travel agent cannot offer.

Track Prices

Another useful feature for travel portal can be used to monitor price changes for the hotel or flight you're looking at. This feature provides price change alerts by email or SMS, allowing you to reserve your hotel or getaway at the lowest or most desired price.

A travel agent will not be able to provide the ability to update you on the price when it is the most affordable.

The internet's development has impacted nearly every aspect of human life, not just travel. Nowadays, most travel agents rely on internet-based services to speed up their businesses. The Travel Portal is one of the best options for small travel technology companies. It provides the most simple and fastest method to meet the needs of travelers. It is the ideal solution for those looking to become an OTA but does not wish to spend a lot of money. The Travel Solution we offer helps travel agents market flights, hotels, and vacation packages on the internet.

Offer geo-location capabilities

The travel portals offer geo-location capabilities that allow you to locate nearby restaurants and places worth visiting. The feature can be useful when you're on vacation and don't understand the location thoroughly. Contrary to this, travel agents might not be equipped to offer this service.

We aim to follow the latest industry practices and modern work methods to provide top-quality Software to our clients. We utilize the agile methodology of releasing Software in iterations to consider our customers' suggestions.
Conclusion
Every coin comes with two sides. This means that online travel sites also have some drawbacks. In the same way, travel portals can be a great option for those who don't want to go through the hassle of planning a highly personalized vacation for them. However, it is certain that online travel sites are the trend of the moment and have revolutionized the tourism and travel industry. You may choose between travel portals and travel agents based on your preferences.
So, suppose you're a travel-related business that hasn't yet used the world of travel technology services. In that case, it's time to contact a travel portal development firm to develop an application that allows you to travel to help your business. Online travel portal development services can increase your revenues, your brand's visibility, and the number of customers you have. Adivaha of the companies thriving in the field is Software that provides custom web portal development services and develops apps to fit your specific specialization.
Our Comprehensive List of Services
adivaha® is a one-stop-shop for all your travel website needs. We offer a multitude of services that empower you to become a market leader. Contact us for more info.
Have Questions?
The Internet is a huge resource, but
if your question requires particular expertise.
Keep Refreshing your customers - Who doesn't want his site to stand out from crowd? adivaha® gives you multiple options for home pages, headers, colors etc. Which can easily be managed from admin via shortcodes and settings. The theme supports almost all the big players in this market ie, WEGO, Travelpayouts, Agoda, Booking, Expedia etc.
Frequently Asked Questions
Below are some of the questions asked by visitors. Do visit our adivaha® Digest for more such questions. Don't hesitate to ask us if you have any questions
I am setting up this plugin for my client's website, I tried registering and received the account activation email, but …

21

views

1

answers

0

votes