Build your own Travel Brand!
Ready to go-LIVE travel solutions that helps your travel agency to sell a range of travel services pretty instantly. adivaha® travel solutions make sure you have no boundation over your imagination, you can do everything online, without the need for any technical knowledge or design skills. Easy Backoffice, extensive reporting with integrated Funds Management System. Upload funds easily and instantly through Netbanking, Debit Card, Credit Card. The best part is, we do offer customizations in case you believe it will boost your business!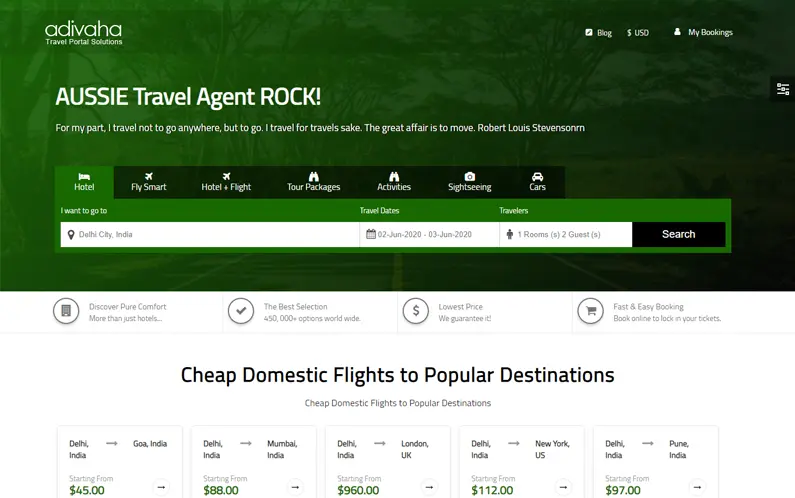 Ultimate Checklist for Travel Portal Development Success
In India, Tourism has become the most important industry and one of the biggest sources of employment. Tourism significantly impacts the economy of nations in need, as the majority of jobs and businesses related to tourism are created.
Adivaha is dedicated to promoting tourism development that provides the best possible experience for residents, business owners, and tourists. We develop comprehensive programs that focus on improving residents' quality of living. Adivaha has earned a reputable international reputation as a pioneer in the area of sustainability in tourism.
A tourism-related business is an excellent method to share your enthusiasm with others who want to experience the new culture or location, regardless of whether it's in a leisure or business capacity. To start a tourism-related business, choose your area of focus and develop a business plan. After that, you can begin the marketing process and expand your business. Here we will learn all about Travel Portal Development.
About Travel Development Company
Adivaha is a top software development company in India that serves its clients with an experienced Dedicated Travel Development group. Our clients can employ our software developers part-time or full-time, depending on their budget and requirements. Adivaha's team of development experts is known across the globe for helping to develop tourism destinations and businesses that are both socially and financially sustainable and beneficial to the environment. We have clients ranging from tiny, rural communities and community-based tourism businesses to multinational hotel chains and international tourism organizations.
We invite you to explore these tourism-related consultancy services. Here you will find resources, read case studies and get more information about the cutting-edge research is doing. Adivaha has been doing this to help support the development of the world through sustainable tourism.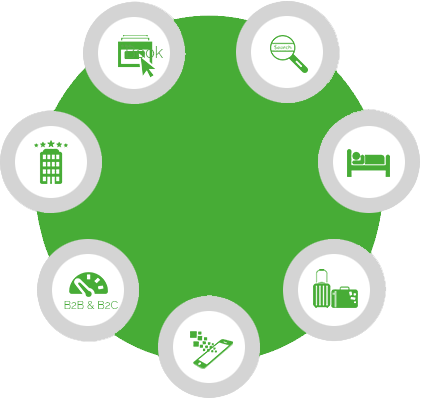 Successful Travel Portal Development
At present where everyone is looking to buy services. A website with a Travel Reservation Engine that offers enough advantages to help save a large amount of customer traffic is essential.
Benefits of travel development
Tailor your Brand
Reach new customers
Increased sales
Automation
Creation support
Availability 24/7
E - Online Ticking
Cost of execution
Length dependency on Office/Staff
Cloud-based system
Build your brand
Implementations Easy
Responsive Website Real-
Time Cancellation Real-Time
Book
A budget-friendly software development process and a satisfied client are the main goals that are the driving force behind our efforts. With many years of experience, we have kept most of our customers. We backed up what we said, proven by our ability to meet project deadlines. At Adivaha, we do not keep confidential information from our customers. We are determined to ensure that the development process is clear to the public.
If you are looking for a Front-End Developer, back-end developer, or full development stack, Adivaha offers you all the possibilities. Our committed developers are ready to help you if you require a real-time software developer. Through ongoing skill development and experience, the developer offers active involvement in your journey to develop software.
One of the responsibilities and responsibilities of a back-end developer is to manage and develop databases.
Back-end developers typically work on servers, applications, databases, and.
Control data using server-side coding languages.
It is imperative to be aware of web technologies to help Back-end programmers.
The Back-end is a Cloud computing integration service.
Be sure to program your operating system.
Implement, create and maintain CMS
XML Integration of APIs is the responsibility of Back-end developers.
Secure applications from access by unauthorized users and monitor security configuration.
Create a backup copy of all information from an application.
Create reports and oversee the website's analytics.
Why Should You Hire A Developer?
Adivaha is a top software development company that offers customers a competitive edge by providing exceptional software solutions. If you're seeking massive growth in your company, Adivaha provides the right platform. At Adivaha, our experienced coders, developers, and programmers will assist you in reaching your desired goals. If you put your faith in us, our committed team will provide an error-free, tailored solution that allows for the return of upgrades for your company.
In addition, developing software applications with us reduces operations costs and increases productivity. Are you unsure of what you need to know before hiring our developers? These are the main reasons that show our professionalism.
Expert to ensure the successful completion of projects

Every business wants to look for an expert to ensure the successful completion of projects. It is a place to recruit the top developer from our talented group of programmers. We have a group of developers who have decades of experience in the field of software development. They are adept at combining the most recent technology.

Committed to providing genuine services

We are committed to providing genuine services and products to each customer. Whether you need a tiny or a large solution, we provide equal importance to each customer. This is why we provide integrity and openness throughout the process.

We guarantee your data security, including bank details or other personal details. Our team of experts ensures that our company adheres to legal guidelines throughout the procedure. We have a non-disclosure agreement to secure sensitive data.

Know You're Project Cost Estimate for Free

Each client must confirm the budget before committing to an organization for software development. We are aware of your concerns and provide a cost estimate before the start of the project service to each client. We will provide our clients estimates on their budget within 12-24 hours of the plan's discussion in our Executive. If you have any questions, please feel free to reach us since it doesn't cost any money.

Smooth Project Handling

To ensure the trust of our clients, we make our clients an integral part of the development process for the software. At Adivaha, we provide that managing projects are easy, and our project managers will take care of your concerns.

Continuous Project Updates

We believe in reducing the time of our customers. We offer clients regular updates regarding their projects. Our clients can concentrate on their primary tasks and let the rest fall to us. It is not necessary to call us to inquire about questions about your projects since we will send you updates automatically via voice or non-voice channels.

We Give More Focus on Smart work

We have found that hard work doesn't always pay off. Sometimes, it requires a lot of smart work to be successful. We believe it's impossible without our dedicated team of employees who aid our ability to deliver the top service we can offer. Our developers' expertise helps us provide ongoing software development to our customers.
Development and improvements of the travel portal
Travel Development Company provides a platform from which any Customer, Agent, or Enterprise can make Flight bookings, Hotel bookings, car booking, bus bookings, or Holiday Package bookings. We offer various travel ports such as B2C, B2B, b2e, b2b2b, and b2b2b2. Our team has experience in travel portal development and technology, allowing us to build quality software to meet your travel portal solution needs.
Our travel agents, corporate agents, startup Travel Companies, and operators. Our technologies are an Ideal Choice for the one who wants to increase their Tour and Travel Business. Our team offers flexible, affordable, and cost - Effective Travel Development websites. Office of our company to a wide range of travel products or services.
Multi-vendor integration

Its Travel Development Platform includes multi-vendor integration with Flight hotels, hotels, cars, or buses. B2C Travel portal with a variety of types of APIs that can be connected to Flight hotels as well as vehicles and buses. Travel has become an integral aspect of our lives since it plays an important role in the daily needs of our lives. Today, people are looking to complete everything in only one click. It is a convenient and user-friendly experience for online travel agents.

We have a team of experts to design and develop any travel portal you require for your company. Our flight booking is directly linked to GDS along with Leading LCC and Full Service domestic Carriers in which the information is downloaded and displayed. Customers can search for segments they want, choose the appropriate option from the results and then generate a PNR when they pay through the payment gateway.

A Travel Development Company provides our customers with the best Travel Portal Development for the Global Travel Industry with Flight bookings, Hotel Bookings, car bookings, bus bookings, and Holiday Package bookings. We work on customer needs.

Real-time booking System

Adivaha technologies provide a real-time booking System for Online Travel Agencies. Customers can select destinations. They can see seats, and they can book buses. Customers can read the bus set or cancel the bus book in the bus book. At bus book time, the customer can select multiple locations. In the Car Book Platform, the business book the car in real-time. The client can make the vehicle book through what the invoice will generate. The customer can cancel the car booking.

Travel package booking services can be accessed through this portal for travelers. Visitors can look up vacation packages but not the terms and conditions for vacation packages. The client should send the vacation package inquiry in the course of the book of vacation. Then the admin will receive the same query. The administrator will then work with the client on the same. Our technologies provide a platform allowing administrators to add live itineraries, images, and flight and hotel information under the Holiday Package booking. The travel portals are vital to ensure the company's growth and continuous growth within the scope that the company operates within.

Get a starter system.

Through the development of the portal for travel, you can get a starting system for booking flights, hotels, cars, and buses. Customized web development and the web-based content management software and a customer management system books and cancellation of tickets for flights vouchers for buses for bus and car vouchers.

Different employees under User logins Payment Gateway Integration and 24/7 online Tech Support Live Chat feature and the Account Management System and many other features. It's no surprise that the growth of the travel portal is a crucial instrument to boost your business. It is believed to be one of the major aspects of the travel business. If you want to expand your business using this tool, it is the most effective option to choose to see your business grow.

Excellent branding opportunities

This travel portal provides fantastic branding opportunities, reduced marketing expenses, and higher exposure for variable goods and services. With more than ten decades of expertise, they said US technology providers offer high-end web design and the development of travel portals development and book engines. Businesses and their clients are equally considered the most useful starting point. The growth of travel websites has drawn many small-scale industries and provided an opportunity to undertake large-scale projects.
Portal development companies play a role in the field of travel
This travel portal provides fantastic branding opportunities, reduced marketing expenses, and higher exposure for variable goods and services. With more than ten decades of expertise, they said US technology providers offer high-end web design and the development of travel portals development and book engines. Businesses and their clients are equally considered the most useful starting point. The growth of travel websites has drawn many small-scale industries and provided an opportunity to undertake large-scale projects.
Portal development companies play a role in the field of travel.
Developers of travel portals offer their customers the finest experience with modern travel software to ensure their travel experience is seamless and unforgettable. A pleasant Travel Plan allows bookings from mobile Travel applications, such as Car vouchers, flight tickets, bus vouchers, hotel vouchers, Holiday booking, and other options. Travel Portal Development Company provides Travel CRM. Based on the latest client technology, the CRM for travel portals offers parents and teachers work. Travel portal CRM offers effective tools, and that's why it integrates procedures and workflows.
These are some of the features of a travel website CRM:
Bulk SMS and email gateway
Account Management
Email Marketing
Customer Management
Dashboard
Multiple Representation Records
Chat, back office, and Email Services
24/7 Support
Companies that develop travel portals automate our processes of efficient distribution of travel and tourism providers and businesses. We offer a scalable and user-friendly Management System to maintain excellent relationships with our clients. With the creation of the portal for travel through side Technologies, You will have access to a broad travel inventory, which includes hotels, flights, automobiles and buses, vacation packages along with other travel-related services and tours, along that include events and activities taken from the Mind blog about diverse cities. Your clients will enjoy an excellent quality of life by offering them all the products and services required for travel within a top-of-the-line website portal system.
Adivaha Technologies has made a good brand name in designing a complete end-to-end web Solution for the travel and tourism Industry. Advanced travel portal development solutions technology has resulted in new and more useful ideas. That we can use with great ease and comfort. Competition has been increased by Bringing up this idea of Attracting Customers s and increasing Customer traffic to one's website. Due to Competition, Online Travel booking has gained a special position which essences Better Services to the customers. Travel ports, air tickets, and other access charges are 5 - 6% lower than normal prices.
Some other features of travel Port developer
Flight management
Hotel management
Bus management
Car management
Management Payment Portal
Management Holiday Package
Management SMS
Management Email
Management Account
Management Customer
Management Agent
Management Dealer Management
No software knowledge required
24*7 Support Report
Management
Real-time Cancellation
Ledger real time
Password protected
Multi-Currency
Check boot status
Global booking system.
Vacation package system
Power converter
Comprehensive travel guide
Content management
System Agent management system.
Secure Payment Portal
Integration API Integration.
Report management
Easy to use Administrator control panel
Increase leads and converts those leads to sales. We develop low-cost travel software for travel companies, tour operators, and international and national travel agencies.
We create custom GDS, XML, and API integrations for PMS, CRS, extranets, and reservation systems for flights, hotels, car rentals, tours, vacation packages, rail services, cruise lines, buses, and more.
Visual Calendars

Our software developers create custom schedule management modules with real-time calendar views, allowing travel agents and visitors to adjust their travel and booking dates with easy user interfaces.

Travel Portal application

Our experienced software developers create custom native mobile apps for iOS and Android, hybrid or cross-platform, to expand your travel inventory for travelers on the go.

Price Comparison Engines

We customize price comparison engines with unique matching algorithms for advanced search and filtering using keywords, ratings, or location-based options with side-by-side comparisons.

Processing Payment

We creates personalized online payment processing experiences by integrating APIs from popular online payment providers such as PayPal, Authorize.Net, Apple Pay, Google Wallet, Skrill, and many more.

Rate Management

Our developers create automated margin management algorithms to maximize revenue through service fees, margins, and inventory discounts based on availability and other parameters.
Adivaha developers team as per your need
We provide you with the freedom to pick from various types. As a leading software development firm, we are committed to providing our customers with the best service according to their requirements. Don't miss the chance to have your Travel Portal Development tasks completed by experts. Employ the best developers on the market. Get in touch with our customer service team, discuss your requirements and give us the rest. Our customer support is available 24/7 to provide our customers with 24/7 assistance. We're here to provide our clients with top-quality software development solutions. Contact us today!
Our Comprehensive List of Services
adivaha® is a one-stop-shop for all your travel website needs. We offer a multitude of services that empower you to become a market leader. Contact us for more info.
Have Questions?
The Internet is a huge resource, but
if your question requires particular expertise.
Keep Refreshing your customers - Who doesn't want his site to stand out from crowd? adivaha® gives you multiple options for home pages, headers, colors etc. Which can easily be managed from admin via shortcodes and settings. The theme supports almost all the big players in this market ie, WEGO, Travelpayouts, Agoda, Booking, Expedia etc.
Frequently Asked Questions
Below are some of the questions asked by visitors. Do visit our adivaha® Digest for more such questions. Don't hesitate to ask us if you have any questions
Hello, Can we know the cost or the process of getting the B2B Travel Booking Software?

5

views

0

answers

0

votes
Contact
Have something unique in mind? Drop a message.
Estimated reply time: 3-5 Working Days