Build your own Travel Brand!
Ready to go-LIVE travel solutions that helps your travel agency to sell a range of travel services pretty instantly. adivaha® travel solutions make sure you have no boundation over your imagination, you can do everything online, without the need for any technical knowledge or design skills. Easy Backoffice, extensive reporting with integrated Funds Management System. Upload funds easily and instantly through Netbanking, Debit Card, Credit Card. The best part is, we do offer customizations in case you believe it will boost your business!
Vacation Rental Software
adivaha® Travel Portal Solutions have been providing the best travel website templates technologies to customers for a very long time, and we have been the go-to place for the people who are in search of the best travel portal solutions.
We at adivaha® Travel Portal Solutions have provided the customers with the best travel technologies at an affordable price. We have made travel portal solutions accessible to everyone and have created new ways of bringing high-end travel technologies at a price that is accessible to many. One of our groundbreaking technologies is Vacation Rental Management Software. We have been providing the best Vacation Rental travelport software to our clients, and our Vacation Rental Management Software is the one with the best value for money proposition.
Vacation Rental business has been more popular among travellers than ever before. Although the hotel industry is one of the quickest growing sectors, the demand for vacation rentals has been increasing drastically. Travellers prefer getting rented out furnished apartments, Resort condominium complexes temporarily rather than going for a room in a fully packed hotel. As people prefer privacy, vacation rentals have been the go-to choice for them. The business is growing at a rapid rate, and by 2023 the growth will be around 21.3%, which is enormous. But as the Vacation Rental business is growing, need management of these businesses and to manage this, the need for Vacation Rental Management Software is increasing. We at adivaha® travel portal development Solutions provide the best Vacation's Rental Software, which will help you manage your business more efficiently and efficiently. We have the most advanced Vacation Rental Management Software, which will help automate most of the processes and operations that are there. Our software has been designed to make the services more accessible and give the best experience to you and your customers.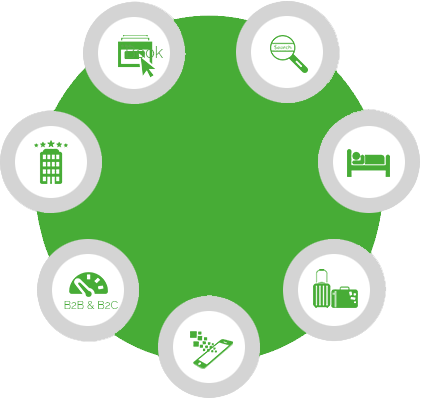 Vacation
Rental Software
We have designed our Vacation Rental Management Software in such a way that it will help you maximize the profitability of your business. We have implemented a lot of things that make sure that you get the most revenue out of your business. We deploy technologies that optimize your business so that ironing out unnecessary costs and maximizing profits is feasible and easy. Our optimizations help you in cutting the need for a middleman and help you decrease operations cost by a considerable number. We make the whole process streamlined so that tour booking software is as easy as possible for the customers. We help you manage your Vacation Rent property better with our premium quality Vacation Rental Management Software. Our software will help you achieve your reservations better. We have carved out our Vacation Rental Software in such a way that a vast margin minimizes the load on you and your staff. We have automated many processes so that checking in and out for your customers is easy and convenient. Nobody wants to stand and wait for their check-ins and check-outs at reception. We, with our Vacation Rental Management Software, bring your customers the ability to do so. We provide facilities like self-check-in that can be managed by customers on devices of their choice. It reduces wait times for the customers and reduces the effort of your staff.
Our Vacation Rental Management Software allows you to get direct bookings. We have designed our engine in such a way that no operation hinders other operations. We make sure that whether the customer's check-in during the day or midnight, the service is easily manageable for the staff. We have laid out the software in such a way that operations like housekeeping, management etc. do not come in each other's way and serve the customer to the highest standards. A streamlined work process not only increases the efficiency of the working staff but also improved the morale of the team as they can serve the customers better. Our software helps you and your staff give the customers the best experience helping you get a good reputation and review from customers. Our Vacation Rental Management Software enables you to manage 24/7 bookings very quickly and helps you to manage them better. These qualities of our software have given many businesses a second chance because we have helped them achieve superb management over their scattered and crumbled operating procedures. Proper management is one of the most prominent pillars of many businesses, and adivaha® b2c travel portal development Solution's Vacation Rental Management Software has given many companies just that. We make sure that every task that your staff performs is efficient and is producing the best outcomes for the end customer.
We have infused many technologies into our vacation rental plugin wordpress software to make sure that you squeeze every bit of profit from your business. We know that in this competitive world, being ahead of the competition is a must, and that is why we help you to be one step forward from your competitors. In business, finding out flaws in operations and loopholes which are draining money is significant. You should be able to analyze your business's income and should figure out where investments are being made or where they should be made. Our Vacation Rental Management Software helps you achieve that. We allow you to have a closer look om how your business is performing in terms of statistics. Our software has unique features like monthly business reports, which includes various facts and figures. These stats help you as an owner to analyze your business more profoundly, helping you maximize profits and improve the quality of your service to your customers.
We have created a vacation system that gives you the most profit out of your vacation rental business. The vacation rental has been a business model that has been dominated by hotel owners, primarily for a long time. Generally, property owners who wanted to rent their property for vacation rentals had to deal with Vacation Rental Management companies. These companies manage the property and take care of things like housekeeping for your business. Some of the companies also included maintenance, but the most significant disadvantage of giving your property to a Vacation Rental Management company is that they take huge chunks of margins out of your revenues. These companies take about 20-50% of the margin from your income. It is a considerable amount because they do not guarantee to rent your property every time, meaning your earnings are dependent on how well they run their business. If the management company is not running the business properly, you will not earn more, meaning your revenue is going down. These things have troubled many property owners who are in the vacation rental business. Still, the introduction of Vacation Rental Management Software has proven to be a dream come true for them. Managing your property and using it as a rental place has become more comfortable than ever. We have the most advanced tools that will make your business running experience very smooth, meaning you can earn maximum profits. We give you full control of your business so that your business's profits and income are dependent on you, not on a vacation rental management company. You can modify or run your property as you want and can provide the best rented out property for travellers. Many property owners ignore these factors, and it becomes a fatal flaw in many Vacation Rental businesses. We make sure that you are in charge, and the traveller directly contacts you to book your property for vacation. We cut the need for the intermediate and improve your connection with the customers.
You don't have to pay for a best travel agency websites or be dependent on other software to fulfil your needs. We give you the total control of your business so that you can cut the unnecessary costs that reduce your profits. We give you the authority of being the visionary for your brand and run your company as you want it to, not how some business you are dependent on. Our Hotel Central Reservation System is robust. We have the most reliable Hotel Central Reservation System in the industry, and we are known for our reliability. We build systems that will hold up well in the future. Our Hotel CRS is future proof, and that is why you will get peace of mind choosing us. You do not have to be worried about your business falling behind due to the introduction of new technologies in the travel industry. We always are up to date with the latest technologies, and we implement them to make our XML Hotel Booking System better and better. We make sure that you make better sales, and that is why we don't leave any opportunity to make your experience better. Your business growth is our priority.
Our Vacation Rental Management Software helps you rent any kind of property as a Vacation Rental. Since vacation rentals are in huge demand, there are different sizes of Vacation Rental properties that travellers desire. The property range from big villas, farmhouses and even apartments. Since every customer does not have the same budget, you can provide your rental property and target a specific customer base based on the type and quality of services you want to give them. You get lots of opportunities with our Vacation Rental System as we can provide you customers for your vacation rental property. People prefer rental properties over hotels because of the variety they get in it compared to hotels. Hotels are usually the same with different levels of luxury, but these properties give them an enormous choice. One can choose a vacation rental destination with beaches nearby, swimming pools etc. Not only this, if the budget of the traveller is small, but they can also choose luxurious vacation cottages and apartments. The vacation rental business values over $100 billion, and we make sure that our Vacation Rental Management Software gives you a piece of that.
Our Vacation Software provides many facilities to the travellers that make the experience better for them. Since travellers prefer different methods of payments, and there is a chance that different travellers use different payment methods. Therefore, we have included most of the latest payment gateways in our Vacation Rental Management Software to make the experience of the traveller seamless. It not only increases the versatility of your business but also gives a good impression on the traveller. All and all, adivaha® Travel Portal Solutions provides you with the best Vacation Rental Management Software, which provides you with features like: -
Better bookings
We help you manage your bookings better by giving you access to features like direct bookings, and provide better management of 24-hour bookings, increasing your profits.
Improve business efficiency
We streamline operations in your business and give it an efficient approach towards daily tasks helping you achieve more in less time.
Improve sales
With our advanced technology and remarkable implementation, we help you achieve more sales and attract more travellers by giving them the best offers. It enables you to improve your revenues and grow your business rapidly.
Better staff management
You, as a property owner, can manage your staff better and track their performances. Our Vacation Rental Software helps the team perform better and gives you better results.
Keep an eye on business stats
Our Vacation Rental Management Software comes with various tools that will help you analyze your business in a better way by giving you detailed figures about its performance and sales with proper graphs and tables.
Our Vacation Rental Management Software comes with a lot of amenities that will help you create a better website for marketing your property for vacation rental purposes. We at adivaha® Travel Portal Solutions provide facilities like website building, and our Vacation Rental Management Software includes tools like flight booking api engine, reservation system and channel manager. These tools will empower you to be a better businessman and grow your business. We have made our tools to be one step ahead from the competition, and we use high-end latest technologies to make sure that our Vacation software gives you the best output. We have helped many vacation rental businesses grow their business to maximum heights. adivaha® Travel Portal Solutions has been providing customers with the best cutting edge technologies, and our Vacation Rental is one of our services. We offer various services target at all channels, be it B2B, B2C or B2B2C.
adivaha® Travel Portal Solutions has been providing the best travel technologies like GDS integration, third party API integration, Car rental API integration, XML Hotel CRS integration and other cutting edge travel technologies. We have the collection of most travel technologies, and we offer them at most competitive prices in the market. We provide the best integration via api services at unbelievable prices, meaning you can start with us even with a lower budget. Not only this, but we also have the best customer support team that will always be there for you to solve your problems with your Vacation Rental Management Software. We have the best technical team that will guide you through various hurdles making sure you get the best Rental Software. We have the best feedback from our customers, and we provide services worldwide. We have a vast customer base of 10,000 that praises our services across the globe. We are expanding day by day and providing the best travel technologies, and we will be glad to serve you and welcome you to be a part of adivaha® Travel Portal Solutions.
Our Comprehensive List of Services
adivaha® is a one-stop-shop for all your travel website needs. We offer a multitude of services that empower you to become a market leader. Contact us for more info.
Have Questions?
The Internet is a huge resource, but
if your question requires particular expertise.
Keep Refreshing your customers - Who doesn't want his site to stand out from crowd? adivaha® gives you multiple options for home pages, headers, colors etc. Which can easily be managed from admin via shortcodes and settings. The theme supports almost all the big players in this market ie, WEGO, Travelpayouts, Agoda, Booking, Expedia etc.
Frequently Asked Questions
Below are some of the questions asked by visitors. Do visit our adivaha® Digest for more such questions. Don't hesitate to ask us if you have any questions