Wego Angular PHP
Wego is a travel search engine based in Singapore. It operates 52 country sites (CcTLD) in over 20 languages and local currencies. Wego displays travel rate results in real time from over 700 travel sites, so users can shop and compare flight and hotel prices available online.Wego displays a combination of local and international airfares and agoda wp hotel search results from online travel agencies (OTA), airlines and hotels on desktop or travel app for iOS and Android. Once a user has selected their preference, they are redirected to the travel supplier to complete their booking.
How to Use the We Go Angular PHP Script
Take charge of your travel platform's destiny with We Go Angular PHP Script insights. Enhance search capabilities, cater to global audiences, and ensure data security to stay ahead in the competitive travel industry.
As a leading third-party service provider catering to the travel industry, we understand the importance of efficient and user-friendly solutions for travel businesses. One such solution gaining immense popularity is the We Go Angular PHP Script. The We Go Angular PHP Script is a powerful tool that empowers travel businesses to create and manage their online travel platforms effectively. With its robust features, seamless integration, and customizable options, the script has become a go-to choice for businesses looking to enhance their online presence and streamline their operations.
How to obtain the We Go Angular PHP Script?
At Adivaha, we believe that obtaining the We Go Angular PHP Script is a crucial and exciting step toward building a powerful online travel platform. To ensure a seamless experience for our clients, we provide a step-by-step guide on how to acquire the script:
Visit the Official We Go Website: As a reliable third-party service provider, we recommend obtaining the We Go Angular PHP Script directly from the official website of We Go. By simply opening your web browser and searching for "We Go Angular PHP Script" or directly entering "We Go website" in the search bar, you will be directed to the official source.
Navigate to the Product Page: Once you land on the We Go website, we guide you to explore the menu or conduct a specific search for the We Go Angular PHP Script. This enables you to locate the product page, which offers comprehensive information about the script's features, pricing, and available licensing options.
Choose the Desired Package: We understand that each client's requirements are unique. On the product page, you will find a variety of packages and licensing options. Our team helps you carefully assess your needs, allowing you to select the most suitable package for your travel platform, whether it's for a single website or multiple installations.
Complete the Purchase: After selecting the desired package, our guidance ensures a smooth transition to the checkout page. Here, you will provide essential payment and contact information to finalize the purchase securely.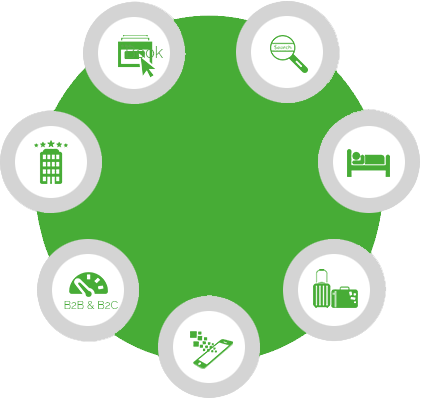 WeGo Angular PHP Script for Your Website
Receive the Download Link: Once the payment process is successfully completed, you will receive an email containing the download link for the WeGo Angular PHP Script. In some cases, websites may provide immediate access to the script through a customer portal after purchase.
Download and Unzip the Script Package: To initiate the script's integration into your travel platform, our expert team guides you through downloading the WeGo Angular PHP Script. You will simply click on the download link provided in the email or customer portal, and the script will be downloaded to your computer in a compressed (ZIP) file format. Our guidance extends to helping you locate and extract the downloaded ZIP file, making the script files and folders accessible for further setup.
Exploring the User Interface of the WeGo Script
Before diving into customization, take the time to explore the default user interface of the WeGo script. Familiarize yourself with the various components, layout, and design elements that constitute the user interface. Understanding the existing structure will help you make informed decisions during the customization process.
Customizing the Layout, Colors, and Branding:

The WeGo Angular PHP Script provides you with options to personalize the visual aspects of your travel platform. This includes customizing the layout, color scheme, and branding elements like logos, icons, and typography. Align these visual elements with your travel business identity and ensure a consistent and appealing user experience across the website.

Integrating Personalized Elements to Enhance User Experience:

Personalization is a powerful tool to engage users and encourage repeat visits. Leverage the script's capabilities to add personalized elements to the UI. This could involve displaying personalized offers based on user preferences, showing recommended destinations, or providing a tailored experience based on user demographics and previous interactions.

Implementing Responsive Design for Seamless User Interactions across Devices:

In today's mobile-centric world, ensuring a seamless user experience across various devices is crucial. The WeGo Angular PHP Script allows you to implement responsive design, ensuring that your travel platform looks and functions optimally on desktops, laptops, tablets, and smartphones. Responsive design enhances user satisfaction, boosts search engine rankings, and increases conversions.
How to enable support for multiple languages to cater to a diverse user base?
At Adivaha, we understand the importance of catering to a diverse user base and creating a travel platform that transcends geographical boundaries. That's why our WeGo Angular PHP Script comes equipped with robust multi-language support, enabling you to deliver a truly global experience.
Our feature-rich WeGo script seamlessly integrates language files, housing all textual elements used throughout the platform. You'll find these files conveniently organized within a specific folder in the script's directory. As your trusted service provider, we guide you through identifying the language files relevant to the user interface and content, including labels, buttons, headings, and error messages.
Implementing multi-language support is made simple with the inclusion of a user-friendly language switcher on your website. Users can effortlessly select their preferred language from a dropdown menu or a set of language flags. Once a language is chosen, our dynamic translation mechanism swiftly transforms website content into the selected language, providing a localized experience that speaks directly to users from different regions.
We understand that each language requires a personalized touch to resonate with your diverse audience. Our experts assist you in creating translation files for each supported language, ensuring that the localized versions harmoniously mirror the structure of the original language files, guaranteeing accuracy and consistency throughout your platform.
For a comprehensive multi-language solution, our team can also help implement database localization if your travel platform involves user-generated content or dynamic data, such as reviews or user profiles. With this implementation, you can store data in multiple languages, efficiently delivering the appropriate content based on each user's language preference.
At Adivaha, your satisfaction is our priority. Our talented professionals walk you through the seamless integration of the language switcher, thoughtfully placing it in strategic areas like the website's header or footer, ensuring accessibility across all pages. When users select their desired language, our cutting-edge system dynamically loads the relevant translation file, effortlessly presenting content in their preferred language.
We strive to exceed your expectations by considering every detail. That's why we offer a language detection mechanism, ensuring users enjoy a personalized experience even before they explicitly choose their language. Additionally, we grant users the option to set their language preferences within their user accounts, providing a hassle-free and tailor-made journey.
With Adivaha and the powerful WeGo Angular PHP Script, you unlock the gateway to a diverse and interconnected world. Seamlessly connect with users from various regions, enhance user satisfaction, and expand your global reach with our exceptional multi-language support solution. Trust us to be your dedicated partner in making your travel platform a resounding success.
Utilizing the script's search functionality to help users find relevant travel options.
At Adivaha, we recognize that providing a seamless and efficient search experience is integral to enhancing user satisfaction on your travel platform. With the WeGo Angular PHP Script, we empower you to utilize its robust search functionality to help users find relevant travel options effortlessly.
Our team of experts guides you through implementing the search functionality, ensuring that users can quickly and accurately discover their desired travel services. Leveraging the powerful features of the WeGo script, we help you create an intuitive and user-friendly search interface that enhances the overall user experience.
Key aspects of utilizing the script's search functionality include:
Advanced Search Filters: We enable you to customize the search filters based on various criteria, such as travel dates, destination preferences, budget constraints, accommodation types, and more. By tailoring the filters to suit your target audience, users can precisely refine their search results to match their specific preferences.
Instant Search Suggestions: To optimize the search experience, we implement instant search suggestions, commonly known as auto-complete or type-ahead. As users begin typing their search query, the platform dynamically suggests relevant options, reducing search time and assisting users in finding their desired travel options quicker.
Accurate Search Results: With meticulous attention to detail, we ensure that the search results are accurate and up-to-date. Our team meticulously indexes and categorizes the travel options within the database, enabling users to receive relevant and meaningful results that match their search criteria.
Integration of Geo location: Implementing geo location functionality allows users to search for travel services based on their current location or a specific location of interest. This feature is particularly valuable for users seeking nearby hotels, restaurants, or tourist attractions.
Strategies for optimizing the performance of your travel platform
Choose a reliable hosting provider: At Adivaha, we help you select a reputable hosting company that offers robust server configurations, ensuring your website can handle increasing traffic without compromising on speed and stability.
Harness the power of a Content Delivery Network (CDN): Our team seamlessly integrates a CDN into your website, distributing static assets across multiple servers globally. This ensures that users can access your content from the server closest to their location, significantly reducing loading times and enhancing user satisfaction.
Efficiently compress and reduce file sizes: Our experts employ advanced techniques to compress and optimize your images, CSS, and JavaScript files, striking the perfect balance between size and quality. Smaller files mean faster loading times, making your website more responsive and engaging.
Implement browser caching: With our guidance, your website will leverage browser caching to store frequently used files locally on users' devices. This intelligent caching mechanism reduces redundant downloads and allows returning visitors to enjoy lightning-fast loading times.
Streamline and optimize your database: Our proficient team optimizes your database to enhance query performance and data retrieval speed. By organizing and indexing data efficiently, we ensure seamless interactions with your website, keeping users engaged and satisfied.
Stay ahead with regular updates: At Adivaha, we prioritize your website's security and performance. Our dedicated team ensures timely updates for your website, plugins, and scripts, keeping your platform at its peak efficiency and safeguarding it against potential vulnerabilities.
With our comprehensive expertise in website performance optimization, your travel platform will shine brighter than ever before. At Adivaha, we are committed to providing exceptional user experiences that elevate your business and set you apart from the competition. Trust us to be your reliable partner in delivering a faster, smoother, and more efficient travel website for your valued users.
Conclusion:
In conclusion, the WeGo Angular PHP Script is a game-changer for travel businesses, empowering them to build feature-rich and user-friendly online travel platforms. From installation and customization to advanced functionalities and integrations, this guide covers all aspects of effectively using the WeGo script. Additionally, by partnering with us, you can take your platform to new heights and offer an unparalleled travel experience to your customers. Embrace these cutting-edge solutions and stay ahead in the dynamic world of travel businesses.