Build your own Travel Brand!
Ready to go-LIVE travel solutions that helps your travel agency to sell a range of travel services pretty instantly. adivaha® travel solutions make sure you have no boundation over your imagination, you can do everything online, without the need for any technical knowledge or design skills. Easy Backoffice, extensive reporting with integrated Funds Management System. Upload funds easily and instantly through Netbanking, Debit Card, Credit Card. The best part is, we do offer customizations in case you believe it will boost your business!
How to Set Up a White Label Travel Agency from Scratch?
Starting a white-label travel agency can be daunting, but follow these steps and you'll be ready to go in no time. Find out how here!
White label travel booking software means having large volumes of digitized information accessible from anywhere. This leads to increased productivity and savings in the medium and long-term resources. Depending on the program we have in front of us, the characteristics will be one or the other. Its main objective is to achieve satisfaction and customer loyalty who demand quality tourist services/products distributed by travel agencies that cover their different needs and motivations. In the age of immediacy, new technologies, and private labels, it seems that hiring vacation packages with a travel agency is classic, aimed at a more mature audience and for highly preconceived routes. But to give you an idea, the most common are the ones that we present below:
They must be adapted to different devices.
They have to work in real-time to guarantee reservations.
Consultation and control of updated stock at all times.
Variety of options for the customer to choose from.
Speed to give a good agile and fast service to the client.
Updated information on prices and services.
Manage your commissions, suppliers, and discounts for your services from a single site.
Create as many landing pages as you consider: offers, destinations, or services.
Digitize your services and combine sales with those offered by wholesalers.
Expand capacities in a modular way. We grow with you.
Keep a unified control of reservations, budgets, wholesalers, and customers.
Know your agency's status in marketing issues; we install the tools you need.
Are you looking to set up a white-label travel agency from scratch? The process can seem overwhelming, but it's possible with the right strategy. With this guide, you'll learn about how to get started in the white-label travel industry, select the highest quality partners, manage bookings and payments, and eventually grow your business.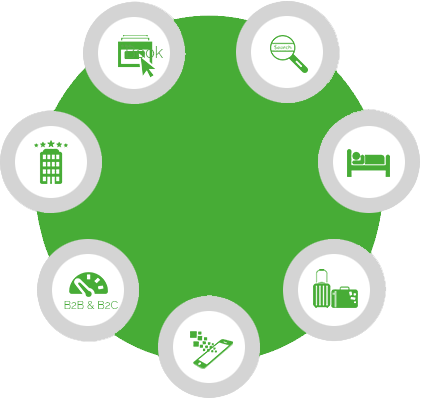 Setting Up a White Label Travel Agency
Understand the Basics of a White Label Travel Agency.
Before setting up a white-label travel agency, it's essential to understand what it really is and how it differs from a traditional travel agency. we as a travel technology, company offer white-label solutions to travel agencies using the license of a third-party API provider. A white-label travel agency is basically a license of an established third-party technology provider. It allows the agent to leverage the back-end infrastructure to enhance their services with minimal effort while still providing the same quality of service. The provider takes care of all aspects of the business, including the payment process, white label travel booking engine, and customer support. This frees up time for the agent to focus on building their customer base and marketing their services.
Find a Good Platform
The most important element when setting up a white-label travel agency is to pick the right platform. This will serve as your website's foundation and will allow you to easily manage bookings, keep track of payments, and facilitate revenue growth. Explore the various features and options available to ensure that the selected platform works best for your business needs.
Get a Travel License
Before starting any business that involves booking hotel rooms, flights, and other accommodations, you'll need to get a license. This is a basic requirement for all travel agencies, so you'll want to take the necessary steps to get your license before opening your doors. The licensing requirements vary from region to region, so make sure you research what's needed in your area and then apply for the proper licensure and accreditation.
Design Your Brand Look and Feel
Once your corporate travel booking platform is set up, it's time to think about the look of your travel agency. Designing a brand look and feel starts with creating a logo that reflects your values and mission as an agency. Choose colors and fonts that will give off the right vibes to potential clients, while making sure they won't clash with the colors of the airlines or hotel chains you partner with. Make sure everything meshes together seamlessly and communicates an inviting message that draws in customers.
Set Up Payment Processors
After you've secured your license and have taken care of the necessary paperwork, it's time to look into setting up payment processors. You'll need to make sure that your clients can pay for their trips with a variety of payment methods, or else they won't be able to book through you. Choose a payment processor that is established and secure, so both you and your customers can trust the transactions made through your site. Make sure it's also compatible with the most popular banking systems, as this will make it easier for all parties involved.
Reasons to implement the white label in the travel agency.
Travel agencies need to evolve in a more competitive marketplace. The behavior of consumers has changed for travelers, and travel agencies have lower margins for profit. To stay competitive and profitable, online travel agencies software must provide excellent customer service, improve business processes and automatize administrative tasks as much as possible.
Implementing the white label in the travel agency that streamlines management, billing, and accounting processes is vital in this process. Here are the reasons that should motivate you to implement the white label in the travel agency:
Travel agency software accessible from anywhere

Travel agency software does not require installation. In a context where travel agents sometimes work remotely from home, it is a great advantage to consider, as it brings comfort and efficiency to their work.

Comfort.

This is surely the main advantage of going to a travel agency to plan your vacation. And it is precisely the planning that our agent is in charge of directly. Therefore, we will not waste time organizing the days, the flights, the accommodation search, the route, the excursions, the transfers ... You will save yourself spending hours in front of the computer looking for the best connections between flight booking white label or reading the opinions of the accommodations.

Prices according to your needs

Cloud software providers always charge based on the number of concurrent users in their organization. It is also always possible to increase the number of licenses during the contract's life if your staff increases or decreases.

Attract the customer and Sell more products

This White-Label online travel agency helps travel agents sell more products and services to customers anywhere and anytime. Features like booking confirmation, SMS and email notification, booking cancellation, and online payment delight the customer.

This white label travel portal cost agency can display photos, product reviews, and ratings, highlight the best-selling tour package, special offers, and Offers to attract more customers. Travel agents can create custom tour packages based on customer requirements.

There are no geographical barriers.

Access to the Internet is possible practically anywhere in the world, allowing easy access to all those places. ]This White-Label online travel agency favors people who, for example, live in more isolated areas and for whom going to a travel agency requires time and resources that, on many occasions, they are not willing to assume. On the other hand, without a limited physical space and the need to wait in long queues due to having to attend to each client in a personalized way, and, therefore, increase the possibilities of purchase.

24/7 service

Depending on the Internet, your website will have a schedule of 24 hours a day, seven days a week, so your travel agency will not have to adapt to customer schedules or vice versa. Purchases and searches can be made at the time that is most convenient for your client, day or night, as long as they have access to the network.

Automate the business process

This White Label online travel agent software aids in the automation of the process of running a business and decreases the amount of work and time to turn around. With the aid of this application, the agency can centralize reservations, accept online payments, monitor inventory and generate reports easily and monitor sales.

Dashboard and reporting tools give users an idea of sales and profits. Inventory management tools allow tracking of available product quantity and sold reservation information. This white level portal online travel agency software helps travel agents simplify business management, and comprehensive features help grow business.

Minor expense

Today ecommerce is the fastest and easiest way to do business without the need for large investments since renting physical space to set up your agency is no longer necessary. With everything that this entails: electricity, water, material... the initial expense is less. You will only need Internet access and a computer to be able to set up your travel website.

To open a White-Label online travel agency, it is necessary to know the sector well and the different agents that act in it; however, you can take advantage of the experience and resources of companies, which allows you to open your online travel website in a personalized way and without the need to make an excessive investment.

Greater knowledge of the client

Thanks to technological advances and web analytics, as well as the study of the digital footprint left by customers, we can find out what their main tastes are without the need to conduct surveys. Having your data and knowing your tastes will allow us to improve our travel website solution, personalizing it and adapting it to your preferences and, in general, developing an appropriate strategy. For your needs.

A highly secure infrastructure

Cloud software often raises questions from potential buyers about data security. In practice, software providers work with renowned hosting companies offering high-security standards and redundant servers. Achieving these levels of security in internal servers is unthinkable for a small or medium-sized company due to the high cost of implementation and certification that this can entail.

Simplified update system

Choosing white label travel agency software means opting out of having to deal with installing updates on every computer in your organization. Developers of these cloud solutions have a good habit of performing their updates at night to avoid disturbing their customers. They often inform their customers about the update so users can learn about newly available new features, but the process itself is completely transparent to them.
Our Comprehensive List of Services
adivaha® is a one-stop-shop for all your travel website needs. We offer a multitude of services that empower you to become a market leader. Contact us for more info.
Have Questions?
The Internet is a huge resource, but
if your question requires particular expertise.
Keep Refreshing your customers - Who doesn't want his site to stand out from crowd? adivaha® gives you multiple options for home pages, headers, colors etc. Which can easily be managed from admin via shortcodes and settings. The theme supports almost all the big players in this market ie, WEGO, Travelpayouts, Agoda, Booking, Expedia etc.
Frequently Asked Questions
Below are some of the questions asked by visitors. Do visit our adivaha® Digest for more such questions. Don't hesitate to ask us if you have any questions