Build your own Travel Brand!
Ready to go-LIVE travel solutions that helps your travel agency to sell a range of travel services pretty instantly. adivaha® travel solutions make sure you have no boundation over your imagination, you can do everything online, without the need for any technical knowledge or design skills. Easy Backoffice, extensive reporting with integrated Funds Management System. Upload funds easily and instantly through Netbanking, Debit Card, Credit Card. The best part is, we do offer customizations in case you believe it will boost your business!
Creating a Quality White-Label Travel Website in Simple Steps
Setting up a white label website can be a complicated task, but with the right plan in place you can have an effective and professional looking travel website up and running in no time. In this guide, we'll walk you through the steps of creating your own white label travel portal from start to finish.
Choose the best travel API provider.
Choosing the right travel API provider is one of the most important steps in setting up your white-label travel website. You'll need to consider factors such as price, quality, usability, and customer service when making this decision. Make sure that you select a reliable and reputable provider with a proven track record of providing high-quality travel services. Doing research online and speaking with other customers can help you determine which travel API is the best for your needs.
Activate your Module with the adivaha platform.
After you have chosen and purchased a travel booking api from the provider, you will need to activate your module with the Adivaha platform. This platform allows you to manage all aspects of your white label website builder, from content integration and payment options to tax rates and local currencies. In order to activate the module for the respective supplier, just log in to the Adivaha platform, and navigate to "My APPS" and then activate the respective module. Make sure that you have all of the necessary information like API and Secret Keys ready before proceeding. Once complete, your white-label travel site will be fully functional and ready for testing!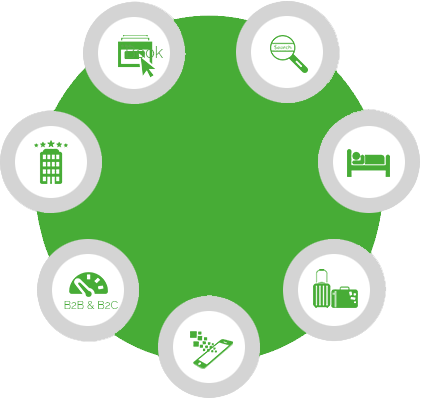 Quality White-Label Travel Website
Create your design and template from scratch or use an existing template.
Designing your white label travel website is an essential step to ensure that it stands out among the competition. While you always have the option of creating a design and template from scratch, using an existing template can save you time and effort. Adivaha offers a collection of themes and pre-made templates that can be customized with your brand's look and feel without any coding. This simplifies the process of setting up your website, allowing you to get started quickly.
Test your API connection
Once you've finished modifying and customizing the template of your white label landing page builder, it's important to test the API connection. This will ensure that your website is connecting properly with your travel service provider. To test, simply submit a few dummy requests using sample search queries for travel services ie. airlines, hotels, car rentals etc. If everything is working correctly, you should see the desired results being displayed on your website.
Certify your travel application and go LIVE
Once you've tested the API connection and are happy with the results, you can prepare your application for launch. Make sure all your marketing onboarding steps are in place and ready to go before submitting your white label site application for certification. For a smoother application process, it would be best to pay close attention to the documentation requirements provided by the required certification provider, such as Travelport and Amadeus. When you're able to confidently say that these criteria have been met, then it's time to submit the website for the certification.
Benefits of creating a white-label travel website.
Time and Cost Savings
By opting for a white label solution, you can save time and costs associated with website development, as the foundation and core functionalities are already built. You can focus on customizing the website to fit your specific needs.
Quick Launch
With a white-label travel website, you can expedite the launch process. As the foundation and framework are already in place, you can save time on development, testing, and bug fixing. This allows you to bring your travel portal to market quickly and start generating revenue sooner.
Scalability and Flexibility
White-label travel websites are designed to be scalable, allowing you to handle increased traffic, bookings, and transactions as your business grows. The flexibility of white-label solutions enables you to add or remove features, customize functionalities, and adapt the website to evolving market trends and customer needs.
Technical Support and Maintenance
To take your business to great heights to meet your needs, you can add new products and services which eventually help to expand your business.
Access to Travel Inventory
Many white-label solutions come with integrations with multiple suppliers and travel inventory sources. This provides you with a wide range of travel products, including flights, hotels, car rentals, activities, and packages. Access to diverse inventory enhances your offerings, attracts more customers, and increases the potential for generating revenue.
User-friendly Interface
White-label solutions are designed with user experience in mind. They often come with intuitive interfaces and easy-to-use features, allowing your customers to navigate through the website, search for travel services, and make bookings with ease. A user-friendly interface enhances customer satisfaction and encourages repeat business.
Mobile Compatibility
In today's mobile-centric world, having a mobile-friendly website is crucial. Many white-label solutions are built with responsive designs, ensuring optimal viewing and usability across various devices, including smartphones and tablets. This enables you to reach and engage with mobile users, capturing a larger audience.
Competitive Advantage
By utilizing a white-label travel website, you can compete with established players in the travel industry. The professional and feature-rich website can position your business as a reliable and trusted source of travel services, helping you gain a competitive edge and attract customers.
Branding and Customization
A white-label travel website allows you to brand it with your own logo, colors, and design elements, giving it a customized look and feel. This helps in establishing a unique identity and maintaining consistency with your existing brand.
Our Comprehensive List of Services
adivaha® is a one-stop-shop for all your travel website needs. We offer a multitude of services that empower you to become a market leader. Contact us for more info.
Have Questions?
The Internet is a huge resource, but
if your question requires particular expertise.
Keep Refreshing your customers - Who doesn't want his site to stand out from crowd? adivaha® gives you multiple options for home pages, headers, colors etc. Which can easily be managed from admin via shortcodes and settings. The theme supports almost all the big players in this market ie, WEGO, Travelpayouts, Agoda, Booking, Expedia etc.
Frequently Asked Questions
Below are some of the questions asked by visitors. Do visit our adivaha® Digest for more such questions. Don't hesitate to ask us if you have any questions