Build your own Travel Brand!
Ready to go-LIVE travel solutions that helps your travel agency to sell a range of travel services pretty instantly. adivaha® travel solutions make sure you have no boundation over your imagination, you can do everything online, without the need for any technical knowledge or design skills. Easy Backoffice, extensive reporting with integrated Funds Management System. Upload funds easily and instantly through Netbanking, Debit Card, Credit Card. The best part is, we do offer customizations in case you believe it will boost your business!
Designed for You: White Label Travel Portal Solutions
adivaha® White Label Travel Portal is fundamentally an effective best flight booking engine that is being used by thousands of people around the globe. adivaha® Travel Solutions can be used to book online tickets, hotel accommodations, rental cars, and charter holiday packages as well.
The best aspect of adivaha® White Label Travel Portal is that it provides you with an opportunity to book flights at cheap and affordable rates. You can book a vacation while keeping your expenses in control because many airlines and hotels compete to provide you with the best and affordable services.
Almost a decade ago, the trip planning process used to be time-consuming and it was not considered to be a convenient option to contact a travel agency for assistance. Several additional charges were added to the basic cost, making the life of travellers difficult in the United States and around the world. However, with adivaha® While Label Travel Portal, everything has changed for the better, travelling has become much more vibrant and convenient for people. Travellers find adivaha® Portal to be much more accessible, transparent, affordable and time-saving.
Through feedback, we have created a list of favourite adivaha® travel portal services which are the most popular amongst our clients. If you are a new business owner who's trying to make the most out of this new business opportunity, then go through the options we have listed below:
Affordable Rates with White Label Travel Website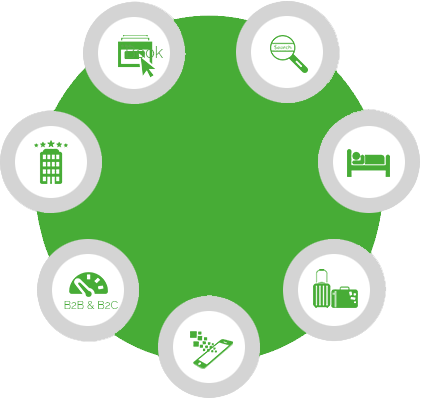 White label Travel Portal Solutions
The adivaha® Travel Portal Solutions is considered an affordable and cheap way to book your flights anytime. This is primarily because adivaha® provides travellers with many quality travelling options; travellers can get cheap rates on their booking due to the market competition. The search filters in adivaha® White Label Portal allow the travellers to choose the cheapest option as the portal displays the most affordable flights at the top.
Another feature of adivaha® Travel Portal is that it provides travellers with the option to select their length of stay and the option to see random luxury destinations. This provides travellers with an opportunity to feed their wanderlust and travel to these new destinations.
In addition to this, the aspect of flexibility plays a major role in making their trip worth remembering. Because of the flexible travel dates, travellers have the option to move their dates and save an appreciable percentage of the trip's cost.
A splendid feature of adivaha® Travel Portal is that there are many exclusive offers often from specific vendors. For instance, if you are planning to a specific destination, the White Label Travel company will provide you with a list of cheap hotels to book and stay. However, the fun part is that these hotels often have different exclusive offers which make them even more affordable. This means that using the adivaha® Portal for travelling eventually transforms you into a savvy traveller. It makes your travel experience more convenient, cheaper, more adventurous and memorable.
Reviews Regarding Flights and Hotels
Another important aspect regarding our White Label Travel's Portal is that you can assess the overall quality and features of a particular flight or hotel by going through the reviews of experienced travellers. These reviews can help you in choosing the best option amongst all the airlines and hotels available on the adivaha® Travel Portal. You can access a variety of resources available regarding information and analysis of the best travel destinations and how to conveniently travel to those areas with the best routes.
Convenient and Easy Booking System
In order to make sure that real-time updates are being added to the White Label Travel Portal Solutions, the website is linked with a property management system. This contributes immensely to the credibility of the booking process as important information including check-in, check-out dates, destination details, contact information, and other valuable data is frequently updated on the adivaha® WhiteLabel Travel Portal. Furthermore, a range of payment methods is also available for travellers including credit card, debit card, and PayPal. Travellers can also use net banking to make it more convenient.
B2B and B2C White Label Flight Portal
White Label Portal is also a sufficient website tool for both B2B and B2C purposes. Applying the adivaha® Travel Portal on your website provides you with an edge to transform your website into a full-servicing online travel agency.
Currently, Our White Label Travel Engine is considered to be one of the most affordable and economically viable travel solutions available in the market. adivaha® has been providing B2C White Label Travel portal solutions to a large number of travel agents, enabling them to kickstart their own online travel portal business with maximum efficacy and minimum discrepancies. The speciality of our White Label Travel Solution is that you can easily connect with the travellers on a personal level and provide them with unprecedented services which were not available to them before.
We provide extraordinary B2B services as well. With our Travel Portal Technology, you can easily allow many other travel agents working in your region to book flights and hotel reservation on discounted B2B rates on your website through logging in after proper registration. It is considered to be a suitable and perfect travel solution for all tours, travels, and hotel reservations as well. Furthermore, we also provide start-up travel agencies with the best rates on their flight booking engine. As our website has multiple connections with a wide range of product resources in the country, we provide the best and most affordable travel solutions for travel agency start-ups to avail and then sustain themselves for the long run. Once a start-up is completely established, it can also access our premium services for clients looking to book expensive flights and hotel reservations. However, we tend to provide a wide array of choices for businesses of all backgrounds. You can choose from one of the largest pools of quality travel products that are available out there in the industry. Currently, we are providing travellers with 50,000+ Hotels, 400+ Airlines, 2000+ Holidays Packages, and much more.
Customers are free to visit the appropriate website and access all the relevant information. Access to full and reliable information is essential for good decision making.
The system helps to guarantee customer satisfaction- Customers appreciate full and dependable information to make the right decision. Similarly, clients also appreciate convenience. The integration of Sabre software is critical in ensuring booking for reservations without any limitations.
Extremely Simple and Easy to Use
Another important and major feature of White Label Travel Solution by adivaha® is that it is easy to use and extremely simple in handling. The portal is highly responsive, our developers work ardently to maintain the fluent usage of this portal without any disturbances. Once you start using our White Label Travel solution, you will notice that your website responds instantly when you are looking to book an online flight, holiday package, or rental car. The website also performs perfectly if you are searching for information and data regarding flights plans etc. Therefore, we can say that White Label Travel's Portal is worthy of being implemented by all consumers, either B2B or B2C, as it works as a brilliant online travel agency and it has the potential to transform your website into a dynamic and complete travel portal, meeting all needs and requirements.
Customized Tour Packages Anytime
Debatably the best feature of all, adivaha® Travel Portal allows travellers to book customized tour packages. This is something that was not available previously, and this aspect has brought about a revolution in the travel industry. Many service providers are choosing White Label Travel Portal Solution to customize their travel and experience an excellent and highly convenient travelling plan.
White Label for Travel Companies
adivaha® Travel Portal is considered to be the best tool for travel companies operating nationally as well as internationally. If your travel company is looking for the best flight booking services, car booking services, or hotel reservation services, then our White Label Travel Software is the best option for your needs. With the help of this tool, you are likely to achieve an overall increase in the number of sales with a consistent curve of growth.
Using White Label Travel System, your company is expected to have a brilliant and user-friendly experience whilst booking our services. We have an attractive and highly responsive user interface which is easy to use and likely to attract more and more customers to the website. Furthermore, with the white label integration, you can provide your customers with a single elementary platform to book their holiday packages, flights, hotel reservations, etc. In addition to this, you can also increase your outreach with new customers coming in through our White Label API solution.
The B2B Whiite label travel portal is specially designed to provide travel agencies with a perfect interface to access all travel products. Our White Label Travel Solutions are considered to be the best in the market, and travel agents are likely to earn maximum profits through this platform. Travel agents can increase their business revenue and scale their businesses to the next level with the adivaha® travel portal.
White Label Travel Services for Travel Agents
The adivaha® B2C travel booking engine is also doing a tremendous job as customers can directly book their flights without any tour operator's or travel agent's intervention. Customers can choose from a pool of over 50+ different suppliers and experience a suitable travel experience. As the interface is easy and convenient to use, customers can easily book their services and benefit tremendously. In addition to this, you can also integrate the API's of third parties or suppliers to the GSDs to provide your customers with all services including transfers, car rentals, sightseeing, flight and hotel reservations, and holiday packages under one roof. This means that your customers will not face a scattered travel experience, and you can gain their trust and clientship. Therefore, we can say that the adivaha® Travel Portal is perfect for all of your needs.
With this tool, start-up travel agencies can meet all their customer's travel requirements and make sure that the customers are satisfied with their experience. As technology has proliferated worldwide, such travel agencies have also spread their operations in different regions of the world with several travel products at their disposal. Therefore, we have specially designed White Label Travel Portal for Start-up companies as this tool can help these newly-established companies in increasing their scope of operations steadily with a high percentage of success. Travel Portal Mobile Applications for Start-ups and other companies are also available as they can play a tremendous role in increasing the worth of a travel agencies business.
As we have developed the White Label Travel Solution in a manner that the travel inventory of white label portals come to a single API from a range of diverse associated API's. Thus, adivaha® White Label Travel Solution is the best single click solution to all your travel needs. Start-Ups and travel agents can use our travel portal to show all flights, hotel bookings, rental cars, and diverse holiday packages to their customers anytime without any hurdle. Our websites are highly responsive, and all travel agents will have a great experience in availing our services and then providing effective travel plans to their customers.
White Label Travel Mobile Application
Travel agents are now shifting more and more towards the White Label Travel Mobile Application. This mobile application is an easy way to target maximum customers and provide them with the best travel solutions according to their requirements. Travel agents are using it as a pocket source which enables them to make timely decisions, access a pool of information a mobile or a smartphone, and make sure that the customers are always satisfied. As a result, travel agents are now scaling their revenues at an unprecedented level, and this has resulted in the travel industry becoming completely revolutionized.
Our Comprehensive List of Services
adivaha® is a one-stop-shop for all your travel website needs. We offer a multitude of services that empower you to become a market leader. Contact us for more info.
Have Questions?
The Internet is a huge resource, but
if your question requires particular expertise.
Keep Refreshing your customers - Who doesn't want his site to stand out from crowd? adivaha® gives you multiple options for home pages, headers, colors etc. Which can easily be managed from admin via shortcodes and settings. The theme supports almost all the big players in this market ie, WEGO, Travelpayouts, Agoda, Booking, Expedia etc.
Frequently Asked Questions
Below are some of the questions asked by visitors. Do visit our adivaha® Digest for more such questions. Don't hesitate to ask us if you have any questions
What all GDS and Providers are connected in the platform?

27

views

1

answers

0

votes