Build your own Travel Brand!
Ready to go-LIVE travel solutions that helps your travel agency to sell a range of travel services pretty instantly. adivaha® travel solutions make sure you have no boundation over your imagination, you can do everything online, without the need for any technical knowledge or design skills. Easy Backoffice, extensive reporting with integrated Funds Management System. Upload funds easily and instantly through Netbanking, Debit Card, Credit Card. The best part is, we do offer customizations in case you believe it will boost your business!
How To Embed a WordPress Hotel Booking Plugin onto Your Website
The travel industry is business of small margins and every day the competition is getting fierce, so to stay ahead in the race extra efforts are necessary.
However, these extra efforts needed to be targeted in the right direction otherwise all the hard work will be for nothing. There is a variety of things in which investing your valuable time can work wonders for your business, but extensive research had to be done for that. Doing this research is a continuous and tedious process, so you need to have a professional by your side to aid you in the success journey.
adivaha® will help to do just that. We are a travel solution providing company and our products have been used by tour and travel companies all across the globe. We specialize in every aspect of travel, we have the most advanced plugins which can be easily integrated with any software, we help improve the quality of previously built software that companies are using, we also build new web-portals and other software for companies that have just taken their business online and many other services just like these. We have already helped various travel-related service providers to reach the top and no matter if you are a car rental agency, bus operators, travel agents, or tour operator, we have something for everyone. The first and the most important thing that we do is help businesses establish a successful web-portal since in today's world you cannot expect to have a successful business without having a website. The website is the center of a business, in today's digital age. Secondly, we help integrate different plugins and Amadeus GDS system in the web-portals that are necessary for travel operators.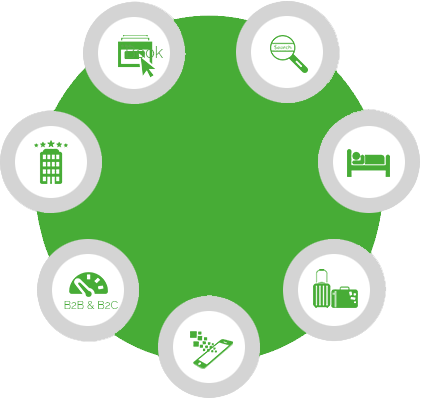 WordPress Hotel Booking Plugin on Your Website
Amadeus Travel is one of the most-used systems in the world and that's not surprising at all. It helps in increasing revenue, streamline the operations, and extend the online reach. If you not using Amadeus travel system you are probably losing many potential customers. The use of Amadeus tools can help your business tenfold. It is one of the world's largest travel booking processor and its GDS has no match. Amadeus is the first choice of top-notch travel service providers today and companies globally use it for accessing content related to hotels, cars, flights, and other value-added services. The user base of Amadeus is so huge that every day it processes the largest number of transactions. However, this has not happened in a single day, it took Amadeus 18 years to reach the level where they stand now. At present, Amadeus is the biggest GDS system in terms of market control and the largest travel content collector in the world. That's not all, there are various other benefits of using Amadeus system.
Here is everything there is to know about Amadeus software.
All about Amadeus GDS
A global distribution system (GDS) is a database with the ability to store and update enormous information about the variety of tourism products worldwide. GDS empowers agents to retrieve data about availability, features and prices of flight tickets, ferry reservations, trains, and other services. Travel agencies can allow their customers to search and book travel products, with the help of GDS integration into their web portals.
Though a GDS may sound similar to a computer reservation system but in reality, they both are quite different. A CRS is a reservation system used by the individual agencies whereas GDS is a network of systems not owned by a single entity. Both travel agents and travel agencies use it for making reservations from their respective reservation systems. GDS will not hold the inventories but it will create a real-time link with the vendor's reservation system to retrieve the data.
The first GDS was developed by the alliance of IBM and American Airlines with the sole goal of automating the airline's internal reservation system. It was called the Semi-Automated Business Research Environment (Sabre). Soon after, European countries also developed their version of Sabre and called it as Amadeus Global Distribution System.
Amadeus Software is a global distribution system that helps to automate the finances, marketing, sale, and other important operations of a travel company. It was first introduced in 1987 and since then it has been facilitating the sales and distribution of travel businesses on a global level. It has closed the gap between the travel providers like hotels, car rental, airlines, etc and travel sellers like travel operators and other intermediaries. It is solely responsible for the globalization of travel agencies and has also helped nurture their businesses. Amadeus first introduced GDS just to connect airlines with travel agencies, but with the time it expanded its business to facilitate hotels, car rental also. It is used by tour and travel operators to reserve airplane tickets, book hotel rooms, provide cars for rent and other travel-related products. A web-portal with GDS integration is a must for every travel agency as it connects them with the entire business world. It will not be wrong to call it the lead hero of the travel industry.
A little bit of history of GDS
Originally, GDS was designed to focus on booking, pricing, and inventory provided by airlines to the passengers and travel agent. GDS used to hold all the information related to booking in form of PNR (passenger name record). In due course, companies understood the true potential of the PNR concept and broaden it to fit other travel-related units like cars, railway, and hotel booking.
Working of Amadeus GDS
The GDS software provides facilities like searching for available seats, the rate per set, booking services to the customer. Let's take an example to understand how GDS works in reality, a travel agent has searched an airline on the Amadeus system with the itinerary DEL-BLR and BLR-DEL. After he enters the search query with the set of dates, the flights that have seats available will be returned by the system. Though the availability is returned by Amadeus software, however, it doesn't directly store the inventory of a particular airline or airlines. But what is actually do is that when a user enters a search query, the GDS establishes a real-time connection with the airlines' servers that are part of the network and return a result based on the response of these multiple airline systems. Now the travel agent books a ticket with British Airways, the GDS will store the complete itinerary associated with the PNR while the British Airways will not have the whole details.
Evolution of GDS
Earlier, travel systems required a lot of human involvement; they need a large workforce in relation to the output. However, with joint efforts of big companies like IBM, an automated system was build and termed as GDS.
However, the invention of the GDS system in the travel industry goes back to the 1950s as the conventional business model which inter-operated between airline vendors. Initially, computer reservation systems (CRS) were used by the airlines in the form of an automated booking system, but later, travel agents were also allowed to use the system. 1980 was the first time when CRS facilitated travel agents to various travel service provides in a single system. Around this time, other than flights, some new inventories were also added to GDS like car rentals and hotels. However, CRS reached the pinnacle only in the late 80s after most of the suppliers and distributors started using it.
In the 90s, global distribution systems (GDS) replaced the computerized reservation systems of airlines. So, what we see today as GDS was developed by airline alliances for automated booking and with time ended up becoming independent business components with product globalization and introduction of new products, especially hotel rooms.
Is It Necessary for Travel Agencies To Use GDS?
In today's highly competitive world travel agencies must use every resource present at their disposal and there is no better way of maximizing profits than global distribution systems. It is not only important but essential for a travel agency to have full access to GDS. However, integration with GDS is not so straight forward and travel agencies need a contract for doing so. Once you have the access to GDS like Amadeus Travel this will enable you to provide a staggering amount of travel product information to the clients, at the lowest price possible. But which GDS to choose from the extensive list of available GDS.
Currently, Amadeus is the largest GDS and is responsible for nearly 40% of the total bookings in the travel industry. And, almost 90,000 travel companies are using Travel system. So, associating your brand with the world's most renowned brand will help you gain the trust of the customers and bring you long time benefits. It also helps travel agencies to increase their revenue by providing them real-time 24-hour access to information and flight inventories. Moreover, the tour travel industry is getting saturated with each passing day, thus, it is critical to employ global distribution systems like Amadeus to acquire ground. Even though there are many GDS systems available in the market but Amadeus is much preferred by travel companies. Amadeus is an important part of various successful travel agencies and is responsible for the growth of the travel industry. It is the stepping stone of almost all travel services present over the internet. GDS also helps you monitor global travel, manage technology and market trends, and more.
Some more benefits of integrating GDS are:
Real-time access to inventories and pricing.
Simple secured channel for distribution and utilization
Automated content update
Increased interaction time with travel agencies' websites.
Therefore, the utilization of GDS is a must in today's world. So you need someone who can integrate GDS with your existing computer reservation system or web-portals. adivaha® can seamlessly integrate GDS with your company's website or your travel agent portal to help you extend your travel services which in return will help your business grow.
Here is what makes us special.
A website with attractive and easy to use layout is pivotal for a successful online business. However, website alone cannot do anything there are various other APIs that has to be integrated into the websites like GDS XML/API. At adivaha® we provides 100% customized GDS API integration to travel agencies for hotel, ferry, rail booking with an admin module. Our GDS API will let your book unlimited hotel rooms and airline tickets and eliminates the brokerages and other service charges that travel agencies had to pay, to ensure maximum profits. adivaha® has worked with a wide variety of clients in the past and developed software like automated booking engines integrated with various APIs for them. And, our competence to design and develop internet booking systems and harmonizing them with various GDS has helped us reach the top in travel solution providing niche. We offer services throughout the world, and the majority of our global clients are from countries United Arab Emirates, Australia, and London.
At adivaha® we use the latest technological tools and techniques to keep our customers up to date with the latest industry trends. We have already helped many startups and businesses of all shapes and sizes to build, improve the quality of prebuilt products. adivaha® is the one-stop solution for all your GDS integration needs, be it Sabre GDS API or Amadeus API. adivaha® also offers Wordpress GDS integration services, which is the easiest and smoothest way of integration GDS and it also makes the life of travel agencies easier. Although, we are relatively new but our clients' testimony speaks for our quality. We focus on making our software secure and scalable for the future, rather than just delivering a working system. Our GDS framework is loaded with the most recent and ingenious travel innovative features. And, the WordPress plugin that we offer is the most economic one in the market and will satisfy all your needs. It comes preinstalled with our end-to-end online travel reservation system that facilitates secure transactions between travel service providers mainly car rental companies, hotels, airlines, and travel agencies. Our Amadeus WordPress Integration will help your website become a one-stop-shop for all your customers' woes.
Some features of our GDS integration:
It provides you access to global inventories of hotels, railways, and airlines.
It helps to make your brand's presence felt online with proactive marketing by targeting corporate, tour operators, etc. Since every renowned travel company and corporate uses a GDS.
It will help you extend your reach with more travel agents and agencies.
Easy and efficient maintenance of information.
Best commissions and fares.
Provide 24 x 7 of inventories to travel agents and agencies from all around the globe.
Conclusion
The Global Distribution System (GDS) is a network that was designed to provide an effective channel for transactional processes between the travel & tour operators and various service providers. Amadeus introduced GDS as an alternative to SABRE (the USA GDS) in 1987 by Air France, Lufthansa, Iberia, and SAS airlines. Originally, it was meant for providing a direct communication channel between end-users and airline inventories. However, over the last 18 years, it has grown into something else, and now it used by every travel service provider. It has branched out from its original functionality and at present offers access to other travel services like booking hotel rooms, renting cars, etc. Now, it is mainly used for accessing things like the number of flight seats available, the number of hotel rooms available, or if a car is available for rent or not by the service providers. Travel agencies use GDS for acquiring various kinds of products, services, and prices and use the retrieved information to provide travel-related service to the end-users. It will not be wrong to say that a GDS creates a link between services, prices, and bookings across the three most important units of the travel sector i.e. hotels, car rentals, and airlines.
Amadeus is one of the top-rated GDS systems in the world and has been holding the crown for the last many years. There are two key components that Amadeus offer, GDS and travel IT solutions and it also provides advanced DCS- departure control systems to airlines. It is a member of SITA, OTA, and IATA. There are various reasons that together have made Amadeus so popular, one of the biggest reasons is continuous innovations, other than that, they have also introduced some powerful solutions like web services, e-power suites, APIs and let clients choose according to their will. Amadeus software has all the qualities and merits that help you succeed in the long run because it is a comprehensive travel management system with the ability to aggregate diversity of travel content. The easiest way to use the Amadeus system is to integrate a GDS plugin with your website or computer reservation system.
GDS API integration can be thought of as a program that facilitates both the tourism industry and clients to access travel data, find what deal is best for them, and plans their journey.
adivaha® GDS API integration solutions will enable you to directly access the data catalog of thousands of hotels, car rental agencies, airlines, and will let you book any or all of these services in real-time. Our GDS API is the best in the market and we offer various kinds of GDS systems. However, Amadeus one is the most used one and has the biggest client base. So, we have a team of experts that focus on Amadeus development and integration.
adivaha® is one of the leading Amadeus software development companies with expertise in integrating Amadeus to deliver the best travel software to global travel and tour operators. Unification of Amadeus APIs helps companies to access information about flights, hotels, transfers, and many other services. At adivaha® we have a dedicated team that helps you with customized integration of GDS API. We also provide strong technical support to enhance the digital image; the team will also help you with optimization and maintenance. And, adivaha® pays special regards to a user-friendly interface that is what makes us stick out from the masses. Further, we provide high-end customization and deliver the best quality products. Though we offer every travel-related service but when it comes to integration of GDS APIs like Sabre, Amadeus, Galileo, and World span, we own that field. Moreover, our brokerage free GDS reservation system is an affordable solution for travel operators to increase revenue with fixed investment.
adivaha® also has its own Internet Booking System built by its team of experts, travel startups and businesses are directly using it. Our solution will help you to take advantage of GDS' inventories and source the best prices for your customers. Each of our products has to get through a series of test so there is no question about the quality of our software. Our platform is capable of handling more than 10,000 bookings a day with utmost speed and accuracy which can increase the conversion rates.
adivaha® is a leading GDS integration company and provides the best in class airline booking systems. We provide personalized and most cost-efficient prebuilt GDS integration solutions. Our GDS plugins can convert your website into a user to the user reservation system for booking airline tickets. Moreover, the overall layout of your website will not become cluttered after the integration, on the contrary, it will become suave. The rates of our services are not that high and the quality that we provide has no match, we will simplify managing your website.
All-in-all, adivaha® is an all-round travel solution providing the company with an aim to provide the best travel-related services and we can also fulfill all your Amadeus travel software needs. At adivaha® we believe in creating a bond of respect with our customers. And, before start working on any project, we perform detailed analysis about a particular client's business model to provide exactly the thing they are looking for.
We are currently located in Delhi, contact us to book your demo and speak to our experts to find the best GDS API for you and the respective API cost.
Our Comprehensive List of Services
adivaha® is a one-stop-shop for all your travel website needs. We offer a multitude of services that empower you to become a market leader. Contact us for more info.
Have Questions?
The Internet is a huge resource, but
if your question requires particular expertise.
Keep Refreshing your customers - Who doesn't want his site to stand out from crowd? adivaha® gives you multiple options for home pages, headers, colors etc. Which can easily be managed from admin via shortcodes and settings. The theme supports almost all the big players in this market ie, WEGO, Travelpayouts, Agoda, Booking, Expedia etc.
Frequently Asked Questions
Below are some of the questions asked by visitors. Do visit our adivaha® Digest for more such questions. Don't hesitate to ask us if you have any questions
I am setting up this plugin for my client's website, I tried registering and received the account activation email, but …

21

views

1

answers

0

votes