WordPress WEGO Travel Affiliate Theme
Get a private branded Viator Tours, Activities and Sightseeing absolutely free of cost with the WEGO Whitelabeling Affiliate Website. Let your customers book Tours, Activities and Sightseeing along with WEGO Hotels and Flights. Seamless integration, easy affiliation with imporved services. Please note that you must have a WEGO account already. Its difficult to get affiliate account from WEGO as they offer their solution to the selected agencies only.
WEGO Online Demo(s)
Google Indexable Home Pages with nice professional layouts with integrated WEGO Whitelabeling solutions (Hotels and Flights).
Start Your Business with WordPress Wego Travel Affiliate Theme
Empower your travel business with the WordPress Wego Travel Affiliate Theme. Seamlessly connect with top online travel agencies, customize your website, and ensure a seamless booking process. Discover how Adivaha®'s travel API revolutionizes your offerings. Trust us, for unbeatable travel solutions!
Is the WordPress Wego Travel Affiliate Theme the right choice to kick-start your travel business?
At Adivaha, we understand that choosing the right platform to kick-start your online travel business is crucial for success. That's why we highly recommend considering the WordPress Wego Travel Affiliate Theme. This powerful WordPress travel affiliate theme has been designed with travel affiliates and businesses in mind, offering a range of features that can take your online venture to new heights. One of the standout qualities of the WordPress Wego Travel Affiliate Theme is its seamless integration with various travel affiliate programs. You no longer need to worry about the technical complexities of connecting your website with renowned travel agencies, airlines, hotels, and car rental companies. Our theme simplifies the integration process, allowing you to focus on what matters most - growing your business.
Moreover, with our affiliate website theme advanced capabilities, you can ensure that your visitors always have access to real-time information and up-to-date travel deals. We know how important it is to present the latest offers to your audience, and that's why we've built this functionality right into the theme. Your potential customers will be delighted to find the most competitive and relevant travel options available, increasing the likelihood of them choosing your website for their bookings. Don't miss out on the opportunity to offer your customers a seamless and user-friendly experience. Choose the WordPress Wego Travel Affiliate Theme and watch your travel business thrive with our unparalleled integration and real-time data features. At Adivaha, we are dedicated to providing you with the tools and support you need to achieve remarkable success in the travel industry. Partner with us today and unlock the potential of the WordPress Wego Travel Affiliate Theme!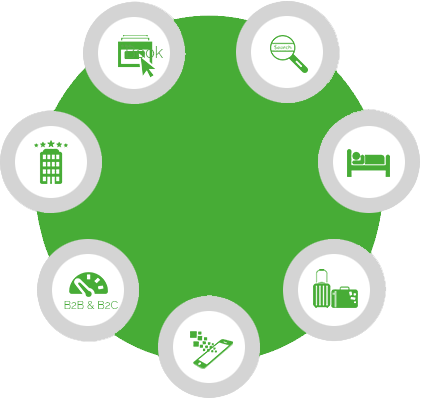 Wordpress Wego Travel Affiliate Theme
Does your travel website cater to on-the-go travelers with mobile responsiveness?
At Adivaha, we understand the importance of catering to the needs of on-the-go travelers in today's mobile-driven world. That's why we highly recommend the WordPress Wego Travel Affiliate Theme, which offers exceptional mobile responsiveness to ensure a seamless user experience on smartphones and tablets. With the increasing number of travelers using mobile devices to plan and book their trips, having a mobile-responsive website is no longer an option but a necessity. Our WordPress affiliate theme is designed to automatically adapt and optimize the layout and functionality of your travel website according to the screen size of the user's device. Whether your visitors are using smartphones, tablets, or desktops, they will enjoy a consistent and visually appealing experience, making it convenient for them to explore travel options and make bookings on the go.
The WordPress Wego Travel Affiliate Theme's mobile responsiveness goes beyond just adjusting the layout. It also takes into account the loading speed of your website on mobile devices, as slow loading times can lead to high bounce rates and frustrated users. Our theme is optimized for speed, ensuring that your mobile users can access the information they need quickly and efficiently.
By choosing our theme, you can rest assured that your travel website will cater to on-the-go travelers with its mobile responsiveness. Engage your audience wherever they are and increase your chances of converting potential customers into happy travelers. We help you with the best tools and solutions to succeed in the competitive travel industry. Invest in the WordPress Wego Travel Affiliate Theme and elevate your travel business to new heights.
Optimize your travel website for higher visibility in search engines
Our theme is designed with SEO best practices in mind, ensuring that your travel website is well-structured, easy for search engines to crawl, and relevant to user queries. By implementing the following SEO optimization features, the WordPress Wego Travel Affiliate Theme empowers your website to compete effectively in the ever-evolving online landscape:
SEO-Friendly URLs: The theme generates clean and SEO-friendly URLs for each page, incorporating relevant keywords and making it easier for search engines to understand the content.
Meta Tags and Descriptions: With our theme, you can easily customize Meta tags and descriptions for each page, optimizing them with targeted keywords to entice users to click on your search result.
Header Tags: Proper usage of header tags (H1, H2, H3, etc.) is crucial for both user experience and SEO. The theme ensures that your content is structured using appropriate header tags, making it easier for search engines to comprehend your page's hierarchy.
Image Optimization: Optimized images not only enhance user experience but also contribute to SEO. The WordPress Wego Travel Affiliate Theme allows you to set image alt tags and descriptions, improving your website's accessibility and search engine ranking.
Fast Loading Speed: Search engines prioritize websites that load quickly, as it improves user experience. Our theme is designed for optimal performance, ensuring that your WordPress travel website loads swiftly and ranks better in search results.
Mobile Responsiveness: With the increasing emphasis on mobile-first indexing, having a mobile-responsive website is essential for SEO. Our theme's mobile responsiveness ensures that your website is favored by search engines for mobile users.
Sitemap Generation: The theme automatically generates XML sitemaps, which help search engines discover and index all your website's pages, improving its overall visibility in search results.
Why consider Adivaha to enhance your travel website's capabilities?
We Adivaha is a leading travel technology provider known for its cutting-edge solutions and extensive inventory of flights, hotels, car rentals, and travel packages. By integrating Adivaha with the WordPress Wego Travel Affiliate Theme, you can unlock a multitude of advantages that will elevate your website's performance and revenue potential.
Vast Travel Inventory: Adivaha offers an extensive inventory of travel products and services from top suppliers worldwide. By integrating Adivaha with the WordPress Wego Travel Affiliate Theme, you gain access to a vast selection of flights, hotels, and other travel software offerings, ensuring that your visitors have access to a wide range of options.
Real-Time Data: Adivaha®'s travel API provides real-time data, ensuring that your travel website displays the latest and most up-to-date travel deals and availability. Real-time information is crucial in the fast-paced travel technology company, as it helps your visitors make informed decisions and secure the best deals.
Seamless Booking Experience: With Adivaha integration, your website can offer a seamless and efficient booking experience to your customers. The integration streamlines the booking process, making it easy for users to search, compare, and book travel services directly from your website.
Competitive Pricing: Adivaha®'s vast network of suppliers and real-time data enables you to offer competitive pricing on travel technology services. This competitive advantage can attract more customers to your website, leading to increased bookings and higher revenue.
Reliability and Support: Adivaha is known for its reliable and robust travel technology solutions. By integrating their services with the WordPress Wego Travel Affiliate Theme, you can be confident in the stability and performance of your travel portal website. Additionally, Adivaha provides excellent customer support, ensuring that any technical issues or queries are promptly addressed.
Customization and Branding: Despite offering a vast inventory, Adivaha allows you to customize and brand your custom website to maintain a unique identity and align with your travel business's branding strategy. This level of customization ensures that your website stands out among competitors.
Enhanced Revenue Opportunities: Adivaha integration can lead to enhanced revenue opportunities through increased bookings and affiliate commissions. With access to a diverse range of travel portal development services, your website can attract a broader audience, resulting in higher conversion rates.
Why partner with Adivaha for travel solutions?
Partnering with Adivaha for travel portal solutions is a strategic decision that can transform your travel business and lead you to unparalleled success in the industry. We take immense pride in being a trusted third-party service provider, and several factors set us apart, making us the preferred choice for travel entrepreneurs:
Our team consists of seasoned professionals with extensive experience in the travel industry. We understand the dynamics of the market, the challenges you may face, and the opportunities that await. With our in-depth knowledge, we offer invaluable insights and tailor-made solutions to suit your specific business needs. At Adivaha, we offer a wide array of travel-related solutions, catering to various aspects of your business. From travel website development and design to integration with travel APIs like Adivaha, we cover all the essential elements required to establish and grow a successful online travel venture.
We believe that every travel business is unique, and one size does not fit all. Our approach is personalized and client-centric. We work closely with you to understand your goals, challenges, and aspirations, and then craft solutions that align perfectly with your vision. As a leading provider of travel solutions, we have an in-depth understanding of the WordPress Wego Travel Affiliate Theme. We know how to harness its full potential, ensuring that your website is optimized for performance, user experience, and revenue generation.
Our expertise in integrating Adivaha with the WordPress Wego Travel Affiliate Theme sets us apart from the competition. We ensure a seamless and efficient integration process, enabling your website to access Adivaha®'s extensive travel inventory and real-time data effortlessly. We take great pride in the reliability and stability of our solutions. When you partner with Adivaha, you can count on our ongoing support and assistance. We are dedicated to resolving any technical issues promptly and ensuring that your business operations run smoothly. Our track record speaks for itself. We have helped numerous travel businesses achieve remarkable success, and our client's success stories are a testament to the effectiveness of our solutions and services.
In Conclusion
The WordPress Wego Travel Affiliate Theme, coupled with Adivaha®'s robust travel APIs, presents an unbeatable opportunity for aspiring travel entrepreneurs to kick-start their businesses. With a captivating website, efficient booking system, mobile responsiveness, and access to an extensive inventory of travel products, you can establish a successful online travel business that caters to the needs of modern travelers. At Adivaha, we are here to assist you throughout this journey, providing the expertise and support needed to thrive in the dynamic travel industry.