Build your own Travel Brand!
Ready to go-LIVE travel solutions that helps your travel agency to sell a range of travel services pretty instantly. adivaha® travel solutions make sure you have no boundation over your imagination, you can do everything online, without the need for any technical knowledge or design skills. Easy Backoffice, extensive reporting with integrated Funds Management System. Upload funds easily and instantly through Netbanking, Debit Card, Credit Card. The best part is, we do offer customizations in case you believe it will boost your business!
Why Is Galileo-GDS a Leader in Corporate Travel?
Discover the power behind Galileo-GDS as the frontrunner in corporate travel solutions. Explore its unmatched global reach, cutting-edge technology, cost-efficiency, and seamless integration capabilities. Uncover why Galileo-GDS continues to lead the pack in revolutionizing corporate travel experiences.
Galileo Global Distribution System (GDS) stands tall as a pioneering force in the realm of corporate travel solutions. Born from a legacy of innovation and efficiency, Galileo-GDS has redefined how businesses navigate the complexities of the travel industry. Its robust infrastructure, coupled with an intuitive interface, has not only streamlined booking processes but has also set a benchmark for user-friendly platforms. Let's delve deeper into why Galileo-GDS remains a stalwart leader in shaping the corporate travel landscape.
What sets Galileo-GDS system apart from other travel solutions in the corporate sphere?
Galileo-GDS stands out from other corporate travel solutions due to several key factors:
Global Reach: Galileo-GDS boasts an extensive network of airlines, hotels, and car rental services globally. This breadth allows businesses access to a wide array of options, facilitating smoother travel planning and arrangements across various locations.
Cutting-edge Technology: The platform incorporates advanced technological features and tools that surpass industry standards. These innovations streamline booking processes, enhance user experiences, and offer unique functionalities catering specifically to corporate travel needs.
Commitment to User Experience: Galileo-GDS prioritizes user-centric design, ensuring an intuitive interface for both corporate travelers and travel agents. This emphasis on ease of use contributes significantly to its appeal and sets it apart from other solutions.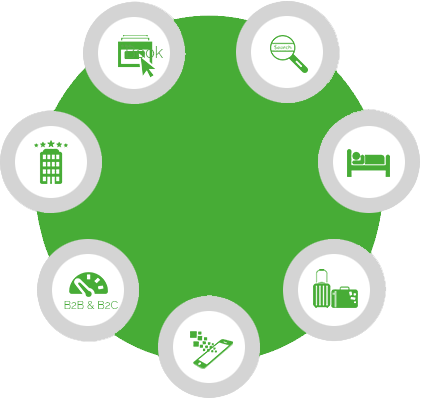 Benefits of Using Galileo-GDS in Corporate Travel
Reliability and Innovation: The platform's reputation for reliability and innovation creates a competitive edge. Its consistent delivery of efficient solutions and ongoing advancements in technology reaffirms its position as a leader in the corporate travel sphere.
How does Galileo-GDS cater specifically to the needs of businesses in the travel sector?
Galileo-GDS caters specifically to the intricate needs of businesses in the travel sector by offering tailored solutions that address key challenges and requirements. Here's how:
Customized Tools: The platform provides a suite of customizable tools designed to streamline corporate travel management. These tools cater to diverse needs, including itinerary management, expense tracking, and reporting, empowering businesses to efficiently manage their travel operations.
Comprehensive Content: Galileo-GDS aggregates an extensive inventory of travel-related content, including flights, accommodations, and transportation options. This breadth of offerings ensures that businesses have access to a wide range of choices, enabling them to tailor travel arrangements according to their specific preferences and requirements.
Integration Capabilities: The platform's compatibility with various systems and applications allows for seamless integration with existing business processes. This integration streamlines workflows, minimizes manual efforts, and enhances overall operational efficiency for travel businesses.
Support and Training: Galileo-GDS offers robust support and training programs tailored to the needs of businesses. This assistance ensures that travel agents and corporate clients can effectively utilize the platform's features, maximizing its potential to meet their specific business objectives.
Cost-Effective Solutions: Through optimized travel planning and access to negotiated rates, Galileo-GDS assists businesses in managing travel budgets more efficiently. The platform helps identify cost-effective options without compromising on quality, contributing to overall savings for companies.
What technological advancements or features does Galileo-GDS offer that contribute to its leadership status?
Galileo-GDS prioritizes user experience by providing a platform that's easy to navigate, reducing complexities in travel arrangements. Its layout and functionality cater to both experienced travel agents and corporate clients, simplifying the booking process and enhancing overall satisfaction. Through sophisticated systems, Galileo-GDS enables instantaneous bookings across a wide range of travel services. This real-time capability ensures that users can access up-to-date availability and secure reservations promptly, minimizing errors and ensuring reliability in bookings. The platform's extensive database of travel options offers businesses unparalleled access to diverse travel services worldwide. This comprehensive inventory empowers companies with flexibility and choice, enabling them to craft tailored travel plans aligned with their specific needs and preferences.
Galileo-GDS's array of tools automates crucial aspects of travel management, such as itinerary planning and expense tracking. These tools streamline workflows, allowing businesses to optimize time and resources while maintaining compliance with travel policies. By providing detailed analytics and reporting features, Galileo-GDS equips businesses with valuable insights into their travel expenditures, patterns, and performance metrics. This data-driven approach enables informed decision-making, fostering improvements in travel strategies and cost optimization. The platform's seamless integration capabilities facilitate the cohesive operation of various travel management systems and applications. This integration ensures that data flows smoothly between systems, enhancing efficiency and reducing manual intervention in the travel management process.
What advantages does Galileo-GDS's global reach bring to businesses operating in the corporate travel domain?
The global reach of Galileo-GDS presents several advantages for businesses operating in the corporate travel domain:
1. Diverse Travel Options: The extensive network of airlines, hotels, and ground transportation services worldwide ensures a diverse range of travel options for businesses. This breadth of choices enables companies to tailor travel plans according to specific preferences, budgets, and itineraries.
2. Access to Exclusive Deals and Inventory: Galileo-GDS's global reach grants access to exclusive deals, negotiated rates, and inventory not easily accessible through other platforms. This advantage allows businesses to secure cost-effective travel arrangements and premium accommodations for their corporate travelers.
3. International Expansion Support: For businesses expanding internationally or managing global operations, Galileo-GDS's global network provides crucial support. It facilitates smoother travel logistics, ensuring that employees can navigate different regions seamlessly while maintaining operational efficiency.
4. Efficiency in Multi-Destination Travel: Handling multi-destination itineraries becomes more efficient due to the platform's access to a wide array of travel services across various countries and regions. This capability simplifies complex travel arrangements and ensures a cohesive experience for travelers.
5. Consistency and Reliability: The consistent quality and reliability of services across different geographical locations offered through Galileo-GDS ensure that businesses can rely on a standard level of service irrespective of the destination. This reliability fosters trust and confidence in the platform for managing diverse travel needs.
6. Global Support and Assistance: Access to global support and assistance through Galileo-GDS's network ensures that businesses receive prompt and efficient assistance, be it in resolving travel-related issues, accessing local expertise, or handling unforeseen circumstances across different locations.
7. Comprehensive Travel Management: The platform's global reach supports comprehensive travel management, allowing businesses to centralize and manage all aspects of corporate travel efficiently. This centralized approach simplifies processes and ensures better control over travel expenses and policies.
How does Galileo-GDS integrate with other travel platforms or solutions to optimize efficiency for corporate clients?
Galileo-GDS utilizes an open architecture that facilitates smooth integration with a wide range of third-party systems and applications commonly used in the travel industry. This open framework allows for easy connectivity and data exchange between different platforms. The platform provides robust Application Programming Interfaces (APIs) that enable businesses to integrate Galileo-GDS functionalities into their existing systems or applications. This integration ensures data consistency and real-time access to travel-related information across multiple platforms. Galileo-GDS is designed to be compatible with Enterprise Resource Planning (ERP) systems commonly used by businesses. This compatibility streamlines workflows by syncing travel data with financial and operational systems, ensuring accurate reporting and expense tracking.
Integration with Customer Relationship Management (CRM) systems enables the synchronization of traveler profiles, preferences, and booking history. This integration ensures personalized service delivery and enhances the overall travel experience for corporate clients. Seamless integration with expense management tools allows for the automatic capture and tracking of travel-related expenses. This integration streamlines the reimbursement process and ensures accurate expense reporting for corporate travelers. Integration with mobile applications enhances accessibility and convenience for travelers. Corporate clients can access Galileo-GDS services and bookings through mobile apps, enabling on-the-go itinerary management and travel updates. Integration with reporting and analytics platforms allows for the consolidation of travel data from Galileo-GDS into comprehensive reports. This integration facilitates data-driven decision-making and enables businesses to gain actionable insights into travel patterns and expenses.
Thus, Galileo-GDS software not only provides a comprehensive suite of tools and features but also champions efficiency, cost-effectiveness, and reliability. Its ability to adapt and integrate with various travel solutions fosters a cohesive travel management ecosystem, empowering businesses to optimize processes, make informed decisions, and deliver exceptional travel experiences.
Our Comprehensive List of Services
adivaha® is a one-stop-shop for all your travel website needs. We offer a multitude of services that empower you to become a market leader. Contact us for more info.
Have Questions?
The Internet is a huge resource, but
if your question requires particular expertise.
Keep Refreshing your customers - Who doesn't want his site to stand out from crowd? adivaha® gives you multiple options for home pages, headers, colors etc. Which can easily be managed from admin via shortcodes and settings. The theme supports almost all the big players in this market ie, WEGO, Travelpayouts, Agoda, Booking, Expedia etc.
Frequently Asked Questions
Below are some of the questions asked by visitors. Do visit our adivaha® Digest for more such questions. Don't hesitate to ask us if you have any questions
Hello team, can you tell me if I can connect several APIs in one platform or website?

32

views

1

answers

0

votes