Build your own Travel Brand!
Ready to go-LIVE travel solutions that helps your travel agency to sell a range of travel services pretty instantly. adivaha® travel solutions make sure you have no boundation over your imagination, you can do everything online, without the need for any technical knowledge or design skills. Easy Backoffice, extensive reporting with integrated Funds Management System. Upload funds easily and instantly through Netbanking, Debit Card, Credit Card. The best part is, we do offer customizations in case you believe it will boost your business!
Best Joomla Travel Modules To Exceed User Travel Experience
In answer to the question of what Joomla is! Content Management System, it should be said that joomla integration is a free content management software that is available to users as open-source, which can be used for any type of simple or complex site.
Its programming language is PHP and from the bank. Uses MySQL information. Features include a page backup that helps increase performance. Meanwhile, the hot topic of this global CMS is the design of the Joomla template and how to install it.
The name Joomla is derived from a word in Swahili that means "all together" or "all". This very beautiful and powerful CMS has a lot of capabilities, including - Creating an online store - Forum launching - Chat and support - File inventory management - Advertising advanced systems and…
Importance of Joomla travel modules
You may be wondering what modules are essential in designing a travel agency website. In general, some of them are shared on all websites, including airlines or any other website. These modules are called public modules. Some modules are also proprietary and are different from other sites on each website. For example, we can specify the possibility of booking flights api integration, issuing tickets, support, etc.
One of the advantages of Joomla galileo travel modules is that it's easier to do different things. All airline websites have specific ticket numbers, residual capacity, or price. Therefore, travelers can easily book their tickets. Reporting through the admin panel also provides great service to agency owners. In this way, you can check sales statistics separately and at different time intervals.
Hotel reservations, tourist tours, plane tickets, cruise ships and cars
In addition to its attractive layout, this template has a powerful and amazing module or reservation system that you can enter the details of hotels with all the details and let your users choose the hotel api integration they want, book, and travel with confidence. This Joomla travel module has been edited by the team of adivaha® OTA. One of the main problems for tourism business owners and hotel reservations is to have a complete and comprehensive website for managing and registering your travelers. If your business is with OTA and tourism, the Joomla travel module may be the best choice for you.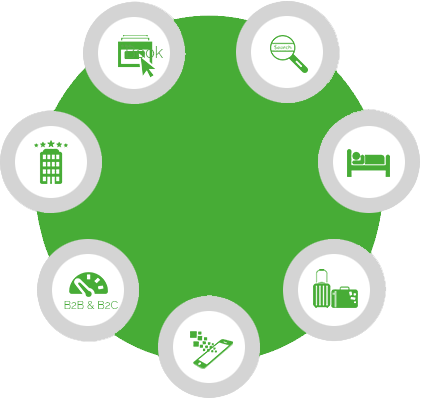 User Travel Experience with the Best Joomla Modules
Owners of these businesses have had a hard time introducing hotel facilities or their tours to people who do not live within their area. These people have had to pay a lot of money for minor advertising, but if you own a travel agency and you are a passenger, just use the Joomla travel modules. If you have an online business related to hotel, travel, aviation or tourism, you certainly have a template to help and grow your business, this Joomla travel module has a very strong reservation system, this template is compatible with joomla plugin It is possible to multilingualism it, which means you can have an international website with this template. Joomla travel module having useful short codes allows users and webmasters to easily use this module, you can customize the images and placement of icons to suit your activity on your website, this template will give you the features that you closed.
Joomla Travel agency module
After designing your site, it's time to modulate. Module means general and non-technical means options that can be placed on the site, such as internal tour, visa, about us, etc. Each of these cases is a module. The module in the specific and technical sense is a piece of programming code that gives a variety of features to website users. adivaha® travel agency has been providing services to the tourism industry, so it has gained valuable experience in the type of work of travel agencies and has identified all the needs of airline agencies and has designed and implemented appropriate modules for each of them. Joomla software of the travel agency website design has specialized modules for travel agencies with full functions to meet your needs. One of the unique features of our company in the field of travel agency website design. By Joomla Travel module you can select your favorite modules from the list of modules, based on policies, budget, services, etc. These Joomla Travel modules fall into several general categories!
Basic modules: such as tours, visas, tourism services, etc.
Complementary modules: such as introducing Iran and countries, travel app api letter, exchange rate, and General modules: such as rules, frequently asked questions, about us, contact us
Joomla Travel Module Core Features:
Unlimited Tour packages: Create an unlimited number of tour packages. Like description, itinerary builder, price, sales price, duration, gallery, package included and excluded, map, every detail you need for a trip and many more can be entered very easily by Joomla Travel Module.
Tour filters: The user of Joomla Travel Module can find their required Itineraries by filtering or using the easy search form.
Tour Extras: Joomla Travel Module allows you to add paid or free service for the individual trip.
Painless Booking System: Joomla Travel Module includes a very easy and simple flight booking software system in which users can fill up very fast and get you more bookings.
Full Data Reporting: Data is very important for all businesses. Joomla Travel Module has an in-build booking stat that helps you to generate the report from different date ranges, types, and locations.
Payment System: Currently we have Standard PayPal merged within the Joomla Travel Module and have eleven additional payment gateways. View all 11 payment options.
Multiple pricing and multiple dates: This feature of Joomla Travel Module allows you to add multiple pricing and multiple dates for a single trip.
Trip Facts: With Joomla Travel Module you can add the facts of the trip to your trips.
Email Notification: You as an admin will be notified of all bookings made by users and also users will also get an email notification about their booking details. All email templates are customizable.
Customizable tabs: With Joomla Travel api Module all trip details page tabs in the front-end can be customized from the backend.
Rating & Reviews: Joomla Travel Module can allow users to add ratings or reviews for each trip. You can also hide them if you want for each trip.
Map: For each trip, you can show Google Maps. The front-end user can see the location of the trip.
While it is always possible for you to customize the modules, if you have not purchased the module, it is always possible, so you can start your work with more important modules and then buy the desired Joomla modules over time.
Our Comprehensive List of Services
adivaha® is a one-stop-shop for all your travel website needs. We offer a multitude of services that empower you to become a market leader. Contact us for more info.
Have Questions?
The Internet is a huge resource, but
if your question requires particular expertise.
Keep Refreshing your customers - Who doesn't want his site to stand out from crowd? adivaha® gives you multiple options for home pages, headers, colors etc. Which can easily be managed from admin via shortcodes and settings. The theme supports almost all the big players in this market ie, WEGO, Travelpayouts, Agoda, Booking, Expedia etc.
Frequently Asked Questions
Below are some of the questions asked by visitors. Do visit our adivaha® Digest for more such questions. Don't hesitate to ask us if you have any questions
I am setting up this plugin for my client's website, I tried registering and received the account activation email, but …

9

views

0

answers

0

votes