Build your own Travel Brand!
Ready to go-LIVE travel solutions that helps your travel agency to sell a range of travel services pretty instantly. adivaha® travel solutions make sure you have no boundation over your imagination, you can do everything online, without the need for any technical knowledge or design skills. Easy Backoffice, extensive reporting with integrated Funds Management System. Upload funds easily and instantly through Netbanking, Debit Card, Credit Card. The best part is, we do offer customizations in case you believe it will boost your business!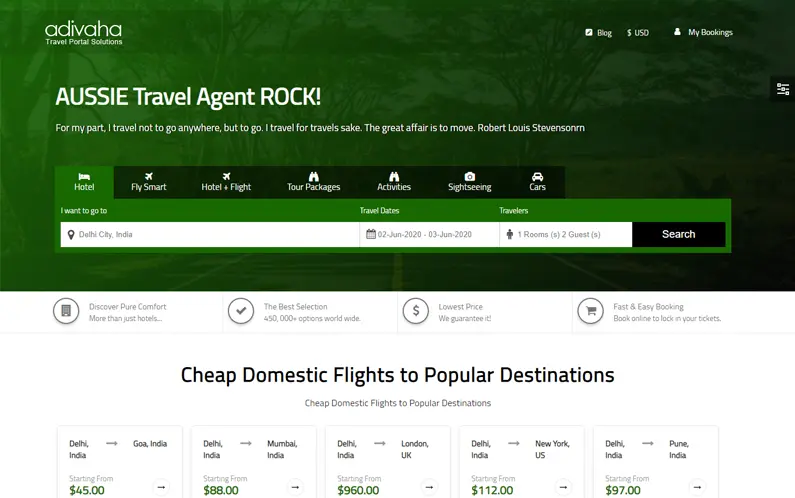 A Guide to Hiring a Professional Travel Portal Developer
Travel is one of India's fastest-growing services for finding and booking systems. All Adivaha users have a unique opportunity to transfer prices from the booking module directly. In today's highly competitive tourism market, software for booking travel has to be more sophisticated than ever. Travel agents, hoteliers, and tour operators have an array of options. Customers won't choose anything less than a simple and enjoyable experience.
As the demand for top-of-the-line technology grows, companies purchase online reservation systems. Thanks to the developer for the simplified connection process. You have the opportunity to receive bookings today with Travel Portal Developers!
What is Travel Portal?
Travel Portal is online travel software that includes an entire travel portal development that allows you to set up Hotels, Transfers, Tour Packages, Flight Tickets, and Car Rental on the Travel Portal that is a part of Travel Agent, Travel Agency Software, and Travel Management Company to increase the experience of customers.
How can a developer improve the profitability and efficiency of your travel business?
Efficient management and distribution using an integrated booking engine can reduce the management time required to upgrade multiple platforms, eliminate the need to enter reservations into your PMS manually, and put you in control distribution of your inventory. Access to booking data, allowing you to understand your guests better, what and how they like to book, and data to improve your product offering according to customer needs.
Choosing the right developer s for your portal depends on several variables, some of which come down to personal preference, but most of which come down to the characteristics of your property. A cloud-based online reservation system can be set up very quickly, so implementation time is often determined by the number of resources the hotel can allocate to the project.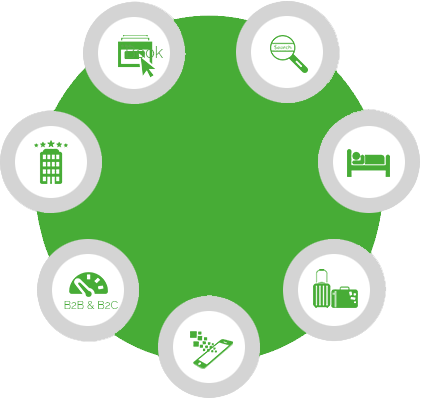 Right Professional Travel Portal Developer
Travel management requires continuous iteration and improvements to succeed because of the industry's highly competitive nature. The most effective technology and software providers are also constantly improving, which improves results over time. Speed is among the most crucial aspects of a travel site since it strongly correlates to conversion rate. In addition, mobile is becoming increasingly critical each year, where customers in many countries are more likely to make reservations. When your experience on mobile is not satisfactory, you can expect your guests to make a booking with an OTA. Optimization features provide targeted offers and techniques like those you find on OTAs.
The most efficient travel developers can increase direct bookings through your website. This is a great benefit among them an increase in the acquisition cost per booking.
Using the best travel booking engine can reduce the management time required to upgrade multiple platforms and eliminate the need to manually enter reservations into the PMS in the control distribution of your inventory.
Access to booking data, allowing you to understand your guests better, what and how they like to book, and data to improve your product offering according to customer needs.
Best Portal Developer for Travel Business
Adivaha is an acclaimed Travel Development Company that offers Travel Portal solutions for Travel agencies, Tour operators, Travel agents, Travel Management companies, Destination Management companies, and Hotel Chains.
Adivaha offers the most efficient travel Portal Solution with global connectivity with travel suppliers to the market hotel, flight tours, tour packages transfer, and rental car services to Travel agents in their travel portal online with a sophisticated web design and an innovative packaging feature.
We have experienced and knowledgeable travel experts who design and develop the best travel Portal Solution, a highly efficient Inventory Management System that can easily integrate into travel agents' travel systems to provide an exceptional user experience.
Adivaha Travel app Development Company provides a top-quality travel portal solution, Web Design, and Development Services. This includes Travel Industry. We Offer Travel Portal Design and Development like B2B Travel Portal, B2C Travel Portal, XML API Integration, Hotel Contracting, and many more that come with top features such as multi-languages and multicurrency, speedy and low cost, and many other features.
If you are considering the question: what is the best solution for travel portals, and who is the most reliable Travel Portal Development Company providing Travel Portal solutions for Travel businesses?
Adivaha provides the best Travel Portal Solution for Travel businesses.
Travel Development Company has experience in developing travel portal Solutions, which are completely customized to meet the needs of travel agents. Requirements.
The GDS offers tremendous marketing power for hotels, airlines, and the like. Before the GDS became popular, hotels had to undertake massive marketing efforts to be seen by travel agents. The GDS has effectively democratized this process, with hotels in the chain getting the same exposure on the GDS as independent hotels. The GDS also gives hotels access to new guest segments. Although hotels have to pay a fee per booking to use the GDS, that fee is often less than the average OTA fee.
Adivaha is a leading travel portal development company in india that provides the most effective Travel Portal Solutions and Travel Portal Software to create travel portals and develop travel websites for large and mid-sized travel agents and agencies.
We design and develop the best solution for your travel portal based on travel businesses' needs. Our team of experts has extensive experience in developing travel portals, Web Travel Portal/Travel Website Design, Development, B2C, Travel Business Portal B2B/Booking Engine, Third Party Travel API Integration, Payment Gateway Integration, and Search Engine Optimization.
We offer an impressive range of travel portals that comprise Travel API Integration ,
GDS API Integration,
XML API Integration,
Flight API Integration,
Hotel Booking API,
White Label Travel Portal,
Flight Booking Quotation System,
Activity Booking System,
Tour Booking System,
B2B Travel Portal,
B2C Travel Portal,
Travel Mobile App
And many other tools for Travel agents to grow their revenue and increase profits. Adivaha, a company that develops travel portals, offers the most advanced B2B Booking Engine that allows your travel agent to manage group travel, design an itinerary, manage inventory customers, travel agent, and inventory management, streamline sales processes, enhance service ordering as well as manage accounts. It also gives information about the travel industry.
There are many benefits to using a travel portal solution for Travel Agent, like a fully customized travel product/module with Third Parties Travel API Integration, Creating a travel site and app using the travel API access to data. Data can be accessed from any location. Complete Travel Inventory Management System, Unparalleled Content on Travel for customers Multiple Payment Gateways with World-renowned Reliability, fully managed service, Speedier Time to Market, Creates automatic invoices, provides simple refunds and cancellations, Quick response for traveler assistance, Enhances the user experience, increases the revenue and sales.
Travel Agents require a portal with the latest extremely useful features for their businesses. Let's discover the benefits of the Travel Portal Solution and its main features.
What Developer Offer?
Adivaha provides global supplier connectivity to Travel agents. We've partnered with more XML Suppliers across the globe. With our pre-integrated suppliers, we have the most comprehensive prices and inventory services for travel agents.
Adivaha is a renowned travel developer and travel technology company that has clients throughout the globe. We have integrated many hotels, Aggregators and automobiles, Cruises, Hostels, Transfers, Sightseeing, Money Transfers, Travel Insurance, and more using the most advanced integration techniques.
Adivaha is a leading provider of web portal design, development, and integration of different GDS's XML API integration, deployment, and testing to the client host, after which we also manage the product to provide customer and technical assistance services. Adivaha helps people seeking online web-based travel platform development services and B2B2C Online Travel Portal Startup Companies.
Travel technology is a boom worldwide due to its ease of use by global Travel agents, which offers clients better rates, quicker results, and quick online booking. Travel developer is a specialist on the market that has acquired the latest Travel Technology tools, which we are implementing to create the product from the beginning. Our software for travel is mobile-friendly, which means it can be viewed on any size screen.
Travel Portal Solution permits the integration with
Flight API,
Hotel API,
Travel API,
HOTEL XML IN,
Hotel XML OUT,
TOUR XML IN,
Active XML Out Channel Manager,
Virtual Credit Card and Payment Gateway within the travel portal of the travel agency.
They can access global travel information on hotels, flights, transfers, tour packages, car rental, and other ground-based services.
Adivaha provides a complete web-based flight scheduling software that travel agents can use. We provide a reservation system for airlines and a GDS booking system, which can accommodate the latest technology in travel features. We offer a fully connected Airline Reservation System with the newest technology for booking.
This system features the option to display the details of your booking and print e-tickets. It also allows passengers to select their seats, show baggage rules, and fare regulations, support frequent flyer programs, the option of booking multiple city flights, and more.
Adivaha gives you the most effective online Travel Agency Software for booking flights that allows you to search for worldwide flights. Our portal systems are built using internationally recognized applications that book flights online for B2C and B2B across the globe.
What are the most important features of the best travel portal?
Channel Manager Integration

To ensure your room inventory across all your online channels is automatically updated and to avoid issues like overbooking, your booking engine must integrate with your channel manager. When you book a room through an online travel agent, you'll want to ensure it's not already available on their direct channel.

Mobile reservations and social media compatibility

It is essential that your booking engine works seamlessly on mobile devices and is compatible with the social media websites that your hotel is listed on.

Data collection

Your travel portal development must provide you with detailed and transparent information that will allow you to find patterns of demand and reservations. Google Analytics is not robust enough, and your booking engine needs to collect actionable data passed to your CRS.

Flexible for your hotel needs

From confirmations of bookings and requests for feedback, the automation ensures everyone is on a similar level. Does your travel portal show the currency and languages that your guests are comfortable with? Do you provide voucher redemption online or wedding and corporate booking tools? These are a few questions to determine if the booking engine can be adapted to the requirements of your hotel. Although you don't need an entirely customizable booking engine, you can adjust it to the style and appearance of your hotel's website to ensure consistency.

Commission-free bookings

Its okay to charge a fee for reservations made via Third-party channels for distribution. There should be no commission. For hotels that are independent the booking engine you use should make the most profit-making bookings.

The users expect stunning images of homes surrounding facilities, points worth visiting, and even local food. Gorgeous photos inspire users to hit the "Book Now" button. Software for booking travel that cannot take them in is of little value to everyone.

Calendar

Nobody likes going through all the booking procedures only to discover that the dates they want are unavailable. Visitors want to know at a glance which dates, prices, and accommodations are available. They want the complete overview in one location.

Calendars that are easy to navigate aren't only a convenient option for travelers. Hotel owners, tour operators, and activity directors depend heavily on calendars with easy navigation. They can check at a glance what's going to happen this week, in the month, or the coming year. They can collaborate to plan food and staffing needs and numerous other aspects. A reliable calendar that instantly updates can save everyone from having to do a lot of work.

Multiple Languages and Currency Options

Reaching out to a worldwide audience can be difficult when the website only has one language and only one currency. This is the most compact page lookup of a user's search.

International travel is more popular than ever before, so online travel agents must be able to adjust to different countries, languages, and currencies. Anyone who can seamlessly change the display to their preference will feel at ease on the Travel Website Designers.

Guest Review Management

The most intelligent managers and owners are not content with reading only reviews of their customers anymore and are actively seeking feedback. People who don't interact with reviewers may wonder why they suffer from a retention problem with their customers.

A high-quality online reservation system allows for management to discreetly reaching to customers. They are encouraged to provide comments. Honest, prompt responses convert new customers into loyal customers. Additionally, online reviews are the latest word-of-mouth. This is perhaps the most powerful marketing tool available.

Online Payment Processing

To ensure your room inventory across all your online channels is automatically updated and to avoid issues like overbooking, your booking engine must integrate with your channel manager. When you book a room through an online travel agent, you'll want to ensure it's not already available on their direct channel.

Channel Manager Integration

The population is familiar with making purchases online. Not getting the instant gratification of booking a vacation could easily cause them to be a victim of another competitor.

There are many advantages of electronic payment processing:

A lot of travel agencies operate in the digital world.
Since payment approval is instantaneous or rejected the details about availability and bookings are always up-to-date. Reservations that could be dismissed shortly do not appear on the calendar.
Online payment processing solves the time zone issues that arise from international travel.
Instant processing boosts cash flow.

Automated Emails

An online portal system that can be customized to remind guests offers travel information or guides guests to local eateries and other attractions, saving time and human resources. Once the emails are designed and scheduled, everyone can shift to other things.

Channel Management System

Owners of properties who can successfully sell their services to travel agents online depend on channel management. These modern systems display inventory and rates across multiple channels and the owner's website.

When synchronizing with a calendar, the system automatically updates in real time, preventing overbookings.

Third-Party Integration

Utilizing social media for marketing is essential in all fields; however, it is particularly important for travel and hospitality. Modern trip planners make many travel choices on social media reviews, including photos, shares, and reviews. Many of their research are conducted through Facebook, Instagram, or Twitter through mobile devices.

Marketers geared towards customers utilize these platforms to increase branding awareness, attract new customers, promote promotions, and post updates on Twitter. Google Maps directs internet users to their ideal destinations.

Cloud-Based Services

Travel and hospitality workers cannot sit at desks throughout the day. This is thy booking, and customer information must be available through the cloud.

The cloud-based program allows for flexible, 24 hours a day remote access using a cell phone, tablet, laptop, or computer. It's essential for managers of busy hotels or tour operators on the move. Their lives depend on regular interactions with their guests. Cloud storage is more secure than storing it on a susceptible drive.

Promotions and optimization in real-time

Today's best travel booking engine api leverage machine learning to deliver targeted advertisements based on the behavior of web visitors, ultimately speeding up the booking process. They take advantage of promotional codes to segment based on geography and source of web traffic, etc. Many travel Portals in the hotel industry even allow special offers as e-commerce platforms where hoteliers can offer upsells and add-ons to a reservation. These next-generation all-in-one IBEs provide an incredible user experience and make it extremely easy for guests to see the benefits of the various room rates.
A great travel Portal system provider is more than a "supplier." It will be the coach that bridges the gap between hotel managers, hotel operations teams, and the world of data, analytics, and management. Travel Portal Developer to help you succeed. These best partners are an extension of the group of hosting providers they work with.
Our Comprehensive List of Services
adivaha® is a one-stop-shop for all your travel website needs. We offer a multitude of services that empower you to become a market leader. Contact us for more info.
Have Questions?
The Internet is a huge resource, but
if your question requires particular expertise.
Keep Refreshing your customers - Who doesn't want his site to stand out from crowd? adivaha® gives you multiple options for home pages, headers, colors etc. Which can easily be managed from admin via shortcodes and settings. The theme supports almost all the big players in this market ie, WEGO, Travelpayouts, Agoda, Booking, Expedia etc.
Contact
Have something unique in mind? Drop a message.
Estimated reply time: 3-5 Working Days