Build your own Travel Brand!
Ready to go-LIVE travel solutions that helps your travel agency to sell a range of travel services pretty instantly. adivaha® travel solutions make sure you have no boundation over your imagination, you can do everything online, without the need for any technical knowledge or design skills. Easy Backoffice, extensive reporting with integrated Funds Management System. Upload funds easily and instantly through Netbanking, Debit Card, Credit Card. The best part is, we do offer customizations in case you believe it will boost your business!
Travel Portal Development Proposal - Tips For Creating Your Own
The world of the Internet has altered how travel technology companies operate. The old system of travel was extremely complex and time-consuming. The person travels through a lengthy process to purchase tickets and get a travel visa. The internet-based travel platform has helped make the traveler's life simple and easy. Customers receive updates on travel daily basis. Businesses can communicate with their customers 24 hours a day. This saves companies much of their time and costs. It also helps companies increase their reach 24 hours a day.
Companies in the world of travel are preparing new and cost-effective travel portals to market travel-related content worldwide. So, the development of travel portals is now an enthralling term and every travel agency are extremely aware. The demand for travel development portals is increasing throughout India. Suppose you're looking for the most dynamic travel portal development firm with a solid understanding of API integration in India. Then you are in the right place because Adivaha is the best travel technology in India.
Staying abreast of the latest developments and leveraging technology opportunities will ensure that we can transition smoothly into this new reality. Solutions for travel technology, let's talk about Travel Portal Development Proposal!!
What Is The Software For Travel Portals?
Travel businesses across the globe are innovating and implementing cost-effective solutions to research ways to promote their products and services. The development of travel portals is a hot topic among all travel agencies.
A few companies develop white label travel websites internally and have an internal development team. Others outsource the development to third-party portal development firms. The demand for developing travel portals and software is growing rapidly in India.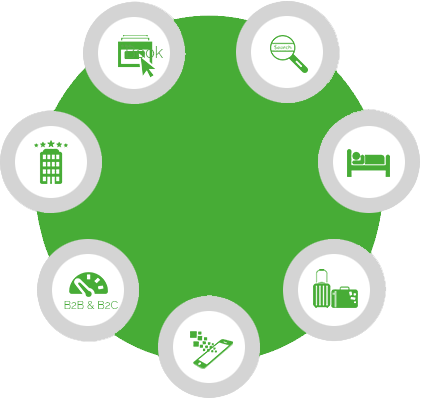 Tips for Travel Portal Development
A full business travel booking system that meets the requirements of those in the tourism industry most commonly used by travel management firms and travel aggregators. It also serves B2B/B2C travel agents, travel operators, and freelance agents.
Top travel technology companies that develop travel portals offer services such as consultation development, development, and maintenance of the entire process that are involved in B2B and B2C travel portal development, along with API integrations for booking hotel rooms, flights, hotel booking, and travel packages, and cruises, bus reservations along with the insurance.
In the current competitive world of travel, travel agents and tour operators must relocate their operations online to stay ahead of the ever-changing environment.
To differentiate their businesses and create an effective online presence in the travel market, tour operators should be able to provide an intuitive online travel site that can make them a profit.
Any software for booking travel for business demands a professional approach. Adivaha is among the best companies to offer professional travel portal development.
Our portal software offers solutions for travel portals that meet the evolving demands of the current travel industry. Our specialists can provide the best-customized travel portal design to meet the changing requirements of your business.
We provide high-quality travel portal software and all-inclusive online travel portal website solutions for those in the Travel and Tour industry. We offer web-based services for travel websites such as Travel Portal Development, Travel Portal Software Development, and Travel Website Builder.
We create and build a completely custom travel portal to support travel businesses. Thus, they can provide online bookings for travel that exceed their customers' expectations through an attractive and intuitive interface.
We aim to provide the most efficient web-based travel portal solutions for all our clients and one that meets their needs.
The design of a travel website can address all travel and booking-related issues in every possible way without the intervention of travel agents who cost you a certain amount. Some modules integrate into the development of our travel portal that utilizes an API system to provide an unbeatable and secure method.
Adivaha is regarded as a leading web-based travel site company that provides consulting and development of all aspects of B2B and B2C travel portals and integrates travel APIs for booking flights, hotel reservations, travel insurance packages, and bus reservations for international online travel agencies.
We also offer white-labeled service for all travel search engines and software applications. Our services for developing travel portals enable companies to provide a fully-loaded web-based travel reservation site far beyond the customer's expectations.
Most Important Development Solutions for the Tourism Industry
Mobile Technology

This is certainly the primary feature of the new methods of traveling. Cell phones have become our travel guide, travel agent, the best restaurant locator maps, restaurant locators, and much more. It's with us throughout the entire buying process. According to travel experts, most smartphone users use their phones for everything they do on their travel plans.

This is why it's necessary to change corporate communications and services to the latest devices.

After someone has made a reservation, the system will send the user information about their reservation through Facebook Messenger and their boarding pass or information about their flight status.

Augmented Reality

Augmented reality, also known as virtual reality, is also a part of the world of travel, and it's trending due to the many possibilities it can provide. Many companies are using it to show customers the cruise ship's cabins or transport users to them.

Internet of Things

The Internet of Things promises to bring major improvements to the travel booking api industry. These include integrating sensors connected to the Internet within items like suitcases, cars, buildings, and many other things.

The Indian Hotel Technology Institute affirmed that the Internet of Things "will be the most significant factor that will transform the personalization of customer experience in the coming years.

Certain Virgin properties provide an app to customers, which allow them to use the thermostat in the room or even control the television within the room. Certain suitcases come with gadgets that let users utilize their phones to locate the location of their bags to ensure that their luggage is not lost at the airport or in other public spaces.

Big Data

There's been plenty of recent discussion regarding Big Data, but they have yet to demonstrate its possibilities for travelers fully. However, many players in the industry are already making use of the technology.

The hotel chain utilizes information about its customers to identify the ideal target audience for its marketing campaigns. In the first place, they look over their databases to determine the cost of the trip, the motive for the visit, and the country's country. They compare this information with data available from government sources to build the most suitable customer profile and attain greater success rates. This allows them to create an effective segmentation of their campaigns, increasing their effectiveness and reducing the amount of money required to fund the campaigns.

Block chain technology

Block chain is a new technology set to revolutionize how we see it. While it's mostly related to finance, it could also be used to have an impact on travel.

Although there isn't much research and development, it could help identify passengers at an airport, providing that tourists' views are unbiased, secure, and simple to pay. While blockchain is currently linked to finance, it was originally designed to help transfer money around the globe. It isn't ignoring tourism, either, making it easier to pay for services, implementing food and drink features, and offering restaurant apps. The blockchain is gradually being used to track passengers and ensure secure and simple payment.

Staying abreast of the latest developments and leveraging technology opportunities will ensure that we can transition smoothly into this new reality.
Portal Development Incorporates the Latest System in the Travel Sector
We have a business travel booking system solution for new companies and service providers that have been in business for a while. All that you need to satisfy your various requirements. The Travel portal application can meet the requirements of multiple software applications and holiday travel.
At Adivaha, we offer to create any solution for web development. We establish strong working relationships and add value to our services. Our team has collaborated with the top market players in B2B and B2C websites and provided a world-class travel portal solution.
Our team has been working with technology used in travel for many years worldwide and has profound knowledge of the demands of the tourism industry. We do not just offer pre-designed products but also customized ones to meet the customer's requirements, which are integrated with different suppliers. We also provide management systems that inventory hotel activities, attractions, transportation, travel insurance, etc. We offer software and travel portals using sites for travel, online travel portals, and booking engines. We also provide White-label solutions for software, including mobile travel applications, digital marketing solutions and API / XML integrations, transport services inventories management solutions, and the travel CRM software application.
Our solutions are suitable for businesses: small travel agencies, large to medium hoteliers, travel agents, B2B travel agents, travel brokers, DMC, consolidators, and online travel agents. We get to know the vision of each client of their business before creating the solution that will help them achieve their goal.
Adivaha is a travel software development firm providing a broad range of travel solutions based on the Internet in every sector related to travel.
As an advanced safe, scalable, and secure b2b travel software designed to suit B2B or B2C travel agencies of all sizes, Adivaha is a product created with decades of travel industry expertise and technological advances. It was designed from scratch with security and speed, and features. Our product can assist you in managing your business's online travel efficiently. Our automated technology ensures that every process is handled efficiently and effectively so that you can concentrate on the essential elements of running your business.
Our in-depth experience in travel, highly experienced and dedicated staff members, and genuine love for technology for travel let us provide high-quality support and service. Adivaha customers can benefit from the entire world by combining two charges, methods of payment, and kinds of services into the same solution.
This method addresses travel agents' requirements on the Internet, corporate management firms, and tour operators. Our customers can be assured that they're always offering the most competitive rates through a single point of access with multiple interfaces.
This Travel Portal Software is a complete and powerful online booking platform designed specifically for the travel and tourism industry, travel management and destination management firms, Travel aggregators, and tour operators and agents.
In Dehli, India. We offer consulting, development, and support in all areas of travel portals and travel API integration. With over years of experience, we're linked to APIs in travel, such as GDS systems, hotel consolidation, vehicle consolidators, and bus consolidators. We have skilled employees at our modern development center in Dehli, India.
Our company is multi-faceted, and all our employees are educated in web services integration users/sub-users modules and XML live processing.
Features of Travel Portal Development
Adivaha has many years of aviation experience and travel/tourism as well as hospitality and transportation verticals. The travel portal platform is packed with the top modules available to ensure that your agency is at the forefront of technology.
Domain Experience

The most effective solutions we have created that range from travel booking platforms including mobile apps, mobile applications along with corporate reservation tools

High Performance & Tech

We have used top technology stacks for years on various platforms. Connect to the web demo schedule.

Reduced Cost

Costs from all angles are considered, not just the operational, infrastructure, and resource costs. It's a 100% cloud-based booking system.

Better Efficiency

We employ agile development methodologies and constantly communicate to stay ahead in delivering our online travel technology software system.

Flight Ticket Booking

The Travel Portal platform is connected with flight GDS by using web services. They retrieve the flight inventory online and then publish it in the front-end interface of the application in a defined UX/UI format. When you select a particular result from a flight search, the result will be routed towards the gateway for payment to process booking confirmation and generation of PNR.

Travel portal system

The search engine will look for hotel deals using GDS and APIs' web-based services. It will identify the most affordable rates per night for a room. If you choose a certain hotel, the user will be redirected to a payment gateway for reservation and voucher generation.

The CRS and API

The travel tech portal will query using the CRS and API and determine the best option in a specific city according to the search made by the customer. After selecting a result, it will redirect towards the gateway for payment.
Some other benefit from quick solutions and help
We work flexibly and quickly to ensure our customers are always in the loop. We seamlessly integrate numerous significant Tools, GDSs, non-GDS channels, and back-office systems to ensure that our various processes are in sync. Our troubleshooting staff is extremely proud of their speedy turnaround times on tickets. This is the only aspect when working with Adivaha that helps us maintain long-lasting positive relations with our clients. We aim to ensure our clients are happy and satisfied all the time.
Improved quality and dependability

We have tested a system that has proven solid and secure according to the strictest international standards. Our internal staff and our clients regularly scrutinize our systems to ensure they can trust them to be reliable, durable, and safe. Our technology is at the forefront of innovation with the cloud-based solution ensures that you are running the most current version.

Holiday Packages

CMS-driven international and domestic vacation packages will be developed according to the customer's requirements and linked to payment gateways or online forms of inquiry in the upcoming web portals for development.

Forex

As a top company for the development of travel portals, we set up the admin module to update the rates of foreign currencies and the price they buy and sell this particular currency. It can be processed through payment gateways if someone wants to pay using a credit card.

Payment Gateway Integration

The online payment gateways will be integrated into online payments to the consumer. Payments online can be made with credit cards or multi-payment gateways to create an internationally accepted payment method for the best gds system portal.

Agency Accounts

The multilayer administrator console is specified for a full-featured and comprehensive GDS scheduling system. Login facilities will be provided to agents who can deposit funds into their accounts up to a specific cutoff. After logging on to the portal, agents can book tickets for Air tickets and hotel deals using their accounts with deposits up to the cutoff limit. Once they reach their cutoff limit, they'll be unable to book rooms and tickets through their deposit accounts. They will then have the option of booking using credit cards. Agents will be provided with various choices i.e.
Conclusion
Adivaha is a reliable technology provider of travel technology services and products for travel companies of any size. Adivaha is a single-source solution service provider for all technology requirements for travel agents, consolidators, book corporate travel consultants, hotels, hoteliers, and tour operators. Our clients benefit tremendously from expanding their businesses by using our technology-driven travel portal development solutions that meet their needs.
Our leading platforms and services bring the expertise of industry experts with a solid base of tested technology to provide a range of different business models. With a record of over a decade, we offer and manage business-critical services and networks. Adivaha's vast industry knowledge and logical delivery model allow customers to meet their business objectives in terms of timeframes, service levels, and deadlines.
Therefore, if you're considering creating a travel-related business, or you have a business that is established and looking for technological partners to meet your company's ever-growing requirements of your company. Don't look any further. Adivaha is the solution.
Our Comprehensive List of Services
adivaha® is a one-stop-shop for all your travel website needs. We offer a multitude of services that empower you to become a market leader. Contact us for more info.
Have Questions?
The Internet is a huge resource, but
if your question requires particular expertise.
Keep Refreshing your customers - Who doesn't want his site to stand out from crowd? adivaha® gives you multiple options for home pages, headers, colors etc. Which can easily be managed from admin via shortcodes and settings. The theme supports almost all the big players in this market ie, WEGO, Travelpayouts, Agoda, Booking, Expedia etc.
Frequently Asked Questions
Below are some of the questions asked by visitors. Do visit our adivaha® Digest for more such questions. Don't hesitate to ask us if you have any questions
a. What security measures are in place to protect sensitive customer data? b. Does the API comply with data protection …

6

views

0

answers

0

votes